With the ever-expanding World Wide Web at our fingertips, finding solutions for problems we have usually begins with a Google search. In fact, 93% of all internet experiences begin on a search engine. This emphasizes how important it is for a business to include content optimization in their digital marketing efforts.
Content optimization is improving your quality of content so that it's appealing, readable, and informative, while also hitting those relevant target keywords. Highly optimized content increases exposure to the right niche audience. Search engine optimization (SEO), slightly different from content optimization, is also one of the most important elements of digital marketing. By creating high quality content and utilizing keyword research tools, you can optimize your website's positioning when people use search engines and drive more organic traffic your way.
According to statistics, 70% of marketers believe SEO is more effective than Pay-Per-Click (PPC) advertising. Naturally written and organically optimized content is preferred simply because it's being read by other humans! No matter how you look at it, SEO and content optimization are both connected with each other, since creating high quality content will in turn improve your SEO. Let's dive into how content optimization can benefit your business' digital and affiliate marketing efforts, as well as some useful tips for creating a solid content optimization strategy!
What is content optimization?
Let's hone in on the details first: What is content optimization at its core? In simple terms, content optimization is improving the elements of your content in order to increase its position in search results. There is a wide range of techniques you can utilize to accomplish content optimization, some of which are:
Including relevant keywords
Enhancing text readability
Adding an internal link in appropriate places
Optimizing your site for rich snippets
This list is not extensive, and only touches the surface of the many ways you can improve your content. By successfully utilizing target keywords, internal links, and snippets, your site can climb its way up the rankings so that it's on the first page of a Google search. For some, showing up on the first page is a great feat, but is it enough? The competition to get first place on a search is substantial for good reason. Statistics show that approximately 30% of people click on the first link on a search, only 15% on the second, and 10% on the third. Stemming from the same data, the click-through rate (CTR) is 10x higher on the first search result than on the tenth. As a business, increasing your CTR can ultimately result in more traffic and higher conversion rates, so focusing your efforts on positioning yourself at the first place of the initial search page is crucial.
What is affiliate marketing, and how does it relate to content optimization?
Generating organic traffic is a vital part of any business' marketing plan, and using affiliate marketing for exactly that has become commonplace. Chances are, the term "affiliate" or "affiliate marketer" has come up multiple times if you've searched around for new marketing trends, so let's dissect affiliate marketing and see how it works.
Affiliate marketing is a digital marketing model in which an affiliate advertises a product or service to their audience, receiving commission for each sale or action generated. If you think this closely resembles word-of-mouth marketing, that's because it does! The efficacy of word-of-mouth marketing, or referral marketing, has proven itself over the decades, coming back revamped in the form of affiliate marketing. This process is facilitated by affiliate programs, which oversee all of the elements needed for it to function, such as commission rates, legal bindings, and marketing analytics for campaigns.
There are three main parties involved in the affiliate marketing model: The affiliate publisher, the affiliate merchant, and the customer. Affiliate publishers are usually content creators or influencers who have a large following on social network mediums, such as Instagram, YouTube, or websites hosting blog posts. Their long-term relationship with their audience is very valuable in the case of marketing. As it is, 79% of customers value online recommendations as they do personal recommendations. Think of it like this, if an influencer is viewed as trustworthy and authentic to their followers, then a recommendation from said influencer is more likely going to be taken into consideration by their audience. Contrarily, an influencer who's been known to promote products regardless of their relevance and quality will probably not have a successful conversion rate from their recommendation.
Affiliate merchants are basically businesses looking to sell their product or service to a new audience. Depending on their target niche, they search out publishers whose audience would be specifically interested in their products or services. For example, if your business specialized in tech and just released a new state-of-the-art gaming mouse, advertising to fashionistas probably isn't going to get you the results you want. Find well-known gamers who stream on Twitch and get them to review your mouse directly to people who would actually use it! When affiliate merchants work with an affiliate partner (publisher), they open the doors to a specific niche audience, allowing them to tailor their advertising efforts to potential customers, ultimately resulting in a higher chance of sales.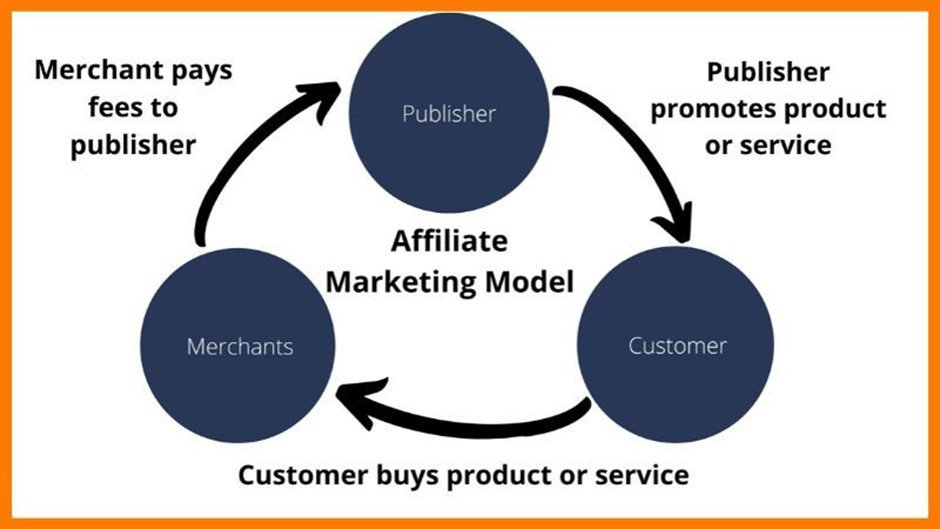 The process is quite straightforward. An affiliate publisher is approached by a business to advertise their product. Using an affiliate program, the publisher is then provided with affiliate links to publish on their social media posts promoting the affiliate products. Often, potential customers receive a discount or promotional offer for using these links. While most businesses' objective is to generate sales, others may opt for actions such as subscriptions to an email list or filling out a form. Once a sale or action is completed, it's recorded using the code embedded in the affiliate links, specifying which publisher was responsible for the affiliate sales. The affiliate program is used to track down all the activity during these campaigns, showing marketing analytics and engagement rates. Depending on the commission model, the affiliate publisher then gets paid either a percentage or a fixed rate for each sale or action generated.
Affiliate marketing is a great way to build attention around your business and reach a new audience that otherwise would have been quite scattered. In fact, in the US, affiliate programs are the top customer acquisition model for 40% of merchants. Affiliate publishers generate and send traffic to your business, where they officially enter the sales funnel.
The sales funnel is a marketing model that highlights each important point a customer passes during their buying journey. At the beginning of the sales funnel, potential customers are simply aware they have a problem that your business' product could solve. At this point, it's up to you as a business to nurture these potential customers through the buying journey. Each level of this funnel requires a different method of marketing, as well as a different set of helpful information for the customer to advance downwards.
Now, it's important to keep in mind that having charismatic affiliate partners will generate buzz around your products, which builds organic search traffic. The more people hear about you, the higher your search volumes become. Once a new audience has a specific search intent, in this case your product (or ideally, your business), optimizing your content is a sure way to keep potential customers' attention on you! Utilizing different types of content, such as interactive or visual content, will expand the reach of your promotions and draw attention. Adding keywords, internal links, and other SEO-friendly elements will enhance your content optimization techniques, boost your product's image, and increase traffic retention!
Is affiliate marketing worth it?
So, here's a marketing model that benefits all three parties involved: The merchants reach a brand new and targeted niche audience who are likely to be qualified leads; The affiliate marketers offer product reviews with discounted affiliate links to their audience, generating sales and ultimately earning money with affiliate marketing; Finally, the customers get new affiliate products they were particularly interested in. Since it's beneficial to all parties who participate, affiliate marketing has grown immensely over the years and doesn't show any signs of slowing down. At the moment, the affiliate marketing industry has surpassed $12 billion globally. In fact, 81% of businesses use affiliate marketing, demonstrating its position in modern day marketing plans.
Major companies such as Etsy, Amazon, Groupon, Booking.com, and Bolt, all actively use affiliate marketing campaigns, offering people great deals and, in turn, receive commission. While these are examples of larger companies, smaller businesses equally benefit from these marketing campaigns as well. Due to the recent changes the Covid-19 pandemic has caused, many people have turned to content creating and digital marketing, as it became much more profitable and allowed them to indulge in activities they are passionate about. Global online shopping increased from $16 billion to a whopping $22 billion in the year 2020. Alongside the massive increase in online shopping, affiliate marketing has marked its position in the digital marketing space for good. In 2021, 74% of internet users in the EU shopped online. Not only that, but approximately 50% of affiliate traffic derived from mobile devices. This, combined with such a surge in online sales, demonstrates why this form of marketing is worth it for businesses to adopt.
Why is content optimization important?
When formulating an ideal marketing strategy, identifying all elements that are impactful is crucial, especially when trying to optimize them. Now that we've covered why affiliate marketing is useful when it comes to exposure, brand awareness, and generating actions, it's time to narrow down on why content optimization is also important for your marketing strategy.
Achieve Top Rankings
After all that effort into creating your business and brand image, the last thing you would want is to go unnoticed! Studies show that 75% of users never look past the first page of the search results. It's probably safe to assume that pretty much all marketing objectives skew towards the goal of not being invisible. By optimizing your content, you increase your visibility on search engines and position yourself to be viewed by more prospective customers. Curious about how high you're ranked? Use a content optimization tool and check out your content grade, which is basically how well your content is optimized for SEO. Your content grade is correlative to your SEO ranking, so the higher it is, the better positioned you are for organic search traffic.
One way to increase your ranking is to utilize LSI keywords (latent semantic indexing), or in other words, the most relevant and contextual keywords that are related to your brand or niche. Making sure to cover these keywords gives you more in-depth content that is likely to outrank your competitors. You can also obtain essential data regarding popularity trends and keywords by using a Google Trends API to get a better understanding of what is optimal to include in your content. Achieving top rankings puts you in the spotlight and guarantees more organic traffic.
Improve Branding
By shaping the image of your brand, you build a powerful and distinguishable identity that people can recognize. This means going much further than a familiar logo. It requires effort into clarifying how people view and feel about your brand over others. For example, vitamin water branding circles around freshness, health, and vitality. By aligning their marketing efforts around those themes, overtime, the audience will associate vitamin water with freshness and vitality. Improving your branding allows you to align yourself with your brand vision, deliver your promises, and ultimately mold your business' image in the customers' minds.
Optimizing your content gives you the possibility to tailor your information for the customers on each phase of the buying journey they are in. Throughout the journey, the customer has different questions, needs, and doubts. Get to know these details, and create content that is informative and useful. Strive for top rankings no matter the level of the sales funnel they are at, as it shows that you understand the needs of the customer and lowers the chance of them having to search elsewhere.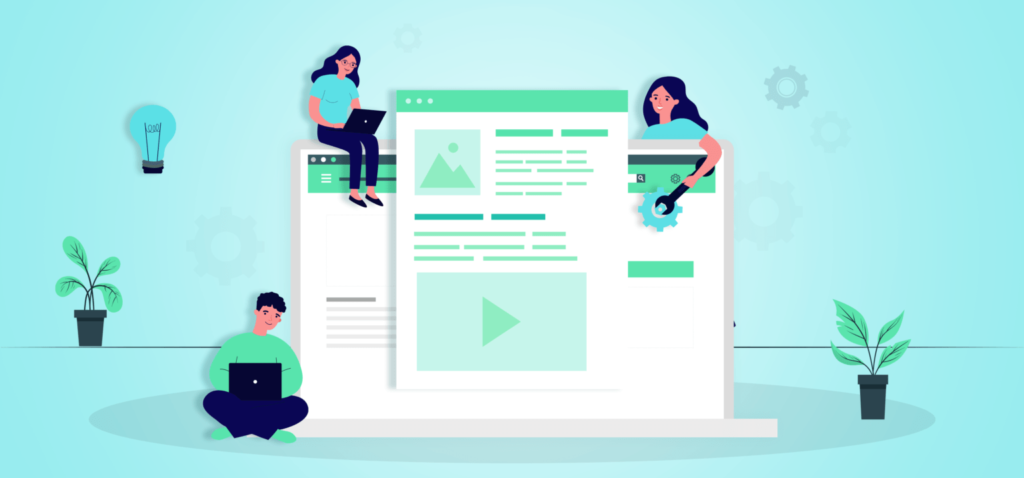 Visual Content
Try to remember that it's not just written content that needs to appeal to your audience, but visual content as well! Improving your website design allows you to highlight certain pieces of content that are more important than others. The layout you use, the fonts for each header and the placement of each piece of content are all elements that are essential for creating a clean and appealing image. If your text is small, hard to find, or simply illegible because of fonts or backgrounds, it will hinder the information from actually being received. Keep things easy, clear, and snazzy. Utilize different types of content, such as interactive ads or infographic illustrations, to make the user experience optimal. Another important point is to use original images that are quick to load.
Statistics show that the bounce rate increases up to 9% on pages that take over 2 seconds to load, and 35% if the page takes over 5 seconds. That being said, having a variety of visual content, including charts, screenshots, and videos, all add to the aesthetic of your website- at least much more than a giant wall of text. Nobody came to fish for information, so optimize your content and lay it out on the table for it to be easily digested!
Increase Traffic
Increasing traffic is another common goal between all marketers, as it indicates the amount of users that pass by and interact with your brand. The more traffic that is generated, the higher the chance that someone will convert into a customer. Paying for the first place on a Google search may give you more views, but it doesn't guarantee you that those views are from prospective customers. In fact, 53% of site traffic comes from an organic search. It's all about organic traffic here, and optimizing your content properly can actually guide someone who found your business from a simple Google search query into being a customer.
Branding your business while also optimizing specifically for Google rankings is an effective method to complement your affiliate marketing and content marketing efforts. If you have multiple affiliate marketing campaigns, it's useful to use marketing analytics and other SEO tools to give your business the chance to be seen at first glance. Being conveniently accessible to users plays to a great advantage, and the fewer steps it takes for a prospective customer to find you, the more likely they'll stick around to see what you offer.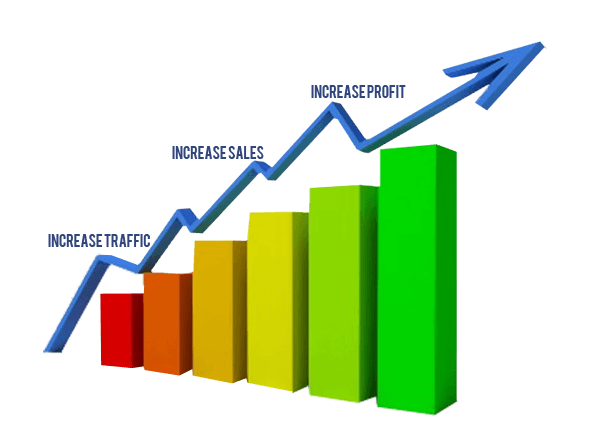 Increase Revenue
Where there's more traffic, there's more revenue! Outranking your competitor's positions places you in a favored spot for potential customers to see your ad. Having an ad at the number one ranking highly increases your click-through rate (CTR). In a recent study, Google's first search result averages a CTR of 43%. When running affiliate marketing campaigns, you grow brand awareness, consequently also bringing in more organic traffic. Fortunately, these leads generated from affiliate campaigns are often high quality leads, meaning they have interests or needs that relate to your product and are more likely to convert into a customer. Quality leads result in more conversion rates, which is basically the endgame. Optimizing your content and marketing strategy so that they align can assure you an increase in your return on investment (ROI). Improving your SEO tactics can result in an increase in ROI by up to 14%, compared to 1.7% with traditional marketing methods.
7 Tips for Creating a Successful Content Optimization Strategy
There's no doubting the importance of content optimization when it comes to digital marketing. Now that we've covered essential points around why it's important, let's move on to its application. There's a large expanse of techniques you can use to improve your content optimization, so where to begin? Here are seven useful tips to keep in mind that can help build a successful strategy:
Remember, keywords are not the endgame!
Although the term "keywords" has been thrown around generously when it comes to SEO strategy, it isn't the only thing that impacts your search engine ranking. In fact, overdoing it can even backfire, since Google's sixth sense can tell when content is being written for the keyword optimization, and when content sounds more genuine. Go figure. Well, while you're pondering about the extent of Google's detective capabilities, it's a good idea to take a step back and reorganize marketing priorities. Keyword stuffing is the process of overloading content with relevant keywords and numbers in order to manipulate its position in search result rankings.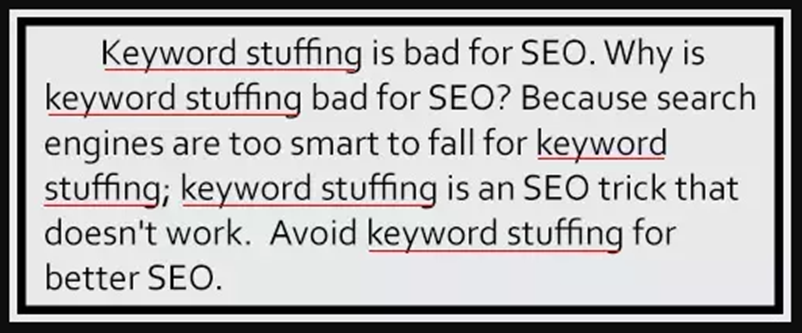 If you're already tired of reading the term "keyword stuffing", then it's safe to say the point has been relayed. When optimizing your content for SEO, be sure to write for humans first, and search engines second. Informative and fresh content that sounds naturally written ranks much higher than text with low readability. There are many other methods to utilize that can increase your ranking, such as:
using different types of content
increasing organic traffic through an affiliate marketing program
creating shareable, visual content on social media to generate awareness
This is not to say to ditch your keyword strategy, if anything, it's quite the opposite. Refine your target keywords and present them seamlessly in your content so it doesn't overpower the general message or information you are trying to get across.
SEO
When it comes to content optimization, taking care of your SEO is absolutely essential. Your content can be amazing, but if you're invisible on a Google search, are you even there? Don't fret, there are plenty of ways to climb up that ranking. There are a few elements to SEO that should be covered first and foremost, since each of them are vital for a successful SEO strategy.

SEO elements: On-Page SEO vs Off-Page SEO
On-Page SEO: This refers to both the content related elements and technical aspects of the SEO activities on your page. Content related elements include an appropriate title tag and meta description, and the usage of long-tail keywords. Side note: Long-tail keywords are a words or multiple-word phrases that specify the subject better than a single word, and have a CTR of 3-5x higher than generic words. On-page SEO also requires quality control of the written and visual content. Technical aspects of on-page SEO are elements such as internal linking, page navigation and overall performance. Optimized content and a great user experience are bonus points when it comes to search engines! According to statistics, 57% of marketing executives claim on-page content development to be the best SEO tactic.
Off-Page SEO: As in the name, this refers to activities that are outside of your website. Getting inbound links, or backlinks, to your page increases your page authority, which impacts your ranking. The more backlinks you have, the better, as it demonstrates the value of your page. Examples of off-page SEO are social media marketing, guest blogging, and branding, which are all great ways to build page authority. If you've changed your website but still have backlinks directed to a certain non-existent page, fix your broken links by redirecting them to the current appropriate page.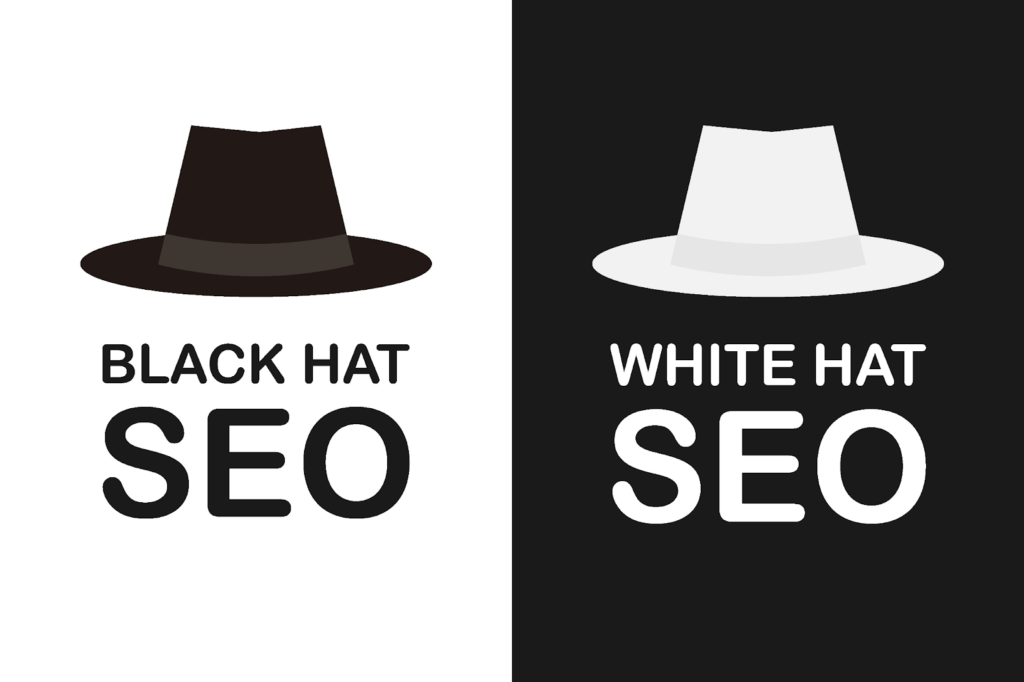 White Hat SEO: This refers to the good-guy practice of SEO techniques, adhering to the rules (Google Webmaster Guidelines) and applying ethical and fair practices. Examples include appropriate internal linking, publishing high quality content, and focusing on a smooth user experience for overall content optimization. White hat SEO also usually implies a long-term strategy, as trial-and-error, along with extensive research, all take time to refine and show results.
Black Hat SEO: Contrarily, these are the bad-guy SEO techniques (no judgements), that apply unethical practices to increase search engine ranking as fast as possible. This includes link manipulation, keyword stuffing, and irrelevant backlinks. User experience is not a priority here, and often may have spammy elements in order to increase search volume in a short period of time. As you probably guessed, black hat SEO practices can't be maintained long-term, as they would either be penalized for this, or at the worst, banned.
If you put a lot of research and effort into your SEO techniques, you can keep it clean and grow your ranking gradually and ethically. Incorporate methods that will improve your on-page and off-page SEO, giving you a solid foundation to grow your rankings on.
Internal Links
Another important element that impacts how Google ranks your website are internal links. Internal links are hyperlinks on your website that send you to other points on the same domain, whereas external links are hyperlinks that send you to another website. While both are essential to have, internal linking is something you have full control over- so use it!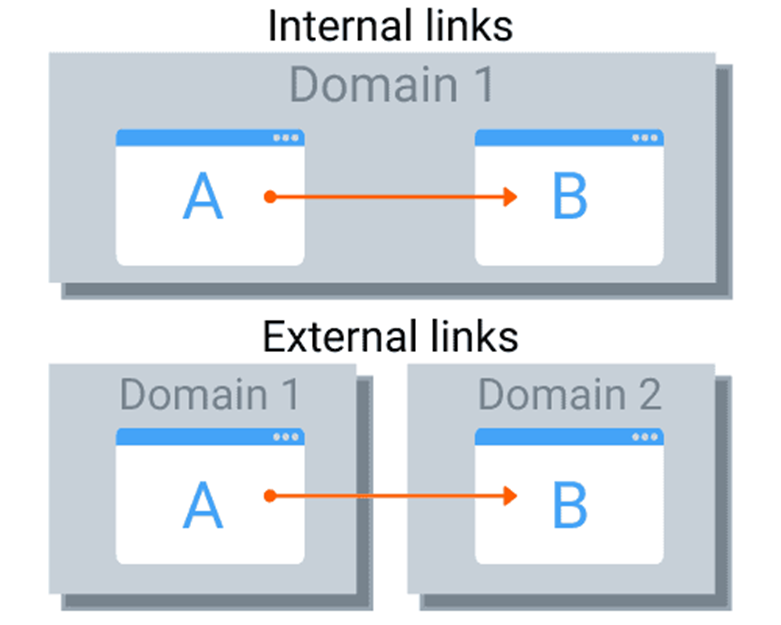 Content with many links (both internal and external) has a much higher ranking on Google, consequently driving more organic traffic. The more links you have, the better Google can interpret and index pages on your site. This gives your website something called page authority, which is exactly what it sounds like. A higher page authority indicates the SEO ranking of relevant content for that page's subject. If you internally link a page of your website from an important page, that gives the page authority. You can use link-building tools to analyze which of your pages have the best authority, and create internal links there for the pages you want more traffic on. 13% of search experts claim link building to be the most important tactic when it comes to SEO. Some helpful tips would be to make internal links only between important pages, and constantly make sure they are working. Broken links cut the user's browsing journey, lowering their overall browsing experience and potentially causing them to leave the site, increasing the bounce rate. While clear and easy navigation may be expected and not paid attention to as much, a choppy and broken website experience definitely does not go unnoticed.
One last tip for internal linking is to diversify your keyword-anchor text. Using the same words or phrases for links won't be the end of the world, but it won't increase SEO results, which is what the objective is. Make sure to use clear and descriptive anchor text for specific pages, this not only increases SEO rankings, but also helps Google understand your site to index better. For example, if you have an online business that sells lamps, with two specialty products: Small table lamps, and tall floor lamps. Making internal links on the word "lamps" in both titles to their respective pages will confuse Google! "Small table lamps" should get their own internal links, and "tall floor lamps" the same. Paying attention to detail here will go a long way.
Competitor research
Like with most endeavors, starting off with competitive research is a sure way to build some understanding of where your competitors stand with SEO rankings, and how you can better optimize your content. Start by Googling your main keywords, and check out the first couple search results. Now that you have your competitors, what do you look for? While scoping, keep an eye out for these elements:
Utilization of keywords (in the title, descriptions, and links)
It's Domain Authority
Overall quality and scope of the content
Freshness, or how updated, the content is
The average word count
The amount of backlinks
How often it's been shared on social media
The E.A.T. Score

Expertise: Quality content that shows the author is knowledgeable in the subject, supported by either experience or qualifications.
Authority: The website itself should have page authority over the subject.
Trustworthiness: Other websites with authority linking back to this website increases its trustworthiness, meaning it is a trusted site regarding the subject.
While searching everything manually is possible, there are some tool sets, like ahrefs, that can give you a rundown about keyword numbers, SERP scores, inbound links, and keyword volume in a fraction of the time. Using this information and your ahrefs ranking, you can analyze it, select what is important, and optimize your content to outrank your competitors.
Rich snippets
Rich snippets are basically Google search results with an extra bit of added information. These extra bits of data add to the utility of the search results, depending on the user intent. For example, if a user searches for a cosmic desk lamp, it's assumed that Google will present the URL, title tag, and meta description on a normal search. A rich snippet, however, will display ratings, prices, and whether it's in stock or not.

While rich snippets don't necessarily increase Google search rankings, they do increase your organic click-through rate. To put it into perspective, having a rich snippet can increase your traffic by 20-40%, and boost your CTR by up to 677%. Rich snippets are fantastic for displaying information regarding many things such as reviews, recipes, events, and product mark-up, to name a few.
Optimizing your content for rich snippets so it's easily accessible like this will make you much more visible than by simply using relevant keywords. Structured data allows search engines to interpret your content by highlighting what data should be focused on. In doing so, you feed Google the information it's meant to present when users are searching for it, rather than relying on the AI to formulate that for you. Structured data can be organized using sites like Schema.org, and implemented to optimize your content for search engine results. Be sure to test out your rich snippets to see if everything is in place, using Google's Structured Data Test Tool, for instance.
Social Media
When optimizing your content, you definitely need to include social media since it plays a huge role in your affiliate marketing strategy! Social media is being used more and more, with 65% of affiliate marketers keeping in touch with their customers using social media networks. That means having an active social media presence is absolutely crucial for maintaining interaction with your customers, releasing content about your business, and of course, your affiliate marketing campaigns! There are many different social networks that allow any content creator to have a following, including platforms such as Instagram, YouTube, Medium, and others. This is a great way to release constant fresh content to an active community who's ready to engage with your posts. Send out an informative blog post about upcoming products or new trends to your subscribed email list, or create fun social media posts to be shared around. The possibilities are endless, so shoot for the stars!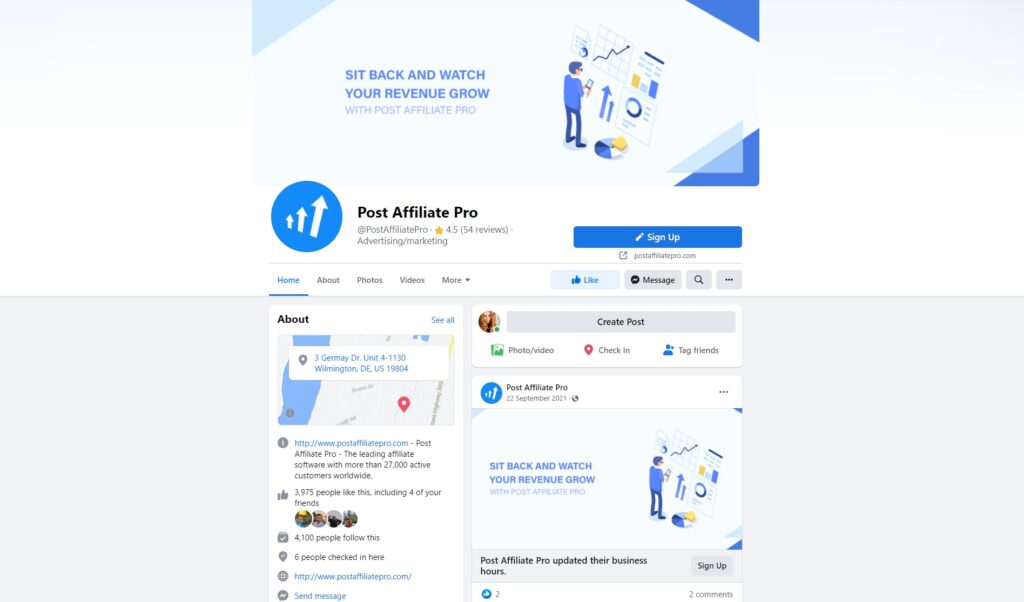 While doing so, remember to enhance your social searchability, such as using relevant keywords and having consistent contact details (make sure the phone number, email address, and website URL are the same across all your platforms). Fill out your 'bio' and 'about me' as best possible, paying attention to target keywords that surround your brand and product or service. Think ahead about your prospective customers' search intent to know in advance what they could search for, and how you can optimize your content to be visible when they do. For example, let's assume your business produces special candles. Since your product is very specialized, the search intent of your prospects will revolve around candles or wax. Try to add descriptive keywords, such as "all-natural", "eco-friendly", or "scented" instead of just "candles".
Apart from optimizing your pieces of content, it's a good idea to have an overall strategy that will cover how often you should post, what types of content to post, and which platforms to post on. Long-form content brings in higher search rankings than short-form content, so adapting your pieces of content to be longer, substantial, and fresh will help your content strategy. According to Linkedin, pages with long-form content generates double the views and gets 24% more shares than short-form content. Managing engagement data and analytics also allows you to follow the activity and make improvements along the way. By creating valuable content for your own business' social media, as well as providing quality content to your publishers, you increase the chances that both you and your affiliate marketers can earn money with affiliate marketing.
SEO Friendly URLs
Page titles and meta descriptions are not the only indicators of what a website's about- a good URL is descriptive on its own as well! Remember that URLs are an important factor when it comes to effective SEO strategies, as they are also taken into consideration for rankings. It's recommended to add a primary keyword, or a relevant keyword phrase, in the beginning of your URL, where it can clearly show what your site is about. Ideally, users can understand the content of your page from the URL alone, which simultaneously helps search engines index your page. Brief and concise descriptive keywords are optimal for SEO friendly URLs. You can use any keyword research tool to help you find which keyword is better for you if you have similar words (for example, between "seo-friendly" vs "seo-optimal"). In the case of separate words, using hyphens over underscores not only adds readability, but also allows for better search engine optimization. In this example, Google reads hyphenated phrases as separate words, whereas words linked with underscores are simply viewed as a single word:
http://www.example.com/seo-friendly-urls
http://www.example.com/seo_friendly_urls
Last but not least, keep in mind that URLs are case-sensitive, meaning there can be duplicate pages with separate content. This may lower your page authority, and consequently your search engine ranking.
http://www.example.com/seo-friendly-urls
http://www.example.com/SEO-friendly-URLs
Try to avoid confusion between sites by making everything simple and clear from the get-go! If you organize a solid keyword strategy to use in your URLs, make sure it's concise and your URL will act as a solid step when it comes to content optimization.
What can content optimization do for your affiliate marketing program?
If you've taken the time to initiate affiliate programs, optimizing your content is a sure way to solidify those efforts by making your business as visible as possible. While affiliate marketers are generating the buzz around your products, content optimization enhances the quality of all your content so that it outranks your competitors and steals the spotlight, bringing in organic traffic. By utilizing different types of content, you also manage to expand your reach throughout many mediums, increasing your inbound links and improving your website's authority.
With all this organic traffic coming in, it's also important to optimize visual content, as well as the overall user experience. Studies show that SEO is still the dominant source of organic traffic. If you have many appealing pieces of content, the users are more likely to spend more time on it and have a positive impression. Smooth navigation and clear, concise (and of course, helpful) information all adds to the user experience as a whole. Ultimately, the goal is to convert quality leads into sales or actions, and the best way to start that is by bringing in interested prospective customers. Focusing on content optimization greatly impacts the performance of your business by attracting potential customers, making your content more readable, and generating consistent money with affiliate marketing. While you successfully build your brand with valuable content, your conversion rates will also grow, increasing your brand awareness and ROI simultaneously.
Conclusion
Content optimization is one of the key things to focus on when it comes to your digital marketing efforts. Not only does it support your overall brand image, but it also optimizes affiliate marketing efforts by making your business visible and appealing for users. Getting to the top position in a Google search generates more organic traffic, gives you a higher click-through rate, and ultimately better qualified leads and conversion rates. Content optimization leads to improvement in your page authority, search engine ranking, as well as resulting in a higher ROI. Some elements to focus on when optimizing content are SEO techniques, a solid keyword strategy, and substantial internal linking.
Doing competitor research, organizing rich snippets and honing in on social media marketing are also great tips to optimize content. Lastly, publishing fresh content and creating SEO friendly URLs for your website is a cherry on top for search engine indexing. By following these techniques and nourishing your content, you'll definitely take the lead when it comes to the search engine spotlight. Now that you have the tips and tools, it's time to get the ball rolling with your content optimization!
Frequently Asked Questions
What is content optimization?

Content optimization involves improving your content's elements to improve its position in search engine results.

Why is content optimization so important?

Content optimization is important because it helps you achieve top rankings, which increases your organic traffic, and ultimately brings in higher revenue.

What can content optimization do for your business?

Content optimization can make your business more visible in the search results, bring quality leads, increase your click-through rate, and ultimately bring higher conversion rates.

What are some tips to improve a content optimization strategy?

Conducting competitor research, building internal links, improving your SEO content grade, and arranging rich snippets are all techniques that can improve your content optimization.

What are the two main types of SEO aspects to add to your strategy?

On-page SEO regards the content related elements (keywords, visual content), as well as the technical aspects (page performance and internal linking). Off-page SEO includes increasing inbound links from other sites, increasing your page authority, and repairing broken links.