What is search engine optimization (SEO)?
After issuing a search query on a search engine, it provides you with results. These results contain articles that best match the searched term. It is important for your marketing that your web page is among these, as it will attract a lot of traffic. The higher your page is ranked among the results, the better.
To achieve the best rating, Search engine optimization is used. It is a way of effecting the search results for your benefit. The best practice is to use the appropriate keywords and consider how the search engine works.
What is SEO? Here's How To Rank In 2023 | HubSpot Marketing 08:17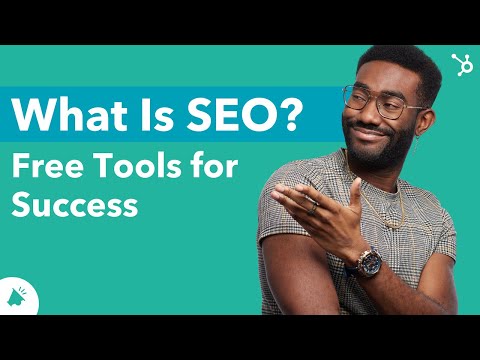 HubSpot Marketing
The importance of SEO in building an online business
SEO is the process of optimizing a website's content, structure, and overall online presence to rank higher in search engine results pages (SERPs). When potential customers search for products or services related to a business, appearing at the top of search results enhances brand credibility and trustworthiness. It effectively positions the business as an industry authority, attracting more visitors and potential customers.
Furthermore, SEO's long-term advantages establish it as a highly cost-effective marketing strategy. Unlike paid advertising, which stops yielding results when the budget runs out, SEO continues to drive organic traffic over time. This sustained presence creates a steady stream of leads and potential customers, making it a fundamental aspect of any marketing plan.
Overview of SEO and best ways to rank
Content relevance and quality: Create valuable, relevant, and engaging content that addresses users' needs and queries. High-quality content attracts backlinks and encourages sharing, signaling search engines about its significance.
Mobile optimization: With mobile users surpassing desktop users, mobile optimization is critical. Ensure your website is mobile-friendly, responsive, and offers a seamless user experience across all devices.
Page speed: Faster-loading websites rank higher. Optimize your website's performance by compressing images, leveraging caching, and using efficient code.
Backlinks and authority: Acquire high-quality backlinks from reputable websites in your industry. Search engines place great importance on websites with strong authority, so concentrate on building a solid link profile.
User experience (UX): User-friendly websites with intuitive navigation, clear calls-to-action, and easy-to-read content tend to rank higher. Prioritize UX to keep visitors engaged and satisfied.
Voice search optimization: As the influence of voice search on SEO continues to grow, optimize your content for voice queries by using conversational language and answering common questions concisely.
Search engine optimization is an indispensable tool for building a thriving online business. By staying updated with the best practices and adapting to the evolving digital landscape, businesses can unlock the full potential of SEO and pave their way to sustained success.
Frequently Asked Questions
Why is SEO important for marketing?

SEO improves the visibility of a website, making it easier for potential customers to find the site. It also helps to improve the quality of traffic, making it more likely for visitors to become customers.

How much does SEO cost?

The cost of SEO services can range from $100 to $500 per month. SEO pricing is based on the competitiveness of your industry and the number of keywords you want to target.

Is paying for SEO worth it?

It depends on your business goals and your budget. If you are running a small business, and you're just starting out with SEO, it might be worth paying someone to help you get started. However, if you are running a larger business with an established website, you might not need to pay for SEO services since you're already ranking well in search engines.