What is off-page SEO?
Search engines radiate search results by importance, which determines the weights of various factors. We can divide these factors into ON-page factors and OFF-page factors. Mostly, OFF-page factors are – the number of links from authoritative webpages, the thematic relevance of referenced sites, the variety of backlink texts, site strength on social networks, domain name, the number of unique domains that link to the site.
SEO For Beginners: Off-Page SEO | LinkBuilding HQ11:04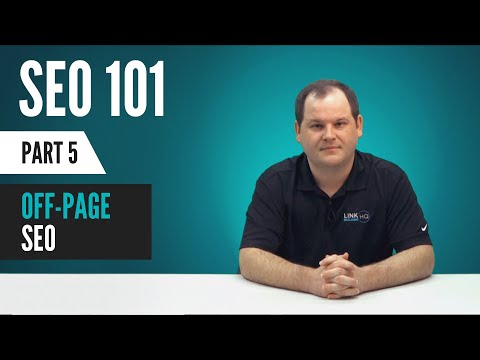 LinkBuilding HQ
Topics
off-page optimization
link building
backlinks
Video summary
In this video, Timmy discusses off-page optimization in SEO. Off-page optimization involves external activities like social media, directory listings, and link building to gain the confidence of search engines and users. Backlinks and citations play a crucial role in off-page SEO. Timmy explains the importance of relevant and authoritative backlinks, and how to find authoritative websites using industry metrics. He also provides tips for a solid link building strategy, such as keyword research, competitor analysis, and outreach. Timmy covers guest blogging and broken link building as effective methods for earning backlinks. He mentions the benefits of repurposing content and the importance of platforms like Google My Business for local SEO. The video ends with a mention of the upcoming video about local SEO.
Frequently Asked Questions
How can I do off-page SEO?

The best way to do off-page SEO varies depending on the individual website and its competition. Some common off-page SEO techniques are link building, social media promotion, and directory submission.

What are some off-page SEO elements?

Some of the most common off-page SEO elements are link building, social media engagement, and brand mentions.