You've built a quality in-house marketing team, and you're driving tons of traffic to your site through organic search and paid ads.
So what's next?
Affiliate marketing.
Running your own affiliate program is one of the most effective ways for brands to make money online. As a result, affiliate marketing spend in the US has increased dramatically over the past decade and is projected to hit $8.2 billion by the end of 2022.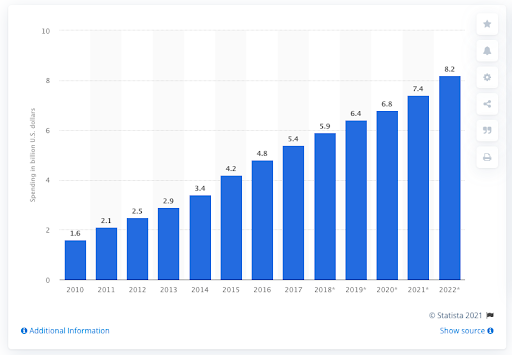 If people are investing that much money in affiliate activity, you can bet they see a tidy return from it.
Affiliate marketing works so well because it taps into one of the most fundamental marketing rules: your best affiliate marketers are your customers.
In other words, if someone's used your product, enjoyed it, and is prepared to shout about it, why wouldn't you reward them for doing so? Starting an affiliate program is the best way to do that.
With that in mind, here's a six-step process for launching an affiliate marketing program, covering everything from the affiliate software you use to the commissions you pay.
How does affiliate marketing work?
First off, let's take a quick look at what affiliate marketing actually entails.
In a nutshell, it's all about paying a commission to people who drive sales on your site by recommending your affiliate product or service and steering customers your way.
Whether or not you're aware of it, you have encountered affiliate marketing before. You might even have bought something as a result of it. You can tell if you've stumbled across an affiliate link because it contains lots of information beyond the basic URL, such as the affiliate's unique ID or site and the ID of the specific product or landing page they're promoting: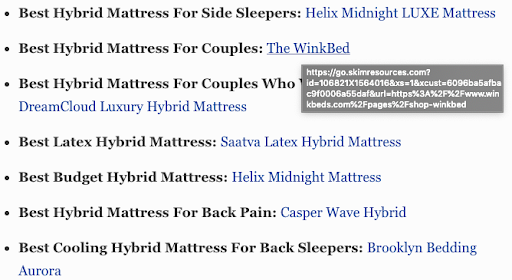 Clearly, affiliate marketing is very much a game of two halves.
One-half is made up of the affiliates themselves – that is, the people earning affiliate commissions by promoting products and services through their content.
The other is the brands or companies running those affiliate marketing programs.
For instance, say you're an insurance provider like Business Insurance USA that wants to tap into new audiences. So, the right approach is to launch an affiliate platform aimed at creators who already have an audience interested in your niche. For example, travel bloggers can push your travel insurance packages, while motoring sites can point drivers in the direction of your car insurance products.
That way, you get more sales, while your affiliates get rewarded for recommending your products. What's not to like?
6 Steps to making money with affiliate software
If you're still with me at this point, I'm guessing you like the sound of affiliate marketing, and you're eager to launch your own affiliate program. Now, here's how to make it happen.
Step 1: Choose the right affiliate software
Just like how if you're going to do email marketing at scale, you'll likely need to invest in some bulk email service, you need to pick the right affiliate software if you're serious about running an affiliate program.
There's just far too much going on for you to handle it all yourself (unless you're only planning to work with one or two affiliates promoting a tiny number of products).
So the first step to launching your affiliate offering is to choose the affiliate software that underpins it.
There are lots of options in the market. But be aware that some of those products come with hidden costs that aren't sustainable unless you're running a massive affiliate operation (which, presumably, you currently aren't). Meanwhile, others have a lot of obscure terms and conditions that make life unnecessarily confusing for you and your affiliates.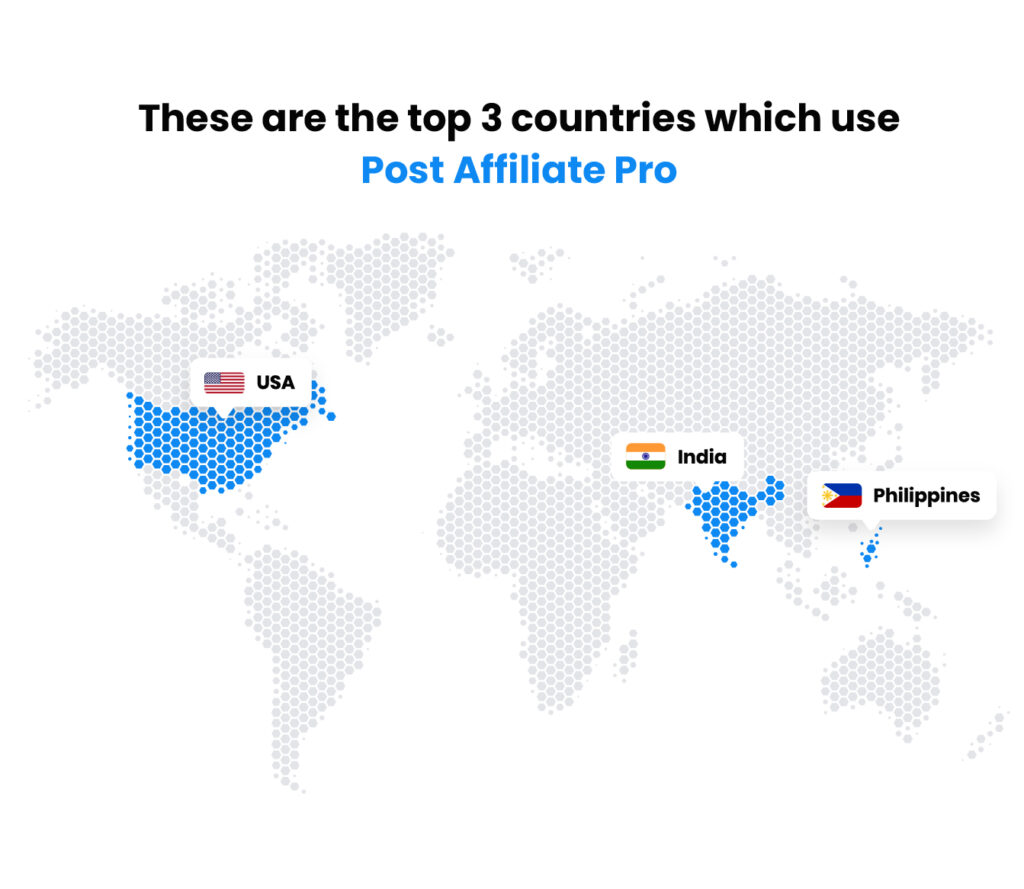 Post Affiliate Pro is different. You pay a set monthly fee, with a choice of three pricing plans varying by the level of functionality you need, all of which allow for unlimited affiliates. That's a good thing because you don't want the scale of your program to be dictated by your choice of affiliate software.
What's more, Post Affiliate Pro is offering a 30-day free trial, plus there are no setup fees and no contracts, so you can cancel at any time.
Step 2: Define the types of affiliates you want to work with
You might think that when it comes to getting people to promote your products, the more partners you onboard, the better.
However, that's not necessarily the case. So rather than simply casting the net as wide as possible, you need to ask yourself what a "good" affiliate partner will look like for your brand.
Let's take a look at a solid example of a quality, generalist affiliate in the form of Forbes Personal Shopper: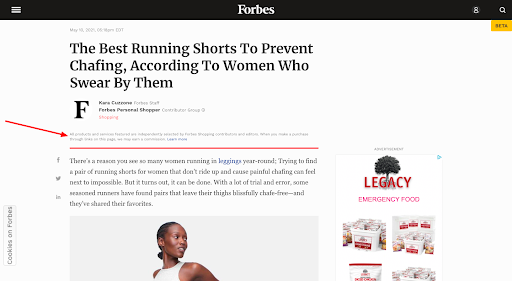 It's a shopping service for Forbes readers – people who already trust the brand. Forbes searches premium retailers to identify products its audience will love, whether that's non-chafing running shorts, hybrid mattresses, or air purifiers.
Forbes is a quality, trusted site that understands what its readers want. Now, suppose your audience intersects with that of Forbes. In that case, you'll likely see more success from your affiliate activity by recruiting it (plus a handful of similar partners) than dozens of lower-quality, less-relevant affiliates.
In short, brands should always prioritize working with affiliates that are a strong fit for their products. Those affiliates will send more relevant traffic your way, refer more sales, and drive higher average orders.
So what makes for a strong affiliate partner? While the specifics may vary from one niche to another, generally, they'll have three qualities:
A commitment to affiliate marketing. Many people start out as affiliates because they believe it'll be a quick and easy way to earn passive income. But it just isn't. A lot of successful affiliates spend a year or more building up a quality bank of content and generating traffic before they start making any money through affiliate marketing. If an affiliate isn't in it for the long run, they're not a good partner.
A solid game plan. The online world moves fast. Sites become popular, attract a ton of traffic, then burn out and become irrelevant as marketing trends (and search engine algorithms) change. Affiliates need a strategy to keep themselves relevant over time rather than rely on a single tactic or traffic source that might not work a year down the line.
A point of difference. There's so much content on the internet. You need to carve out a niche as an affiliate – a reason for people to visit your site and keep coming back. It definitely can't be based on "tricking" people into clicking through spammy tactics like bidding on misspelled brand names.
Defining what a "good" affiliate partner looks like should be an ongoing process. First, use the reporting tools built into your affiliate software to pick out your top affiliates. Then identify their shared characteristics – are they bloggers or social media influencers? Do they have a niche, highly qualified, and loyal audiences, or do they have broad, mass-market appeal? Finally, what are their influencer strategies, and how do they tie into promoting your brand/ company?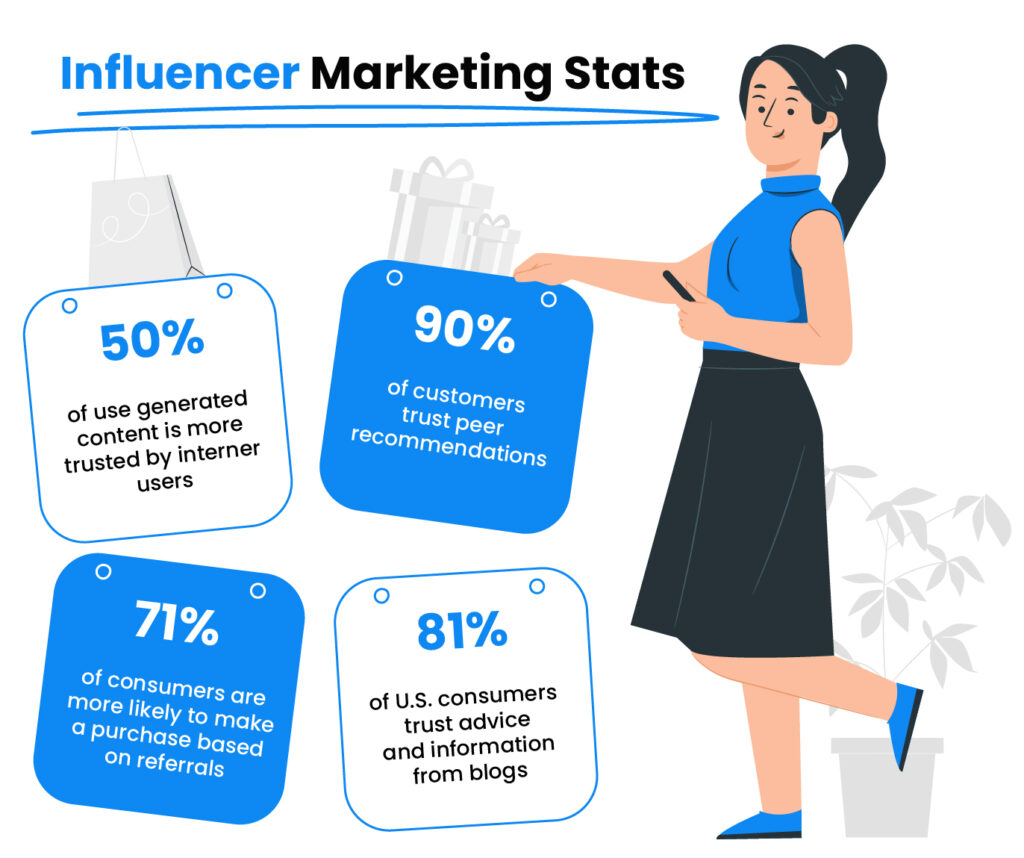 Optimize your approach around what's already working.
Now that you know what makes a strong affiliate let us look at different industries and their ideal affiliate.
Being picky about whom they let into the affiliate program increases conversions and reduces overall maintenance costs for the program down the road.
Personal Injury Lawyers
A personal injury lawyer can bring in hundreds of new leads if they figure out how to properly select affiliates that will bring in the right traffic towards their site. A couple of good examples would be:
Law blogs like Simply Legal or LawRank would be the ideal affiliate partners for personal injury lawyers. Their blogs cater to an audience that is looking for lawyers or interested in hiring help in the legal department. Their blogs are authoritative and established, making it easy for them to drive a lot of traffic through affiliate links.
Customers can give you far more than just testimonials. Referrals are also an excellent for lawyers to make money and bring in more leads – but you need to give them something in return. Ask them if they want to be a referral for your law firm and explain what's in it for them. Bear in mind that local referrals typically make the best affiliate for law firms in the same area.
Medical industry
If you are in the medical industry, bringing on affiliates gets a little trickier. Depending on how specific your product is, you will potentially need affiliates that have certificates to back their claims and referrals up.
You do not want your medical products being advertised or spoken about by any Tom, Dick, or Harry because that will lead to trust issues with your customers.
Instead, you could reach out to:
Clinics
Pharmacies
Doctors
Nurses
Medical journals
Happy customers
Nursing homes
If you reach out to medical blogs, make sure they are authoritative and trusted within the industry. Since the internet has made everyone a doctor, it is vital that you go through their affiliate marketing content and make sure the quality is upheld. You can then create a proposal, reach out to the right blogs and ask them if they want to be affiliates.
For example, Medical Alert Buyers Guide promotes various affiliate products on their site in the form of 'best medical (keyword)' posts. These posts are incredibly popular across the internet, and they are easy to insert links within. Take a look at their 'best medical alert system' as an example: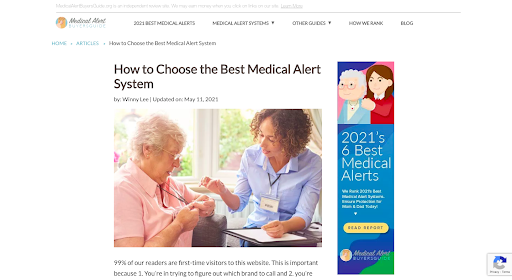 These posts help consumers figure out what the best product is to buy, and they serve as prime advertising real estate for medical companies that want to increase sales. That is because 'best of' posts enhance the customer intent when going through these types of posts is to purchase.
Other sites do this all the time as well. For example, each night, a mattress review company, makes most of its income as an affiliate for various mattress companies: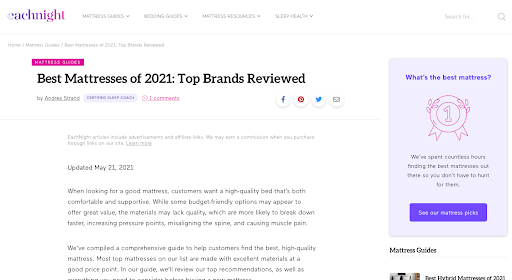 You should know which affiliates to partner with and where you want your links to appear. Companies that are more hands-on with their affiliates tend to see higher conversions because they ask their affiliates to include links in prominent locations.
Step 3: Analyze the market
Unless you're in an extremely niche market, it's unlikely that you'll be the only similar brand with an affiliate program.
In fact, it's almost impossible.
Before you get your program up and running, it pays to check out what your competitors are up to. That allows you to make smart decisions about things like the commissions you offer, the affiliate sites you target, and the terms of your commercial relationships.
For instance, let's say you learn that one of your rivals pays a flat rate of $50 per desired action (whether that's a sale or a lead). Their affiliate program has attracted a ton of attention, and their product seems to be promoted everywhere.
That gives you two choices:
Compete with them directly by offering the same commission (or an even higher one). However, that might be difficult – or even impossible – based on factors like your retention rate, lifetime value, and acquisition cost. We'll talk more about this in the next section.
Compete on conversion rates rather than commissions. You might only offer a $25 payout compared to your rival's $50 – but if you drive three times as many sales, your affiliates will be up on the deal.
There's no right or wrong answer here. To understand what works best for you, pay close attention to the audit log and review the campaign, banner, and affiliate report in your affiliate software. If you're running international campaigns, you can check your ROI based on the country as well. If sales or impressions are dropping, it could be time to switch up your approach.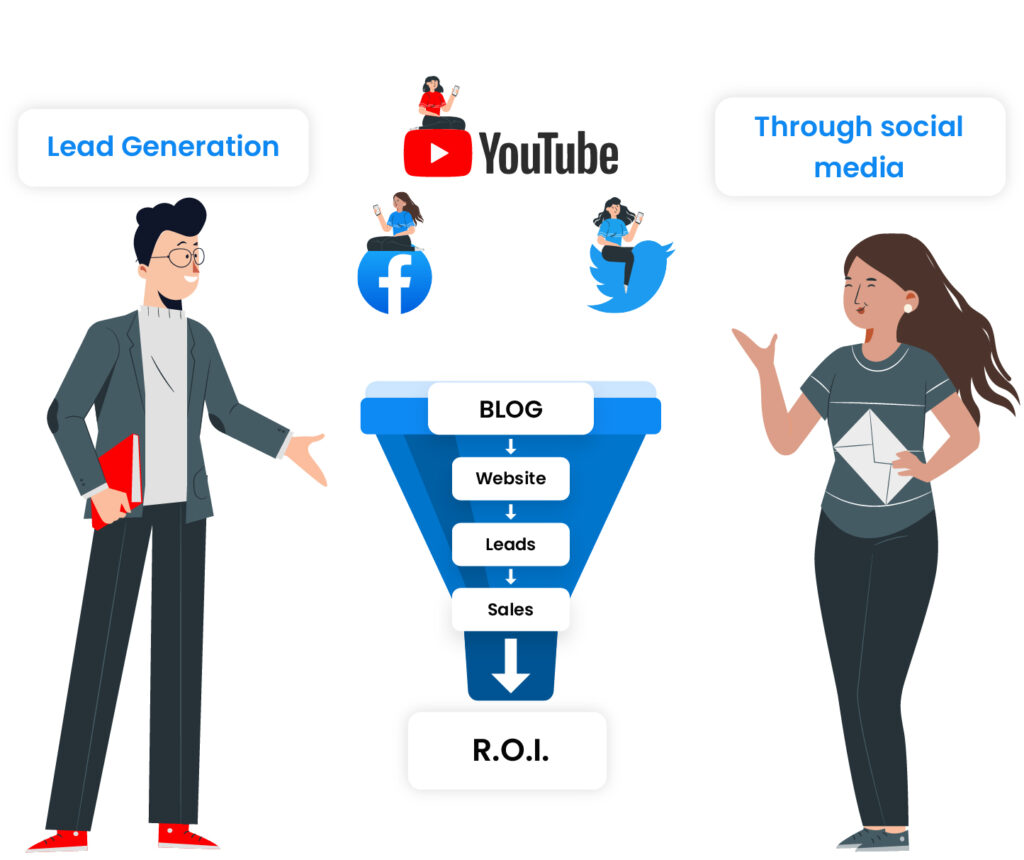 Step 4: Calculate your commissions
Okay, now it's time to go in-depth on the all-important subject of commissions.
That is arguably the most critical thing about your affiliate program. After all, affiliates aren't doing this for fun – they're in it to make money.
To calculate your commission rate, you need to take three metrics into account:
Cost per acquisition
Customer retention rate
Customer lifetime value
These won't tell you exactly how high your commission should be, but they allow you to make an informed decision. Generally speaking, the more you can afford to pay, the better – just ensure your final figure is in line with your lifetime value, retention, and commission rate.
Additionally, you need to decide how affiliates can earn those commissions. Affiliate software allows you to determine when commissions will be paid based on the type, such as:
Per action
Per click
Per lead
Per impression
With Post Affiliate Pro, paying your affiliates is easy as it allows you to set up unlimited payout options for the affiliates to choose from.
Step 5: Optimize your conversion rate
In section three, I pointed out that commission – while important – isn't the only factor in attracting quality affiliates.
Your conversion rate needs to be spot on, too.
Remember, affiliates are working hard to bring in traffic and send it your way. They want to feel confident that when they do so, there's a good chance those people will buy from you (and earn them a commission).
Again, your affiliate software can help. Focus on the conversion ratio in your trends report. If things are heading in the wrong direction, you need to figure out why.
Part of the puzzle lies in working with the right affiliates, which I've already discussed. They need to attract the right audience and describe your product in the right way.
But when those potential customers land on your site, they need to have a streamlined path to purchase. Your landing page should have a set of features and benefits of your product prominently displayed. To answer any questions they might have about things like the ordering process, shipping, or returning policies, at lightning speed, you can integrate with live chat software. Inquiries might come from any part of the world, so try to implement multilingual support.
Step 6: Set clear, measurable objectives
No matter how brilliant your affiliate partners are or effective affiliate software is, you can't afford to leave things to chance.
You need to make smart decisions to get the most from your affiliate strategy – and that means setting clear objectives against which you can measure performance. Of course, there's no correct answer as to what those objectives should look like, but they'll generally be along these lines:
Increase volume of sales by X% over the next year
Increase average order value by X% in the next quarter
Grow the number of active affiliates in the program by X% year on year
Hit $XXX in commission payouts in December 2021
Having defined your objectives, you can build out a strategy that gives you the best chance of achieving them. Then you can monitor performance through the tracking methods of your chosen affiliate software, helping you understand whether your approach is working well or needs a revision.
While there's no such thing as the perfect affiliate marketing strategy, at a minimum, it'll need to cover the following areas:
Choosing the right affiliate software
Recruiting the right affiliate partners
Setting your terms and conditions
Agreeing rules around PPC bidding
Deciding how sales are validated
For instance, many affiliate managers bar their affiliates from bidding on brand terms. Looking back at that hybrid mattress example from earlier, WinkBeds likely doesn't want affiliates running paid search activity around its brand name because that's not getting the brand in front of new audiences. So if WinkBeds allowed brand bidding, it'd end up paying for sales it could have got for free.
Bringing it all together
As with any element of marketing, running an affiliate program isn't a "one and done" activity.
No matter how many sales you're earning and affiliate partners you've brought on board, you can always be doing more.
Maybe you can hone your conversion rate, tweak your terms and conditions to make them more appealing to the right affiliate partners, or change your commission structure.
With the right affiliate software, you'll always be in a position to optimize your strategy and approach.