Who is an affiliate manager?
An affiliate manager is a person, who works at an affiliate network. This person is a connection between affiliates and merchants. Affiliate managers give advice to advertisers about managing their programs, they check results, recommend good offers or promote programs to potential affiliates. Affiliate manager helps them with setting things up from the beginning. They also transfer traffic to advertiser's web pages.
How Much Should You Pay Your Affiliate Manager? | ClickBank08:36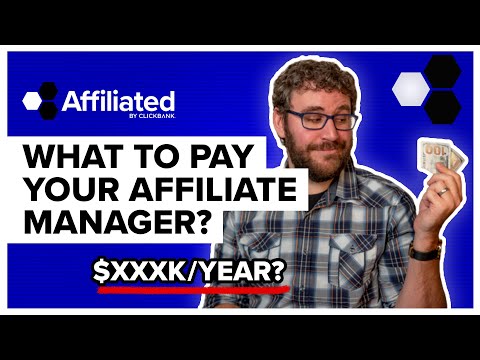 ClickBank
Topics
paying affiliate managers
job role of affiliate managers
hiring options for affiliate managers
Video summary
This video discusses how much to pay an affiliate manager and the importance of clarifying their job role. It emphasizes the need for affiliate managers to focus on revenue-generating tasks and not get bogged down with administrative work. The video also covers the salary ranges for affiliate managers, which can vary widely. It explores different hiring options, such as hiring internally, using an agency, or hiring a freelance joint venture broker. The key takeaway is to ensure that affiliate managers are not overwhelmed with admin work and that their compensation package and bonus structure incentivize sales and new affiliates. The video ends with a tip to give affiliate managers the freedom to make deals and not micromanage them.
Frequently Asked Questions
What does an affiliate manager do?

An affiliate manager runs the day-to-day operations of an affiliate program. This includes recruiting and managing affiliates, and working with affiliate networks. The affiliate manager is also responsible for tracking affiliate sales and commissions, and ensuring that affiliates are paid on time.

How can I become an affiliate manager?

In order to become an affiliate manager, you need to have experience with affiliate marketing, and either start your own network or join an already established one. Affiliate managers usually have strong communication and negotiation skills, as well as knowledge in marketing, sales, and management.

How much does an affiliate marketing manager make?

There is no set salary for affiliate marketing managers because pay is typically based on experience and performance. However, Glassdoor reports that the average base pay for an affiliate marketing manager is $58,819 per year.