What is a trends report?
The Trends Report displays trends of your transactions in charts as well as in data fields. You will have a clear picture where your affiliate program is going. You can filter your transactions by date, status, campaign or affiliate.
You can display 2 attributes at the same time in the charts, which includes impressions, sales, commissions or clicks. You can also compare the progress of multiple parameters.
Under charts you can see detailed transaction summary of several parameters:
Clicks
Number of Sales
Value of Sales
Commission per Impression
Commission per Click
Average Amount of Order
Parameters are grouped by time:
Today
This week
This Month
This Year
All Time
Selected time period in filter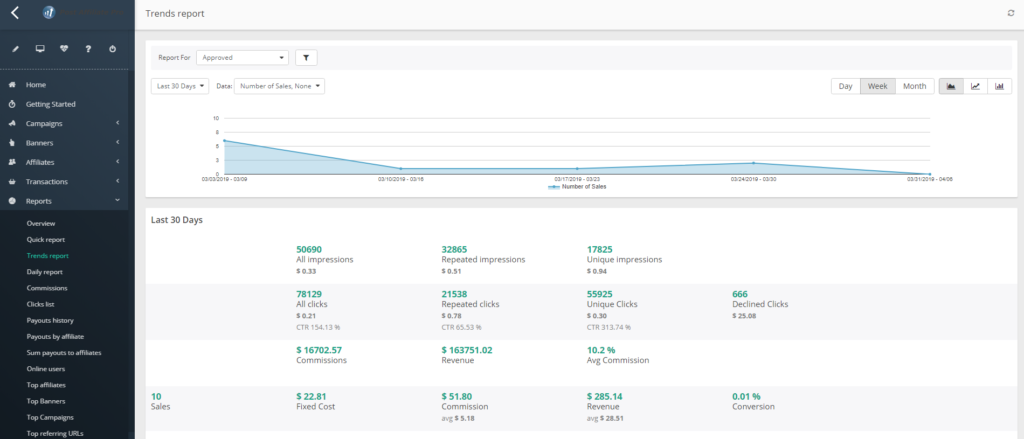 Why are trends reports important in affiliate marketing?
Keeping up to date on industry news is crucial when it comes to running an affiliate marketing program that is successful. This includes how new products are discovered and purchased. It can be hard, however, to stay current with affiliate marketing trends as consumer tastes and concerns are constantly changing and standards always changing.
Fortunately, you can predict the most important affiliate marketing techniques for the upcoming year by assessing what has worked in the past and what customers value currently. As a result, you will keep your partners ahead of the curve, thus improving their marketing efforts for your business.