Affiliate marketing is one of the best ways to make money online. The best thing about affiliate marketing is that it's completely free to join, and there's no limit to how much you can earn out of your affiliate blog.
For example, some affiliate marketers make $1000 monthly, some $10,000, some $50,000, and some earn even more.
Making that amount of money through affiliate marketing is quite challenging or may even seem impossible. But, if you have a solid plan and strategy, you can easily boost your affiliate earnings.
Even if you just started a blog or are already in the affiliate marketing field for quite some time and not seeing any growth, you need to change your marketing and affiliate sales strategy.
In this article, we will share 9 affiliate marketing secrets that will help you make more money with minimal effort.
What is affiliate marketing?
Affiliate marketing is a process of earning money where you earn a commission every time you make a sale by promoting a company's products or services.
Joining affiliate programs is entirely free, and you can promote any types of products or services you want. All you have to do is search for affiliate programs based on your niche and join.
For example, Post Affiliate Pro is one of the best affiliate marketing software that offers complete solutions for businesses. They also have an affiliate program, and joining is free.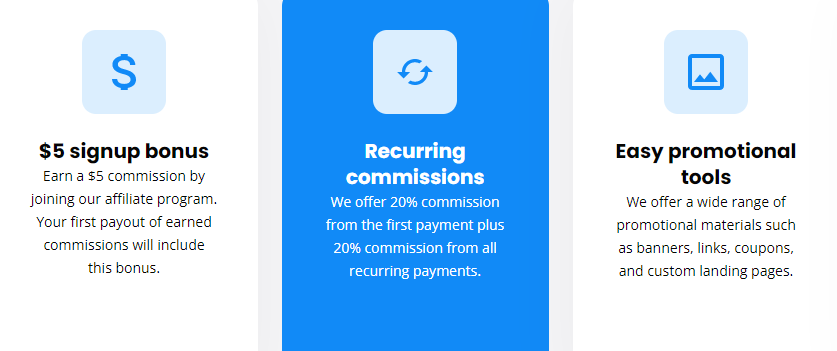 They offer a 20% commission from the first payment. In addition, you earn a 20% commission from all recurring sales.
Join Post Affiliate Pro's affiliate program.
How does affiliate marketing work?
After joining an affiliate program, you will get a tracking URL used to track your performance. It looks like this.

Let's say you created a blog post about "best chef knives" and included your affiliate links. Users who visit your website and click on any of your affiliate links will be redirected to the company's website. You will earn a commission if the referral makes any purchase.
Also, when a user clicks on a link, a small file called "cookie" is stored on the user's device.
In affiliate marketing, cookies are used to track referral sales, and most importantly, to extend the expiration date such as 24 hours to 30 days, 90 days, or more.
For example, let's say a seller sets the cookie duration for 90 days. A visitor who clicks an affiliate link and leaves the website still has 89 days to make a purchase. If the purchase is made within this period, you will qualify for a commission.
9 affiliate marketing secrets that will make you more money
1. Choose a platform
Before getting into the affiliate marketing field, you need to decide which platform you will be using. There are plenty of available platforms to start affiliate marketing, such as a blog, YouTube, Instagram, Twitter, etc.
Each platform works differently, so you will need to implement different strategies.
Starting a blog is quite simple. All you need to choose is a blogging platform such as WordPress, Wix, or Squarespace, and set up your website.
If you are a beginner or don't have enough knowledge, you can find plenty of tutorials on different blogs or YouTube that will help you get started. You can also use generative AI can aid in producing high-quality blog posts and content outlines.
After setting up your website, you need to keep publishing relevant and informative content optimized for SEO. In short, SEO stands for Search Engine Optimization, which is the practice of getting targeted traffic to your website from search engines.
Once you start getting traffic from search engines, you can add affiliate links to your digital content.
If you are a YouTuber, you can place affiliate links in the description.
Here's an example from ReviewInfinite where they reviewed different fishing rods. In the description, they mentioned Amazon affiliate links.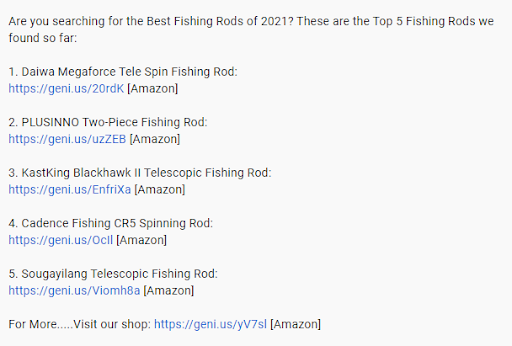 On Instagram, you can add affiliate links in multiple places, such as the bio, story, and post description. Here's an example: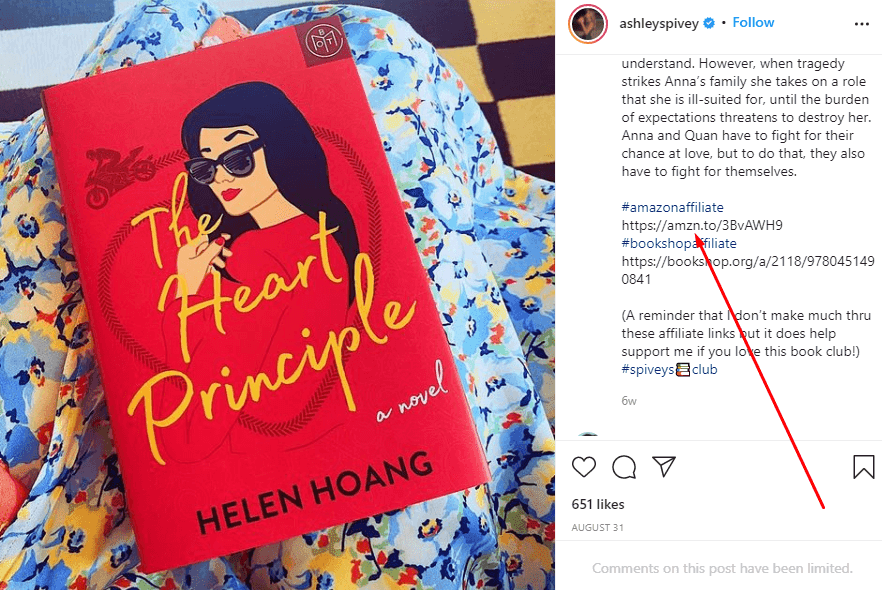 Remember to add an FTC disclose notice on your website to avoid legal issues.
2. Choose a niche
Having a niche will allow you to concentrate your blogging efforts on a specific topic.
For success in affiliate marketing, it is essential to narrow down your topics rather than cover everything. By doing so, you can gain several advantages, including:
reduced competition
you can become recognized as a credible and trustworthy source
single niche is easier to maintain
it is more word-of-mouth friendly
enhanced audience relation
Just take NeilPatel.com as an example. NeilPatel.com is one of the best digital marketing blogs covering marketing, SEO, eCommerce, and social media-related content. He is pretty well known in the digital marketing field too.
So, when people search for topics like "online marketing," "affiliate marketing," "SEO," they often end up reading Neil Patel's blog.
Selecting a niche that you are passionate about and familiar with is the key to success. Because doing what you enjoy will keep you motivated. In affiliate marketing, you need to publish niche-related content consistently; otherwise, you may fail in the long run.
So, if you are interested in sports, choose a particular subject, something like golf, basketball, or football. The sports industry is a vast category, and covering it by yourself would be overwhelming. This way, it would be more effective to stay focused on one particular field.
3. Create great content
You have built a website and chosen a niche; now, you have to create high-quality content optimized for SEO.
But, that's easier said than done… How exactly do you write SEO-optimized and engaging content for your affiliate website?
Here are the steps to follow.
In preparation for writing a relevant and successful blog post, look and identify top organic keywords searched by your target audience.
Fortunately, you can use keyword research tools like AdWords, SEMrush, or Ahrefs, to find high-ranking keywords.
Enter a keyword phrase such as "baking ideas", and it will give you an insight into how many people search for the term. Additionally, you get essential metrics such as keyword difficulty, monthly searches, related keywords, and similar keywords.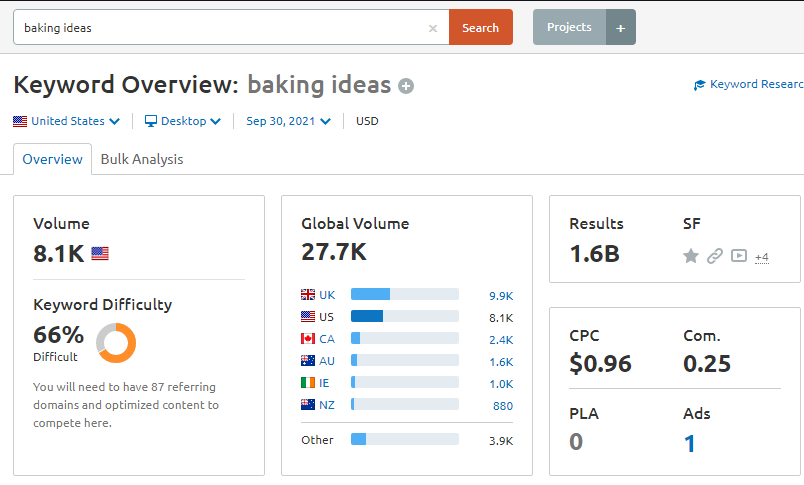 Optimizing content for search engines isn't enough. You have to make sure your content is easy to read and understandable. Checking for complexity, legibility, typography, and recognition is also part of this process.
Here're some tips on how you can improve text readability.
Keep sentences short. The ideal length is 15-20 words.
Use headings and subheadings. Make text scannable.
Split a long text into short paragraphs. Too long paragraphs scare visitors away.
Use bulleted lists. Highlight only the most important facts.
Don't use too many adverbs. They make text look more sophisticated.
Avoid passive voice. The active voice always works better.
Choose simpler alternatives of words and phrases. Write many instead of numerous, and yet instead of however, etc.
Alternatively, you can use tools like the Hemingway editor to check your text's readability.
When it comes to marketing, many websites struggle to engage their specific target audiences effectively. Instead, they try and market to everyone at once rather than crafting valuable content for the right target audience.
That's where content segmentation comes. It's a practice of providing content clearly and concisely specific to a group of people. Implementing this method can improve engagement rate, help you differentiate yourself from your competitors, and increase marketing effectiveness.
For example, let's say you have an affiliate website about "shoes." So, to get more engagement on your blog, you can create different content for certain groups of audiences, such as "best running shoes for kids," "best running shoes for students," "best running shoes for adults," etc.
For further information, you can also read how to write great content for affiliate marketing.
4. Drive traffic to your affiliate website
The goal of any website owner is to get as many people visiting their site and clicking on affiliate links, resulting in more money.
But, how do you drive traffic to your website? Here are three strategies to follow.
1. Paid ads
Paid traffic is a type of web traffic that comes from paid advertisements, such as Google ads, Facebook ads, or sponsored content.
The advantage of paid traffic is that you get results faster – your website can receive traffic from day one. Here's an example of Google ad results.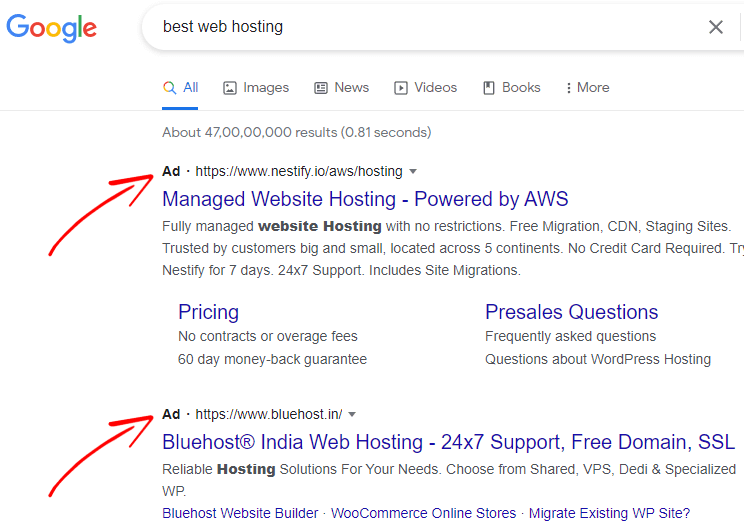 With paid traffic, you can increase profits quickly, but it is not sustainable. If you stop paying for ads, you won't get any more traffic.
2. SEO marketing
There are several SEO practices that you can implement to your affiliate website to get more organic traffic. Some of them are:
keyword research
optimize your content
pay attention to On-Page SEO
guest posts
Unlike Paid ads, SEO doesn't give you results faster, but it requires lots of effort and time.
However, the benefit of an SEO marketing campaign is that it doesn't require any money and can lead to long-term exponential growth. Here's an example of organic results.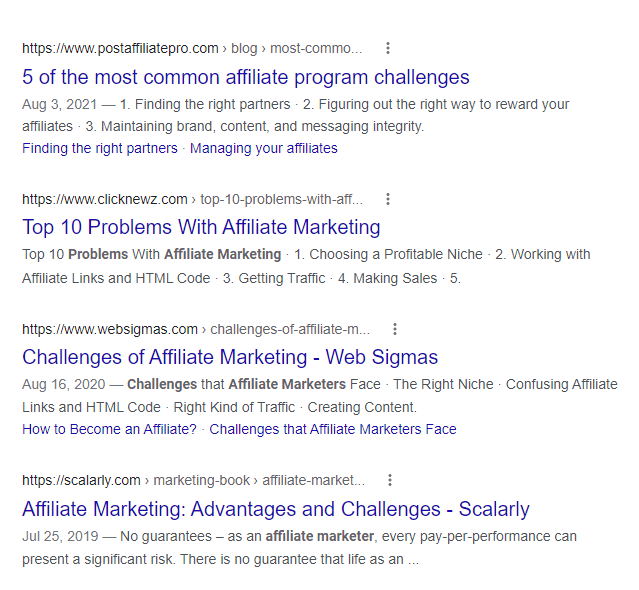 3. Build an email list
While search engines are vital for driving website traffic, you shouldn't avoid building email lists. Through email marketing, you can promote your content to a large audience and include your affiliate links, if it is allowed.
However, before sending emails to your subscribers, be sure to validate and check the email addresses of each prospect as it ensures higher deliverability and click-through rates. You are also less likely to have your emails flagged as spam.
5. Find affiliate programs to join
There are hundreds of affiliate programs out there, but finding the best affiliate programs for your niche could be difficult.
Here are a couple of methods you can use to find affiliate programs:
Do a simple Google search:
It only takes a quick Google search to find lots of affiliate programs. For example, if your niche is about "fitness", you can enter "best affiliate programs for fitness".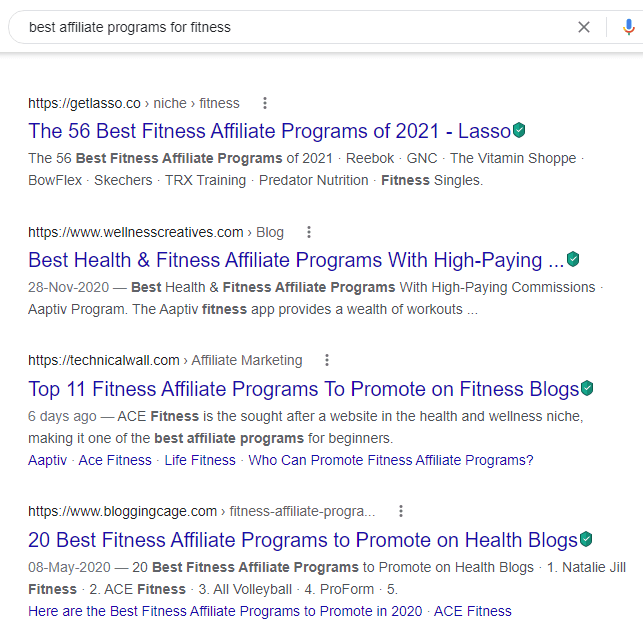 Go through each of the blogs and check which of the affiliate programs are worth joining.
Join affiliate marketing networks:
Affiliate networks connect publishers like blog owners or influencers with companies, allowing bloggers to promote their products or services.
The best thing about affiliate networks is that they only require a one-time registration process, and you can join and promote thousands of affiliate products on your blog.
Some of the most popular affiliate marketing networks are:
ShareASale
ClickBank
Amazon Associates
CJ Affiliate
Avangate Affiliate Network
Teamwork
Sovrn
JVZoo
AWin
Sidenote: If you want to build an affiliate marketing network like them, then the Post Affiliate Pro is the ideal solution for you. It allows individuals to build an affiliate marketing network; plus, you will get all the essential features, including lifetime support.
Check a company's website:
Another way you can find affiliate programs is through the company's website. This method works if you are searching for an affiliate program for a specific brand.
Most of the brands put an affiliate link in the footer section. Clicking on it will take you to the sign-up page.

6. Write more about trending topics
Certain types of content are popular on different media platforms for a short period. You can draw inspiration for new content from these trending topics. In addition, content related to the trending topic can generate additional traffic and revenue for your affiliate marketing campaign.
To discover more about trending topics, go to Google Trends and see what's hot right now.
For example, if you enter "Oklahoma football", you can see a flat graph from January to August, and then it increases.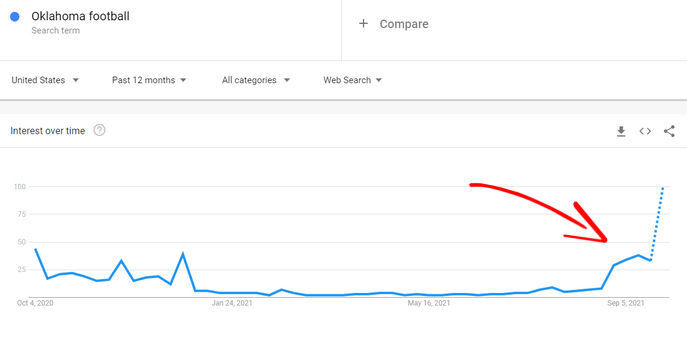 So, during this time, you can publish "Oklahoma football" related fresh content, which will lead you to higher traffic.
Similarly, you can plan ahead and cover seasonal content, for instance, Christmas, Halloween, Thanksgiving.
7. Find affiliate programs with recurring commission
Different affiliate commission systems are available, but most companies prefer offering a one-time commission to their affiliates. That means you will get paid just once when the referral completes a purchase.
For example, Bluehost hosting company offers a one-time commission of $65 for any successful hosting purchase.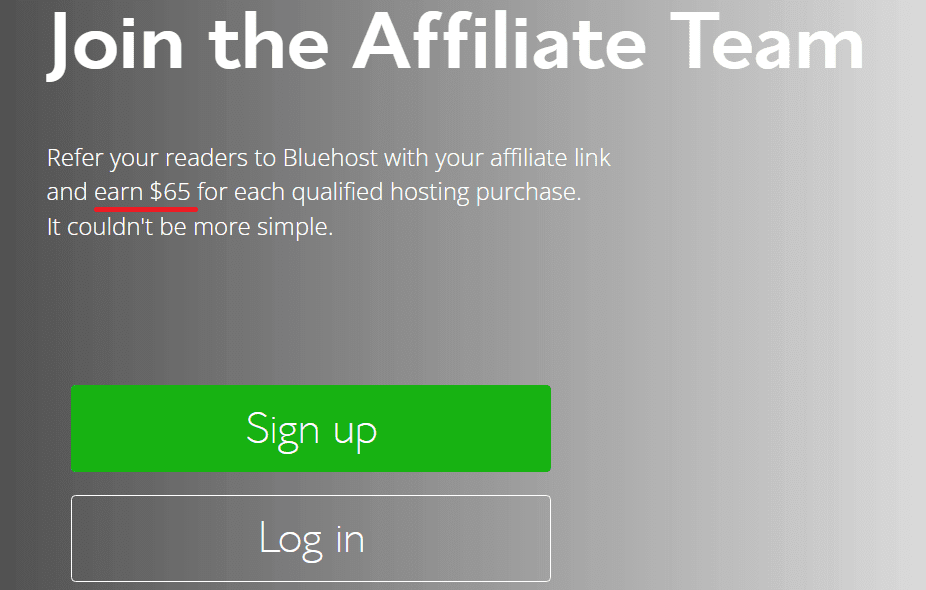 However, if the referral stays with Bluehost for five or ten years, you still get the same.
That's why it's crucial to look for recurring affiliate programs so that affiliates get paid as long as the referral remains signed up.
8. Ask for custom commission
Most companies automatically change your commission based on your performance. Let's say, between 1-5 monthly affiliate sales, you get a $50 commission per sale, and for 10-20 monthly sales, you get $100 commission per sale.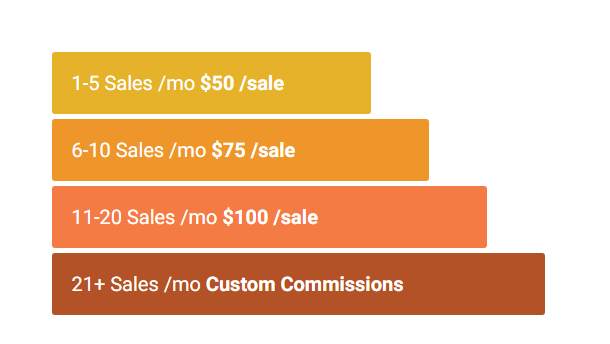 However, if the company doesn't offer a custom commission, you can reach out to them explaining why you deserve a higher commission.
You can write something like:
9. Get clicks on your affiliate links
Affiliate marketing is a numbers game. The more you get people to click on your affiliate links, the higher the chances of them becoming customers, the more money you end up making in the backend of those increased conversions.
There are several ways you can improve link clicks on your affiliate blog. Here are the steps to follow.
1. Make your affiliate links easy to spot
Ensure your affiliate links are easy to spot and appear in the appropriate places to encourage more clicks.
It's also a great idea to make your paragraph links bold and underlined. Here's a clear example.
2. Add exit-intent pop-ups
Another great way to get people to click on your affiliate links is to use an exit-intent pop-up. If you're not familiar with them, pop-ups are small windows that activate when users on your page perform specific actions.
There are many types of pop-ups; the most successful one is called exit-intent pop-ups. As the name suggests, it appears right before a user is about to click off your page. You can take advantage of them by creating pop-ups for your best-performing affiliate pages and leveraging your highest converting affiliate offer.
Here's an example of a successful exit intent pop-up promoting a high-value survey affiliate offer: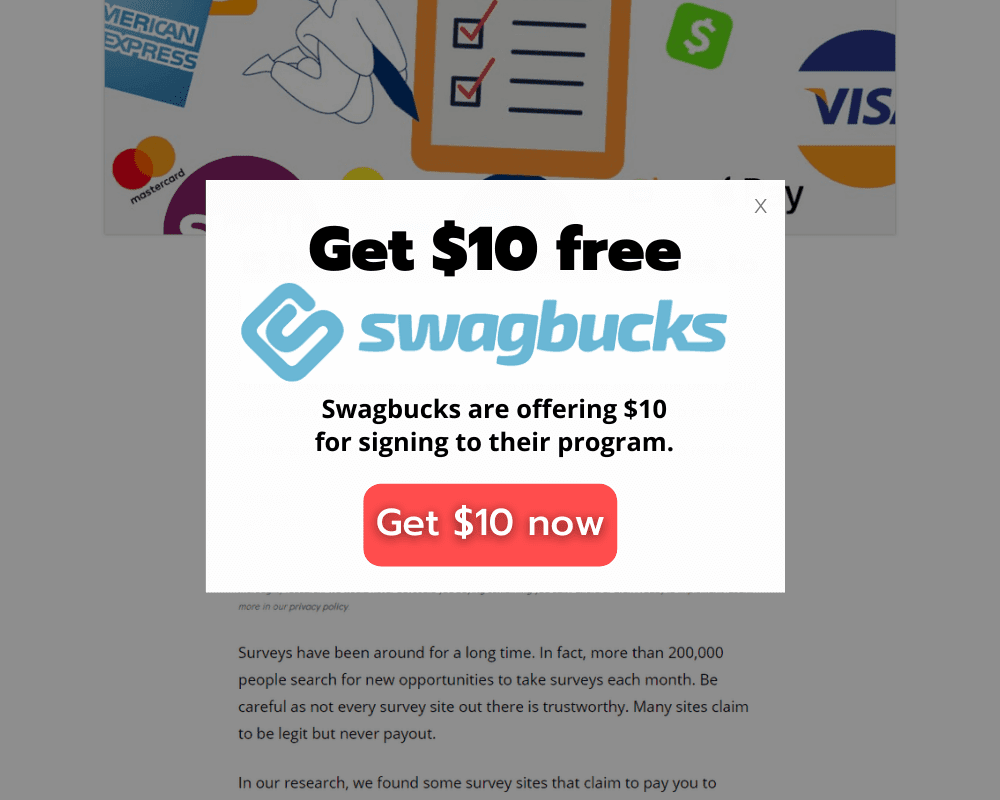 As you can see above, the components of an effective pop-up are simple. It starts with catchy headlines at the beginning that goes something like "get _ for _", or "give $5, gets $5"— you get the idea. Then a nice picture and some details about the offer. Finally, a clear and engaging CTA button is the final touch to drive your conversion rate.
3. Add comparison table
Product comparison tables help users find similar products and make quick buying decisions based on their requirements.
Mobile phones are a prime example of this. Many people buy a mobile phone based on their personal preferences. For example, some may want longer battery life or bigger screen size, and others want a better high-resolution camera. Here's an example: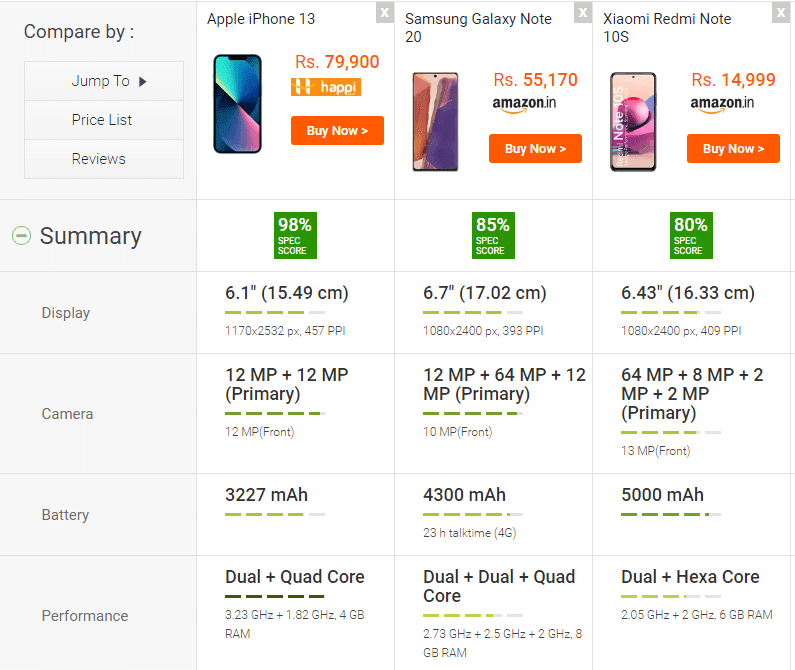 Comparing all the phones side by side helps users pick the best phone based on their requirements.
Conclusion
Affiliate marketing is a great way to make money online. But, getting successful in it takes a lot of effort and time.
If you're a beginner or have been doing affiliate marketing for a while and looking for ways to boost your affiliate earnings, you need to implement different strategies.
In this blog post, we shared the top 9 affiliate marketing secrets that will make you more money without much effort.
By implementing these strategies, you can see significant improvements in your traffic as well as affiliate earnings.
Now we want to hear from you. Which of these affiliate marketing tips has worked for you? Do let us know! And, to learn more about affiliate marketing tips and tricks, do visit PostAffiliatePro's blog.