To get the most out of your affiliate marketing strategy, you should have a reliable set of tools to help you with daily tasks. Which ones? Read our list of 8 useful affiliate marketing tools to find out.
For many, an affiliate marketing job sounds like a dream come true – especially when compared to a strict 9 to 5 work schedule in the office. Affiliate marketing is suitable for marketers of all ages, in all industries, and it's proven to work across all channels. Even more importantly, with affiliate marketing, you are your own boss.
All you need to do is promote products or services that you like on your blog, social media profiles, or YouTube accounts, and you earn money whenever someone makes a purchase through your affiliate link. And there's no limit to how much you can make either! No wonder then that affiliate marketing is worth well over $12 billion already, and this revenue stream is only expected to grow.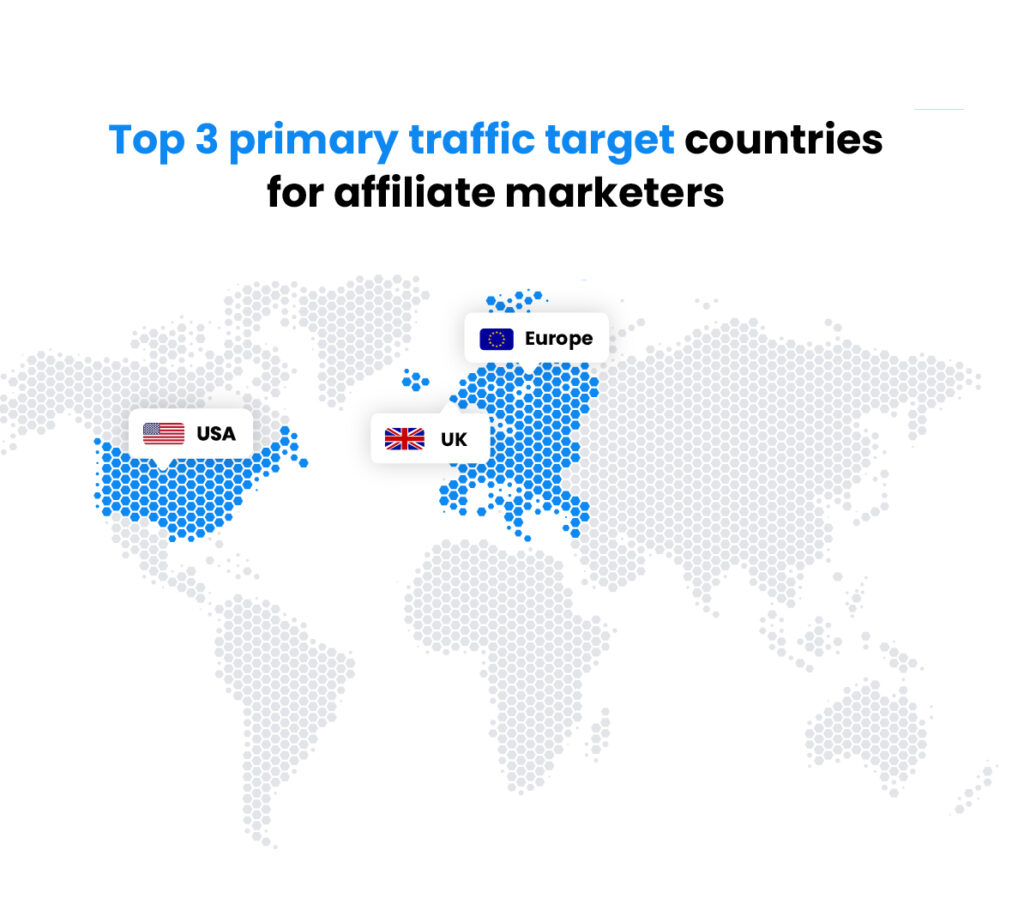 But as more and more people are jumping on the affiliate marketing bandwagon, the competition is getting fiercer and finding new customers is becoming harder as well. What do you need to do to stand out from the crowd and make a steady income? Besides hard work and great content, you also need a solid set of affiliate marketing tools to help you with your daily work. These tools will help you provide top-notch content and automate some of the more time-consuming tasks, leaving you with more time to spend on engaging your audience.
In this article we'll mention eight affiliate marketing tools that might be just what you need to learn more about your audience, provide them with premium content, and give your affiliate campaigns a well-deserved boost. Let's get started!
1. Visme
69% of marketers say that visual content is an absolute necessity when it comes to marketing and affiliate campaigns. And while technically you can find a lot of ready-made visual content on the net, nothing can beat content that's, specifically tailored to your audience. But how can you make personalized videos or infographics if you have little artistic talent or simply no time to do so?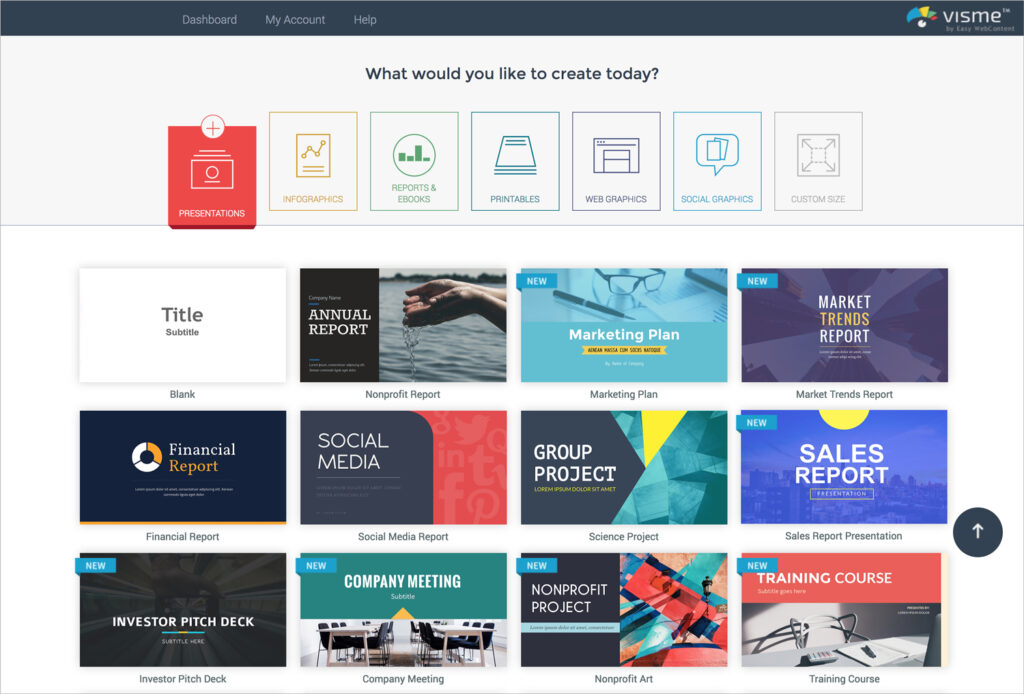 Have a look at Visme, a cloud-based visual content creation platform on which anyone can design professional, branded content for their campaigns. Whether you need to create a presentation, an infographic, a printable checklist, or a graphic for social media, you can do it with Visme. It provides a ton of helpful resources, study materials, and other resources to help you create visual content to boost your affiliate sales. And if at any time you need inspiration for content, you can look through Visme's vast library of over 100 templates, 1.5 million stock photos, plus icons, fonts, audio, video clips, and everything else you might need to create branded content for your campaigns.
2. Post Affiliate Pro
Affiliate marketing is all about data – the more you know about how your affiliate campaign is doing, the easier it will be to spot potential problems with conversions or ineffective channels. But gathering and analyzing data manually can take quite a lot of time, especially if you promote several different products.
Post Affiliate Pro can lend a hand here because it is an affiliate management solution that can run your program from top to bottom – from the creation of links and promotional banners to showcasing detailed reports about every aspect of your campaign. Post Affiliate Pro can also help manage your affiliates' performance and payrolls. Besides having all their performance details right on your dash, you can also entrust the platform to take care of regular commission payouts.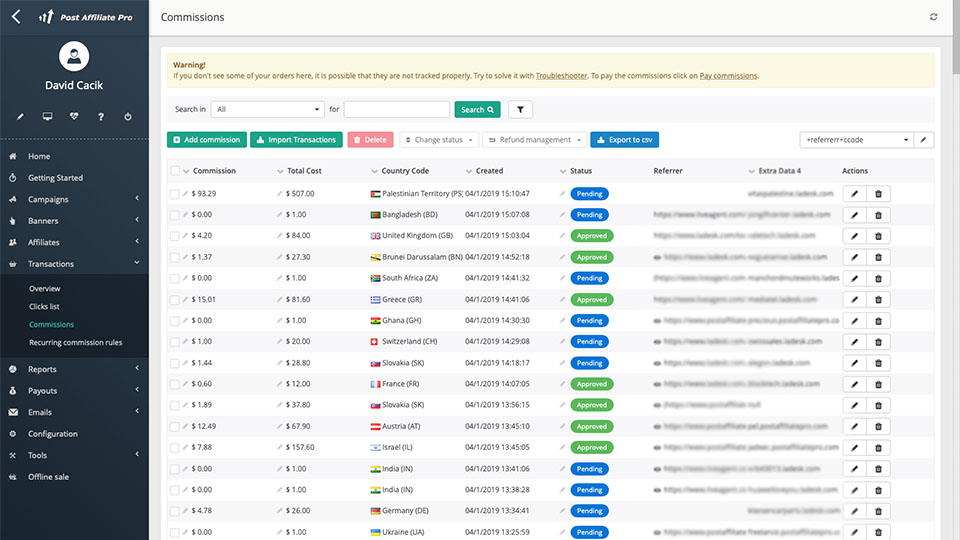 You can even create different payment groups for your agents depending on their performance and reward the top marketers with something extra added to their commission.
3. Smartlook
Curious about how website visitors interact with your content? Want to know what they read, where they click, how much time they spend on your website, and what kind of problems they have?
It might sound like science-fiction, but with the advance of qualitative analytics solutions like Smartlook, you can do exactly that! For example, let's say you set up a Smartlook plugin on your affiliate blog. You can view all the details of your readers' activity in real-time. And that's just the tip of the iceberg.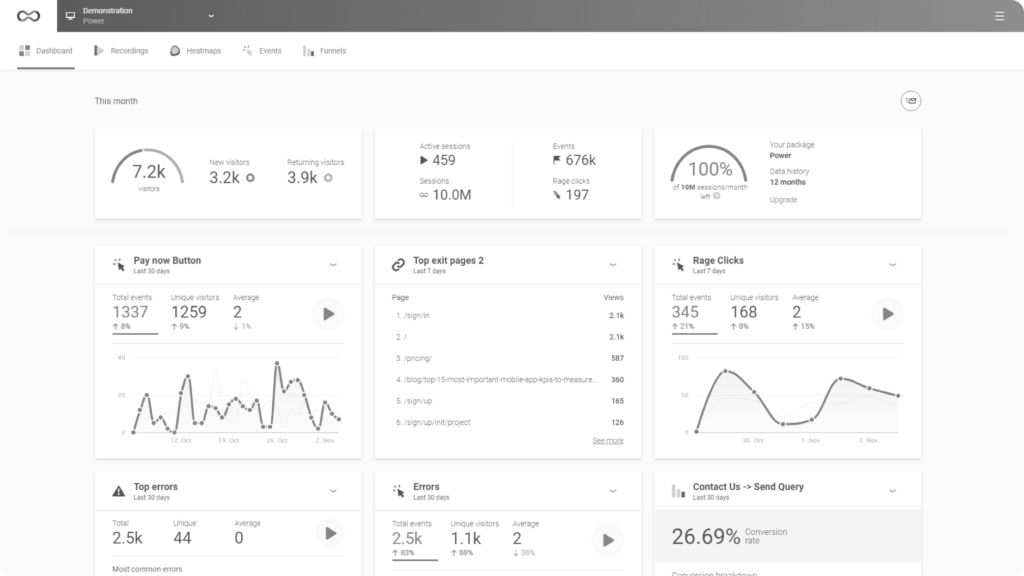 How about checking which content type is most favored by your readers? Or when and where exactly users drop out of your sales funnel? Trust us, this one's a game-changer, as you can easily find and resolve the main obstacles that stand in the way of more conversions, sales, and higher customer satisfaction.
4. Omnisend
Everyone knows how powerful email marketing is: boasting a 4000% ROI, trusted opt-in channels like email have only become more powerful over the past year. Building an audience subscriber list, sending out emails with your affiliate links, and welcoming new subscribers can be tricky without an email service provider.
This is where Omnisend comes in. Created with eCommerce in mind, Omnisend offers features to help you sell via email. You can create gorgeous email campaigns in a matter of minutes, automate your messages, and get your affiliate products and links in front of more eyes. It supports automation, exit-intent popups that you can add to your site for email capture, and implementation of SMS or push notifications into the workflow.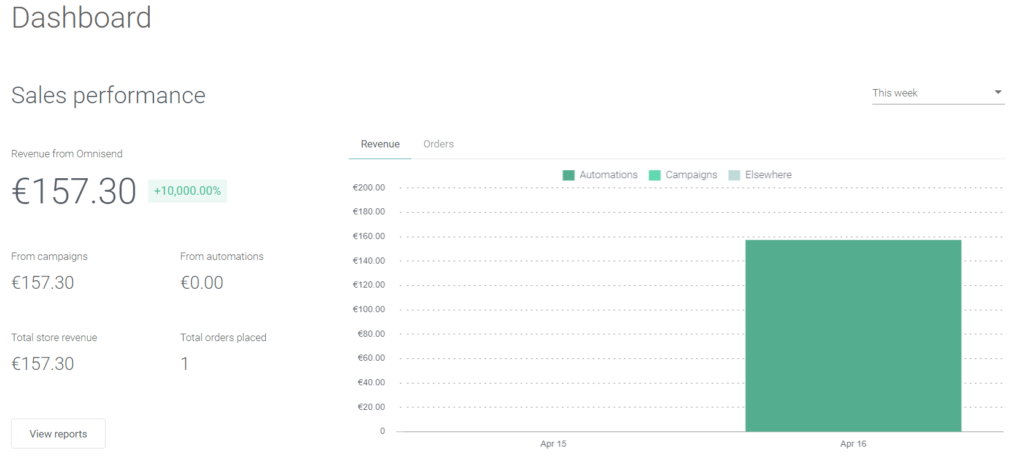 Omnisend is no stranger to affiliate marketing. In fact, the Omnisend referral program might be worth adding to your affiliate repertoire.
5. Mediatoolkit
This social listening tool can help you with your social media affiliate marketing efforts. What is social listening? Simply put, it enables you to monitor the web for all mentions of the products or services you are promoting, plus any comments about your competitors.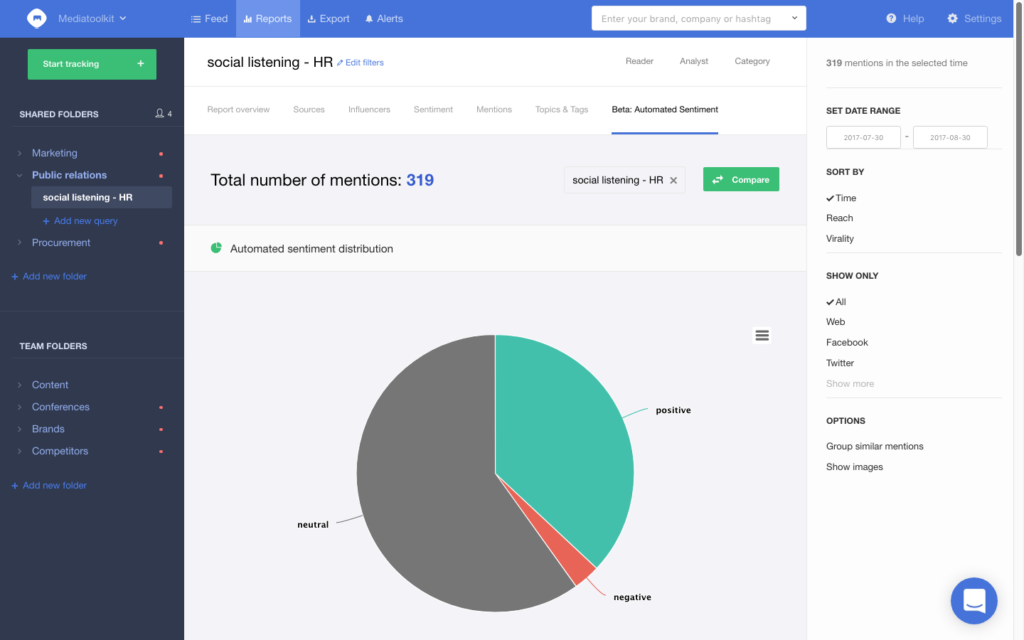 With this tool, you can quickly find out what the public is saying about the products you are promoting, peoples' opinions (positive or negative), as well as their expectations. Social listening will also help you keep tabs on social media trends and enable you to spot any negative comments or reviews so that you can react before they cause any damage to your business.
6. Kontentino
There's a pretty good chance that you are using one or more social media channels to promote your affiliate marketing content and program. Managing several accounts and keeping all of them active is tough, especially if you create and publish all posts manually. How can Kontentino help you here? It is a social management tool with which you can create and schedule posts for Facebook, Linkedin, Twitter, Pinterest, and Instagram, from one dashboard. Simply create the post, pick a time and date in the future, and your content will be published automatically.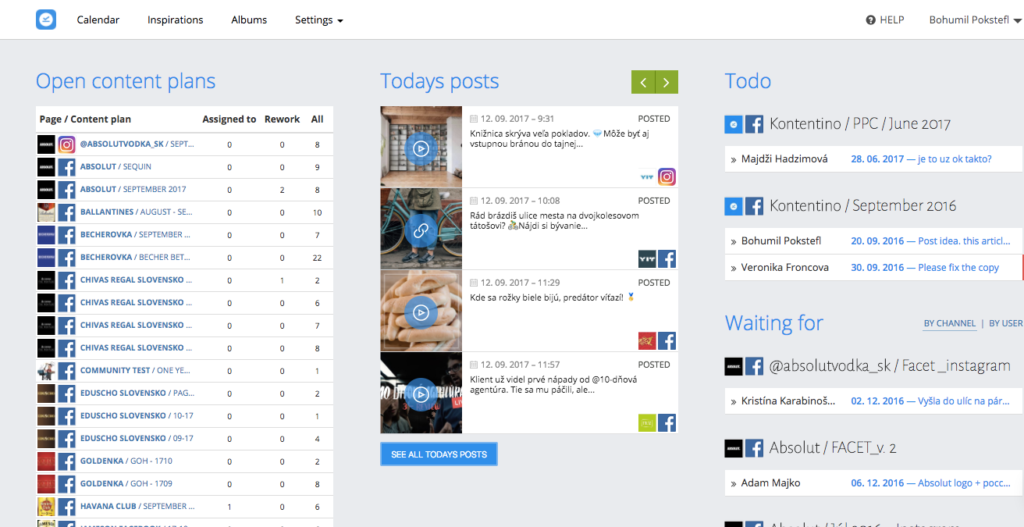 In addition to that, if you need to get your affiliation partner's approval for any social media posts that you publish, Kontentino provides a great way to share posts with others through its collaboration features. It eliminates the need for back and forth emails and enables users to approve each post with a single click.
7. Warmup Your Email
While email marketing is still one of the most useful affiliate marketing channels, standing out in a crowded inbox isn't as easy as it once was. Especially not with the complex algorithms that email providers use to decide whether your affiliate marketing email will pass through into the recipient's primary inbox or should be sent to spam instead. One of the factors that email providers consider is the sender's reputation, which depends on how many people open, read, and reply to their emails.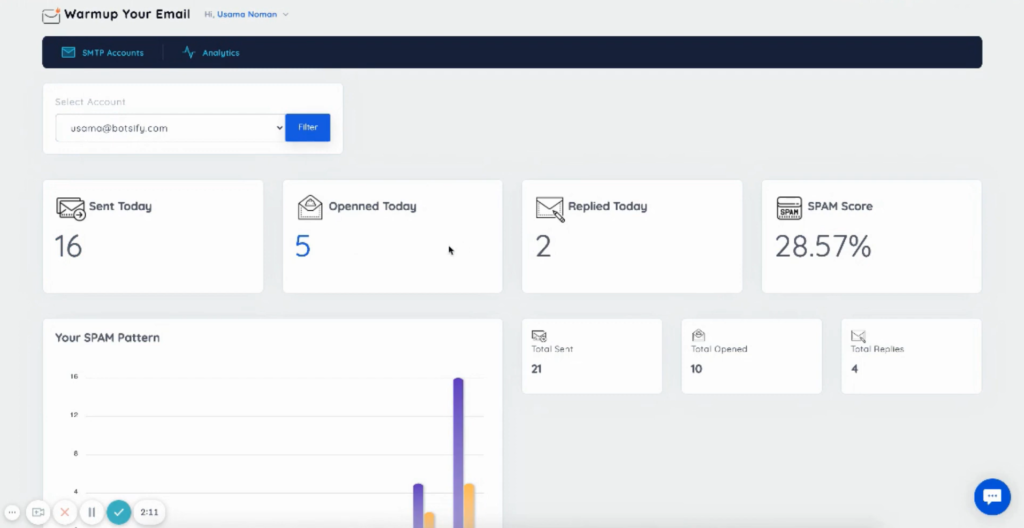 Warmup Your Email's job is to help you build and maintain a good sender reputation so that your affiliate emails will be delivered straight to the recipient's inbox. Besides opening and interacting with your emails, Warmup Your Email will also show your SPAM score (how many of your emails land in spam), so you'll immediately know what's wrong without having to guess or dig into analytics.
8. LiveWebinar
73% of marketers consider webinars to be the best way to generate quality leads – and that was before the global pandemic forced people to work from home and avoid gatherings. If you want to promote your affiliate products while sharing your knowledge with the audience, webinars are the best solution for the task.
Not only are they incredibly convenient for the audience who don't need to leave their homes, but attendees can also learn a lot of information about topics that are interesting for them by listening to subject matter experts. If you can cleverly weave your promoted products into the topic of your webinar, the chances of your audience converting will be much higher as well.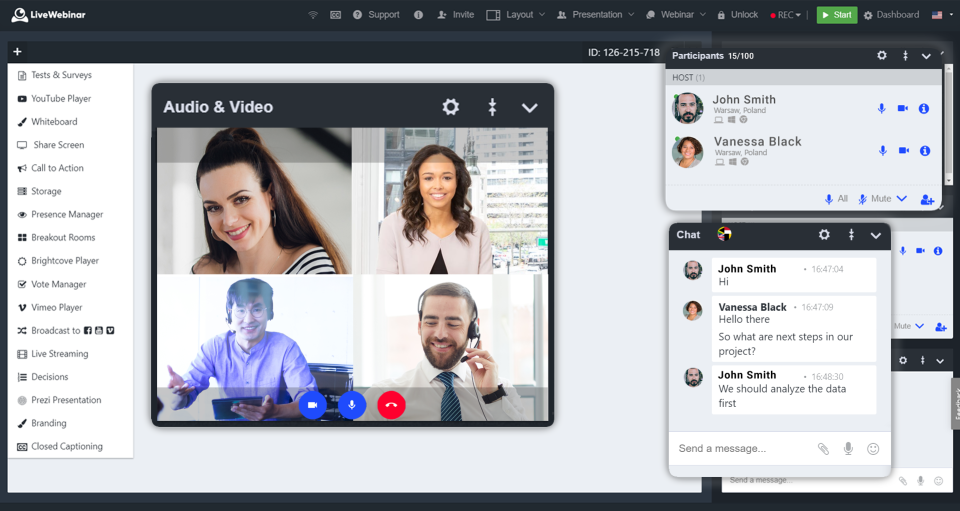 And with LiveWebinar, creating and hosting an online event for your audience is easier than ever. You can create branded webinars for your affiliate campaign and broadcast them to social media. Engage your audience during the webinar by using Prezi presentations, polls, an interactive whiteboard, and breakout rooms. By adding a CTA button to your webinars, you can also encourage attendees to download a free trial of the software you are promoting or sign up for your newsletter.
9. Landingi
Landing pages are one of the most important elements of affiliate marketing, as they have to present your offer in an attractive way. To encourage visitors to sign up for a newsletter or try out a product, your landing page should grab their attention with aesthetic visuals and design, but also clearly state the benefits of the product along with appropriate CTAs.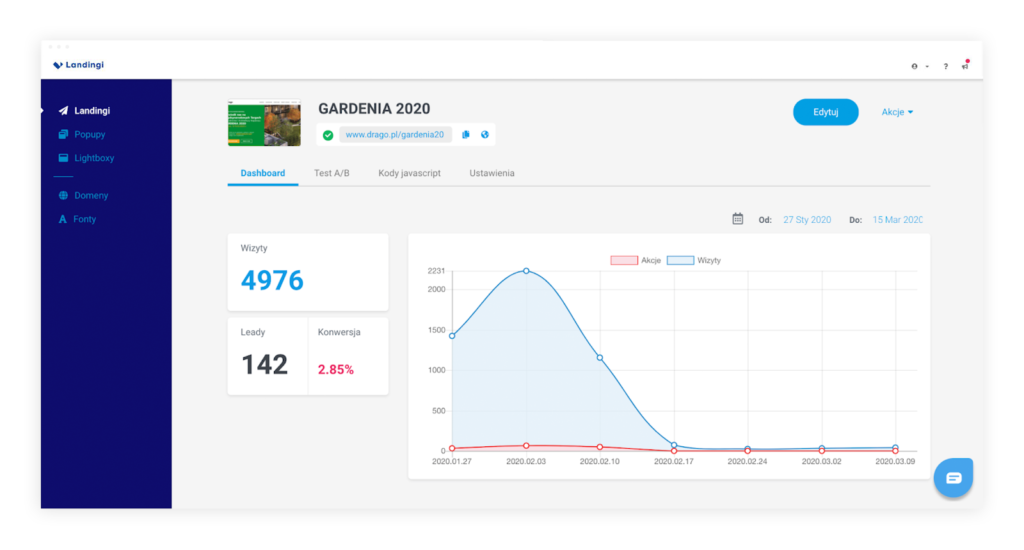 But how can you create a landing page with ease? With Landingi, a platform for designing desktop landing pages, mobile landing pages, and sales funnels. Landingi offers 300+ landing page templates alongside various tools. You can create a landing page from scratch using the drag-and-drop builder, customize one of the templates to fit your brand, and use dynamic content to personalize landing pages to your visitors. Landingi also has an A/B testing tool and a one-click landing page duplication, so you can easily tweak different parts of the landing pages and see which variation is best for conversion.
Conclusion
Having several affiliate marketing channels to promote your products brings many opportunities, but also lots of time-consuming tasks like checking analytics, posting on social media, or creating visuals.
Why not use one or more affiliate marketing tools from this list to reduce the time you spend on these tasks while boosting the value of your affiliate campaign? Doing so should give you more time to build relationships with your affiliate audience, and allow you to offer outstanding content and a great experience. It's truly a win-win situation!