Cookie life time parameter in affiliate program defines, how long will be valid relation between visitor and affiliate, after visitor clicked on affiliate link.
If in defined time will buy customer any product, affiliate will get commission for such sale. If customer will make sale after this period, commissions will not be assigned to affiliate, because cookie already expired.
A lot of times our customers (merchants, affiliate program owners) ask us, what is the best cookie life time for their affiliate program.
My answer is, that it doesn't matter so much how long will be your cookie life time for accurate tracking, but it matters very much for your affiliates.
A lot of affiliates believe, that amount of their commissions will be much higher in affiliate programs with cookie life time 365 days as in affiliate program with cookie life time 7 days. Is it really true ?
A lot of merchants think, that they will need to pay much smaller commissions to affiliates in case cookie life time will be short (e.g. 1 day). I saw also affiliate programs with cookie life 3 or 6 hours, what I think is crazy and could be contra-productive.
So let's take a look on reality.
Following image shows statistic "Days to purchase" from Google Analytics of Quality Unit web site: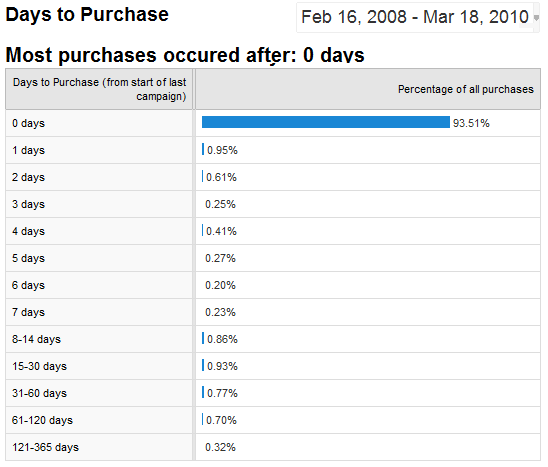 What if I will set ….
Cookie life: 1 day
93.5% of all sales were done within first 24 hours, so affiliate will get nearly all commissions even if cookie life time is very short !
Cookie life: 7 days
96.43% of all sales will be correctly tracked also in case cookie life time will be defined to 7 days …. between 1 day and 7 days is nearly no difference
Cookie life: 30 days
98.21% of all sales is correctly tracked. In case merchant will define 1 day on place of 30 days limit, he will save just 5% of all commissions – not big deal if we know, that motivation of your affiliates could fall by 50%.
Our recommendation
Set the cookie life time to 365 or more! It will not make big difference for you (as merchant), if cookie life time will be 1 or 365 days. Show to your affiliates, that you care about their commissions.
Minimum acceptable cookie life time is for affiliates 30 days. All values under 30 days makes affiliate worry about their commissions. As you see, you will not save too much by defining short cookie life time, so why to make your affiliates worry ?