The digital marketing field can be rewarding, but you may not want to go through the hassle of creating your own SaaS product or launching an e-commerce project. In that case, an excellent alternative can help you earn money – affiliate marketing.
Whether you are a beginner or already have experience with affiliate marketing, this article will prove to be a valuable resource for you. We have delved deep into the topic and compiled expert tips and inspiring examples of successful affiliate campaigns for three main marketing channels — email, social media, and websites.
By exploring different marketing channels, you can determine which will work best for your brand and effectively reach your target audience. So let's start by taking a closer look at affiliate marketing and see what you can gain from it.
Understanding affiliate marketing
Affiliate marketing is a type of online marketing where a company allows affiliate marketers to promote their products or services in exchange for a commission on every sale made through their unique affiliate link. Successful affiliate marketers leverage various channels and resources such as emails, social networks, or websites for promotion.
A typical affiliate marketing strategy is creating a content-based website that offers high-quality resources related to the interests of your target audience. One such example is the personal finance website CreditDonkey. They publish reviews, offers, and advice on personal investing.
Here is one such article with a detailed review of the investment app and an affiliate link.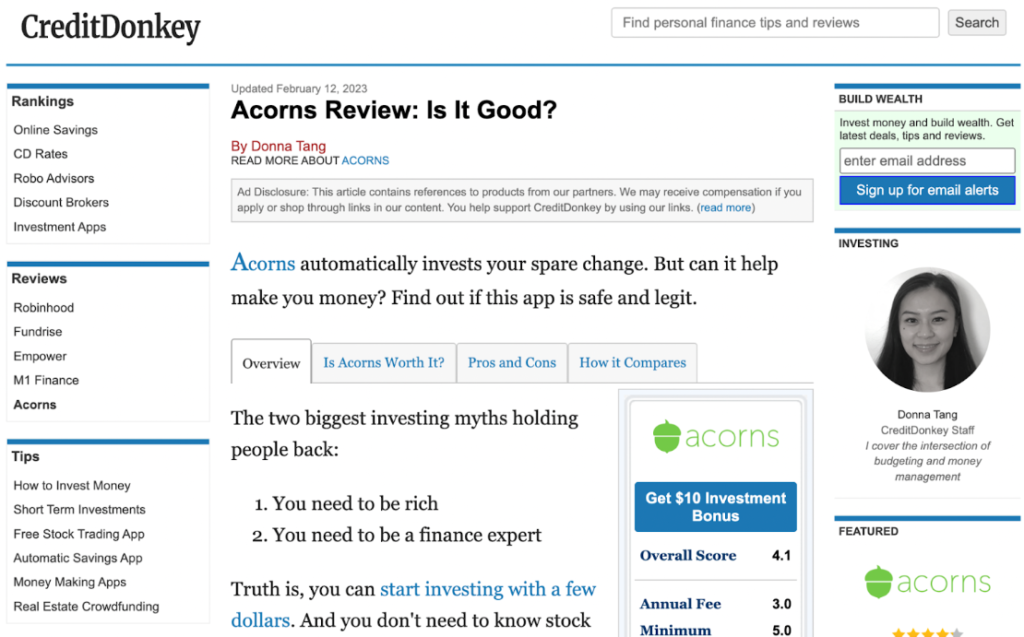 Ways how to make money with affiliate marketing
Did you know that affiliate marketing accounts for 16% of all online orders? Or that over 80% of brands have affiliate programs? These affiliate marketing statistics show the growing popularity as a reliable and profitable income source.
With the right approach, affiliate marketing can become a dependable revenue stream, either as a primary income source or an additional one. So, knowing the necessary steps can make all the difference in turning affiliate marketing into a stable and lucrative affiliate revenue.
Find the best affiliate marketing program with good affiliate sales potential that matches your interests. Ideally, you are already an influential expert on this topic at launch to achieve a maximum return on investment.
Sign up for one or more affiliate programs and get unique affiliate links that will help you receive information when your user makes a purchase. With our affiliate tracking system, you can track your progress, check your earnings, and see how your campaigns are progressing, so that you can make the most of your affiliate marketing efforts.
Create high-quality and relevant content for your chosen channel. If your audience perceives you as a credible and engaging content producer, they will be more inclined to trust you and the products or services you'll promote.
After each purchase through your unique link, a commission is charged to your account in the system. The commission rate can range from 5% to 50%, and each program has its own approach to calculating it. Also, it can be a fixed amount, not a percentage.
The affiliate network managers are responsible for sending you your affiliate payments if your affiliate account reaches the minimum amount required to pay commissions, which varies by program. They are usually sent to bank accounts or through payment processors like PayPal.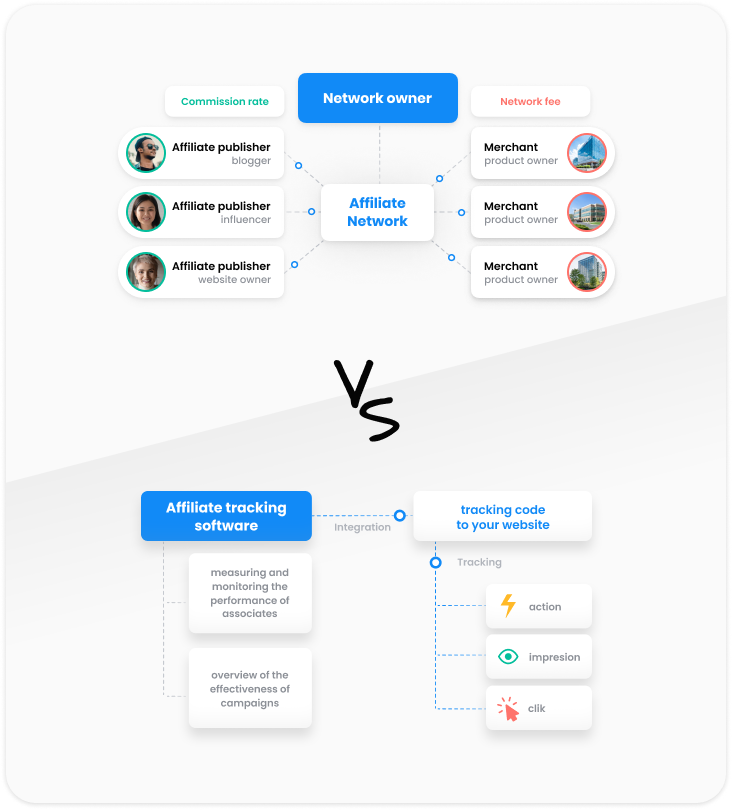 What will you be paid for
When choosing an affiliate program, pay attention to what you will be paid for. For example, it can be a subscription to a free trial period when promoting software, or it can be a purchase of a product.
Here are some popular types of affiliate programs based on payment models or conversion rates:
Payment for the sale: the most popular way in e-commerce affiliate marketing — affiliate commissions paid after a purchase has been made
Pay per action: a method popular in industries with a lengthy customer journey — such as submitting a contact request, filling out a form, or subscribing to a newsletter
Installation fee: when promoting apps and software — commission received when users download software for themselves
Payment for leads: charged if large numbers of leads are required — through sweepstakes, viral launches, and other offers
Pay-per-click: a compensation model where advertisers pay a fee each time a consumer clicks on their ad — used to promote the popularity of brands.
It is important to note that every affiliate program comes with a specific cookie lifetime for affiliate links. In other words, after successfully logging in, the system will consider the active user as someone you referred for a certain period, typically six months to a year. As a result, you will continue to receive affiliate payments for any subsequent purchases made by the user during this timeframe.
As a bonus, some affiliate programs offer a commission on more than just the first purchase of a user but also every purchase a user makes within a specified cookie lifetime. The affiliate income can be steady and ongoing as long as the user continues to make purchases from the affiliate program.
Therefore, affiliate marketers should review each program's terms and conditions before signing up to ensure they understand the cookie lifetime and commission structure. By doing so, they can make informed decisions and maximize their potential earnings through affiliate marketing.
Try Post Affiliate Pro today and take your affiliate marketing to the next level
Post Affiliate Pro is an affiliate marketing software that helps you manage and optimize your affiliate marketing program. With features like tracking, reporting, and payouts, it simplifies the entire process, making it easier for you to focus on earning money.

Try today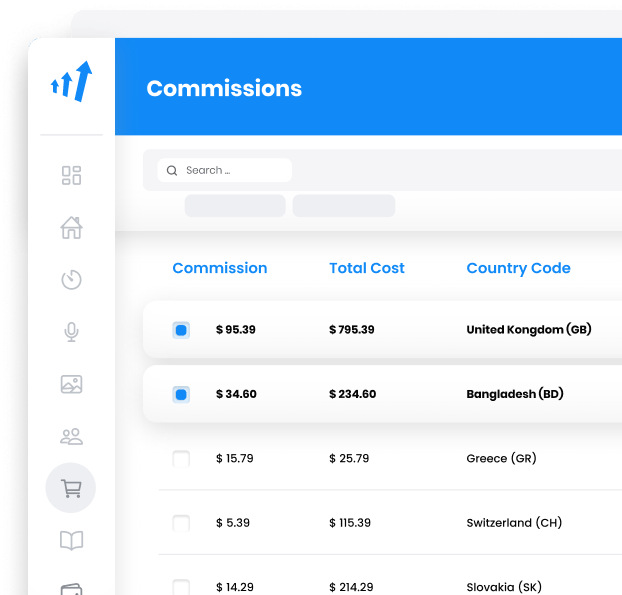 Tips to craft a powerful affiliate marketing strategy
With so many businesses vying for the attention of potential customers, it's important to approach affiliate marketing with a well-thought-out plan. Below are key tips that any marketer should consider when starting their affiliate marketing strategy, as they can make the difference between a profitable campaign and simply wasting your time.
Choose an affiliate program from your niche
All affiliate programs must be related to your niche. People follow you because of specific topics and valuable content. Follow this strategy further to maintain their trust because it is crucial that they not only continue to read you but also make purchases on your recommendation.
Evaluate product profitability
Affiliate marketing business owners must evaluate the profitability of their products, particularly if they use affiliate links. Factors such as customer demand, market competition, and pricing determine profitability. Affiliate links can not bring 100% of sales to the entire base; they can convert between 2–3%. Each product you sell or promote must be in high demand to earn high commissions.
When it comes to earning money through affiliate programs, there are a variety of options available to choose from. For example, the Post Affiliate Pro and LiveAgent affiliate programs offer 20% commission from the initial payment + 20% commission of all recurring payments in your account. Of course, there are other affiliate programs out there as well, like Stripo's affiliate program.
Choose evergreens
The links to affiliate products in your program portfolio should stay the same over time. This way, you can prepare compelling content and link different channels, increasing sales in the long run.
If you have a high-earning but seasonal product, such as a holiday offer, you can use it but do not make it the core of your strategy.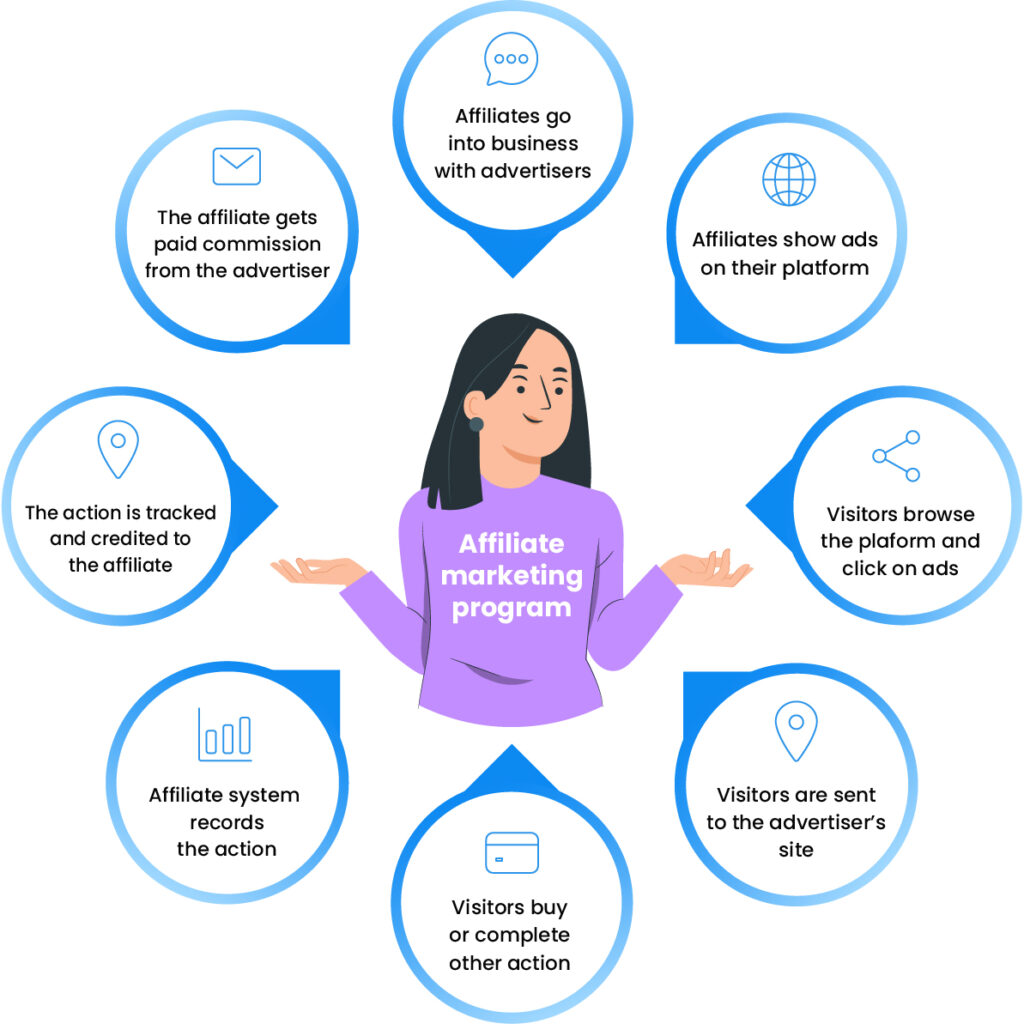 Limit the number of affiliate programs
Promote several profitable affiliate programs rather than trying to sell everything to everyone. By doing so, you will quickly tire your audience and lose credibility.
Prioritize useful content
Product guides work better than direct sales regarding affiliate marketing. You can attract and build followers' trust by providing information about how to do something or posting honest reviews of a product.
Be as personal as possible
Content works best when users "hear the author's voice", so share your candid opinion about the product and experience using it in all channels. People can tell when you are sincere by how you express your opinion, giving you a social proof advantage.
Consider a content distribution strategy
How will you reach your audience? Will you use a website or Instagram or link all channels together to reach a larger audience? Answering these questions will help you understand how much work awaits you and whether you are prepared. You can also improve your affiliate marketing strategy with artificial intelligence.
Examples of awesome affiliate marketing campaigns
As a marketer, you need to create engaging and effective campaigns to promote affiliate products. Without a solid marketing campaign, you risk losing profits and increasing customer retention.
You can run affiliate marketing campaigns across different channels. For example, you can send emails with affiliate links to your subscribers, promote affiliate products to social media users, or create stand-alone websites or landing pages to promote affiliate products.
Each of these methods has its characteristics. In this article, we will present the main ones along with inspiring examples, mainly for SaaS products and e-commerce.
Awesome affiliate email marketing examples
Email marketing remains an effective method for contacting potential customers directly and delivering messages to their inboxes. When your person becomes a subscriber, he already gives you trust and interest in communication, which means the trust in your recommendation will be high.
Affiliate email marketing is built on the same principles as any other email marketing:
build an email list
regularly prepare interesting and engaging emails on your topics, using such types of content as tips and reviews
natively add links to affiliate programs
It's better to avoid sending emails with affiliate links every time so as not to look like spam and not lose subscribers' trust. If you promote good products once a month, you only benefit the subscribers who need them.
For SaaS products
Here is an example of an email with affiliate products from AppSumo. AppSumo is a popular platform that allows users and paid subscribers to buy software and access SaaS services at competitive prices. In most cases, this is lifetime access to products that are only available as subscriptions.
They use affiliate links in their email newsletters and the catalog on the AppSumo website. Due to the site's high traffic volume, popularity, and trust, visitors become subscribers and buyers of services recommended by AppSumo.
For example, this is the email they send to those who recently subscribed to the newsletter. It allows you to understand which SaaS products interest the subscriber and offer him a selection of services. The CTA in the email leads directly to the right section of the site, where partner products are collected.

And then, the subscriber gets to the catalog page with affiliate links.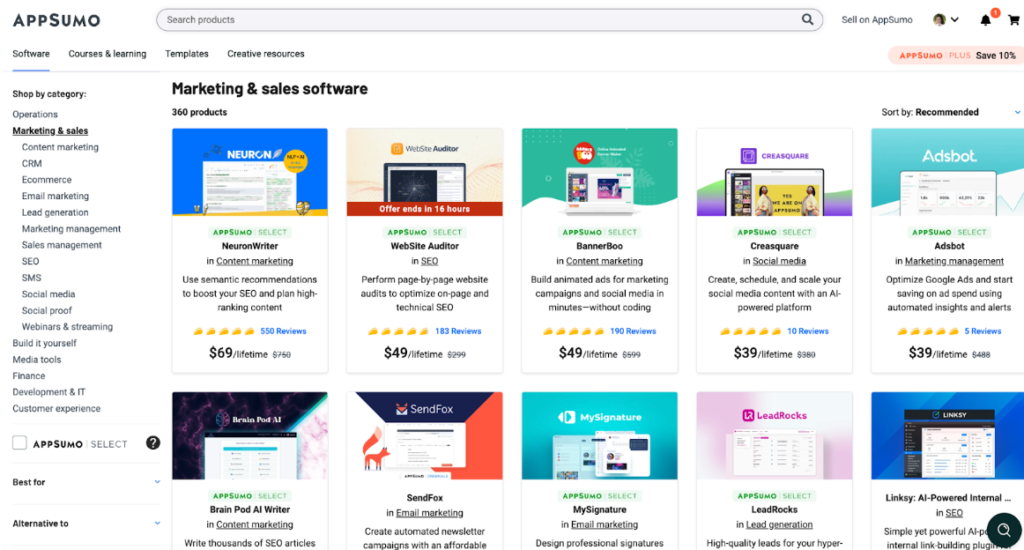 Also, emails can contain information about only one Saas product and lead directly to the product page, as in the example below.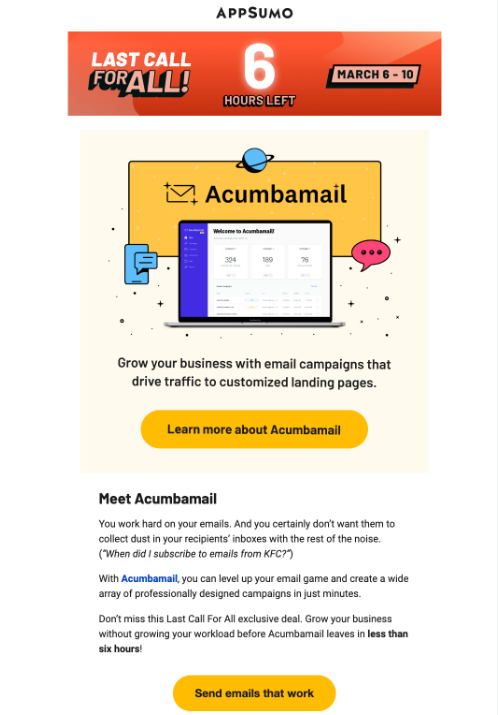 For e-commerce
CNET is a platform for news, tools, and advice on all technologically evolving industries. Their user base is 67 million visitors per month.
As part of their affiliate marketing campaign, CNET experts make detailed reviews of technology and electronics and give affiliate links for buying on Amazon, Apple, Best Buy, and other sites.
After reading each review or article with tips, a pop-up appears that offers to subscribe and receive a review by email that contains affiliate links to several popular stores, which helps to make a choice and become a client who will follow the CNET affiliate link. So they solve several problems at once: they get a contact of a potential client to target and are more likely to receive a commission from one of the sellers.
Here is an example of such an email.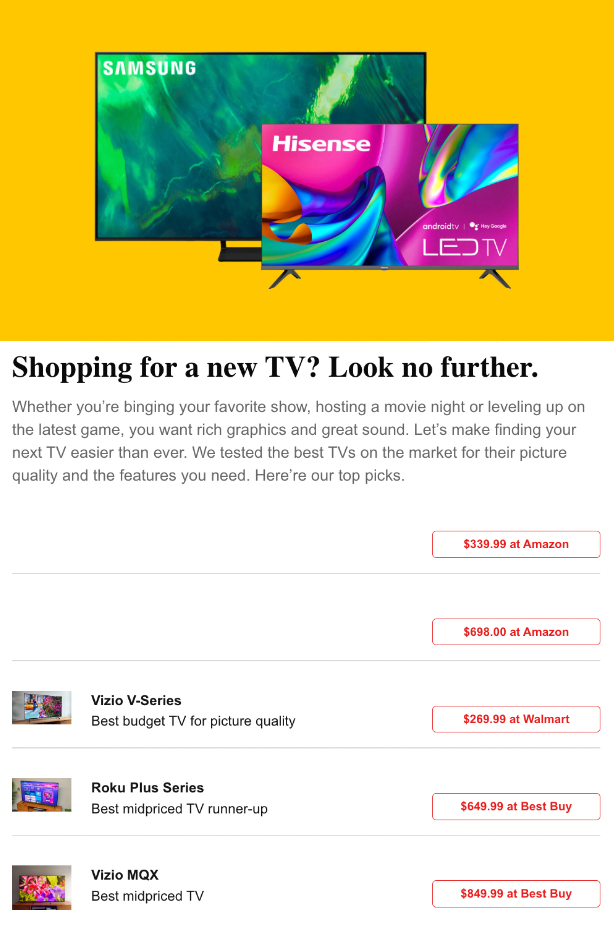 Awesome examples of social media affiliate marketing
Every day, billions of people engage on social media, making it an attractive source of potential customers for your affiliate programs. The primary focus should be on discovering ways to connect with them by providing valuable content or impactful advertisements that resonate with their interests and needs.
The basic steps of affiliate marketing on social media are as follows:
Choose one or more social networks that suit you and your target audience. Facebook, YouTube, Instagram, Twitter, and Snapchat are some of the most popular social media networks for affiliate marketing
You can use all content formats for affiliate marketing – posts, videos, stories, live streams, and more
Prepare quality content to keep your target audience trusted and engaged. Alternate posts with affiliate links and valuable and engaging content to engage readers
Add links directly to posts or to your main website, where users can get more information and follow an affiliate link
Here are some excellent examples of affiliate marketing campaigns in social media:
For SaaS products
Sarah Chrisp, founder of the popular YouTube channel Wholesale Ted. Sarah shares the tips, tricks & strategies she has learned by turning her e-commerce side hustle into a 6-figure semi-automated business.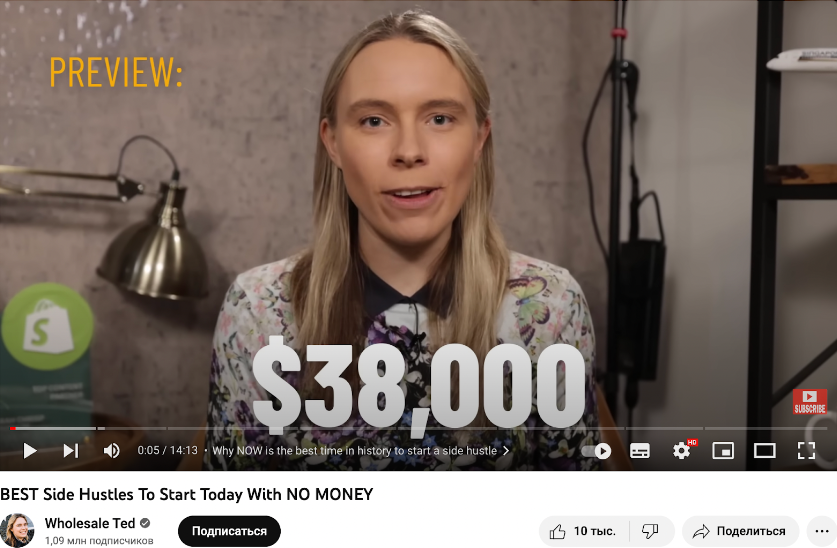 At the bottom of each of her videos, Sarah posts affiliate links to the products she mentions. For example, in the caption to this video, she offers SaaS products such as Canva, Placeit, App Alura, and others.

For e-commerce
An example of a successful e-commerce affiliate partnership is between Amazon and Gear Patrol e-commerce projects. They use a Facebook business page for their affiliate marketing to post brief previews of their blog reviews. Since they have a large audience (more than 130k subscribers), they can immediately provide affiliate links to the best products their readers would be interested in.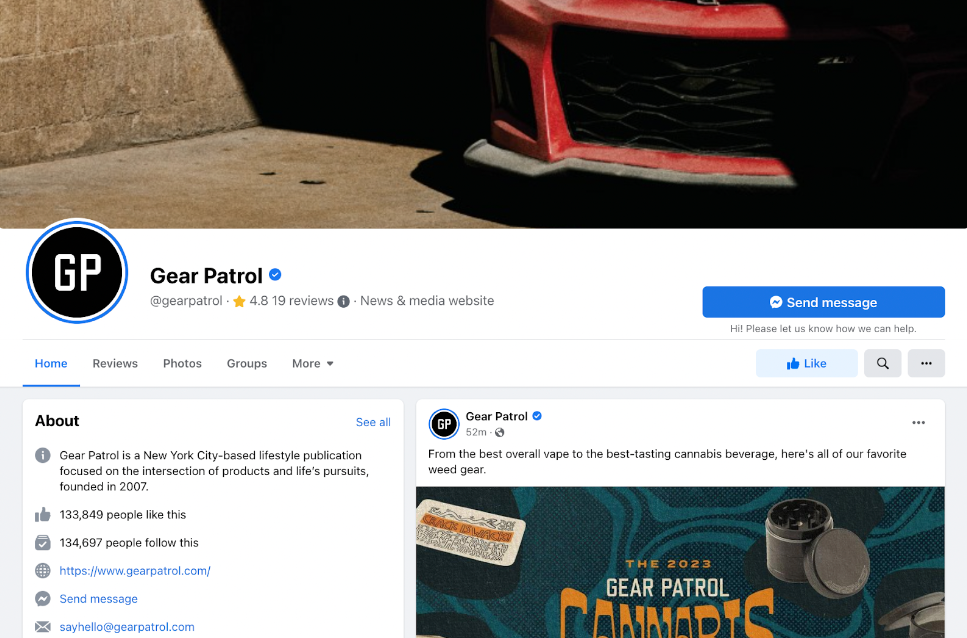 Here is an example of one such post.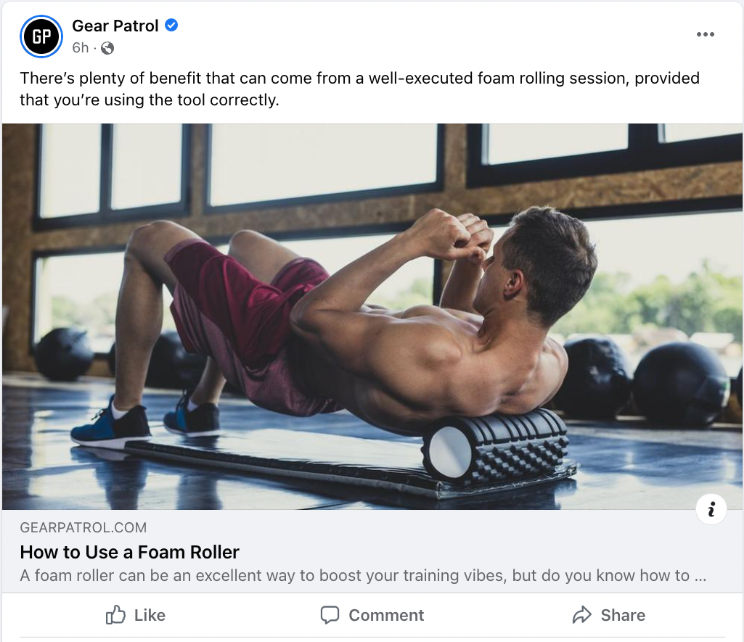 And this is what it looks like on the website.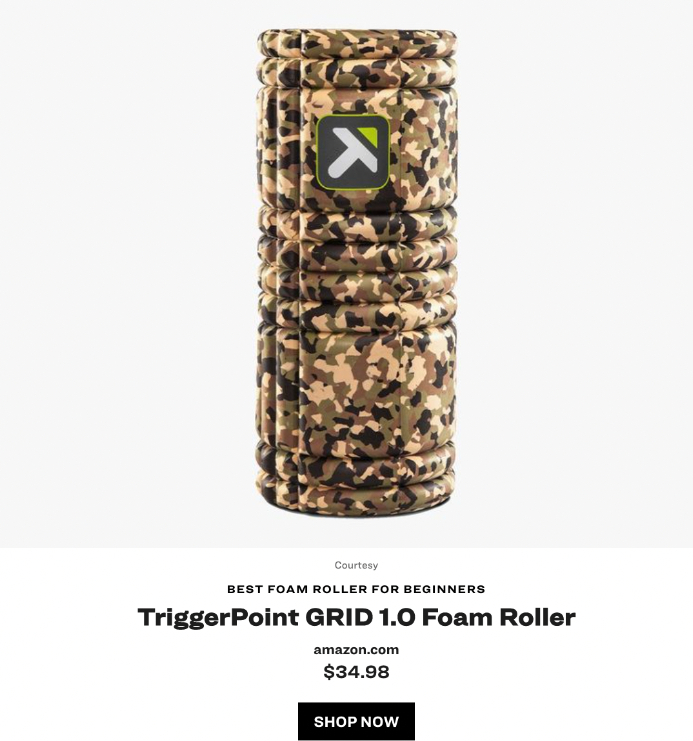 Awesome examples of powerful affiliate marketing websites
Even though email and social media are powerful tools for affiliate marketing, creating a website dedicated to your affiliate programs remains a tried-and-true method. You can create powerful affiliate marketing websites in almost any industry and add affiliate programs to your core business. To simultaneously create a flow of customers and increase organic traffic volume in all directions, you can use email marketing, social media power, and a comprehensive SEO affiliate marketing strategy for website promotion.
Here are some great examples of powerful affiliate marketing websites that use affiliate programs of different brands to generate extra passive income.
For SaaS products
The Crazy Egg blog, the service for generating heat maps, contains reviews of popular digital tools with affiliate links and articles promoting the company's products. Here is an example of such material dedicated to the Constant Contact service.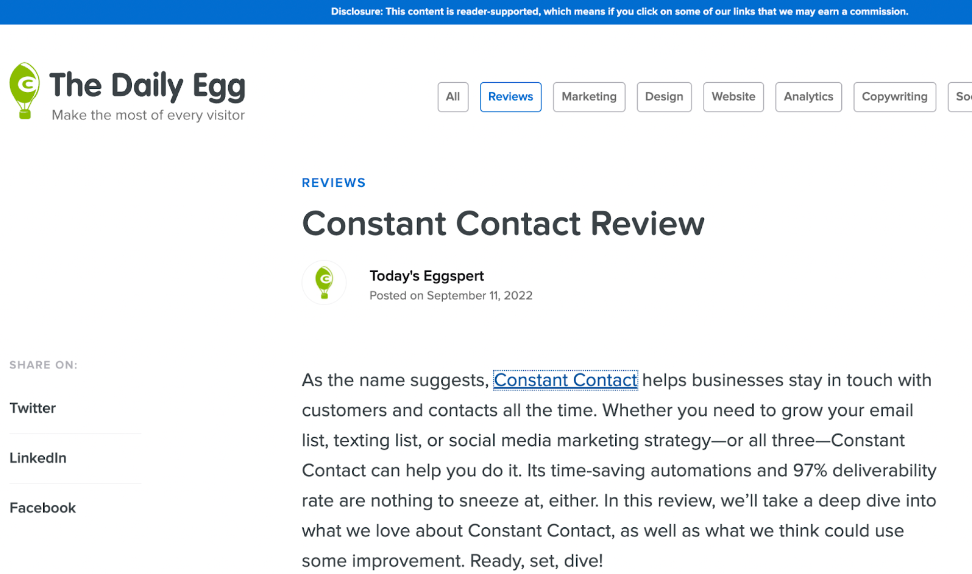 Another example is a detailed review of Semrush with affiliate links on the website of marketer Robbie Richards. The article contains many details, comparison tables, and video tips and gives complete information about the SaaS product that will help the user.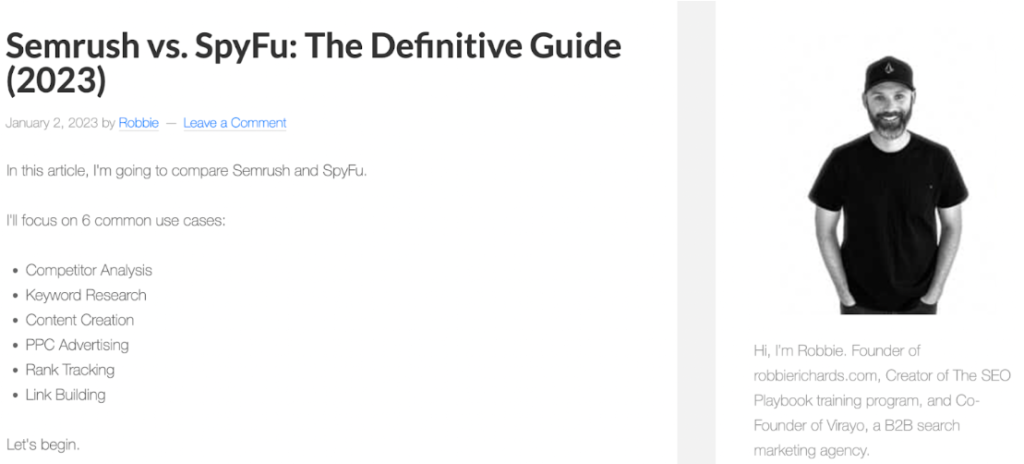 For e-commerce
Shopify affiliate partner Ezra Firestone, CEO of Zipify Apps, BOOM! by Cindy Joseph, and Founder of Smart Marketer, shares helpful articles for aspiring entrepreneurs on his Smart Marketer project blog. Some of these materials are devoted to tips on starting a business on the e-commerce Shopify platform, which contains the author's affiliate link.
Here is an example of one such article.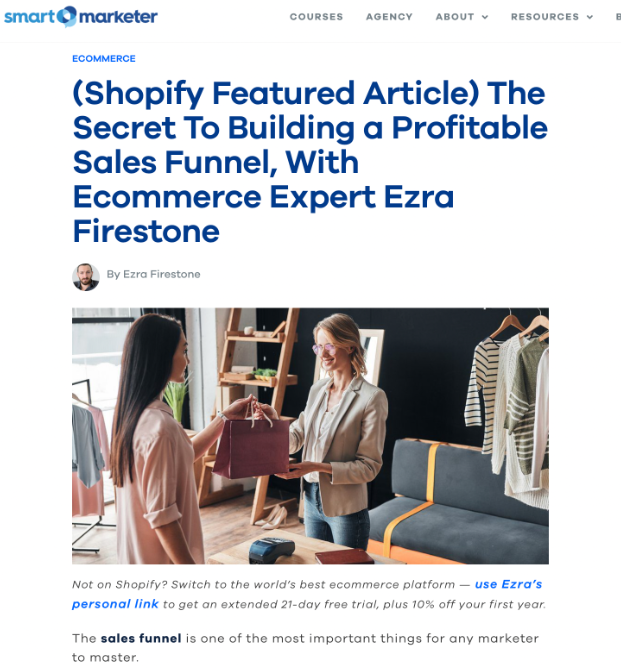 Wrapping up
The most successful affiliates use multi-channel interaction to make their customers feel comfortable and to get the maximum number of points of contact with the audience. These examples demonstrate how affiliate marketing can successfully leverage and combine different communication channels into a cohesive strategy. Take inspiration from these examples and develop your affiliate strategies incorporating multiple points of contact with your audience.
Frequently Asked Questions
What is an affiliate program?

An affiliate program is a process or an agreement through which affiliate partners direct traffic to the seller's resource through a unique affiliate link to products. Affiliates receive commissions when a sale or other specified action occurs through their links. In addition, affiliates usually use affiliate tracking software to track clicks.

What does a lifetime commission mean?

A lifetime commission encourages partners to attract buyers. A lifetime commission is a condition under which the buyer pays a commission to the partner every month on each active user. In addition, the affiliate earns a commission for future purchases of other products from that merchant.

What is a cookie's lifetime?

Affiliate marketing uses cookies to track affiliate referrals. A cookie's lifetime is when a potential buyer who went to the seller's website through an affiliate link continues to be considered your referral. Therefore, their purchases will bring you a commission. The cookie's validity period is set by the seller and specified in all agreements with partners. Usually, this is from 30 days to 12 months, but some sellers set a lifetime action.

Does it cost anything to be an affiliate?

Participation in affiliate programs is free, so you will not need high start-up costs. Instead, sellers create all the conditions so partners can quickly start making money with their products.