Nowadays, affiliate marketing is considered as one of the most lucrative business industries. Lots of businesses have started their affiliate marketing business and succeeded so far.
Did you know that business investment into affiliate marketing will hit $8.2 billion in the USA only by 2023?
What a challenging forecast, isn't it?
So, how to start your own affiliate marketing business?
In this guide, you will get familiar with seven actionable strategies that will help you generate more affiliates.
Let's cut to the chase!
Affiliate Marketing Basics

In simple terms, affiliate marketing is when you promote other companies' products as a partner. When someone buys a product by clicking an affiliate link, you get a commission in return.
The most significant advantage of being an affiliate marketer is that you can promote products for multiple companies and earn solid money by getting commissions for this activity.
You might wonder how affiliate marketing works. Let's review the entire process further.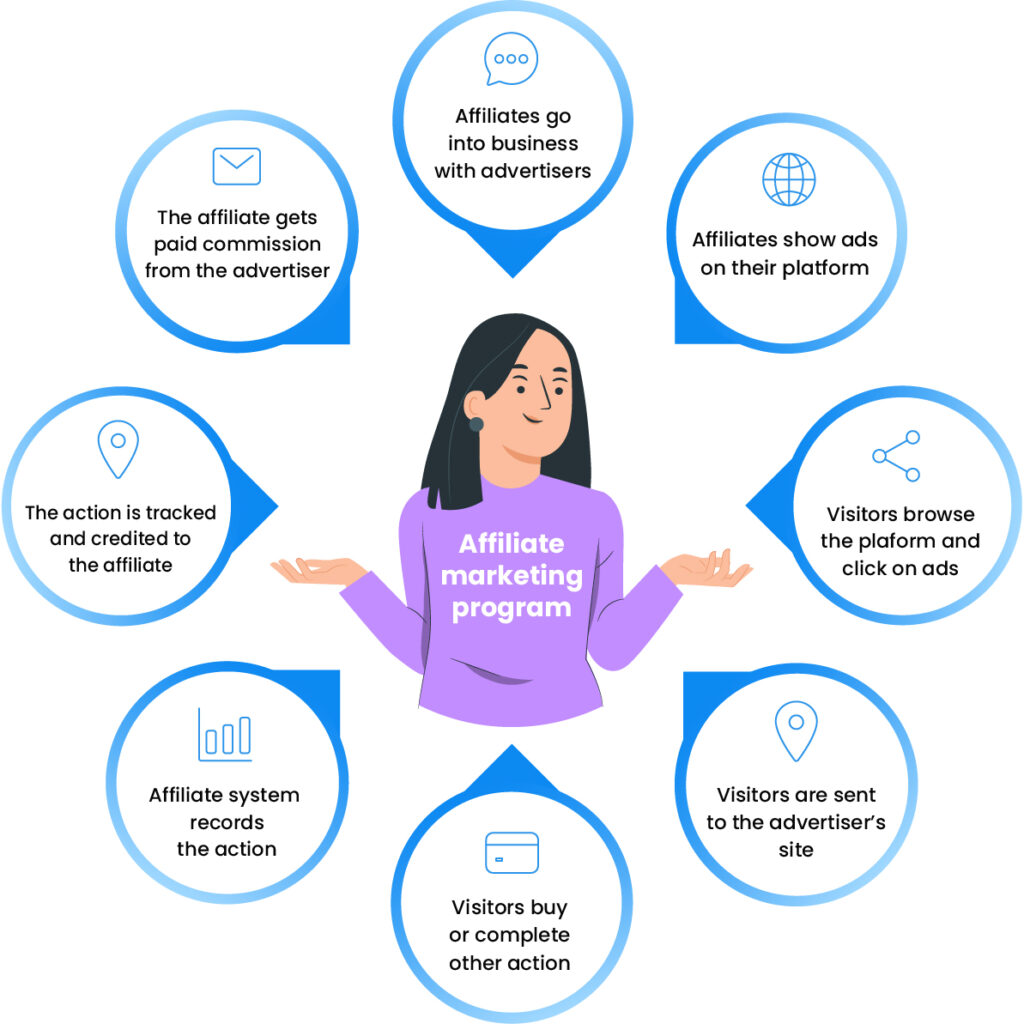 When you start a partnership with some merchant, you will get a unique affiliate link. The purpose of this link is to track the sales from you.
You place this link on your website. When some potential customer clicks the link, a file called "cookie" gets stored on this person's device.
The cookie file is critically important because it is responsible for the following:
a) It contains an expiration date (it means you will get your money even if the buyer delays with the purchase)
b) It attributes the sale back to the right person
To give you a better understanding of how it works in life, here is a brief example.
You have written a blog post on the top best guitar strings. You included some of the affiliate links that redirect to a product page on Amazon. One of the readers clicked the link and decided to purchase bass-guitar strings "Elixir."
However, this person has to leave this product page for some reason. The customer gets back to this product page on Amazon later on and buys the strings. Despite the fact the product hasn't been purchased right away, you will still receive your commission.
Since Amazon has a 24-hour cookie duration, you get your compensation within this time frame.
Now, let's see how much money you can make with affiliate marketing.
How Much Money Can You Make With Affiliate Marketing
It doesn't matter what type of affiliate marketing you do – B2C or B2B marketing. Both of them can allow you to earn solid money. And there is no limit in this business.
Your income may reach six or seven figures per month. What a good income, isn't it?
If you want to talk about actual numbers, let's review affiliate marketing reports from world-class affiliate marketers:
Ray Robinson reported $20,915.69 for the month of January 2021
Harsh Agrawal reported $34,165 for the month of January
Pat Flynn reported $167,553.31 for the month of January
(more reports you can find here)
Does it mean that you will be able to earn as much money as these affiliate marketers?
Yes. But you will have to spend years to achieve this result. It is arduous work that you need to accomplish. Thus, don't delude yourself with the big numbers if you have just started this business.
Seven Strategies to Succeed With Affiliate Marketing

Now, you get familiar with seven proven and actionable affiliate marketing strategies you should be armed with. Let's review them one by one.
1. Choose the for your affiliate marketing business

To put it bluntly, you can do affiliate marketing on whichever platform you want. If you are a true Instagram user, you can use this platform as well.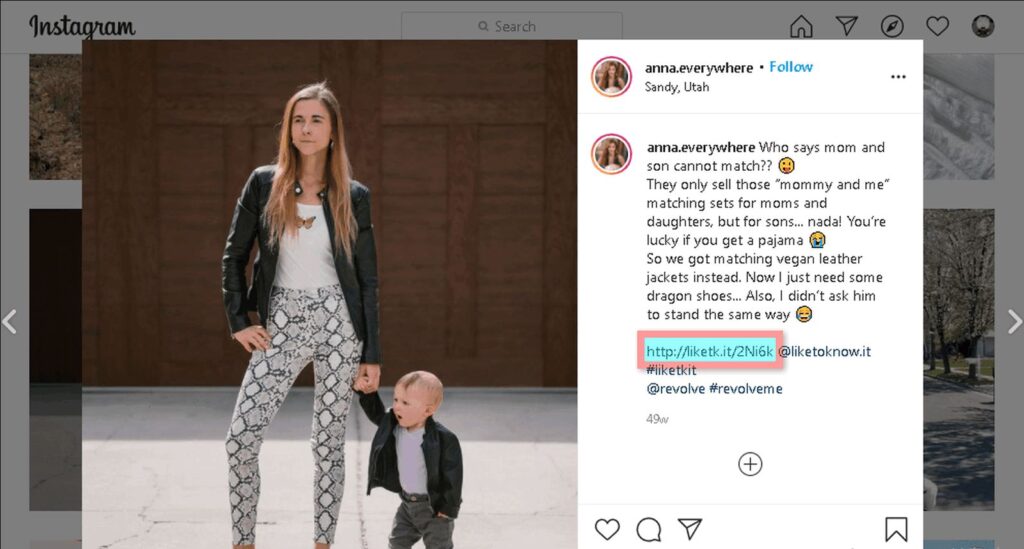 Nevertheless, the practice shows that the best platforms are a blog and YouTube.
Blogging is the easiest and the cheapest way to run an affiliate marketing campaign. However, if you want to get most of your affiliate efforts, you must optimize the blog for search engines and use a modern blogging platform. The last thing you need to do is to add affiliate links to your content. That's it.
Another free platform is YouTube. It doesn't require investing money to upload your video content. However, if you want to do affiliate marketing using YouTube, you must create high-quality videos. For this, you can use different specialized tools—for example, a free video maker tool from Visme.
You can include affiliate links in the section with a video description.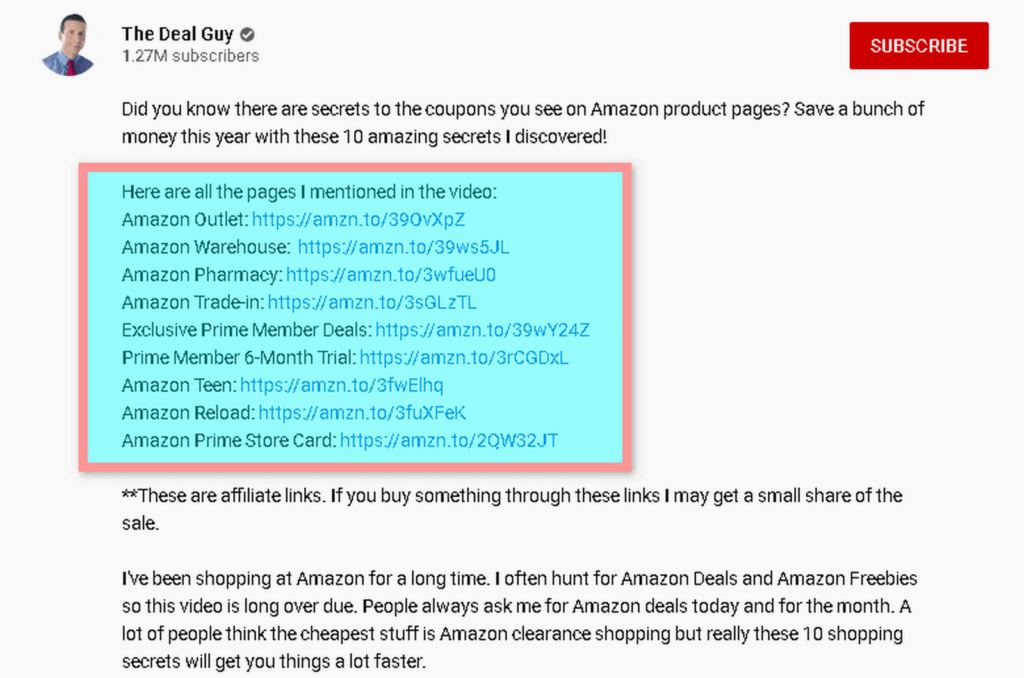 Keep in mind that you should never hide the fact that you promote products using affiliate links. If you don't want to deal with the Federal Trade Commission, you should disclose your affiliate marketing activity.
2. Think about the niche you want to move your affiliate marketing on
You know that blogging is quite competitive these days. Thus, it is going to be pretty hard to stand out from the crowd. However, if you choose a less competitive niche, you can reap the benefits.
How does it work?
Let's say you decided to run your affiliate marketing campaign by promoting books. You know that there are many different literary genres. And it makes no point to embrace all of them. Instead, choose one genre. For instance, you have chosen the "horror" genre and promote books written by H. P. Lovecraft.
Now, you must create content that would be connected to your main direction of the affiliate campaign. Thus, you will be able to attract your primal target audience and rank your content high on Google.
If you feel like you have some doubts regarding what topics would be interesting for your target audience, you can ask your readers about this. For example, you can run a marketing quiz that will help you sort things out.
What's more important, don't worry if you are not savvy in the field. Explore the topic and document everything you have learned so far. You will see that your target audience will show interest in your findings.
3. Types of affiliate marketing programs and which one to choose
Affiliate marketing suggests three types of programs to join. Let's review them:
An affiliate program with high-paying and low-volume
This type of affiliate program is for niche products with high payouts.
One of the affiliate programs with high-paying and low-volume is offered by ConvertKit. Here you can earn $435 per month for sending 50 customers.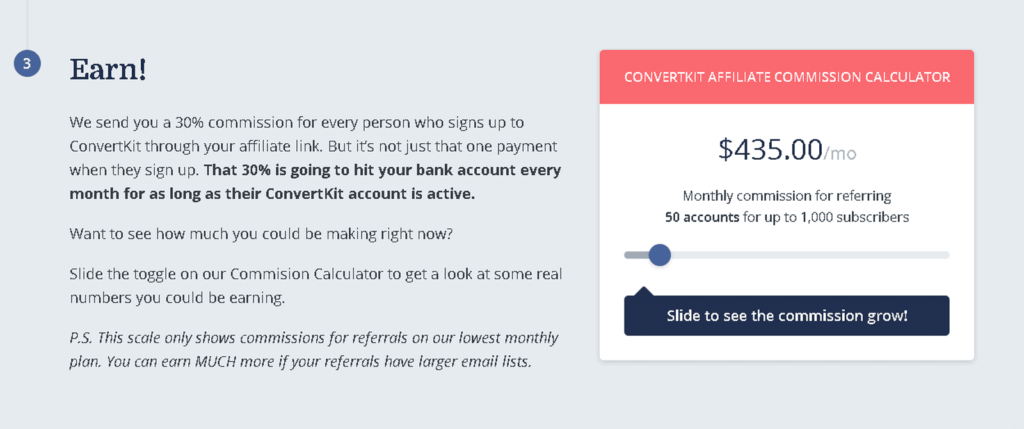 Since this program allows you to earn solid money, the level of competition is quite high. Take this into consideration.
An affiliate program with low-paying and high-volume
If you want to start with promoting products with a high level of appeal but low-paying, you should focus on this program.
When affiliate marketers work with this type of program, they can sell many different products. But they get small commissions. Such is the case with an affiliate program from Amazon. It offers 10% commissions for selling whatever you want on Amazon.
You will get solid payouts if you can drive considerable traffic to your blog.
An affiliate program with high-paying and high-volume
It is believed to be one of the most lucrative programs. You should consider this program if you're promoting products with a mass appeal.
However, you should know that this program attracts affiliate marketers with vast experience and money. Thus, it might be hard for you to compete here.
Which affiliate marketing program you should choose?
Your choice depends on your niche and business experience. Hence, the second type of affiliate program would be a good choice if you're targeting consumers.
The affiliate program with high-paying and low-volume would be your choice if you're targeting businesses. And the third program might be interesting for you if you're an experienced affiliate marketer and have a budget to stand against your competitors.
You can find whatever affiliate marketing program you want on Google.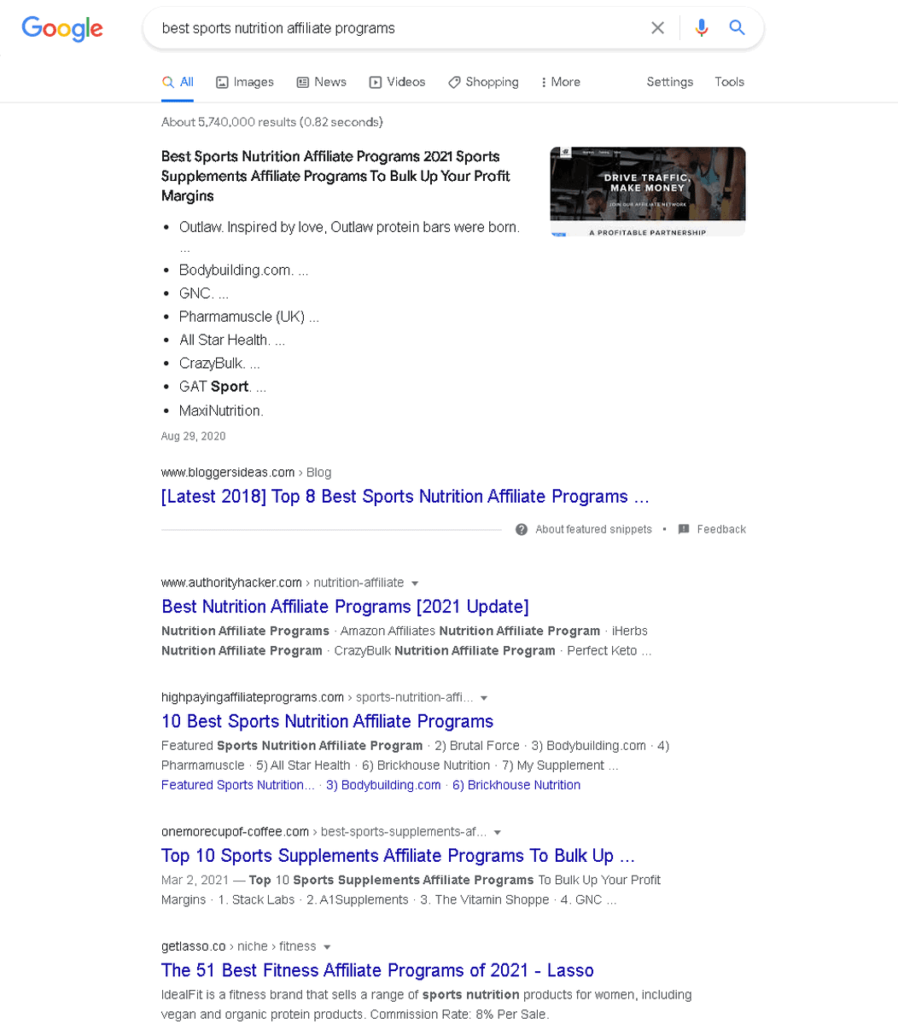 4. Work on your content
It is a well-known fact that high-quality content must help people solve their issues beforehand. Thus, you won't be able to move your affiliate marketing efforts further without creating such content.
If you're thinking about adding affiliate links to your content organically, you should follow one piece of advice. Try to write reviews on the products you're promoting as an affiliate marketer.
First of all, you will test the products by yourself and present them in the best way. Secondly, potential customers like to trust those who have already given a trial to the product personally.
5. Boost traffic to your affiliate website
Creating high-quality content is the first step you must take. The next step is to make your content generate traffic to your site. The more traffic your content drives to the site, the more people will click affiliate links.
So, how can you drive traffic?
Search engine optimization helps you optimize pages on the site to make them rank high on Google. It is critically important to get passive traffic consistently.
What are the main principles of SEO?
a) You must realize what your target audience searches and what search intent is behind their inquiries
b) Base your content on the topics your potential customers would be interested in
c) On-page and off-page SEO practices
Paid advertising guarantees getting targeted traffic to your site for a fee. However, once you stop paying for the ads, traffic starts to fade away.
For affiliate marketers, it makes sense to deal with PPC ads if they are a part of a high-paying affiliate program. But if you don't have a marketing budget, you should refrain from this idea.
Work on building an email list
You should build an email list intensively. It will allow you to get in touch with the visitors of your blog and share some updates.
Moreover, you can use email marketing tools to send affiliate promotions that will increase the number of affiliate link clicks.
To grow the email list you must persuade people to sign up. Nobody signs up to the list without a nudge from your end. It would be best if you offer something in return for the subscription. It can be a free eBook, course or discount coupons.
6. Make sure you get clicks on your affiliate links
Even if you believe that you have created a high-quality piece of content, it doesn't necessarily mean that it will attract clicks of the affiliate links within the post.
How to make people click affiliate links placed in your content?
First of all, pay attention to the link placement.
Link placement should strike a happy medium. Don't put affiliate links at the bottom of the page. Don't place links at the very beginning of your post. They should be distributed in the post carefully.
Plus, you should consider that affiliate links must tailor to the context of the post organically. And don't forget about using callouts like tables, buttons, and boxes. They will help you attract eyeballs of the readers.
7. Do your best to convert clicks into sales
When people click your affiliate link, it doesn't mean that you will get your money for this. There must be a "second conversion" when a potential customer buys a product.
If you're fully responsible and control the first conversion – affiliate link clicking – the second stage is under the merchant's control.
To turn the table on, you can find merchants that suggest affiliate programs with a good conversion level.
You have a few options here:
Review public income reports
Go to Google and search for something similar to the "Bluehost affiliate income report" and review the most promising affiliate programs.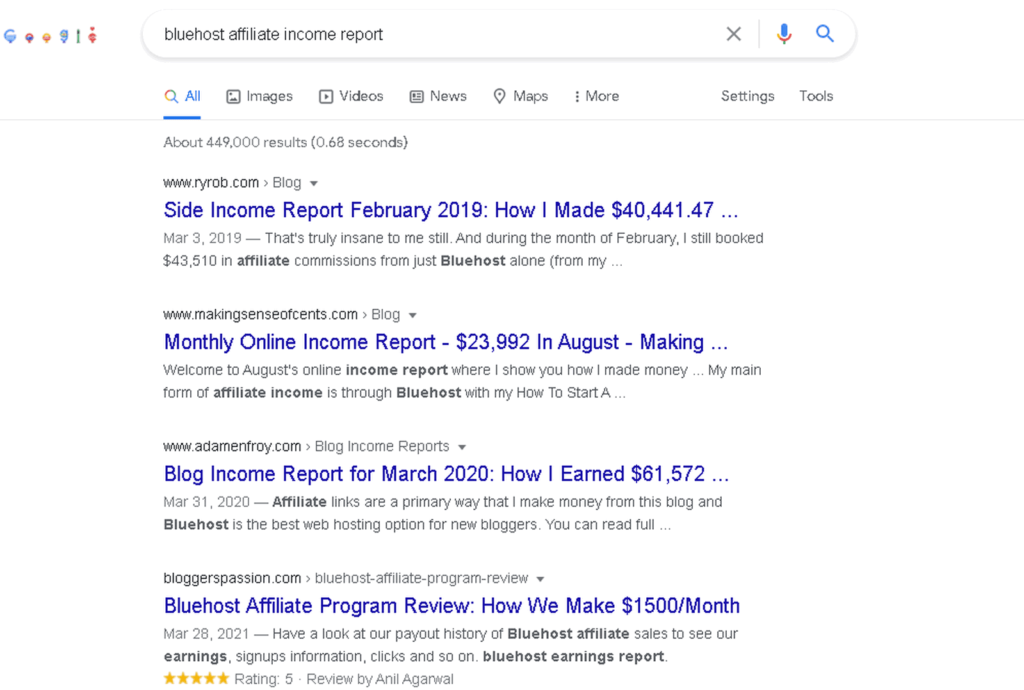 It is ok to ask about the affiliate program you would like to join. Your questions may vary from asking about the average conversion rate to the top commissions paid.
If you feel like a product you promote isn't worth it, or you're dealing with some tricky affiliate program, you should stop this activity.
To Sum Up
Affiliate marketing never stops progressing. More and more businesses raise their income with this activity. You can be the next affiliate marketer who could achieve a six-figure check in this business.
The only thing you need to do is to follow these seven strategies and don't expect to hit the jackpot right off the bat.
Take your time and move further step-by-step.
Finally, you will get your reward.