Looking for a clever way to make money online? Affiliate marketing might be the answer you're looking for. Even if you're just a newbie, you can start your career in the marketing industry and promote a wide range of products. All you need is an idea, the willingness to put in some effort, and a bit of creativity when it comes to approaching your target audience. After a while, it might even be more than a side gig; it can become your full-time profession, from which you could earn regular money.
But before you start, there's a few things you need to know. These things may be essential, so you don't waste your time and energy on things that don't exactly work.  In this guide, we will tell you everything you should know about setting up your affiliate marketing channel and give you tips on how you can start making money from your affiliate efforts almost straight away.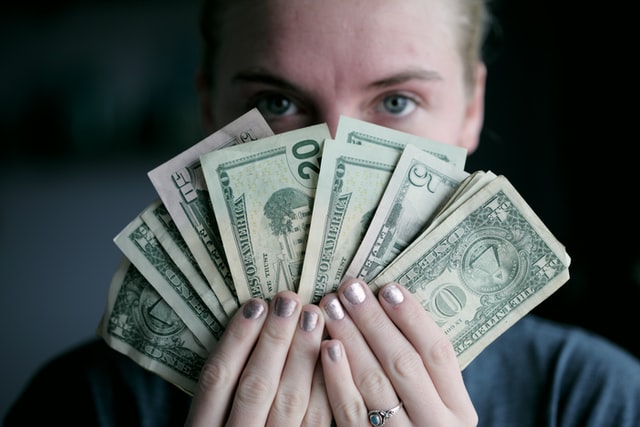 Is affiliate marketing actually profitable?
Let's start by answering the first question you may already have on your mind. Is it even worth starting with affiliate marketing nowadays, now that everyone is into it?
Definitely! Whether you're thinking about becoming a business owner and want to get some real-life experience before moving onto bigger challenges or searching for ways to earn money from doing the thing you love, affiliate marketing is one of the best options out there. You don't need plenty of experience or a sizable budget to start. Actually, you can start out pretty much for free. With there being so many niches and programs to join, there's certainly at least one that matches your hobbies and interests. You are basically doing what you like and earning money from it. Not a bad perspective, right? 
How much money does the average affiliate marketer make?
But now, here's the second and most commonly asked question; how much can you earn as an affiliate partner? That's unfortunately a pretty tricky question to answer. While joining an affiliate marketing program can be one of the most profitable ways to monetize your social media, blog, or video channel traffic, everything depends on the amount of work you'll put in. 
Affiliate marketing is 100% performance-based: the more customers you convince to take a specific action (like purchasing an app subscription or signing up for a newsletter), the more you can earn in the form of commission, which can either be a flat rate or a percentage of the sales. How high the commission will vary from company to company and from niche to niche. For a digital product, the commission is between 40% – 70% while for a physical product like health supplements, the commission is usually much lower, around 5-15%. 
To put this into a practical example: If you are promoting a product worth $100 and the affiliate program owner offers a 50% commission rate, then you will earn $50 for each new visitor who makes a purchase from the program owner.
And whilst you will be paid each time a conversion happens, it won't immediately show on your bank or PayPal account. Depending on the company's terms and conditions, you might either receive the money you earned once per week, once per month, or potentially there's a possibility that money is sent to your account once you hit a set limit (such as $100 earned).
How long does it take to get the first sale?
Unfortunately, that's a question that is equally hard to answer as the previous question around how much you can earn. If you have an established website or blog that has been around for some time and you have a stable audience, then it won't take long before you see your first cash rolling in. 
If you are starting from scratch though, then you first need to focus on building an audience and driving traffic to your blog or video channel, and only then can you start earning from promoting products on your website. Since this stage might take a while, you need to be patient and keep growing your reader or follower base.
Benefits of earning money with affiliate marketing
You may be reading this and asking yourself, "why is affiliate marketing so popular nowadays?" Simply because it can allow you to promote the products or services you love and want to share with others, while earning something extra from your recommendations. And that's just one of the various benefits of affiliate marketing programs. Let's have a look at some others.
1. You can work from home – or anywhere else you wish.
The onset of the pandemic triggered many people to start looking for a "remote-friendly" way of earning extra money, and affiliate marketing works like a charm. All you need to start with affiliate marketing is a computer and internet. As long as you are in possession of both of these things, theoretically you can work from wherever you want, whether it's your home, or the city park.  If you have to stay at home for various reasons or want more freedom in how you spend your time, affiliate marketing might be an option for you. 
In truth, you work how much you want and when you want to, without any bosses above you. There are the affiliate program owners working with you, but basically, all that matters to them is whether you are meeting the affiliate program deadlines and targets.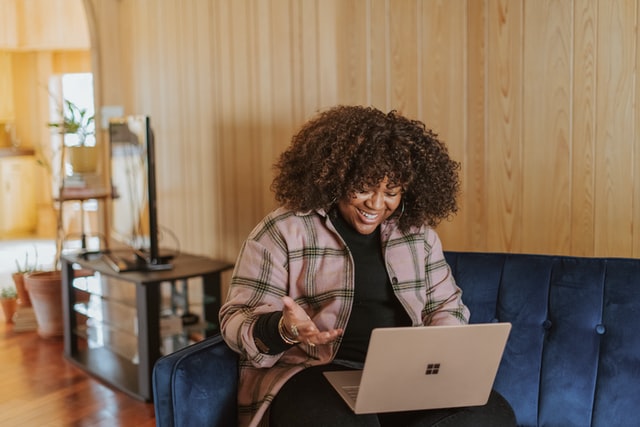 2. It's convenient
Why do most of us like working remotely? Because it's incredibly convenient. As we mentioned above,  you can pick where and when you work and plan your entire week the way you want it. For unexpected or troubling situations, remote work is simply wonderful.  Let's say that one day, your car breaks down, and you need to get to your office. Depending on the remoteness of your home, this situation can add unnecessary minutes, or hours, to your journey. Add to that, the unpredictable nature of traffic and the undulating quality levels of public transport and remote work is truly the only way to go.
Due to the nature of remote work, you don't have to worry about the scenario above (your car not starting) or other freak events; if you have an internet connection and a device to work at, you're all set. Want to start working on your affiliate website early, so you could go out with your friends in the evening? Not a problem. Have a busy day with other things, so you'd rather work in the evening or night? That's fine as well – you can plan your day exactly the way it suits you or your family. 
3. You don't need to go anywhere or spend any money to get started
So what do you need to become an affiliate? A marketing degree? A college finished course for affiliates? A lot of technical know-how? A budget for a full-blown, professional website and set of marketing tools? Actually, none of these. If you want to learn more about affiliate marketing ins and outs, you can find plenty of courses and affiliate marketing groups on the net, where more seasoned marketers will be happy to answer your questions. And very often these courses and groups are totally free!
Also beneficially, you don't need to pay a website designer to create your new blog – you can simply use one of the many free website builders available online. The same applies for the tools you will be using for your marketing efforts; you can create your own tool stack out of the hundreds of free, or costing a negligible amount, tools you can find online. 
It's even easier if you already have a running blog, YouTube channel, or social media account – you can use them to promote products or services from relevant affiliate programs without any additional creative effort.
4. No experience is necessary 
Of course, we're not saying that you don't have to do your own research on the industry and niche of your choice, or that you don't need to care about technical aspects such as how to track and measure your affiliate metrics. There's plenty of things you will have to learn about affiliate marketing if you want your own channel to be a success, but you're not alone. You're not reinventing the wheel here; everything is already available online. Far more important than marketing or business experience is whether you have enough motivation and patience to keep going even if you do not see any results immediately.
Of course, doing a proper affiliate course or learning how to use the professional tools could help you to deal with the various potential issues or challenges you may encounter along the way, but this sort of pre-requisite experience isn't necessary to start. 
What should you look for when creating an affiliate marketing strategy?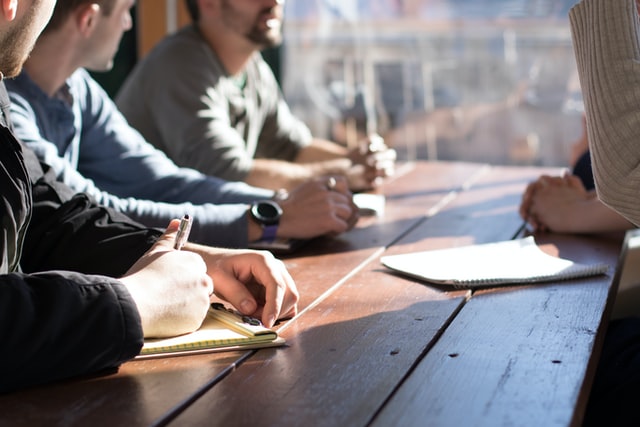 While Affiliate marketing is relatively easy to set up even for newbies and, as previously touched upon, can be done almost entirely for free, it doesn't mean that it's a walk in the park. If you really want to be successful as an affiliate in this hyper-competitive industry, then you need to have a few strategies in place to make sure you are reaching the right people, and that you are doing all you can to persuade them to try out the promoted product. 
That means that if you jump into the first affiliate marketing network you see, without any preparation or plan, you're likely to be very disappointed with the outcome. So let's focus now on the things you should do to increase your chances of "nailing it" with your content marketing and outreach.
How to choose a profitable niche for affiliate marketing?
Find out what you're good at
First things first, to pick the best niche for your new affiliate business, you need to be aware of what you are good at and what you feel you're able to effectively share with other people. That way, you'll be able to narrow down the vast list of industries and niches to the ones you know a lot about, and choose an affiliate channel where you will feel the most comfortable. 
The easiest and most effective method here would be asking yourself what you are excellent at, what you want to show to other people, and how you could use your talents to earn money. Is there any particular topic that you know so much about, that you can easily write or talk about it? If yes, then this is an excellent starting point. 
If you have trouble with noting down your strong points though, (as people often do. Talking about yourself is hard!) then asking a friend or a family member about it might be pretty helpful. They might highlight things about you in a way you even know yourself.
Pick the industry, product, or services you want to promote
Once you have a clearer idea of what niche you would like to join, it's time to look a bit deeper into your choice and search for a product or service you want to promote. The first thing to check is how large and lucrative the niche is. Is it crowded with bloggers and influencers, or does barely anything happen in this space? If it's a popular niche, then it would be far easier for you to find a product or service to promote. However, you should really be aware that those niches also have a lot of affiliates fighting for consumer attention, so it might be difficult for you to earn commission. 
In smaller niches though, it will be far easier for you to stand out from the crowd, but you might have trouble with first finding a good network to join, and then, reaching enough people to make everything worth it.  So before deciding on a niche to join, make sure you've done solid research on it. 
What's also incredibly important is that you test all of the ins and outs of all the products or services you want to promote. This will both help you with creating content focused on the product, as you know exactly how it works, and what flaws it might have, but it will also keep you out of serious trouble in case the product or service turns out not to be what you expected, or simply, phony.     
Found a niche where you feel you can belong? Let's focus now on finding one or more products or services you will promote on your website. Once again, research is key here. You should look for a product that your audience might be interested in trying out and that you can easily blend into your regular posts or videos. 
We're not working for free, so it would be ideal if the program offered a decent affiliate commission, but you shouldn't pick a program simply because they offer high rates. It will be far easier to create content and make sales if a product matches your interests. Then, with many conversions and clicks, you can make a good earning, even if the product's commission is on the lower side.
Compare requirements, affiliate commission fees, and general rules of participation in affiliate programs you selected
Each affiliate program is completely different, so you should carefully consider your options, and compare them before you pick one.  As we touched on before, different companies offer different financial packages. Different companies may also impose some limitations on how you can promote the product, what creatives you can use or how you should use the affiliate link. You should carefully note all these things to save yourself from headaches later on. 
Start creating your content
Now that you are all set, all that's left to do is to start creating the content for your website.  You've probably heard plenty of times already that "content marketing is king" and in affiliate marketing, this is more true than anywhere else. You need great content to convince people to click on your affiliate links, or otherwise they will get completely ignored. But now internet users are picky; unless your article or video is the one that catches their attention, it will only get buried under several other similar articles. 
So before sitting down to write your new article or record a new video, first think about your target audience. Why would somebody want to read about this product? What problems might they have? How could this product help them solve these problems? What could your audience learn from this article or video? Rule one of any good content is that your audience and what they might need comes first – not the sale. If you can focus on your followers' or readers' needs and help them make a good decision with your content, then you are already one step ahead of the affiliates who are only blatantly selling to their audience.  
How do you drive traffic to your affiliate marketing content?
You have spent time and effort on picking the right niche, creating your affiliate channel, and creating content. What's next? Now, you need to focus on how you can drive traffic to your offers. What does this mean? As an affiliate, you need to ensure that people find your website and click on the links. What can make it tricky though is that there are several ways for getting traffic to your website; multiple sources of traffic exist and there's no foolproof method to generate a stable stream of people visiting your site. So let's reflect now on which traffic sources you should focus on.
To begin, you need to again think about your target audience. The more knowledge you have where your audience hangs out, the easier it will be for you to reach out to them – and promote your affiliate products.  
Let's look at for your available options: 
Blogs: Starting a blog is one of the most popular options for both newbie marketers and seasoned ones. They are super easy to start and run, and you can get a ton of organic traffic from them. And best of all, they are usually totally free! All you need is a topic you can talk for hours about and a website. Websites these days can be simply constructed using free online tools, saving you time and money in achieving a flashy, credible outcome. Blogging regularly will take some of your time though, and it might take some months before you build a stable audience.  
YouTube – YouTube is regularly used by affiliate marketers. The biggest advantage is that there's an infinite number of ways you can put the promoted product in the spotlight; you can create a video review, a tutorial, compare the product with other similar ones or show how you used it for a task. Since people can see the product in action and your results, it's easier to convince them to try it out. YouTube is very strict when it comes to affiliate disclosure, though. You have to clearly label all links posted and inform your audience in advance that you will be paid if someone purchases a product from your links. By not following these guidelines, you run the risk of your video being taken down for violating the terms and conditions.
Search engines: SEO is truly one of the greatest free traffic sources for affiliate marketing. If your content ranks well in search engines, then more people will find it and potentially click on the links. Getting SEO to give you the results you want might be a bit tricky though, so we have written a bit more on using SEO to your advantage later on. 
Social media: Facebook, Twitter, Instagram, and other social media channels are used by many marketers every day as a free source of traffic for their affiliate marketing campaigns. You need to be careful though when using social media accounts for affiliate promotions as Facebook and others do not delay in banning accounts deemed as "spammers" because they were posting too many links, too often. So rather than add posts from your private account, create a separate Facebook page or group for your niche and post your content there. If you want to promote products or services in social media groups, always check if moderators even allow such posts!
Paid ads: If you don't mind spending a bit to boost your traffic, you can use either Pay-per-click ads or leverage social media ads. As a benefit, paid ads can give you a lot of traffic almost straight away. But for the traffic to not go to waste, you need to precisely tailor to whom you want the ads to show. Otherwise,  you might spend money on advertisements without seeing any conversions in return.
You don't need to use all those traffic sources at once, though. It would be wise to pick 2 or 3 through which you think you could reach out to your audience the easiest.  Google Analytics can help you figure out where most of your audience comes from and how valuable the traffic from each source is.  However, you should remember that you shouldn't just aim to have a lot of traffic directed to your website. If the traffic doesn't convert, then it can be practically useless. 
How do you sign up for an affiliate program?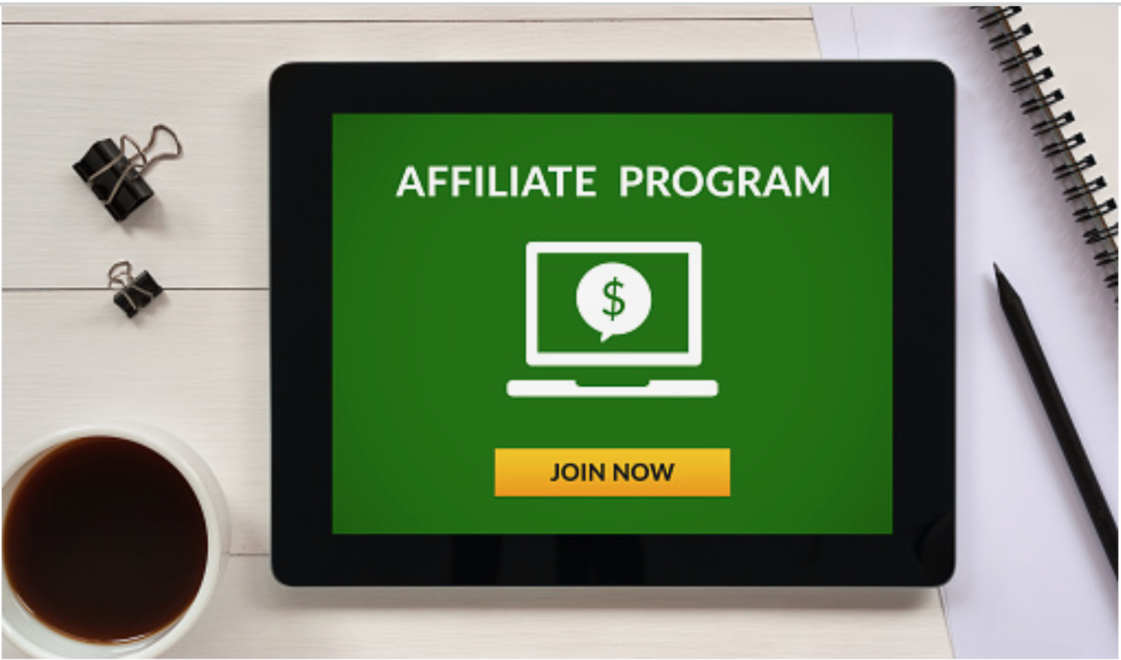 Once you find an affiliate program with products you want to promote and that matches your blog and/or social media account, it's time to sign up!. Typically, there's a CTA button or link leading to a landing page where you can fill in an affiliate signup form and, after completing it, wait for a reply from the program owner or manager. However, to save yourself some time and nerves later on,  it's worth checking a few things about the program first. Then you can decide to sign up only if you're sure it's a reputable and trustworthy program. Here's what you should find out:  
What are the types of Affiliate Programs?
Based on what promotional methods they mainly use, there are several types of affiliate programs. It's 100% worth learning a bit about each one before you sign up for a program to find the one that fits your style the most. Not only this –  if you want to avoid getting too many rejections because your main promotional channel doesn't match the company's needs, then finding out what type of program facilitates this match can save you quite a lot of time. Here are those types:
Social programs – The owners of these programs prefer to work with people active and popular on social media.  
Search – The owners of these programs rely on search engine traffic, and whether it's organic one or paid.
Content – The most common type of programs, they use articles, videos, and other types of content with inserted affiliate links.
Coupon – These programs promote themselves through coupon-related offers.
What are the qualities of reputable affiliate programs? 
So as you see, you have a lot of options when it comes to picking the affiliate program for you. But how can you find out whether the program you're applying for is worth your time and effort? Simply, by reading the terms and conditions of the program, noting down the most important points, and then comparing different programs together. Here's what you should pay attention to:
Affiliate commission rate and all "fine print" annotations, if they are any. If there are several restrictions, exclusions, and vague sentences in the terms and conditions, then the program might not be trustworthy. 
All requirements for getting paid, including how often you will get your money and which payment methods are available
What is the program's privacy policy?
How long will your affiliate contract be? And in what cases might the contract be terminated. 
The duration of your affiliate cookie – this one is very important, as it tracks how long it took the user from clicking on your link to the purchase and whether you should be paid for the sale or not.
Does the company provide any bonuses, incentives, or freebies for affiliates as a part of their commission? .
Does the company give special offers for affiliates to use in their content? -If yes, and how often?.
Is there a person you can contact with any doubts, questions or problems, for example a dedicated account manager? How fast do they respond?
It's also worth checking if there are any reviews, testimonials, or comments about the program you want to join. These can warn you in advance about any issues you might come across in the program. Be warned, however; If there are almost no reviews, or most of them sound suspiciously similar, then you should tread carefully. It's sadly a common practice for some unscrupulous companies to start an "affiliate program", only to disappear a few months later, often with the affiliate's hard-earned money. It's not that all new programs are scams, but it's always better to be vigilant. 
Examples of most popular affiliate programs
On one hand, it's great that you have so many affiliate programs to choose from. No matter what industry, niche, or hobby you have, you shouldn't have too many problems with finding a program with the product you want to try out and then promote. But on the other hand, just how are you supposed to pick one or two programs out of hundreds? If you are just starting out in the affiliate industry, then it might be your best bet to start by joining the best known affiliate programs and networks and learning the ropes there. 
By typing "Affiliate programs ranking" or "Best affiliate programs" in any search engine, you can find plenty of rankings of the most popular, or highest paying affiliate programs. And amongst those, you are very likely to see the following brands being mentioned:
CJ Affiliate
Ebay Partner Network
ClickBank
Amazon Associates
WPengine
Coursera
NordVPN
SEMrush
Fivver
Cloudways
Sendinblue
BigCommerce
Shopify
Aweber
Clickfunnels
Of course, there are far, far more affiliate networks than just the ones we listed. Those networks and programs are simply the ones that have already proven to be successful, and you can trust them to not disappear into the mist when it comes to paying their affiliates. 
How to promote your affiliate products
As an affiliate marketer, your main job is to drive people to the company's landing page or shop through your affiliate link. To be more specific, you are earning money by convincing your website visitors to click on the link inside your content and make a purchase before the cookie (a tracker placed in your visitor's browser once the consumer clicks on the link) expires. That means that your affiliate link is absolutely indispensable when it comes to generating affiliate sales – so you should use it as effectively as possible. But how? 
Here are some key tips:
Most importantly, you should always clearly mark your affiliate links as such. A polite, and in many places, obligatory, practice is to put an affiliate disclaimer at the top of your website, informing your website visitors that you use promotional links on your website and that you will earn a commission for all purchases made through clicks. 
Make sure that the links are relevant to the ideas in the post and that you have explained how your readers would benefit from using a product or service before asking them to click on the link.
Try not to overdo with the number of links in the post. If there's too many links in one article or post, or they are not exactly relevant,  it may make your readers think that you are only pushing for a sale. Plus, Google keeps an eye on how many links are visible on a website using bots. If the algorithm deems that too many of them seem spammy, then your website rank in search engines might plunge.
Are you promoting several products in one post? It would be helpful for your readers if you put all your affiliate links in one block at the end of the post.
Finally, you should always use URL shorteners. Affiliate links are quite long and nonsensical, and might scare off your website visitors. By shortening the URL, you make the links look cleaner and more visually appealing.
Examples of affiliate links
#1 Links behind CTAs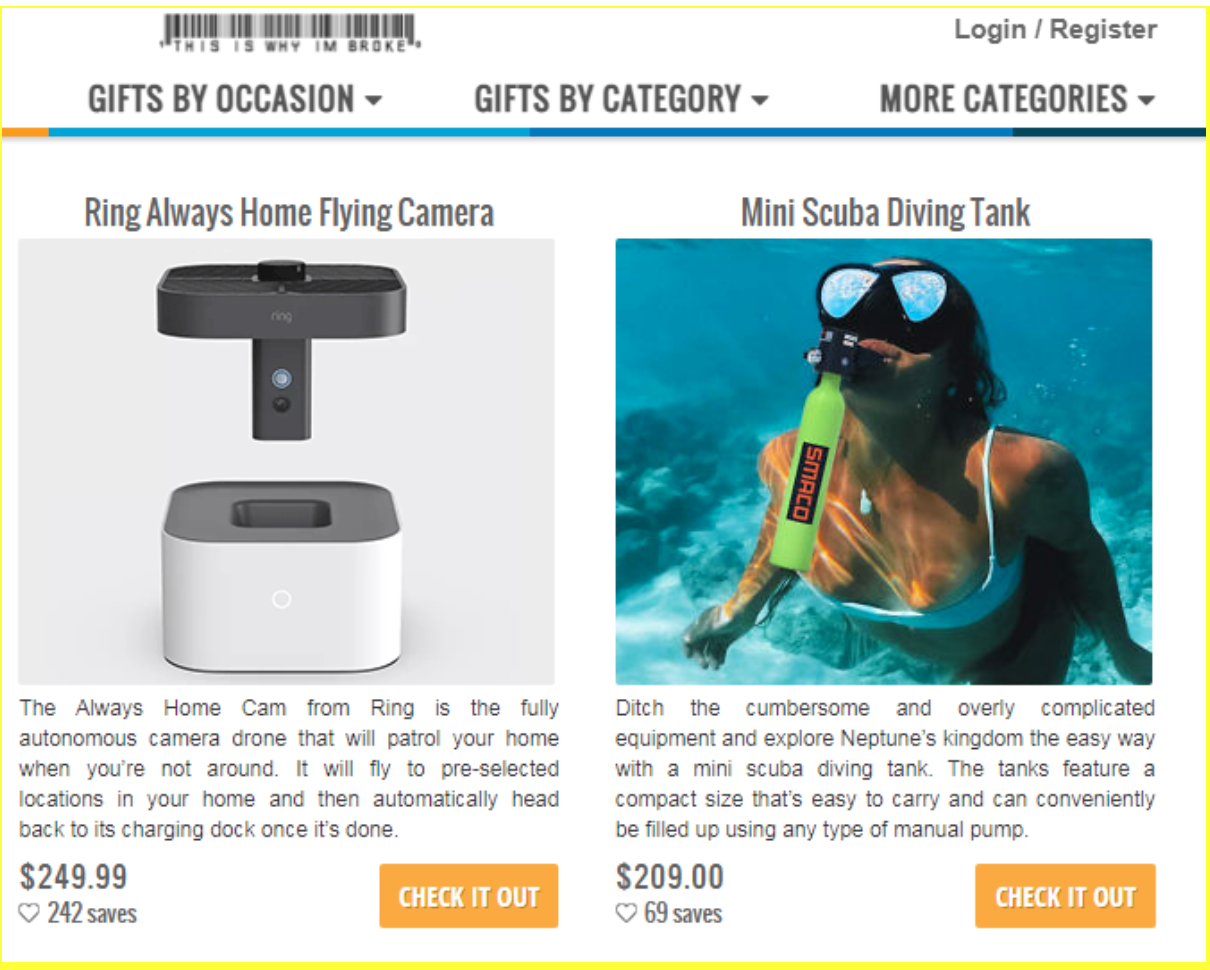 Sometimes, to make the whole experience more user-friendly, affiliate marketers mask their affiliate links, for example, with buttons. That is the strategy of This Is Why I'm Broke who, instead of sharing long links to their affiliate offer (in this case, on Amazon) or instead of even shortening these links, simply hide them under orange buttons saying "Check it out".
#2 Natively shortened links 
Many programs (and we provide an example below, Amazon) give their affiliates an official link shortener they should use. That way, the long, complicated, and intelligible Amazon affiliate links are much shorter, but the reader can clearly still see that the link comes from Amazon. Typically, there's an option in your affiliate dashboard where you can quickly shorten any links you want to use so you don't have to use any other link shortening service. 
Example: https://amzn.to/30jvRlI
#3 Links shortened with URL shorteners
If the program you joined doesn't have a native link shortener, then you have to rely on other link shorteners such as, Bit.ly, Google URL Shortener, TinyUrl, Snip.ly or others. For the most part, all you need to do is paste your affiliate link into the specified area and the provider will do the rest and convert it into a shortened link. After that, the link is ready to use. For example, here's what a link shortened with Bit.ly looks like:
Example: bit.ly/839372094
#4 Links shortened with your custom URL shortener
If you want to use affiliate links not only to earn clicks and sales but also to build brand awareness, then a custom URL might be the tool you need to spread the word. Instead of the name of the service you use to shorten the link, you can put your brand's name at the front of the link – so it would look something like this:  
Example: yourbrand.co/short 
#5 Long links 
We all know what a standard link looks like. It's kinda long right? If you want to post it in text messages or say, Tweets, then the links might take up the majority of your permitted message characters.  Not to mention, it doesn't exactly say where the link leads, other than that the page belongs to Amazon,  so your readers or followers may be hesitant to click on it.
Example: https://www.amazon.com/dp/B08YH144XD/?tag=097-20&ascsubtag=v7_1_3_2q15_5ljk_0_x01_-srt5-
What is conversion rate optimization and how it can help affiliate marketers?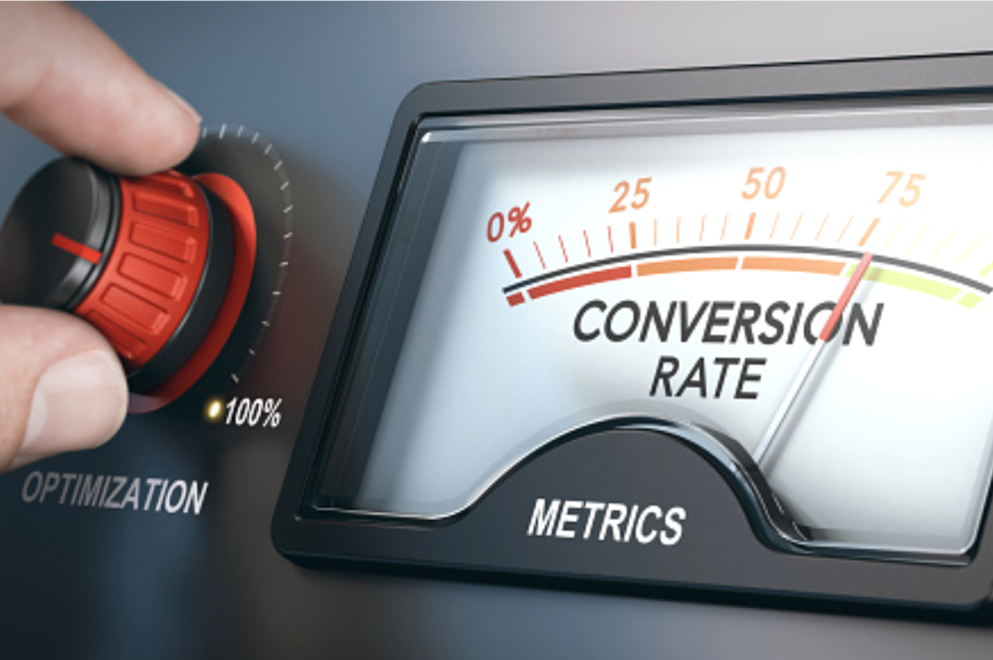 Promoting affiliate products sounds simple in theory – create useful content for your audience and add affiliate links. Your readers click on the links, purchase the recommended products, and you earn a commission. But in practice? It's very often not that easy to get those clicks. Or maybe people do read your articles and click on the links, but there are no sales. Either way, if you're not earning money from your hard work. What now?
Fortunately, there are a couple of tricks you can utilize to boost your conversion rate. These tricks are called "Conversion rate optimization" or, in less technical terms, spotting and fixing the problems your readers or followers might have that are preventing them from clicking on the links or CTA buttons. If you want your affiliate business to thrive, then learning how to pinpoint any obstacles on your followers' way to conversion and how to tweak your strategy will be one of the most important skills you need to learn. Higher conversion rates mean more sales for your product partners, and therefore higher earnings for you. So, what can you do?
Test out exit pop ups
Exit-intent popups aren't like the ordinary, annoying pop ups that jump out of nowhere. This type of pop up shows only when your visitors are about to leave the page, for example, if they move the mouse to the right corner over the X button. If you use these pop ups sparingly, and with relevant information for each visitor, they can improve your website's performance in no time. If they appear too often or contain generic messages, then the visitors will treat them as any other popup – close them down and leave.
Check the performance of your website.
We must all have memories of the first websites, right? No matter how long we sat waiting to see what was on the page, we were always waiting patiently for them to load. Well, that's no longer the case. Flashy, eye-catching websites can be more annoying for the visitors, rather than impressing them, as they can take significantly longer to load. And if a website loads for longer than a few seconds, then it's more than likely that your website visitor will simply click on the "exit" button and leave without looking back.
If you think this might be your problem, then it would be worth first checking your website through one of the many available website speed checkers. Ideally, you'll want your website to load within three seconds, or two seconds if it's an ecommerce site. If it takes longer than that, then you have some work to do.   
For starters, take a look at your website's design. Do you need every single one of the images, videos, and plugins that are there? By cutting down on some of them and optimizing the rest, you could see a tremendous boost in your website speed. Speed checker tools (if you decide to use them) should also give you some hints on where the problem might lie.
Do an A/B test 
One of the most useful and effective methods when it comes to increasing conversions on your website is by doing an A/B test. "What on earth is that?" You're asking. It's a test where two or more variants of a given page are shown to users at random and based on their response, you can find out which version gives you the results you'd expect. The differences between the two don't have to be anything big; it might be just changing the wording of your CTA button, the color or the landing page background. Many A/B testing tools have a visual editor that facilitates making changes and running tests easier. 
For sure you've seen popups with free ebooks, discounts for first purchase, or webinar access in exchange for signing up to the company's email newsletter, right? Now that our email inboxes are filled to the brim with what, unfortunately, turns out to be spam, people are not exactly eager to share their email address with anyone who asks for it. They want something in return – and that's the job for a lead magnet.   
A lead magnet can be anything that your audience might want; we mentioned a few examples above; an e-book, a PDF guide, webinar invitation, discount coupon, or extended trial code. Your options are virtually endless here – just make sure it's something that is related to your business and something your audience might find valuable.
Interact regularly with your readers or followers
It's virtually impossible for you to drive meaningful traffic to your affiliate channel, and generate more sales if you don't work hard on building a relationship with your audience. As an affiliate, your "business goals" aren't merely to sell. They should also focus on gaining your audience's trust, so they believe in your recommendations and want to share your content with others. Creating the content you think will be valuable and helpful for them is one thing – but you also need to regularly interact with them. 
Think about ways you can engage your followers through your content; ask them what topic you should pick next time. Or maybe which product or groups of products you should review next. Maybe they even have ideas or suggestions on what you should improve on your website.
Even better is if you reward some of your followers for their insight or host competitions. An example here could be a photo competition with company swag as the reward.
Analyze your competitors
The last tip we'll give you is to keep an eye on your rivals, as you can learn a great deal about them, and maybe even yourself, by analyzing their affiliate strategy. What type of content do they use most often? How are they adding their affiliate links? How many people like and comment on their website? 
By regularly checking how other affiliate marketers from the niche you're targeting are doing, you can not only get some new ideas for your own website, but you can also learn where your strategy might need a bit more polishing, or what you are doing better than them and how you can use it to your advantage.
Mistakes to avoid in affiliate marketing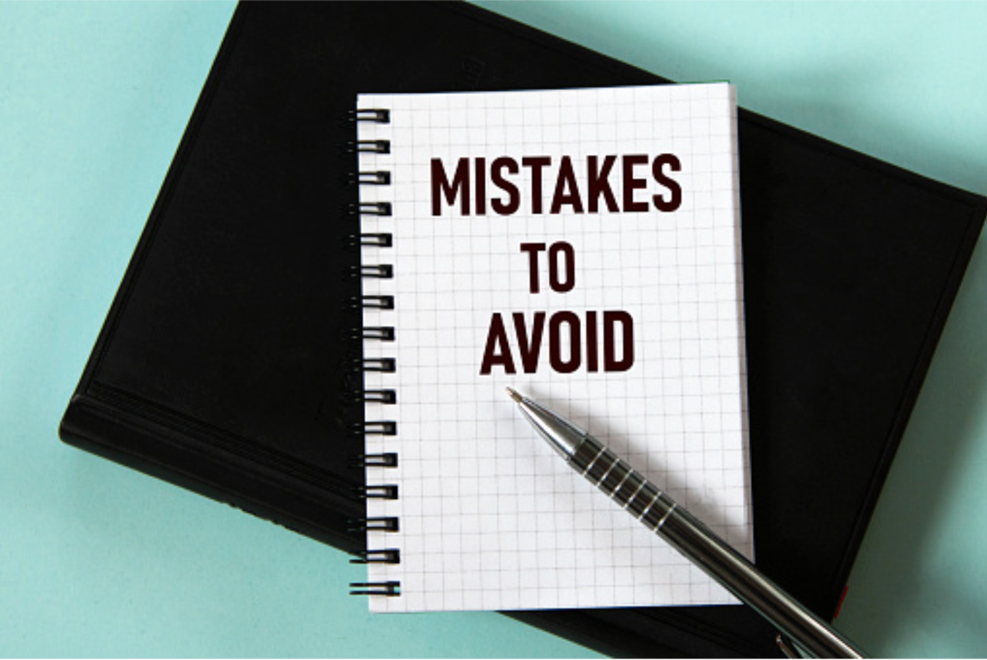 If you've done a bit of research on affiliate marketing, (and really, by reading this article you already have!)  then you might have seen one horrifying statistic – namely, how many affiliate marketers fail and quit. A large number of those people are those who simply underestimated the amount of work you need to do as an affiliate marketer or started it hoping that it's a "get rich quick" solution.
But there are also people who failed to see any results from their hard work because they made one or more mistakes whilst creating their content, or when looking for programs to join. Want to know what those mistakes are? We've got you covered – here are some very common mistakes affiliate marketers are making that get in their way of getting sales.  
 Not using a call to action
When you have a couple of links hidden in a lengthy text or post, your readers or followers might not notice them. Or they may say to themselves that they will get to them back later, only to forget.
Putting the link in a different color than the rest might help in a small way, but what you really need here is a clear call-to-action button. Without it, your reader or visitor might be left wondering what they should do next, and the action they take next might not be the one you wanted.  A CTA button's purpose is to tell the reader what they should do if they are interested in the offer mentioned on your website and what they can gain from clicking on the button. 
Making your blog content too salesy
Of course, your aim is to generate sales and earn a commission. But if the content you are sharing sounds more like pushing a sale rather than helping your readers solve a problem, then the readers might leave your website as quickly as they arrived. Just telling your followers why the product is wonderful and why they should buy it straight away might cause the opposite effect – making your followers doubt your intentions.
Instead, you should show them how you used the product, how it helped you, and most importantly, how it can help them as well. If you have photos or a video of "before" and "after", even better.
And rather than mentioning a long list of features the product boasts, tell your followers how they could use these features to solve a problem, or reach an outcome. If you are, let's say, promoting a smoothie maker, there's not much point in describing every single functionality it has. Try instead recording a video in which you describe how you used the smoothie maker to make drinks for an evening meeting with your friends, and their reactions to the outcome. Much better right? And far less likely to alienate your audience.
Not focusing enough on traffic-building strategies, such as SEO and email marketing.
With so many brands using affiliate marketing and so many marketers trying to earn from it, generating enough traffic to your website might be a challenge – but without it, you simply won't succeed. So how could you bring more people into your world? 
Learning how to use SEO to your advantage is key here. It takes a bit of know-how to get it working as you want, but by doing a bit of research on the in's and out's, it will be far easier for people to find your blog or video channel. This will lead to more people seeing your article or social media post, and a higher chance someone will click on your links and buy the recommended product.  It's well worth the effort. What can you do to ensure that your content is liked by search engines?
Researching long-tailed keywords for which you can easily rank
Optimizing your content for readability.
Using (optimized) images in your article or post
Posting high-quality content on a regular basis
Examining your website for speed and fixing eventual problems
Making sure all your links are properly disclosed, active and relevant 
Email newsletters are also a great place for you to post links to your content or share promotional offers. You shouldn't spam people with your newsletters though – besides branding yourself as a pushy seller, you might get into trouble with email delivery systems. 
An idea to avoid is to buy a premade email list. This is almost a guaranteed way of ensuring your emails land in the spam inbox of your recipients. You even risk being blacklisted. Building your email list through content and lead magnets will take some time, but at least you will be sure that you are sending emails to people who want to get them and are more likely to click on the links inside.
Blindly signing up for every affiliate program that comes your way
It might feel tempting to sign up for that affiliate program with exceptional commission rates, even if it doesn't exactly fit in with your usual content, or work for several affiliate programs, hoping that you will earn far more, far more quicker. I'm going to disappoint you here – that just doesn't work as well as you might hope.
If you are promoting similar products from the same industry, then it is doable, though you might still find out that you don't have enough time to create high-quality content for each product, and you can't just keep posting the same style of article over and over again forever. (your audience can only read so many "10 best products for…" style articles before becoming uninterested) But signing up for programs from multiple niches? That's a recipe for disaster.  Not only it might be hard for you to create content focused on completely different products, posting such content may generate suspicion within your audience, and maybe even make them think you are just in it for the money. 
Over to you
When done smartly, affiliate marketing can be a very powerful marketing method. Businesses can locate consumers in their target niche and convert them to customers more easily, while bloggers and YouTubers get the means to add something extra to their regular income. And that's without any major initial investments or years of experience needed. There's no risk attached.
As long as you have a passion you want to share with other people and a few hours to spend on growing your channel, you can start straight away with affiliate marketing. Good luck!
Frequently Asked Questions
Does affiliate marketing require coding?

You don't need a lot of technical knowledge or a particular set of technical skills to start affiliate marketing, and certainly, you don't need to know how to code.  However, some knowledge is useful. For starters, you will need to know how to create and update your website, and where you can find performance metrics for your content. The rest you will learn with time.

Is affiliate marketing a pyramid scheme?

No, it is categorically not, but there's a lot of shady companies out there who run pyramid schemes under the guise of "affiliate marketing". So before you sign up for any program, read their terms and conditions very carefully – and if anything makes you suspicious, then don't apply for the program, no matter how tempting the commission rate might be. It would be a good idea also to look for reviews and comments about the program – if there is nothing online about the program, or any comments seem copy-pasted, then the program might not be legitimate.

Is affiliate marketing easy?

It can be easy once you get the hang out of it but don't expect it to be a walk in the park! Compared to what many websites with a questionable reputation might tell you, affiliate marketing does require a fair amount of time and energy, and convincing your visitors to buy a product from your recommendation only seems to get tricker each year. So if you are looking for a get-rich-quick method, affiliate marketing is not the right place. But if you want to earn some extra money on your hobby or passion, then affiliate marketing is a great way to mix work and fun.

Is affiliate marketing passive income?

It's often mentioned as such but not exactly. Affiliate marketing needs continuous work, such as posting on your blog or video channel; you shouldn't count on one article or video continuously bringing in money. However, if you maintain your website with fresh, regular content, with added affiliate links and you continuously work on driving traffic towards it, then you might be able to regularly earn money from certain articles once they're posted. Then it does count as passive income. But don't count on this possibility, it's much better to be active.

When and how do affiliate marketers get paid?

Everything to do with money depends on the program's terms and conditions. In some programs you will get paid once a week, in some, once a month, and in others, you are paid only after hitting a certain amount of commission. The methods of payment can also vary wildly. In the majority of the programs, PayPal, prepaid debit cards, gift cards, checks, are used, but you may also get discounted free products or premium subscriptions for services.

How long does it take to make money with affiliate marketing?

That depends on whether you are starting from scratch or already have a running channel for affiliate marketing, how well your promoted product converts, how much it costs, and many other potential factors. On average, it might take up to 6 months to start seeing visible results coming from your affiliate efforts.

Which affiliate programs generate the most revenue?

That also depends. While the names of the affiliate programs that regularly top the charts when it comes to revenue are easy to find, (and we mentioned those in the section about the most popular affiliate programs previously) working with these companies no way guarantees you'll be earning money from day one. Affiliate marketing is performance-based, meaning almost everything depends on how much time and effort you will put into your website and content – and how well your affiliate links perform.

Is affiliate marketing an opportunity to become a millionaire?

That entirely depends on you and how hard you'll work on your channel – and honestly, on a pinch of luck as well. There are people who are earning fantastic money from their affiliate work; Pat Flynn has earned over $3 million in affiliate revenue alone while John Chow even wrote a book about his road to spectacular income from affiliate marketing; but truth to be told, that doesn't happen often. Only 3% of all affiliate marketers earn over $150k a year.  It's certainly possible to earn enough a month to have a "second salary" but earning life-changing income from day one? That's sadly, rather unlikely.