Over the last few years, affiliate marketing freelancers have experienced a rise across all industries. During the pandemic, 56% of affiliate advertisers dramatically increased their affiliate channel revenue. And things don't seem to be slowing down. The figures can be astounding for many businesses that have just jumped on this trend or already use affiliate marketing strategies.
However, nailing affiliate marketing isn't a walk in the park. It takes lots of hard work, planning, and finding the ideal affiliate marketing freelancer who's ready to partner with you and help you drive sales. In this post, we discuss why you need an affiliate marketer and how to recruit affiliates.
Why should you hire an affiliate marketing freelancer?
Outsourcing certain aspects of your online business can be a great strategy for expansion. Hiring affiliate marketers can have several benefits for your business:
Take back control of your time
Running an affiliate marketing program takes a lot of time and effort. Managing affiliate partners, conducting analytics, managing campaigns, and evaluating analytics can be overwhelming.
Since you can't be a jack of all trades when running a business, you'll want to delegate freelance marketing to specialists. When you hire a freelance affiliate marketing expert, you get time to focus on other crucial parts of your business.
Affordability
With freelance affiliate marketing, you don't have to pay additional costs, making it an affordable venture. Various freelancer marketplaces advertise these services and you can pick a marketer who falls within your budget range.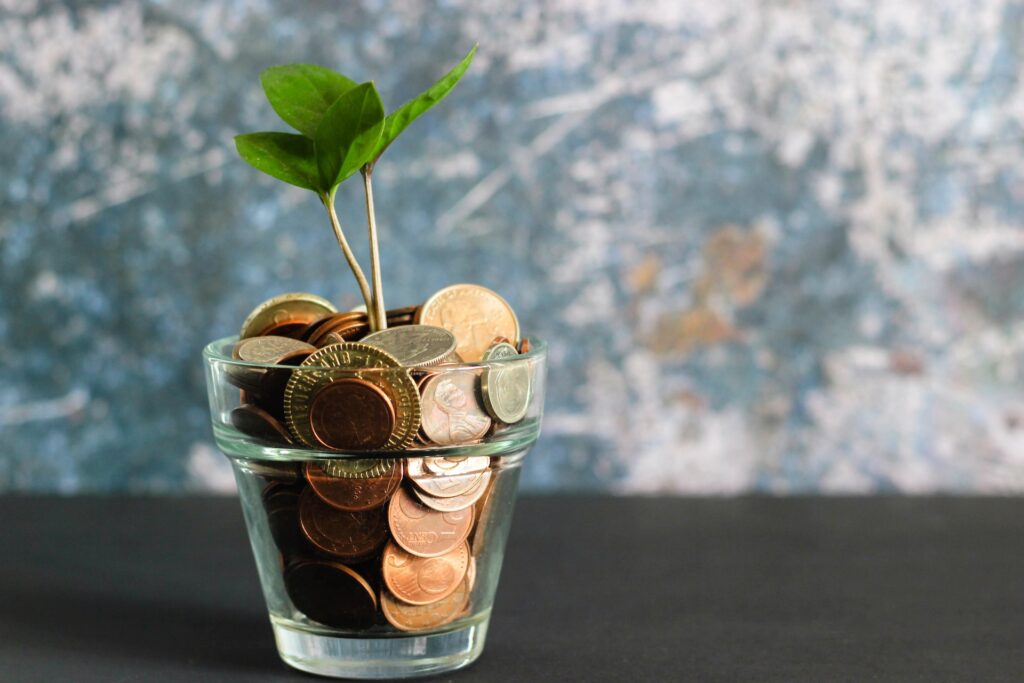 More flexibility
Freelance marketing affiliates are highly experienced and insightful in what they do and can operate with flexible schedules. You can easily modify arrangements in the contract and come up with a schedule that works best for you both.
More control over your message
Working with affiliate networks is not only expensive due to the high commission rates, but you also lose control of your affiliate marketing. While you still have the option to customize certain features, you're still part of a system that has to adhere to set rules, policies, and quality control, which can be limiting.
When you hire your own representatives, you gain full control of who you work with, how they market your brand, the commission payout, and more. You don't have to worry about policy changes and high commission charges.
More importantly, you'll have a much more personal relationship with your affiliate marketers, which can result in better ROI.
How to find an affiliate marketing freelancer
First off, you must create a successful affiliate program before you set out to find affiliate partners to promote your products or services. Starting an affiliate program is a straightforward process:
Set up your affiliate program. You'll need to decide on what commission to give each of your active affiliates. Likewise, you'll need to provide your affiliate partners with a unique URL, and then start tracking the sales generated by each URL. Publishers are usually attracted to programs that pay an attractive percentage. If you opt for an affiliate network, it will already have its tracking and payment system.
Many affiliate marketers utilize search engines to look for affiliate marketing opportunities. That is why you should create your affiliate page and optimize it for search engines. Your affiliate landing page should outline the terms and conditions of the commission structure and highlight some of the product benefits to entice publishers to partner with you.
Offer affiliate marketing freelancers creative materials that highlight your products in the best way possible. To ensure better promotions and a successful affiliate marketing campaign, provide as much information as you can to your affiliates.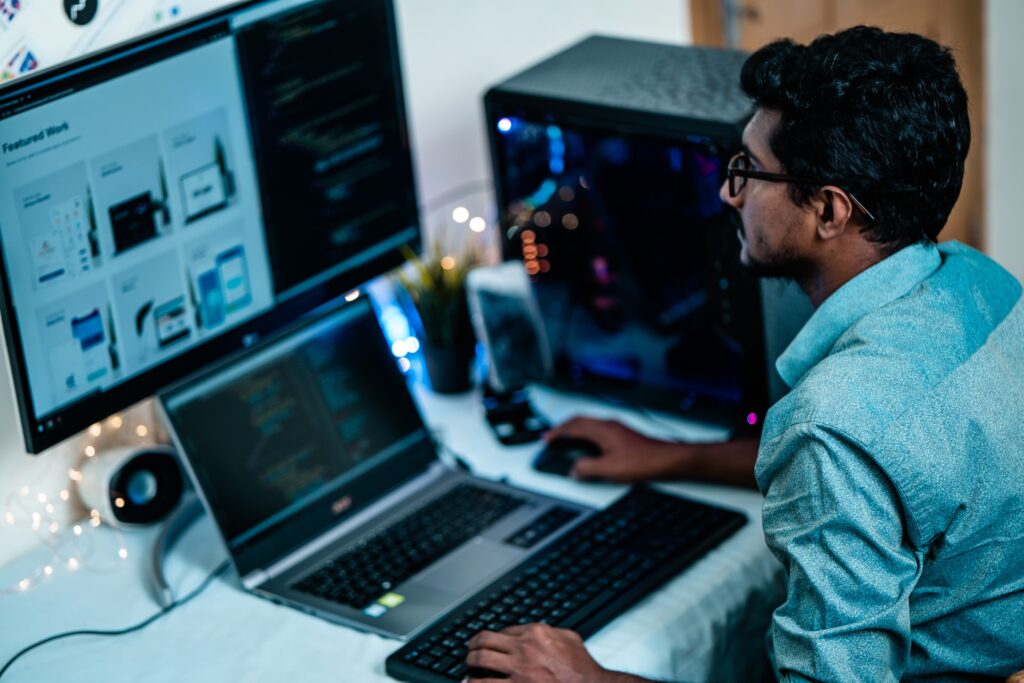 Once all that is out of the way, the next question is how to find affiliates. The good news is that there are several tactics you can employ when looking for an affiliate marketing freelancer. Below, we discuss some of them:
1. Use search engines to find affiliates within your niche
One of the most straightforward ways to find different types of affiliate marketers is via search engines. Simply launch your browser and type a keyword relevant to your business. When using search engines, you'll want to be as specific as possible to narrow down your search.
Let's say you sell dog leashes. Typing "dog leash" on say, Google, gives you around 148 million search results. Now, try something like "retractable leash for a small dog" and your results shrink to around two million.
In addition, search for keywords that are laterally related to the product or service you're selling, such as "dog training" or "dog walking". The advantage of using search engines is that you don't have to pay a cent.
However, you'll still have the task of finding their contacts, handling outreach, and so on.
2. Advertise in affiliated directories
Affiliate directories offer you an opportunity to pitch your brand to affiliate marketers for hire. These directories are popular and used by millions of publishers to find affiliate marketing opportunities.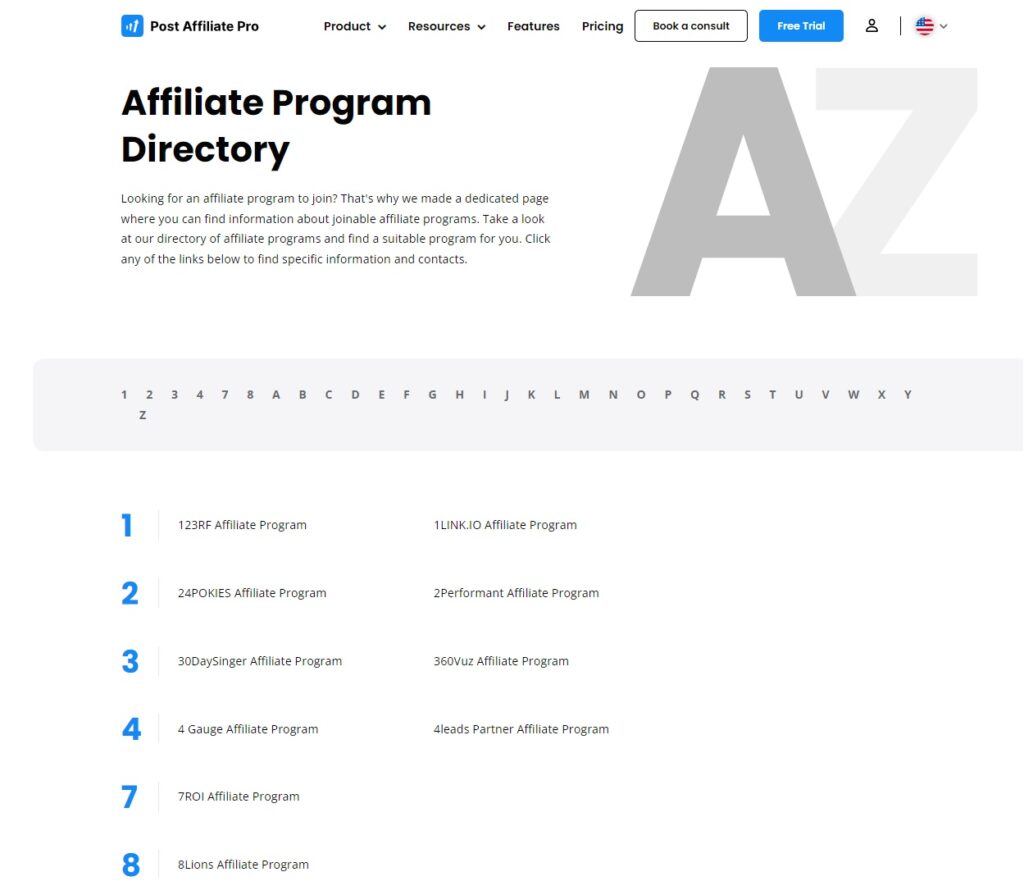 It's therefore a reliable and valuable resource to use when looking for freelancefreelance content writers and marketers. Some of the directories worth checking out include:
Green Affiliate Programs
AffiliateRanker.com
Top Affiliate
Awin Advertising Directory
AffiliateCashDirectory.com
Here are a few things to consider when listing your affiliate marketing opportunity in the directory:
The more detailed you are, the better your chances of finding the right partner
Categorize your offer correctly
Detail the benefits affiliates will get from promoting your products/services
3. Recruit through your affiliate network
Your affiliate network is a valuable resource when it comes to discovering publishers. These are third-party websites, like AWIN and Rakuten Advertising, which provide an avenue for brands and affiliates to connect. ClickBank is another good example that offers a marketplace where brands can appeal directly to the market.
If you aren't listed on one already, consider joining as this gives you exposure to countless affiliates who are actively seeking affiliate marketing opportunities. You can benefit from such exposure even if you're currently not looking at onboarding a large number of affiliates. Keeping your brand as an employer at the forefront of candidates' minds is how to recruit prospective employees and affiliates in the long run. That said, while an affiliate network increases your exposure and does the discovery for you, the affiliates may not always be the most relevant to your brand.
Plus, you'll have to part with a commission of sales, which may not be viable if your products have a low-profit margin.
Platforms for hiring an affiliate marketing freelancer
You can check out various marketplaces to find competent affiliate marketers to fill a role in your business. These include:
Upwork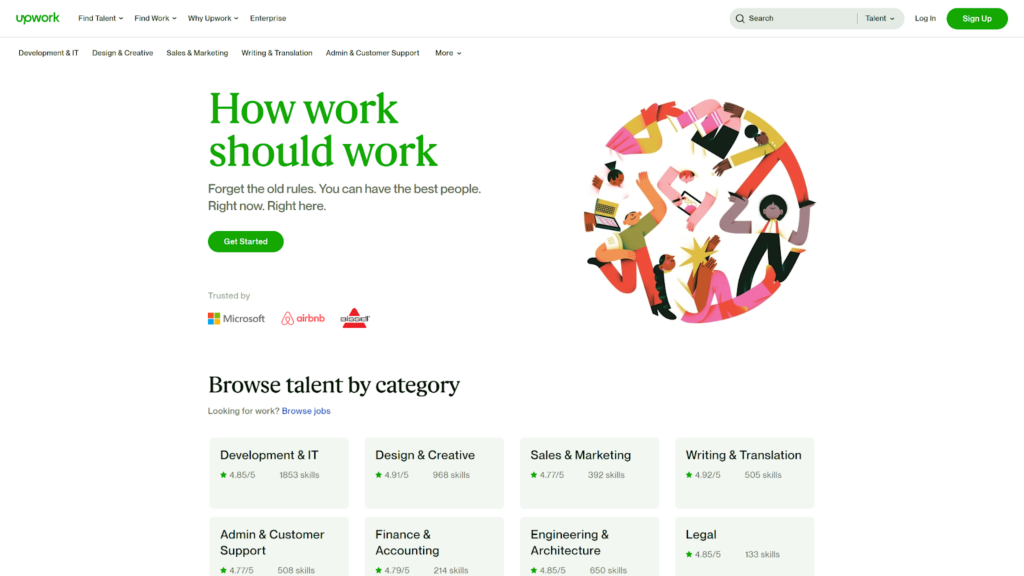 Upwork is one of the largest online workplaces globally that provides thousands of freelance affiliate marketing experts for hire. The platform highlights detailed freelancers' profiles, displaying their skills, experience, and even feedback from previous clients.
As the employer, you can utilize its reliable screening process to find the right freelancer for your needs. What's more, you have a wide option of talent to choose from, based on your budget.
Having said that, you get what you pay for on Upwork. Therefore, don't simply hire experts who are the cheapest as this could end up in losses.
Pros
You can post freelance marketing jobs for freelance affiliates to apply for
It's ideal for long-term projects and makes it easier to track hours
Lets you browse and analyze profiles and feedback of professional freelancers
Offers an excellent invoicing and reporting feature
Cons
The high volume of proposals may slow you down
Not all freelancers who apply are serious or follow instructions
Fiverr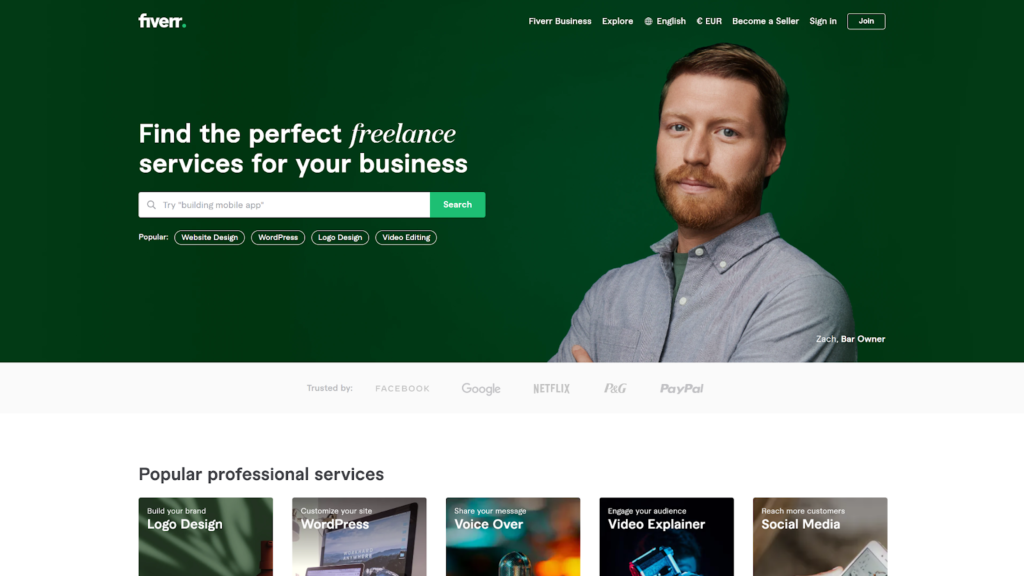 Like Upwork, Fiverr publishes freelancers' profiles for employers to analyze before hiring them. It's a good source of affordable and reliable services and comes with a pro service where you can find talented affiliate marketing freelancers with verified accounts.
It offers a chat system to allow conversations between the client and the freelancer, which is handy since you can clarify the details of your project and collaborate in real time.
Fiverr offers a diversity of freelance talent, and you don't need to go through dozens of proposals. Simply find someone who offers affiliate marketing services, agree on pricing, and scope and seal the deal.
Pros
Offers access to a wide pool of talent
View freelancers' profiles and feedback ratings before selecting them
Excellent customer service team
Cons
Not easy to find talented freelancers with proper skills
Onlinejobs.ph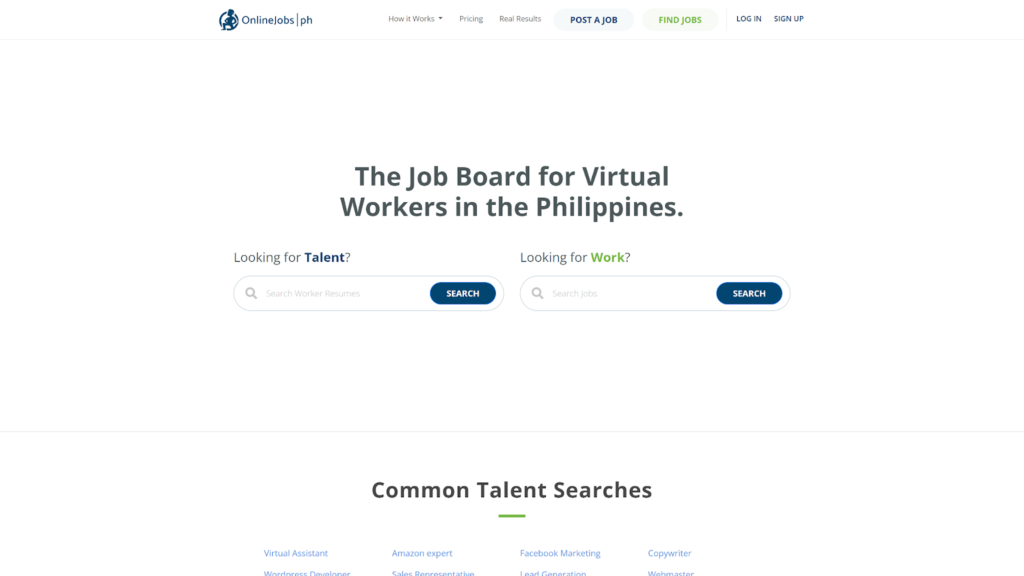 A Filipino job board, Onlinejobs.ph lets you hire freelance affiliate marketing experts only from the Philippines. The platform is a good option when looking for high-quality but affordable services.
You can hire an affiliate marketing freelancer by posting a job or searching for worker resumes. When you find the perfect skilled professional, you can vet and hire them. The site enables you to manage your remote employees' work hours and pay them via EasyPay.
Pros
Simpler to find talent – post a job or search resumes
Makes it easier to manage and pay hires
Lets you look at users' full profiles before hiring them
Cons
Onlinejobs.ph does not mediate between you and the candidates if something goes wrong
Peopleperhour.com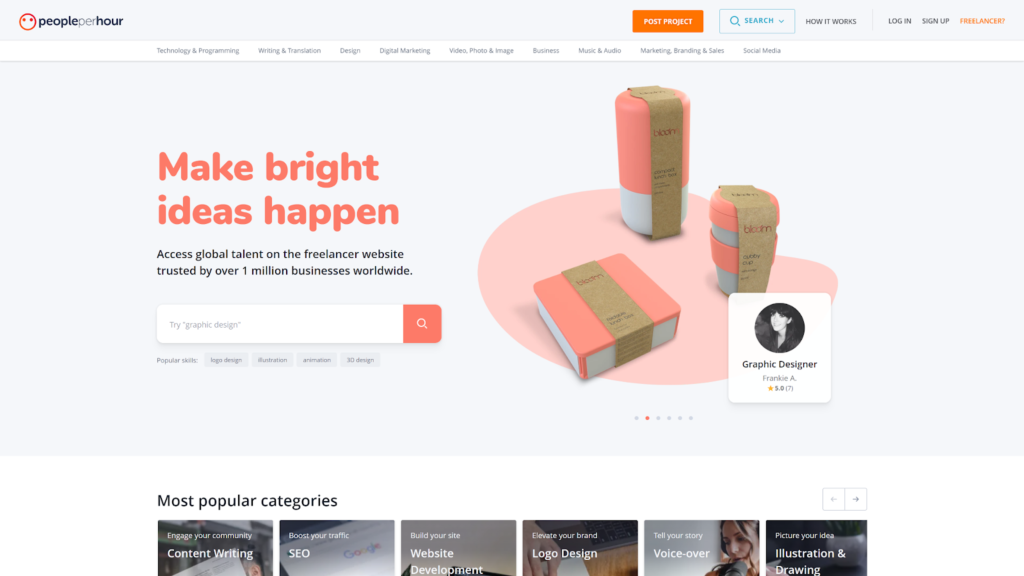 People Per Hour has been in operation for over eight years now, offering a massive pool of talent for all kinds of services. The platform lets you post a project, highlighting relevant details. Their AI system then tries to match you to the most suitable freelancer with relevant skills.
Freelancers can respond to your job with their proposal, which you get to review and select the most suitable person.
Pros
An excellent platform to find affiliate marketing freelancers
Its AI system matches you to the most suitable freelancers
Easy hiring process
Cons
The high volume of proposals means finding the right candidate can be time-consuming
Guru.com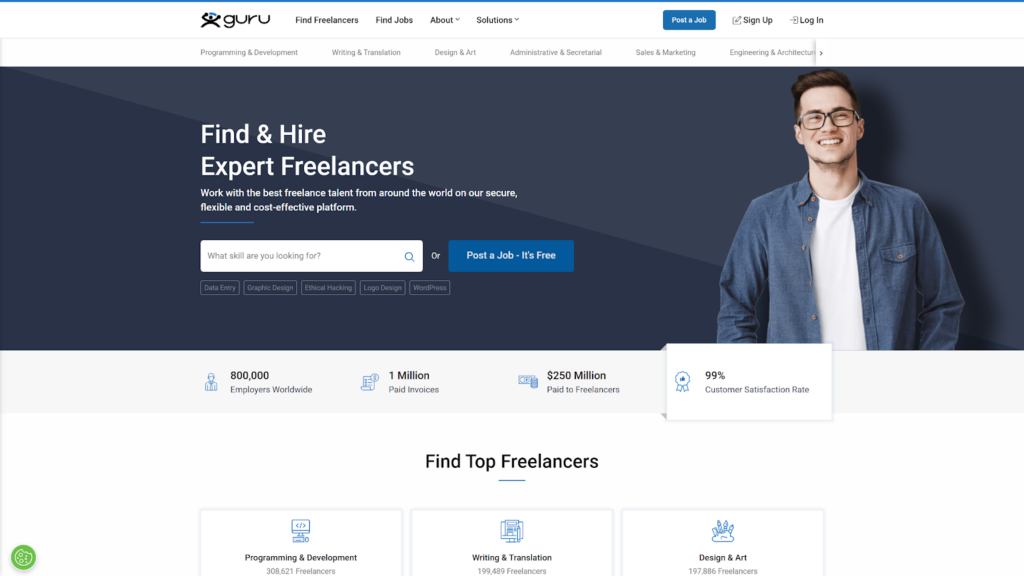 Guru.com is home to over three million freelancers offering a wide variety of services and tools. You will need to create a free account and list a job on the platform. Interested parties can then apply for the job with samples of their work so you can choose who can work for you.
The service lets you pay staff in milestones or on task completion. You can also make hourly payments.
Pros
Gives you access to a wide talent pool
Lets you create a free account
Offers various payment options
Cons
Not all gurus on the platform are legit. Negative reviews suggest it's riddled with scammers
Affiliate marketing freelancer hiring process
Hiring an affiliate marketer can be a challenging task but it doesn't have to be overly complicated. Once you've decided how your affiliate program is going to work, the next step is to hire your affiliates. You can either vet them yourself or run your affiliate program through an affiliate network.
Either way, you'll need to carefully screen your affiliates to ensure they are relevant to your business needs.
Recruiting
Recruiting top talent is not an easy job. You can, however, use strategies to recruit affiliates who will increase your sales volume. First, clearly define how your affiliate marketing efforts and programs work. Then state the experience and skills you want the new publisher to have.
Then, you can start looking for the best people for the job through various means, including
Direct advertising
Searching through talent pool databases
Employee referrals
Reaching out to boomerang employees
Using recruitment agencies
Word of mouth
Social media
Attending industry-related events
Getting job applicants
So, you've advertised that you're looking for affiliate marketers for hire on various job boards. But what now?
Consider promoting your open positions on those same job boards to increase visibility. This makes it easier for potential candidates to find you and click on your posting.
Job interviews (filter out any unqualified candidates)
The next phase is interviewing the candidates who have passed the screening stage. This is the chance to scrutinize each candidate, gauge their level of expertise, and decide whether they have the potential to drive sales.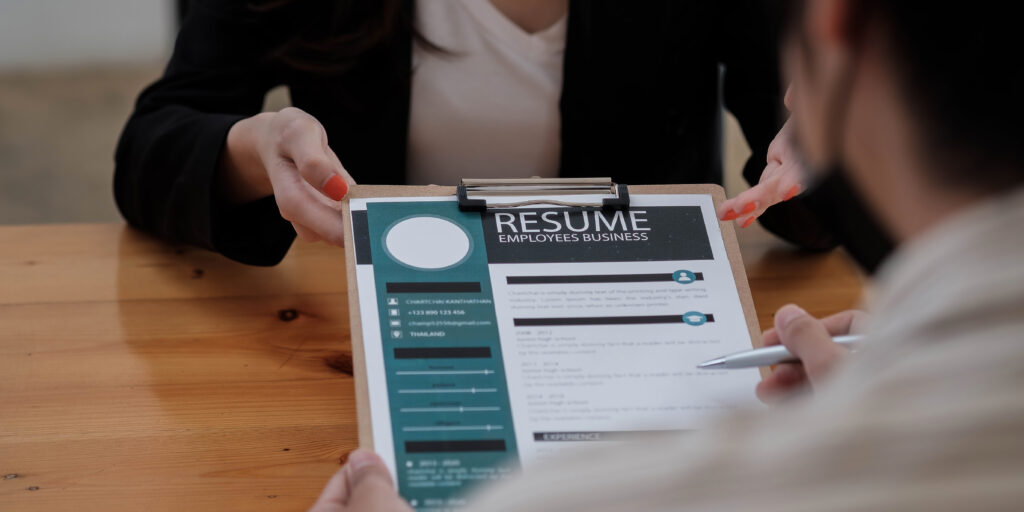 Make sure the candidates know what you need: goals and expectations. You may want to test them to demonstrate their skills, level of industry knowledge, and personality. Given that it's a freelancing position, you may want to first identify the best virtual tools to facilitate the interview process.
Training
After connecting with a freelance affiliate marketer you feel has all the qualities to represent your brand properly, you may want to give them access to promotional materials. If you want them to successfully promote your product or service, they will need to learn everything about your company and what you offer. You can also enroll them in online courses to gain in-depth knowledge of the industry, potential customers, and your business.
Long-term relationship
To attract affiliates to your business, you must show that your product is worthy of their time. That is, the products should be worth promoting. In addition, you must have a professional website and offer an enticing commission.
Most importantly, find a way to ensure a long-lasting relationship with your affiliate marketers. You can do so in various ways:
Keep them updated on new developments
Offer excellent customer service
Offer additional perks like raffles to make it more appealing for your affiliates
Affiliate marketing tracking software
No matter how well you prepare and refine your affiliate marketing program, there will always be things that can be improved. That's why it's crucial to evaluate and track your affiliate program setup.
You want to know what you could do better to increase sales and monitor leads, purchases, and referrals. That's where affiliate tracking software like Post Affiliate Pro comes in. With this powerful software, you can create an affiliate program and track offline sales from coupons. You can even create and manage your own affiliate network.
Post Affiliate Pro™ | Voted Best Affiliate Software | Post Affiliate Pro01:31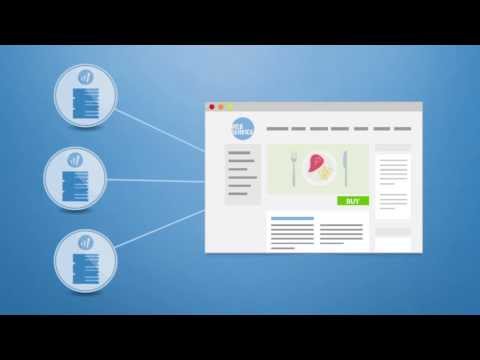 Post Affiliate Pro
Post Affiliate Pro also provides affiliate tracking software. It allows you to track your affiliates and their activities, and determine who brings in more affiliate conversions and registers higher sales. You can then use that information to compensate the marketers accordingly.
Avoid the guesswork and take advantage of the insightful analytics and other powerful tools and benefits of affiliate marketing software.
Bonus tips to recruit the right affiliates
Here are additional ways to recruit affiliate marketers:
Turn your customers into affiliates
People who use your digital products in their daily lives are a great pool of freelance talent you can hire. Therefore, consider approaching your customers with the idea of promoting a product they already know for a reward. You would be surprised how many of them are already interested in a career in affiliate marketing.
You can reach out to your customers via email, social media, or phone to pitch to them. Who knows, they could have had that idea already, only that they didn't know how to approach you.
Niche bloggers
One of the best methods to recruit affiliates is by reaching out to freelance content writers who are already writing about products related to yours. But first, you must perform thorough research about the niche bloggers to determine whether they like your products and can use them.
If they do, send them samples and request them to write high-quality content like "How to" guides, product reviews, or user manuals. Some might even create a blog about your product without expecting a commission in return.
Work with affiliate recruitment agencies
If you want a quicker way to find affiliate marketers, consider reaching out to affiliate recruitment agencies. These organizations run proactive affiliate recruiting campaigns, and can help you build successful affiliate programs.
Apart from the large network of verified third-party publishers, affiliate recruitment agencies provide dynamic and scalable solutions. Plus, they offer a full suite of marketing services, including recruitment, management, and monitoring of publishers.
Influencers
Just like niche bloggers, consider pitching product promotion ideas and sending products to influencers. Not only will you get their attention, but their influence might also be highly beneficial to your business.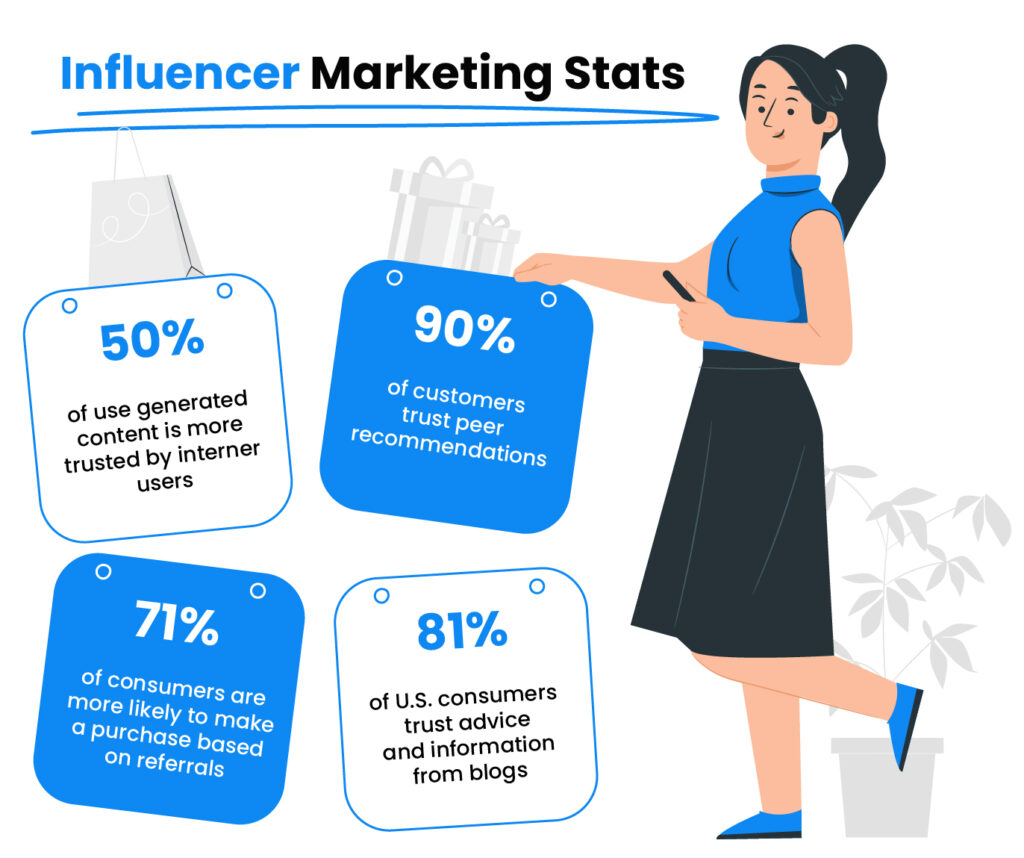 The downside of using influencers to promote your products is that it can be costly. Having said that, don't ignore upcoming micro influencers in favor of the bigwigs. While they may not have a huge following, they can still increase your brand awareness without additional costs.
Online communities
Online communities offer the best avenue for networking, support, education, and encouragement for the affiliate marketing industry. You just might connect with affiliate marketers willing to share tips and strategies that can help your business thrive.
You may want to research online communities to determine where your target affiliates are before approaching them. These communities expose you to connections that can help your business grow.
First, you must build a relationship with potential affiliates in these forums and communities just as you'd do when networking. In return, you get to work with affiliates who will bring traffic and sales to your business.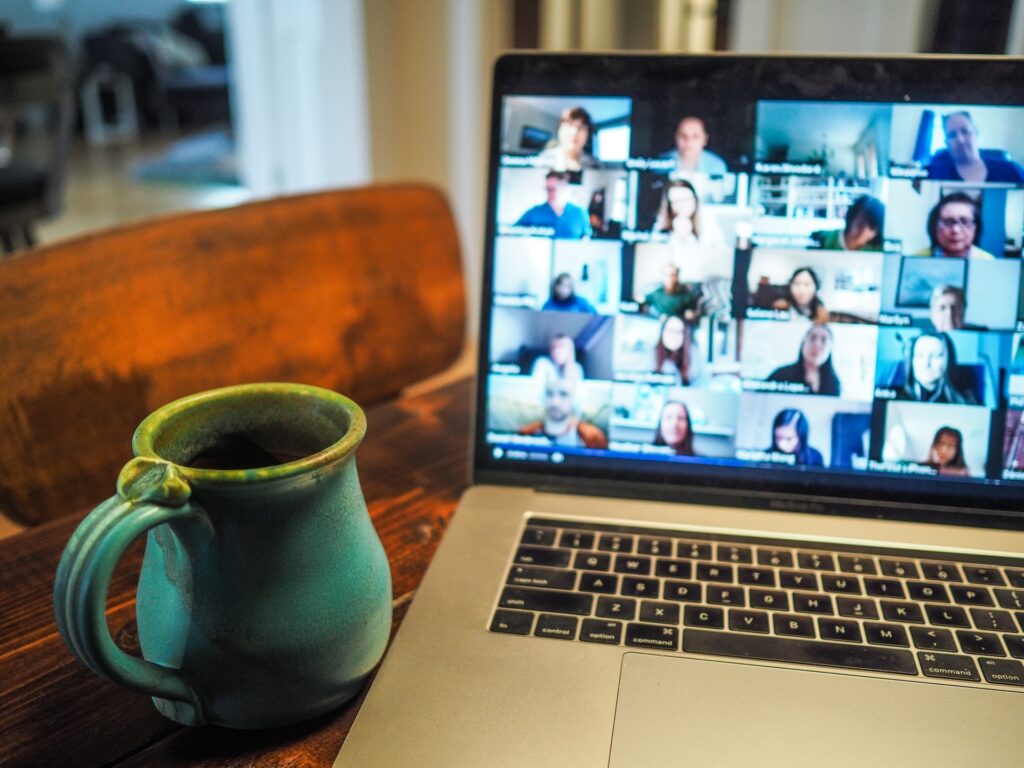 Some of the top affiliate marketing communities to join include:
STM Forum
Stacked Marketer
Affiliate Marketing Ninjas
Morning Dough
Affiliate Marketing Group
Smart Passive Income Community
Pro tip: To run your affiliate marketing business efficiently, you'll want to work with a schedule to keep your workday running smoothly. Automatic time tracking will help you and your remote employees hit your targets and achieve goals in your business. For other types of employees, utilizing a time tracker for freelancers helps plan and organize work days better while ensuring regular breaks to prevent burnout.
How much do affiliate marketers charge?
According to data provided by Glassdoor, the average salary for an affiliate marketer is around £38,040 per year, in the UK alone. However, the amount of money you can make doing freelance affiliate marketing depends on variables like:
Location
Contract length
Work experience
Education
Commission rates (Amazon's commission rate varies from 1-10 percent of the purchase price)
Price of the product being promoted
Click-through rates
Conversion rate
With that in mind, an affiliate marketer can earn as little or as much as they can given their circumstances. Top earners make up to $400,000 annually.
How much an affiliate marketer charges will also depend on whether the position is permanent or short-term, and the level of the position.
Full-time contract
Hiring an affiliate marketing freelancer on a full-time contract will cost more than on a part-time contract. For example, a full-time affiliate manager will earn more since they bring more to the table.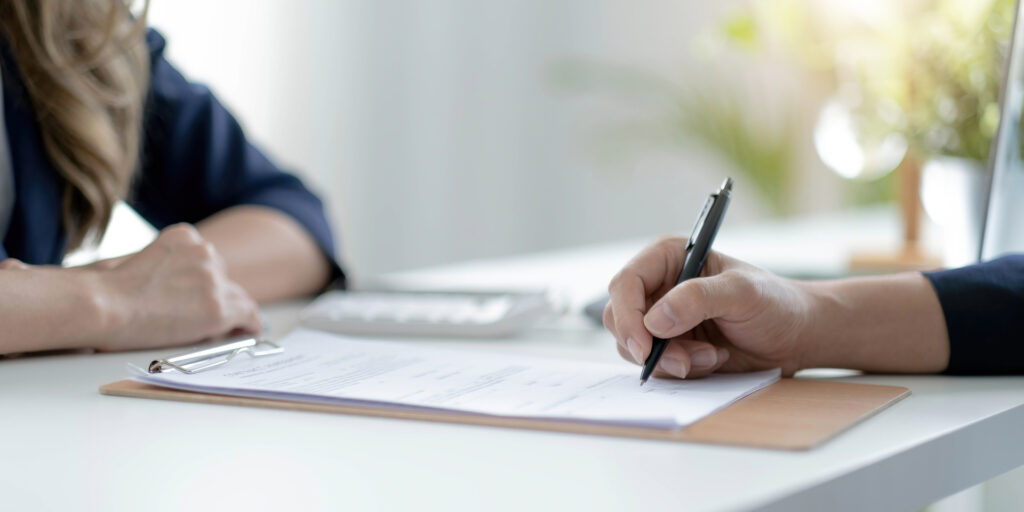 Part-time contract
If you aren't certain about hiring someone new, consider a part-time affiliate marketing professional. Since you don't offer benefits and the marketer works for certain hours, they have more freedom to work on other clients' projects and will therefore charge less.
Keep attracting new affiliates for your business
The secret to ensuring consistency in the promotion of your brand is to never stop recruiting affiliates. Don't make the mistake of running a few aggressive campaigns and then putting the program on autopilot.
Remember, not all your affiliates will be active, and if you stop recruiting, your marketing efforts will slow down dramatically. Therefore, keep actively recruiting new affiliates to multiply your market reach and drive sales.
Conclusion
Affiliate marketing freelancers can help your business thrive in a highly competitive world of digital marketing. However, to maintain high-quality partners, you must offer products worth selling, offer an irresistible commission, and keep updating your affiliate marketing program.
Finding relevant affiliate marketing freelancers isn't an easy task. But with determination, persistence, and hard work, you can be sure to secure trusted partners on your side.
Ready to start your affiliate program?
Post Affiliate Pro is an affiliate tracking software that will allow you to have complete control over you affiliate program.
Try today