What are banner ads?
Banner ads are a form of digital advertising, consisting of the placement of a rectangle-shaped ad, either horizontal or vertical, at the top, bottom or sides of a website.
It is one of the oldest forms of advertising on the internet and one of the most popular forms of affiliate marketing, along with the most common form of mobile ads.
Banners usually have very little text and rely mostly on their attractive images and call to action (CTA) to attract prospective customers. The main goal of this marketing strategy is to get visitors from the affiliate marketer's website to their affiliate advertiser's website. This is now easier than ever thanks to affiliate network services. These connect the sellers to the right advertisers, which increases return of investment (ROI), brand awareness, customer relationship management (CRM), along with many other factors.
How does banner advertising work with affiliate marketing?
Whether a banner advertisement is vertical or horizontal, for PCs or mobile devices, they all go hand-in-hand with affiliate marketing. A banner advertisement helps digital marketers capitalize on their website's traffic, and helps sellers reach new potential customers. In contrast to native ads, which are designed to increase brand awareness, banner ads can be designed for every part of the buying journey.
Whether you're an affiliate merchant or an affiliate marketer, initiating a partnership from either side of the affiliate program is possible. If you own a website that regularly generates a lot of traffic and would like to earn passive income, you can do so by becoming an affiliate. As an affiliate marketer, you get the chance to earn passive income by advertising services or products (digital or physical) that you have tried and feel confident in recommending to your audience.
On the other hand, if you are a business owner (or affiliate merchant), you can use affiliate programs to find affiliate partners to display your ads. Some affiliate programs, such as Post Affiliate Pro, take care of tracking and monitoring ad campaigns, allowing you to track your ad's success. Running your ads on the affiliate marketer's website, blog, or social media accounts, helps reach the objective of generating sales or conversions. No matter what side of the partnership you're on, affiliate networks can bridge the gap.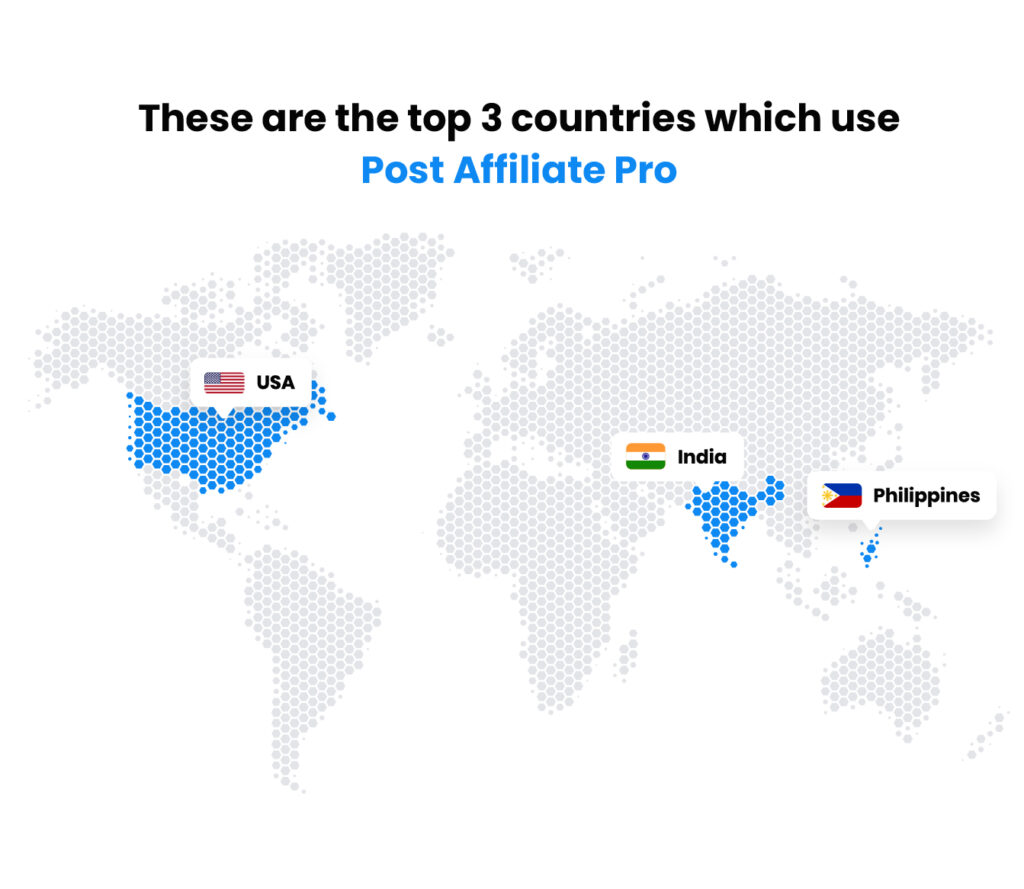 Each affiliate program is different, and the revenue streams will depend on the goals of each advertising strategy. Some banner ads will try to get the potential customer through the first steps of the sales funnel, with a clear call to action that reflects that intention. Others may request you to fill out a form or sign up for a newsletter. Usually, if the objective of the ad is to get a sale, the affiliate advertiser will get a commission from each sale. If the goal is to get the potential customer to fill out a form, the affiliate commission may be related to the conversion of leads. All of these activities are tracked through the affiliate code embedded on the banner, which correlates each user's action with the site they were redirected from. This affiliate code will also guarantee that in case the banner ads include a promotion, the customer will be able to receive said promotion after being redirected.
The reason why this advertising strategy is so effective is that it allows you to target customers that are more likely to engage with your banner. Internet users have become more savvy and aware of digital marketing, and they are bombarded by ads on every site they visit. That is why influencing their buying behaviour through effective banner ads on sites with established audiences translates into higher conversions. By associating your product with a website that the user already trusts, you also increase their potential trust in your brand.
Popular kinds of banner ads
Since the dawn of internet and digital marketing, the static banner ad has been one of the easiest, cost-efficient and most straightforward forms of advertising. However, as technology developed, the ability to transform those static pictures into animated ads has been slowly taking over, and for good reason. On top of better internet connections that have made animated ads possible, the eruption of mobile devices has modified our mindsets to be more frenetic, looking for easier and faster ways to consume information. These new possibilities include video ads, lightbox ads, push ads and native ads, amongst others.
Video ads are quite intuitive to understand. Just like TV ads, they are dynamic, making the acquisition of information more effortless for the viewer. They can include sound, which expands the possibilities of creating emotive content that will improve their engagement. When put next to static forms of advertising, they result in being more eye-catching in virtue of their movement.
Lightbox ads are a more interactive form of advertising. They show a smaller version of the ad, which can include videos and images, and let the user choose to see an expanded version of the ad by clicking on it or hovering over it. Once either happens, the full version of the ad will show and the user will have further interaction options. These include scrolling through images and videos, playing those videos, and clicking on CTAs that will redirect them to the merchant's website.
Push ads are one of the newest forms of digital advertisement, delivering ads straight to the user's desktop or mobile device. One of the main differences from all other forms of advertising is that these are sent to users that have voluntarily chosen to receive them. This gives them two clear advantages: the ad can be delivered even when the user is not currently browsing the affiliate site and since they were willing to receive it, they are more likely to engage with the CTA.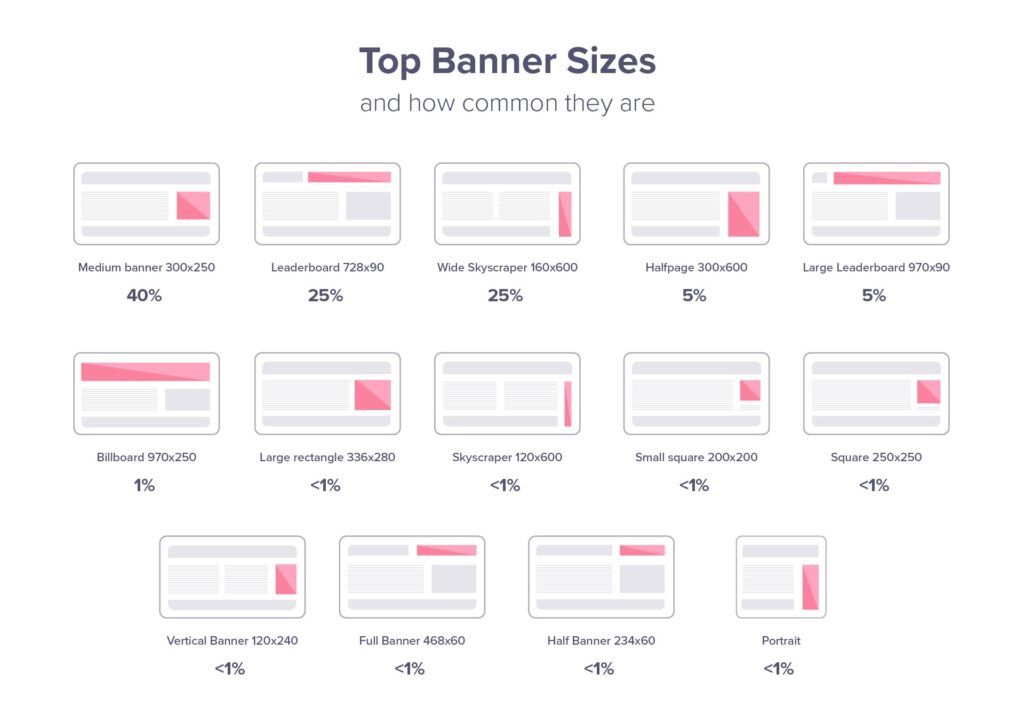 A key feature to take into account for all the types of banner ads is the banner size. The reason for this is that most banner ads sizes have been standardized. Through years of research and trials, advertising services have found the most successful sizes for each banner location on a website (leaderboard, skyscraper, half-page, square, etc.). Trying to use a custom size banner will limit the amount of websites that you will be able to advertise on, since the website owners also follow these standards for the spaces they are offering to place ads.
Below, you will find the metrics that you need to keep track of in order to improve your return of investment (ROI) and analyze the lifetime value (LTV) of your customers.
What are important key performance indicators (KPIs) for tracking banner performance?
There are many KPIs to track when analyzing a targeted banner ad's performance. Even though each will provide different and unique information, looking at them altogether is the best way to track the success of your campaign.
Let's start with Cost-per-acquisition, or CPA. This metric will show how much money it costs your company to influence your customer to take action. The reason we start with this metric is that this allows you to understand which specific type of ad you should be focusing on. A good example would be whether to focus on getting new customers or getting more purchases from existing customers. If the lifetime value of a customer is lower than the cost of acquiring them as your customer, you know which type of campaign to prioritize.
Now, let's look at unique reach. Unique reach tracks how many people see your ad. This allows you to ensure that you are not spending money on showing your ads to the same person over and over again. This metric, in tandem with other relevant metrics, will help you target the audience that matters most to you. Understanding unique reach is also important to understanding the next KPI we'll cover: impressions.
Impressions measure how many times your ad campaign could have been seen. The difference between impressions and unique reach is that a single person may see your ad several times, making it possible to have several impressions for each unique reach. This metric lets you know that your ad is being seen, which helps with brand awareness and brand familiarity. However, this does not tell you if people are engaging with your campaign. Keeping track of other metrics, like engagement and click-through rate (CTR), can let you know if changes are necessary to increase response rate.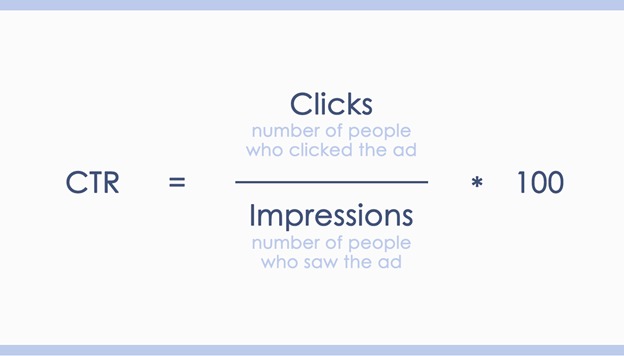 Click-through rate is the most straightforward metric. It measures how many clicks your ads get from total impressions. While some say this metric is outdated, others may consider that a bold statement. It is still very relevant if you look at it along with other metrics. Analyzing the CTR will let you know if your affiliate campaign has engaging content, and if it is appealing enough to make people click on it. Keeping track of this will help with another important metric, the conversion rate.
The conversion rate measures the percentage of people that take the desired action you want them to take, such as making a purchase, filling out a form, adding items to cart, etc. This metric becomes most useful when you want to comprehend which phase of the marketing funnel is not working as desired. By deciding which event you want to track, you can identify where to make the adjustments. If people get to the sign-up page but exit without signing up, the issue lies in the last step.
What are the 10 best banner ad conversion tips for affiliate marketing?
1. Location
Where on the page should you place your ad? You don't want to invest in an ad campaign that won't get noticed. Place your banners in the visible area of the website that does not require scrolling down, or closest to the main content of the website. These are the areas where users' eyes will be more effortlessly drawn to.
2. Call to action
This is the action that you want the user to take. Drawing your users' eyes to your banner is not enough, you want them to engage with it. Use a few words and inviting vocabulary, such as "Learn more", "Shop now" or "Sign up". An appealing call to action is key to increasing your campaign's conversion rate and ROI.

3. Optimize for all devices
Make sure your banner loads and fits the screen, no matter if it is being seen on a mobile device or PC. You want to avoid file formats that require third-party software to be installed on the device in order to load. JPG, PNG, GIF, and HTML5 are the recommended file formats. This allows you to use cross-targeting in order to follow the users that have seen your ads on any other device they may use.
4. Style
You want your targeted banner ads to fit the style of the websites they are on, this makes them more trustworthy in the eyes of the viewers. However, they need to be visible, so try to strike a middle ground between visibility and blending in. Another aspect to consider is that they need to match the style of the landing site, as you don't want to disconnect the user from the ad and your website.
5. Use animation
Static banner ads are consistently outperformed by animated ones. Movement naturally draws eyes to them, and you can take advantage of that. Don't get carried away though, make sure that the ad's message doesn't get lost. It is recommended to not make the animations longer than 15 seconds or loop more than 3 times. As a finishing touch, the last frame should always be the call to action.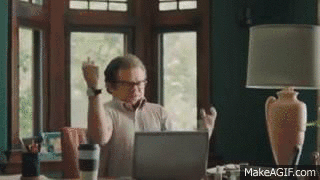 6. Offer something enticing
Users are more likely to engage with your CTA if they get instantly rewarded from it. Offering discounts, free trials, free e-books or free downloads is much more exciting than the typical "Buy now" buttons. These offers can be tracked through the affiliate link you set up in order to better understand which websites have the most engaging audiences.
7. Color
Evoking the right emotions is key for engagement. Familiarize yourself with the different colors and their associations to create more effective ads. It is also important to understand that these associations are cultural, so make sure to tailor your content to your target audience. The same color might evoke different emotions on western or eastern cultures.
8. Size
You want to make sure your ads are always visible, and that you are not paying for larger banners when smaller ones could accomplish the same results. The medium rectangle ads (300×250) are the best for most cases. They are small enough to fit any screen and large enough to be clearly visible and readable. Since it's a standard size, it means that most websites will be willing to host it, giving you more options to choose from. All in all, it's known as the best banner ad size.
9. Pay attention to your reports
Stay on top of KPIs. Your marketing campaign has many facets and while some may be working well, others may need some polishing. Identify which steps in your sales funnel may not be working as intended. Make a profile of the buyer persona that is right for your company and target them with your online marketing. Use softwares, like Post Affiliate Pro, or pages like Google Ads to increase your reach and chances of targeting the right people.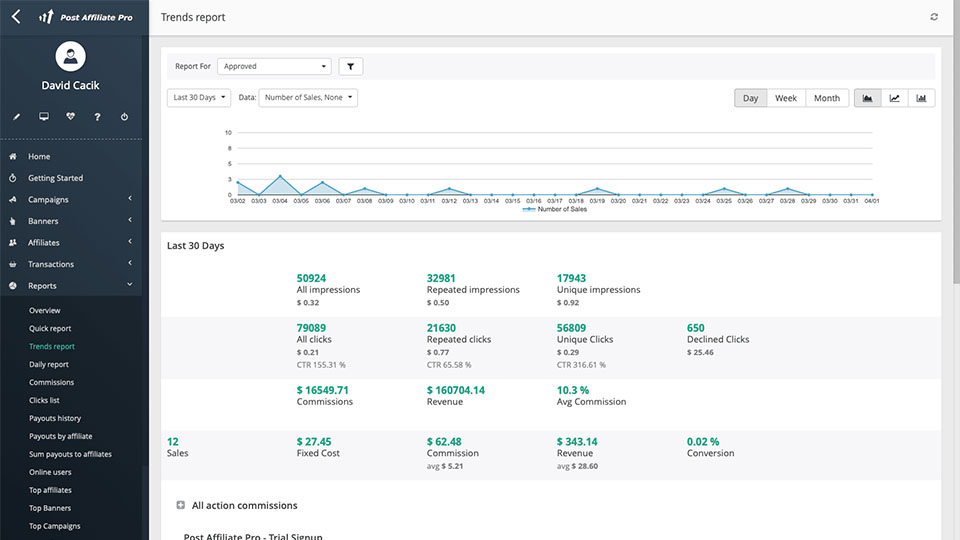 10. Keep up to date with trends
The internet is an ever-changing environment. Just as static banners and Flash ads got outperformed by newer forms of advertising, so will the current ones. Always check for the most used advertising services like Google AdSense to know what is new and what is working best. File formats, sizes, and locations are constantly being reviewed, and you always want to continuously optimize your campaign to the best options available.
Conclusion
Even though banner ads have been around since the beginning of digital advertising, they are still very useful. Proof of this is how much display ad spending has been steadily increasing throughout the years, and it shows no signs of stopping. Affiliate programs can provide great ROI for merchants with engaging content, and are very attractive for marketers. The use of affiliate management softwares, such as Post Affiliate Pro, makes the creation of successful marketing campaigns easier than ever by allowing the tracking of key metrics like cost-per-acquisition, CTR, etc., eventually helping you better understand your sales funnel and improve your company's revenue. It is safe to say that as long as there are personal devices to advertise in, banner marketing and affiliate programs will continue to bring money to businesses across the board.
Frequently Asked Questions
What is banner advertising?

Banner advertising is the oldest form of digital marketing, and the most common form of affiliate marketing. Their goals can range from increasing brand awareness to persuading the user into taking a certain action.

How does banner advertising work?

The way banner advertising works is by relying on imagery to draw the user's attention. Their goal is usually to get the user to click on them through their compelling CTA, which will redirect them from the advertiser's site to the merchant's site.

What is the newest technology for banner advertisements?

The newest technology is animated banners. Movement naturally draws attention, which makes these ads particularly eye-catching.

Where can businesses advertise banners?

Businesses can create banners in affiliate management softwares, and their affiliates will display the banners for them on their sites.

What is the best size for a banner ad?

The best size for banner advertising is the medium rectangle (300×250).