The Content Marketing Institute defines content marketing as
"a strategic marketing approach focused on creating and distributing valuable, relevant, and consistent content to attract and retain a clearly-defined audience — and, ultimately, to drive profitable customer action."
It is one of the most popular ways of marketing businesses online. In fact, in Hubspot's State of Marketing Report 2020, 70% of marketers are actively investing in content marketing. Hubspot and their partners are super successful in content and regularly publish and rank for high ranking keywords. For example, see an article on Best Hubspot phone integrations from one of their partners.
For affiliate marketers, content marketing can be a great way to build an online following that trusts your opinion. And this trust could lead to increased sales for the products you promote.
In this article, we are going to show you how to create a content marketing strategy for your affiliate business and offer some helpful tips along the way.
Why Content Marketing and Affiliate Marketing Together?
Content marketing can be a good choice for affiliates for a number of reasons:
Builds Trust: Trust is one of the secret sauces for conversion. People reading a product review may be more likely to purchase the products or services you recommend, if they know who you are and they trust your opinion.
Builds Awareness: It gets you in front of people and builds awareness. 
Increases Organic Traffic: Quality content that ranks well on Google can drive more people to your website/landing page etc. 
Increases Targeted Traffic: A well-designed content marketing strategy can bring people to you that are more likely to make a purchase in your niche.
Social Media Friendly: Good content may be shared on socials increasing awareness and traffic further. 
Grows Your Email List: If email marketing is part of your strategy you can use content to increase subscribers to your list, giving you another channel to market with. 
Can Help with SEO for Your Website: Posting regular, good quality content could help to increase your website's visibility on Google searches.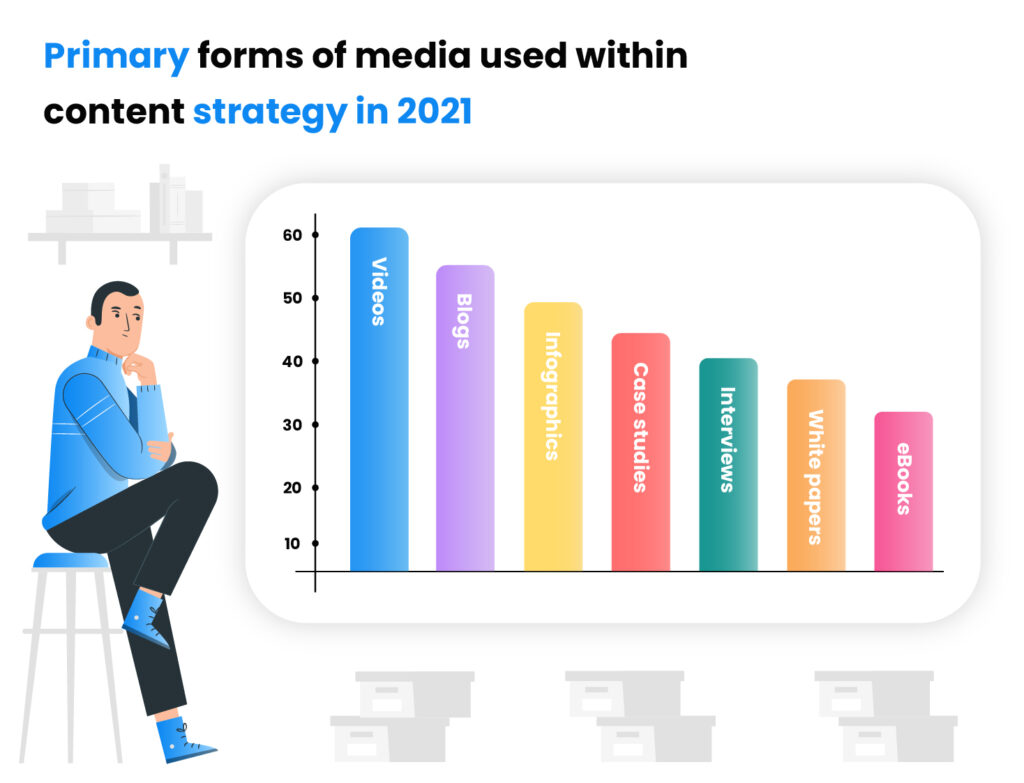 Niche Down to Laser Focus Your Marketing Strategy
Now I don't want to teach you what you already know here, but if you haven't already then it makes sense to pick a niche for your affiliate marketing efforts. This can help to save you money and increase conversions for all of your marketing strategies, not just content marketing
It helps to focus your marketing efforts as if you try to market to everyone, you are likely to waste a lot of money with little to show for it. Having a niche means that you can target specific groups of people and they are more likely to be interested in the content you are offering them.
Who is Your Strategy Aimed At: Target Audience and Buyer Persona 
Now that you have your niche you need to think about who you will be targeting with your marketing strategy. Researching and defining your target audience and creating buyer personas are a good way of getting clear on this.
Target Audience
Your target audience is the demographic of people that are most likely to be interested in the products or services you promote. This group is defined by characteristics such as:
Gender
Age
Income
Interests 
For a detailed guide on market research take a look at Hubspot's guide here. 
Buyer Persona
Hubspot defines a buyer persona as
 "a semi-fictional representation of your ideal customer based on market research and real data about your existing customers."
Each buyer persona will detail in-depth characteristics of a particular ideal customer, such as   
Demographics: age, gender, income, etc.
Values
Goals
Pain Points
Motivations
Top Tip: Giving each persona a name helps to humanize them. This can assist you with putting yourself in their shoes and figuring out how to plan your marketing accordingly. To take planning further, you can use a simple project template to inform the organization.
Hootsuite explains the value of buyer personas:
"Understanding your buyer personas allows you to understand the best ways to reach each of your different customer groups, just as you intuitively know how to best reach and speak to different groups of people in your personal life."
It will also help you to provide value with the content that you create.
If you aren't comfortable creating buyer personas yourself you can use a template such as Xtensio. 
For a guide on creating and reinforcing buyer personas check out Neil Patel's here.
What Types of Content Should I Use in My Content Marketing Strategy? 
After researching the target audience and creating buyer personas you can begin to start planning content. Using a variety of content can help to keep your audience engaged and cater to different needs. But it's important to test out and see which mediums work for your business personally. 
Here are some ideas:
Actionable Guides / How To's
Guides that teach your audience how to do something, step-by-step can be a great way to increase your profile and build trust in your brand, such as Post Affiliate Pro's article: How to Promote a B2B Affiliate Program in 2020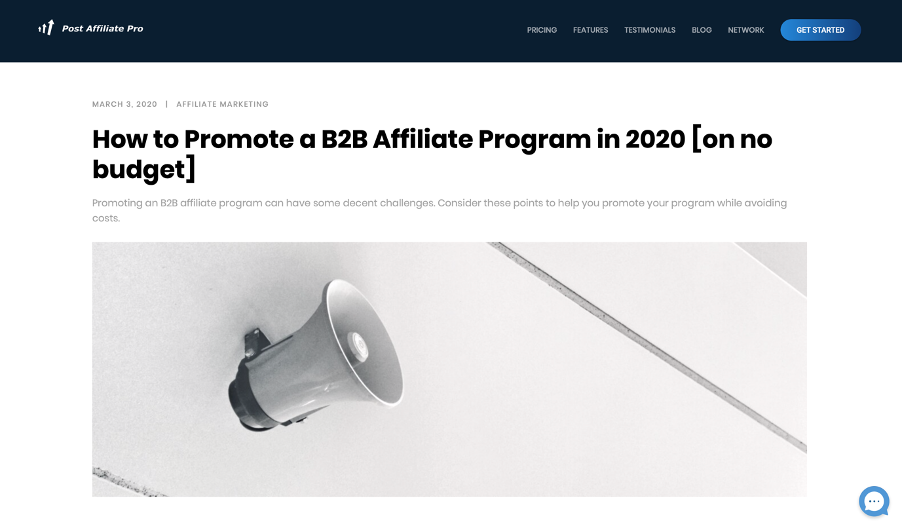 If you have had success carrying out the method yourself, even better. Cloudways recommend using success stories  because they can be "a great way to pique readers' interests and get them to share the post."
Product Reviews 
As an affiliate marketer product reviews are important pieces of content because they are one of the money earners.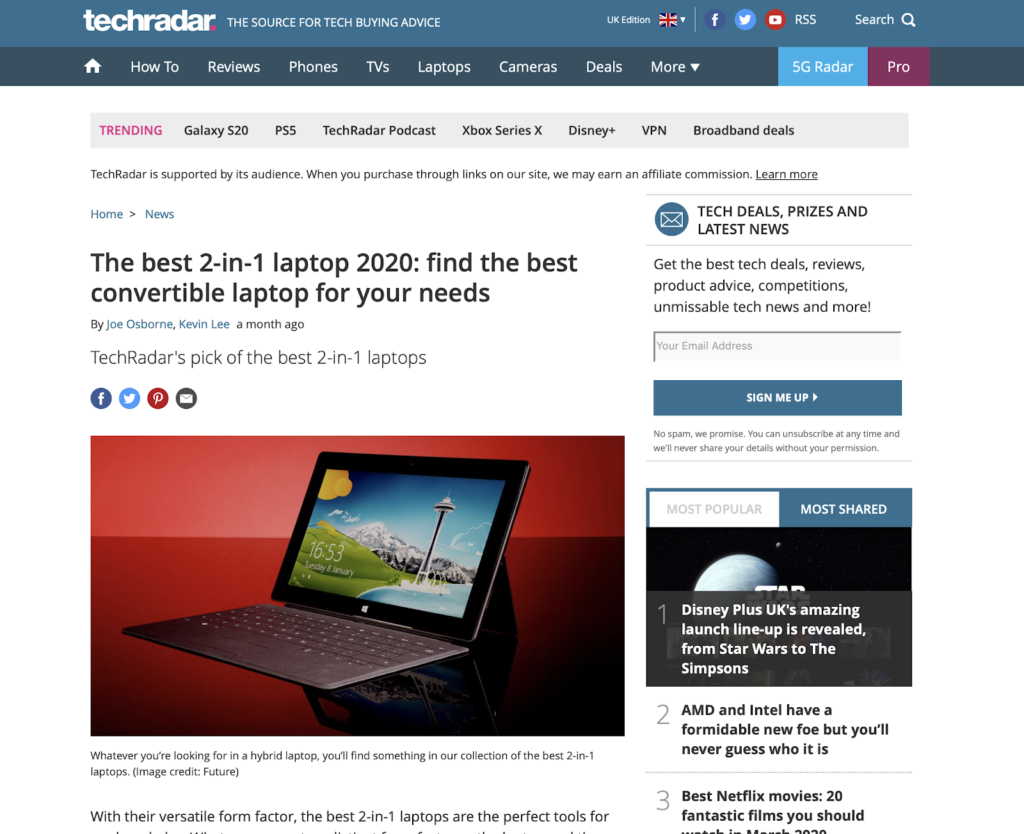 A well planned, well-written and SEO product review could increase the chances of it ranking well on google and improve the chances of converting readers into buyers.
Whilst a strong content marketing strategy overall can help to increase traffic to your reviews, increase trust in you and hopefully your bank balance too.
Ebooks
Outbrain recommends e-books for brand building, gaining audience trust and creating leads.
You can also use them as a lead magnet to build your email list if email marketing is one of your marketing strategies. Like The Passionate Marketer has done here:
Videos and Images
You don't just have to use the written word in your content marketing strategy either.
Videos, infographics, and podcasts are also types of content that you can make work for you.
For certain niches such as cosmetics, videos can really work, Convertkit says:
"Tutorials make for great video content since you want to show your audience how you did something or created something with the products you are affiliate marketing. Since it translates into highly actionable content, it's easier to convince your audience to take action in your affiliate link."
For more information about videos take a look at Post Affiliate Pro's article here.
How To Optimize Your Content Marketing Strategy
Using Keywords 
Aside from using social media marketing or email to drive traffic to your content, Google is your friend. 
There is a lot of discussion on whether keywords are as relevant as they used to be for SEO. But a lot of businesses are still placing importance on them. Using long-tail keywords in your written content could help you to get a healthy amount of traffic sent to your post from Google searches.
Keyword Research
Using a keyword analysis tool such as Ahrefs is a good place to start with research.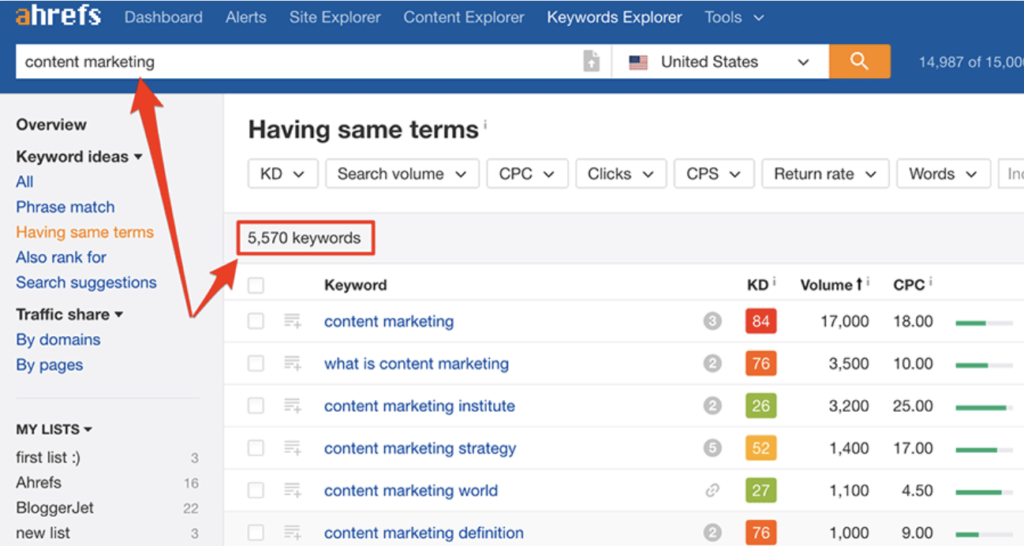 Chanty believes trying to come up with the perfect keyword today, is a balance between the following factors when using Ahrefs:
Search Volume: How many people are searching Google for your word.
Keyword Difficulty: How difficult it will be to rank for this phrase.
Intent: Why is the user searching this phrase, which tells you how ready to buy they are. 
Focus on Adding Value 
When content marketing you want to give value to your audience and build trust.
Prosociate sum it up well:
 "Don't put sales first, put solving problems for your audience first."
In an article by Supermetrics, Growth Marketer Farasat Khan recommends new affiliates to:
"focus on and invest more in content rather than sales/conversion. Once you have established some authority in the niche, commissions will follow. Try venturing into data-driven content to allow organic reach for your brand."
Plan for the Long Term 
Reaping rewards from content marketing can take time, so it can help to plan your strategy accordingly.
Get Creative 
It can be hard to come up with ideas for content. And getting creative with your ideas could help you to create articles that get noticed. iMind recommends using mind mapping to help craft your strategy. 
Be Honest
When it comes to reviews and product recommendations Just Creative recommend being honest:
"While the end goal of your post is to affect sales, you don't have to sugarcoat the reality. Write about your real experience with, or opinion of, the product. You can mention a few challenges that readers may expect from the product/service, but be sure to also talk about features that can really add value to the reader's life."
Use Images 
Adding images to your content adds an extra dimension. It can convey emotions in a different way to words, helps break up large blocks of texts and can even help with SEO.
Take a look at Yoast's guide to optimizing images for search engines for advice.
Utilize Other People's Platforms
You don't have to just produce content for your own platform. Consider partnering up with content marketing services to handle it for you or write guest blogs for other people for example.
If you are an industry expert, we recommend using Help A Reporter Out. A platform where journalists and writers ask for industry insights. If it gets used in their piece you'll get a backlink to your website.
Promote Good Quality Products
This applies to all areas of affiliate marketing, but only promote products that are good quality. Imagine building up all that trust with a carefully thought out content marketing strategy over a long period of time, only to have it all ruined by recommending something that is poor quality.  
Learn to Write for the Internet
People read in a certain way when reading on the internet. A study by the Nielsen Norman Group found that the majority of people scan text when reading online. This means you should structure written content in a way that helps readers to understand the main points without having to read every word. Doing the following can help:
Use bullet points.
Headings, subheadings.
Short paragraphs.
The structure can also be important for SEO as well. Yoast recommends paying attention to the following areas to help with the structure of your writing:
The first paragraph of your text.
Your headings.
The first sentence of every new paragraph.
Test Things Out
It's important to note that what works for you, may not work for another affiliate marketer and vice versa. Try out different types of content and different types of marketing strategies altogether such as email and social media. Track results to find the ones that work for you. Make sure to do this regularly to keep your strategy optimized. 
Wrapping It Up
Hopefully, by now you are full of content ideas that you can't wait to get in front of your audience. Content marketing can be fruitful for affiliate marketers but it is usually a long-term game. If you define your target audience and focus on providing real value to them. You could see increased traffic and build a following that trusts your opinion, hopefully resulting in increased conversions and more money in your pocket.  
As well as being an affiliate marketer, if you have a business online, you could also create your own affiliate program. This is much easier when you use well-designed software to manage and track your affiliates. 
Post Affiliate Pro has a host of features to help you to run your affiliate program smoothly. These include: promotion materials, multiple unique tracking methods and a revolutionary user interface. And you can create an unlimited amount of campaigns with unlimited affiliates, even with their lowest-priced plan. Try the 30-day free trial today.
Nick Stephens