SaaS companies are some of those that expect and note quick growth on a regular basis. Year by year, you can see more SaaS companies entering and succeeding in new markets. However, some of them either struggle with growth or want to scale even more, but need to acquire new clients in order to do so. With limited budgets or resources, developing the business may soon become a struggle.
This is where affiliate marketing comes to save the day, enabling SaaS owners to grow their product via various marketing channels using less risky and less budget-involving solutions. It also allows affiliate marketers to grow another source of passive income.
It may be a classic win-win if you know where to start, how to manage it, keep scaling and working effectively with your affiliates.

Benefits of SaaS affiliate marketing
Low-cost products
No generalization here, but SaaS tools are most often rather low-cost. The lack of entry barriers makes this niche fairly interesting for affiliate marketers, hence finding some valuable ones may be really simplified. Many of them would rather sell low-cost products but for satisfying commission fees instead of struggling with advertising high-end budget software. However, it is good to know that you can avoid any costly mistake with software asset management tools.
Since SaaS businesses provide online products they can pay high commissions, which is another plus when it comes to SaaS affiliate marketing benefits.
Well sought well bought 
While the target group of a particular SaaS solution may be quite narrow, there are many tools that can be used by really wide groups all over the world. Analytics tools, payments gates, content creation tools… just to name a few. What does this mean for affiliate marketing, though? SaaS affiliate marketing partners can promote, persuade, and drive really big audiences to conversion. 
Less risk more flexibility
SaaS affiliate program rules are simple: they pay only when they get paid. This brings less risk: if a particular affiliate marketer drives sales, they are paid for it. If they don't generate any sales, they don't get any income. It's less risky for SaaS businesses who have a tight budget and don't want to spend money on marketing channels that don't deliver. 
Common yet separate responsibility
SaaS companies and affiliate marketers can work in synergy but also totally separate from each other, while still working towards the common goal. While SaaS vendors are in charge of the full process of converting website visitors and trials into long term conversions, affiliate marketers have a different mission. They use their expertise, knowledge and network to promote an offer and bring people to a SaaS website or some landing pages, but this is where their role finishes. It's up to affiliate marketers to bring traffic, it's up to SaaS companies to do something with that traffic. 
Marketing savings
SaaS startups are often not born on a bed of roses – they struggle with limited funding or scrape about for every single penny to run and develop the product. There's nothing wrong with that, but it goes without saying that the marketing budget may be rather small. Affiliate marketing comes here with close to zero risk – SaaS companies need to pay affiliates, but only when they bring clients. This way, the budget stays safe and sound 
Better promotion
By using the knowledge, expertise and network of affiliate marketers, SaaS business can provide themselves with better and more accurate promotion. It may also include those channels that are very niche or exclusive, which are barely accessible for SaaS companies. By involving affiliate marketers into promotion, you automatically increase the reach of your marketing messages and give yourself more chances of being successful and having a presence where your target audience is. 
How to work with your SaaS affiliate marketers
Commission fees seem like a natural choice for compensation – and for many affiliate marketers, this is more than enough. They are happy as long as they deliver results and are paid for it, so many commissions actually last as long as users pay for subscriptions coming through these referrals.  However, there's more to be done to keep your affiliate marketers motivated. In an era of many affiliate marketing programs, even the most successful ones may simply drop your promotion if they find something more suitable.
It's a bit like a workspace – even if you have a great job, you may find an equally good one that offers some benefits, and fall for it. Of course, it's not always the case, but you should take such a possibility into consideration.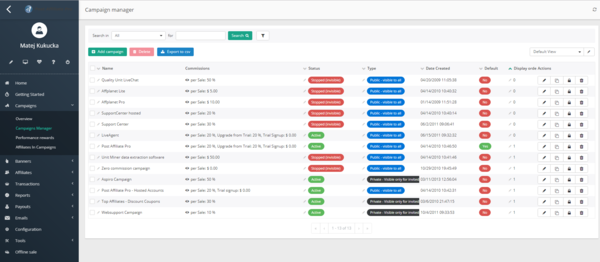 How to make the affiliate program work 
Keep your affiliates motivated
How to get affiliates that have the skills to leave, but choose to stay within your program?  You need to keep them rewarded, but also motivated. While the commission fee value is really important and often decisive for affiliates in terms of whether or not to join your program, you should think outside the box. Surprising your affiliates with some bonuses based on their performance may be a nice idea to strengthen your relations.
Provide your affiliates with materials
Your affiliates most likely won't guess what your product is about and what you want to communicate. It comes as no surprise that they may demand some promotional materials, so you should have them handy. Prepare some copy they can use for ads or organic posts, product descriptions, up-to-date features lists, pricing lists with differentiations, or case studies, etc. When it comes to SaaS businesses, this will have a huge impact on successful promotion.
Create a special folder or digital asset management system for them so they can access files without being a pain in the neck for you. You can also assign a handy person who your affiliates can contact anytime when in doubt or when they come up with some ideas. Make them feel appreciated by taking their feedback seriously. 
Make them brand ambassadors
Affiliate marketers are usually in charge of promoting a few various businesses. If they are exceptional, though, you should think about taking this relationship to the next level before your competitors will. Offer those affiliate marketers who deliver more than expected a special set of arrangements so they feel more connected to your brand, values and SaaS products. Instead of brand affiliates, they will be brand ambassadors. 
Take care of affiliate management
Running a SaaS affiliate marketing program may be a blessing or a curse. It will be the latter if you don't keep an eye on managing it from day one. If you have a lot of affiliates, you need to make sure that you're on the same wavelength, plus that everybody can access data and track statistics to improve performance. Transparency and accessibility is the key, so if you take affiliate marketing as one of those channels that can skyrocket your SaaS performance, you may need a helping hand. Post Affiliate Pro is here to help you with spot-on affiliate marketing management.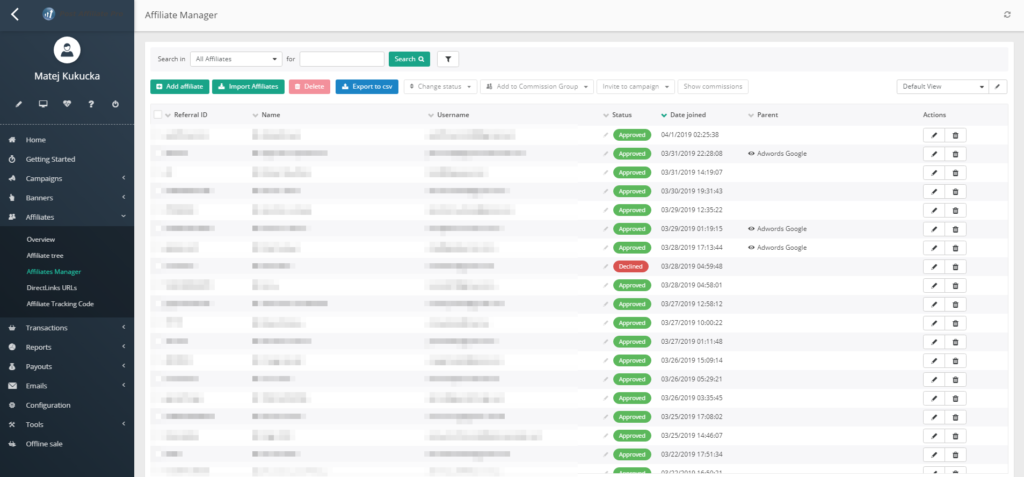 Where to find SaaS affiliates
Existing customers
Your existing customer can make amazing affiliate marketers. They know your product, they use it regularly and they know both the pros and cons. Since they've been with your brand for a while, they are loyal, confident about your services and happy to assist with onboarding if needed. 
Mentions
Investing in media monitoring may bring you a lot of results – potential affiliate marketers, we mean. If someone, without any interest, mentions or recommends your services, you may approach them and research whether they would like to be your affiliates. Don't rush it, though. It's better to spend some time on evaluation here: who wants quick money and who wants to work with you.
Influencers & niche affiliates
There's a chance that you know some influencers and niche affiliates already. Why wouldn't you reach out to them and check out if they would like to add your product to their portfolio? What really works in their favour is that they often already have a proven track record and network in your industry that could be turned into goldmine. 
To wrap up
Affiliate marketing can become one of the most efficient promotional channels for SaaS products. Make sure that you choose affiliates who understand your product, don't be afraid of testing out and remember to keep an eye on statistics to continuously improve your performance. Good luck!