Since the recent shift into the digital era, ecommerce has become one of the leading industries in the world. Digital marketing has taken the spotlight thanks to the massive growth in mobile sales and online marketing. Naturally, the amount of buzz surrounding this topic is expanding globally, with conferences and forums being organized on each continent. Here, we narrow down our focus to the top 20 affiliate marketing conferences in Europe. Before covering the benefits of attending these conferences, let's first take a look at what affiliate marketing is and why it has become the leading marketing strategy for businesses worldwide.
Why attend an affiliate marketing conference?
Affiliate marketing conferences are organized events that focus on business partnerships and offer amazing networking opportunities. Individuals and businesses meet at affiliate marketing conferences to promote affiliate offers and discuss marketing techniques. While many of these networking events are held in-person, there are also some that are held virtually. Affiliate marketing conferences bring affiliate experts, digital marketers, and other experts in marketing to facilitate networking and review the newest affiliate trends. Often, some of the biggest names in affiliate marketing attend, making these events crucial for affiliate managers, content creators, and affiliate marketing experts to find solution providers. A few concentrated days of networking can do wonders for business growth and raising brand awareness. Attending multiple affiliate marketing conferences offer excellent opportunities for networking, so don't hesitate to get yourself out there!
Top 20 affiliate marketing conferences in Europe
Each year, digital marketing and tech conferences are growing in size, with tens of thousands attending some of the biggest events that host the industry's most prominent names. The benefits of attending these conferences are ample, so without further adieu, here is a list of the top 20 affiliate marketing conferences in Europe.
1. Affiliate World Europe

Affiliate World Europe is a two-day offline conference that takes the place as one of the top performance marketing conferences in the world. With over 4000 attendees, this conference offers ample opportunities for networking, integrating mastermind-level content, and keeping up with innovative ideas. Expect to hear about data-driven marketing strategies, digital and ecommerce trends, and other buzzing digital marketing topics from some of the biggest names in the affiliate industry. Head over to Barcelona and enjoy business-related patio and rooftop events with fellow marketers, as well as the industry nightlife!
Date: July 6-7, 2022
Location: Barcelona, Spain
Ticket variations: EARLY BIRD: Affiliate: 569 EUR / Company: 939 EUR, FULL PRICE: Affiliate: 1500 EUR / Company: 2000 EUR
Top speakers: TBA, past speakers included Oli Gardner, Cat Howell and Neil Patel
Registration: https://affiliateworldconferences.com/europe/#tickets
2. iGB Affiliate London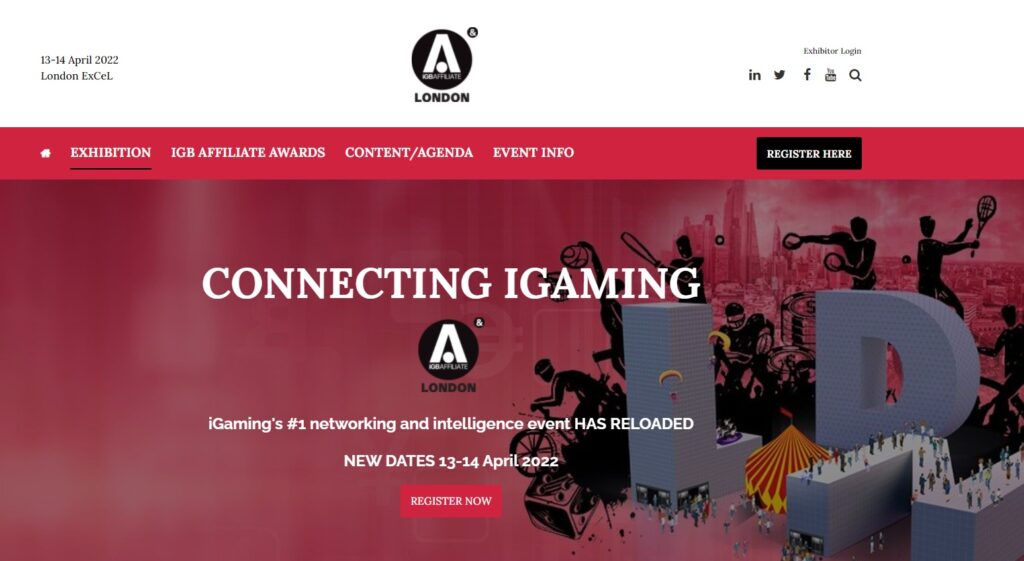 iGB Affiliate London is a conference that gathers affiliates, agencies, SaaS providers and other professionals to stay up to date with all the tips and tricks in the iGaming industry. Whether you're a new affiliate looking to break in the market, an established affiliate looking to develop your techniques, or an affiliate agency looking for fresh talent, this conference is a must-attend event for networking. Being one of the largest events for affiliates in Europe, iGB Affiliate London boasts over 3500 affiliate attending and 200+ exhibitors, and covers topics like affiliate marketing, SEO techniques, and branding for social media success.
Date: April 13-14, 2022
Location: London, United Kingdom
Ticket variations: Affiliates: Free, Non-Affiliates: 690 GBP + VAT, IGB Affiliate Awards Only: From 450 GBP, After Party Only: Free
Top speakers: Lee-Ann Johnstone: CEO & Founder of AffiliateINSIDER, Allan Petrilli: VP of Sales & Growth of Intelitics, and Fili Wiese: SEO Expert of Search Brothers.
Registration: https://registration.gesevent.com/survey/3862yd22vb0f5
3. WebSummit

One of the most exciting events in the tech space, WebSummit gathers the world's leading speakers, tech's biggest companies, and top media outlets into one event. Hosting over 40000 attendees and some of the biggest name in the tech scene, Web summit is is one of the giants of the tech expos, bringing some of the most influential performance marketers and affiliate marketing experts onto one platform. This November, it's being hosted in Lisbon, and is a great spot to facilitate businesses, industry experts, and marketing professionals to gain valuable leads and access exclusive content. There's no doubt this is a crucial event when it comes to annual marketing expos, so mark these dates in your calendar well in advance.
Date: November 1-4, 2022
Location: Lisbon, Portugal
Ticket variations: General: 850 EUR, Executives: 4850 EUR
Top speakers: Craig Frederighi from Apple, Brad Smith from Microsoft, and Nick Clegg from Meta
Registration: https://websummit.com/2for1
4. Mobile World Congress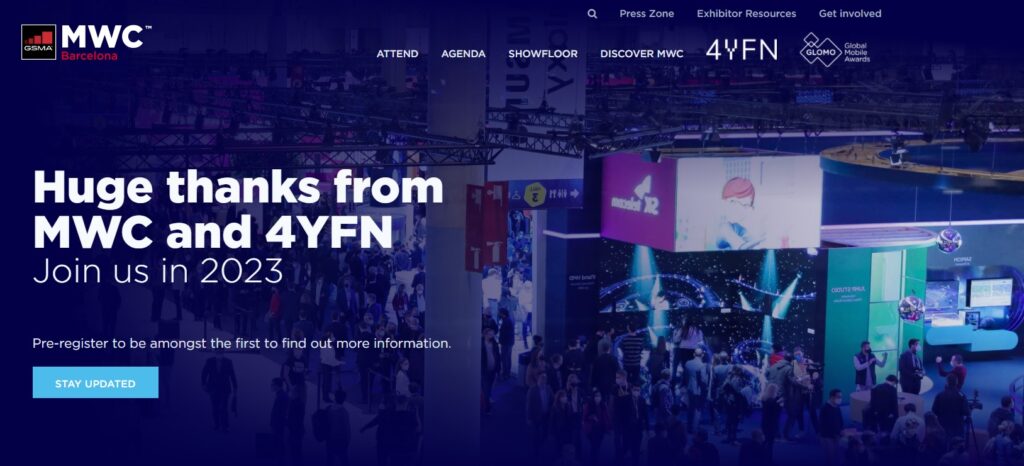 This year, Mobile World Congress welcomed over 60000 attendees to the biggest affiliate marketing event of the year. This influential event established itself as one of the world's most renowned tech expos. Explore the future of finance, health, tech, and digital marketing straight from the industry's leading experts over four days of networking. Apart from highly-qualified keynote speakers, MWC also offers tech reveals, amazing networking opportunities, and other workshops. Their page offers an interactive agenda to explore your top priorities and make the most of your time to connect with over 1500 exhibitors.
Date: February 28 – March 3, 2022
Location: Barcelona, Spain
Ticket variations: 499 EUR
Top speakers: Shuky Sheffer from Amdocs, Anne Chow from AT&T Business, and Adam Selipsky from Amazon Web Services
Registration: https://www.mwcbarcelona.com/attend/registration
5. iGB Affiliate Amsterdam Live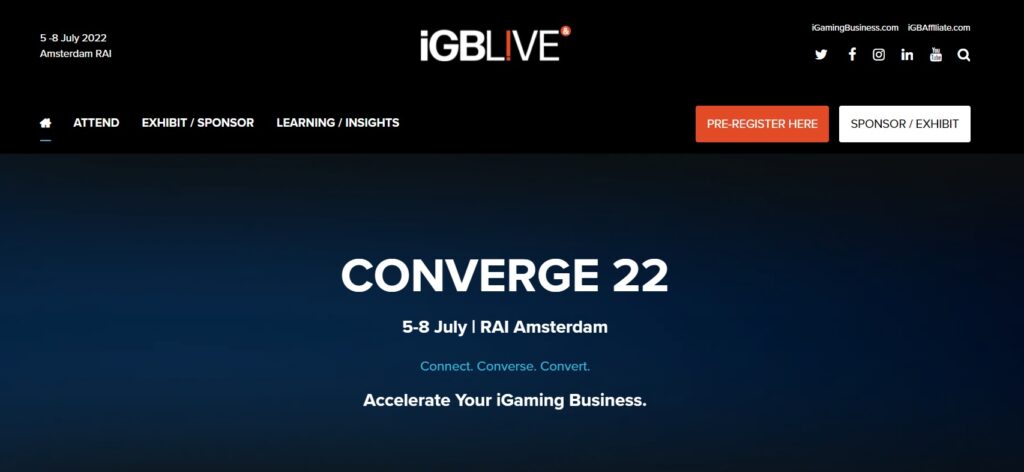 iGB Affiliate Amsterdam is a 4-day affiliate networking conference surrounding iGaming and digital marketing. Attend this conference to get the latest scoop from expert-led speaker sessions about valuable insight methods, campaign optimization, and affiliate partnerships. Over 2000 affiliates attend this supercharged conference, making this one of the biggest affiliate events in Europe. Spanning over a few days, this event is bound to boost your networking efforts and lock in some quality business partnerships. For now, the list of guest speakers is yet to be announced, but stay tuned to see which of the biggest names will be featured at iGB Affiliate Amsterdam this year.
Date: July 5-8, 2022
Location: Amsterdam, Netherlands
Ticket variations: Free
Top speakers: TBA
Registration: https://www.igblive.com/register-your-interest-in-igb-live-2022
6. Affiliate Conference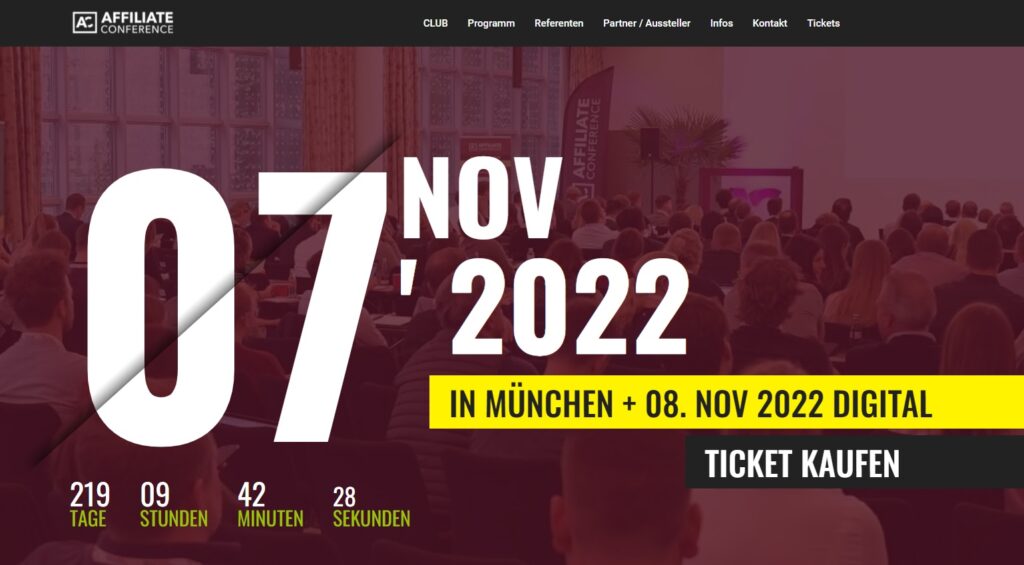 This November, over 500 participants will come together at one of the top affiliate marketing conferences in Germany. At Affiliate Conference online marketing managers, affiliate networks, affiliate marketers, and ecommerce managers from businesses of all shapes and sizes gather to share knowledge about future trends. Expect to hear topic blocks about digital marketing techniques that you can implement into your marketing strategies. The top speakers for this year's conference still haven't been announced yet, but you can see their past speakers on their website. The annual conference regularly covers topics like mobile marketing, tracking, and consent management.
Date: November 7-8, 2022
Location: Munich, Germany
Ticket variations: Super Early Bird: 296,31 EUR, Early Bird: 355,81 EUR, Single Ticket: 415,31 EUR
Top speakers: TBA
Registration: https://www.affiliate-conference.de/tickets/
7. Affiliate Summit Europe (Affiliate Meet Markt)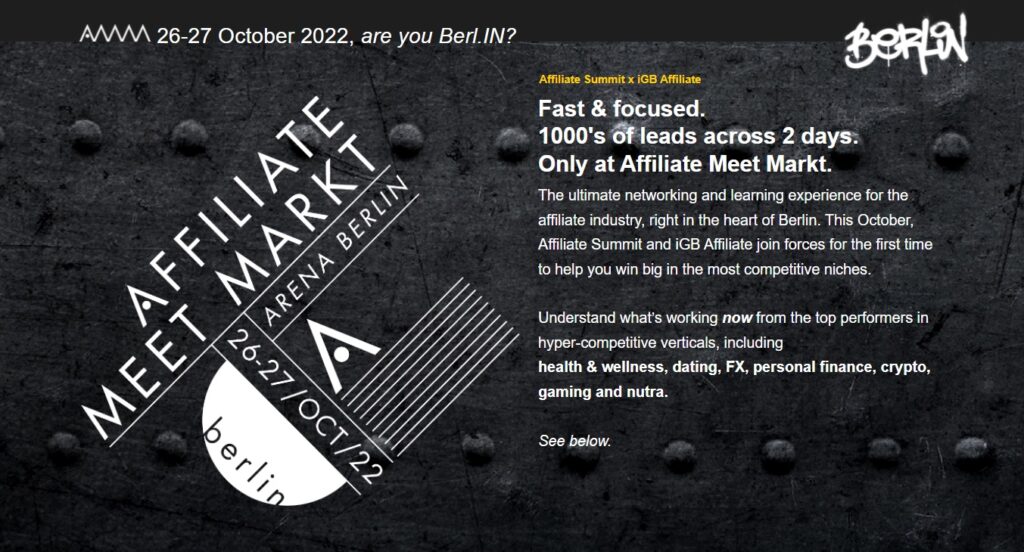 Hop over to Berlin and experience two full days of learning at Affiliate Meet Markt, an exclusive conference that's a synergetic affiliate event organized between iGB Affiliate and Affiliate Summit. Boost your position in competitive niches and take advantage of this opportunity for networking. Early bird discounts are still up for grabs, so make sure to get on board if you're an affiliate network or agency searching for talent. Affiliates enter free, so consider this a crucial event for learning from industry experts and developing business partnerships.
Date: October 26-27, 2022
Location: Berlin, Germany
Ticket variations: EARLY BIRD: Attendee Tickets: $349, Affiliates: Free
Top speakers: TBA
Registration: https://campaign.affiliatemeetmarkt.com/
8. TES Affiliate Conference Prague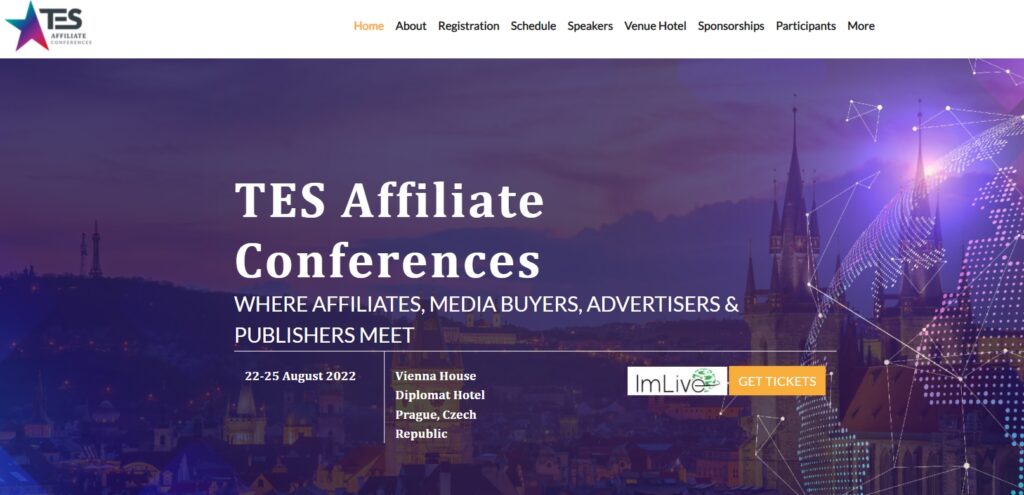 Founded in 2009, the TES Affiliate Conference is one of the largest affiliate marketing conferences in Eastern Europe. For this three-day event, upwards of 4000 participants attend, gathering attention from marketers, affiliates, and other digital marketing professionals to connect and develop their business strategies. Although the keynote speakers and ticket price hasn't been published on their website yet, organization is in progress and everyone who's interested has been invited to follow their updates in the coming weeks.
Date: August 22-25, 2022
Location: Prague, Czech Republic
Ticket variations: Not available on the website
Top speakers: TBA
Registration: https://www.tesaffiliateconferences.com/coming-soon/
9. Rakuten DealMaker Europe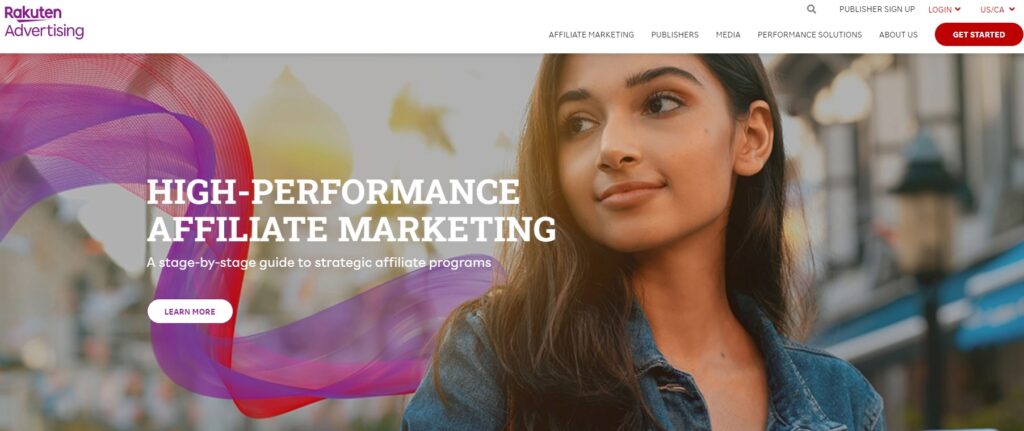 This year, Rakuten Dealmaker Europe is back stronger than ever, as they've just combined Dealmaker London, Munich, and Paris into one single digital marketing conference. This accumulation of knowledge and talent is sure to add value to your marketing efforts, so don't miss out on this incredible opportunity for networking with the biggest industry stakeholders. Partnership eco-systems, affiliate networks, and European market integration are all topics that can be expected at this affiliate event. Dealmaker Europe invites marketing professionals, affiliate publishers, and all other key players in the industry to come join forces and collaborate. Check out their website for the upcoming agenda and top speakers that will be featured. You can even book 1-on-1 meetings with other professionals, and solidify your networking schedule beforehand!
Date: June 9, 2022
Location: London, United Kingdom
Ticket variations: UK Residents: 570 GBP, Non-UK Residents: 475 GBP
Top speakers: TBA
10. DigiMarCon Europe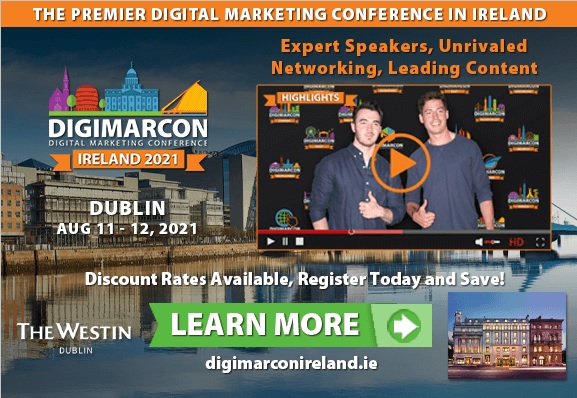 DigiMarCon Europe welcomes marketing professionals to hop on board this September for their 4th annual digital marketing conference. For all the latest digital marketing and technology trends, DigiMarCon Europe will be hosting interactive activities to explore marketing practices, future trends, and other case studies emerging in the industry. Not only can you expect strategy-building sessions and innovative workshops, but key players can connect with solution providers in this enthusiastic networking event. Topics covered will include the internet and mobile industry, SaaS technology, content marketing, and UI/UX design. Whether you're a marketing manager or an affiliate publisher, there's something for everyone in this jam-packed event. While this year's keynote speakers haven't been announced yet, be sure to check out their past speakers from globally renowned companies as the industry's leading experts.
Date: September 8-9, 2022
Location: Amsterdam, Netherlands
Ticket variations: Super Early Bird Rates: Main conference: 397 EUR; Masterclass: 497 EUR; All Access: 697 EUR; VIP: 897 EUR
Top speakers: TBA
Registration: https://digimarconeurope.com/register/
11. Affiliate Grand Slam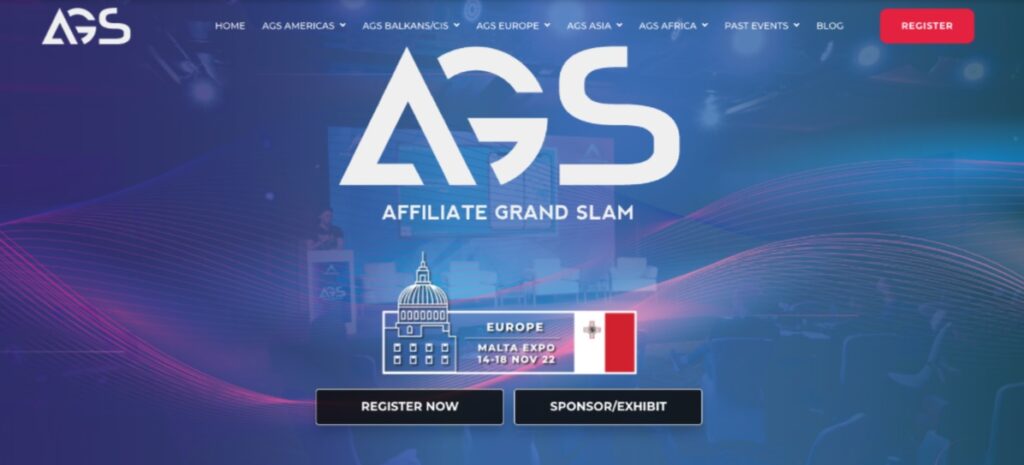 Calling all influencers, content optimizers, and SEO gurus alike- this November, Affiliate Grand Slam is taking place in Malta for a highly charged four-day event. Each day holds different leading shows to facilitate multi-faceted business deals in the digital marketing space. This expo boasts over 3000 participants of all marketing professional backgrounds, so make sure to leverage this event to your advantage! Topics such as emerging tech, digital health, and gaming will be covered at the Affiliate Grand Slam. Many of the industry's leading affiliates, operators, suppliers and networks will attend, establishing this as a must-attend event for marketing professionals.
Date: November 14-18, 2022
Location: Ta'Qali, Malta
Ticket variations: Not available on the website
Top speakers: Clemence Dujardin, Yesim Saydan, and Laura K. Inamedinova
Registration: http://affiliategrandslam.com/europe/register-interest/
12. PerformanceIN Live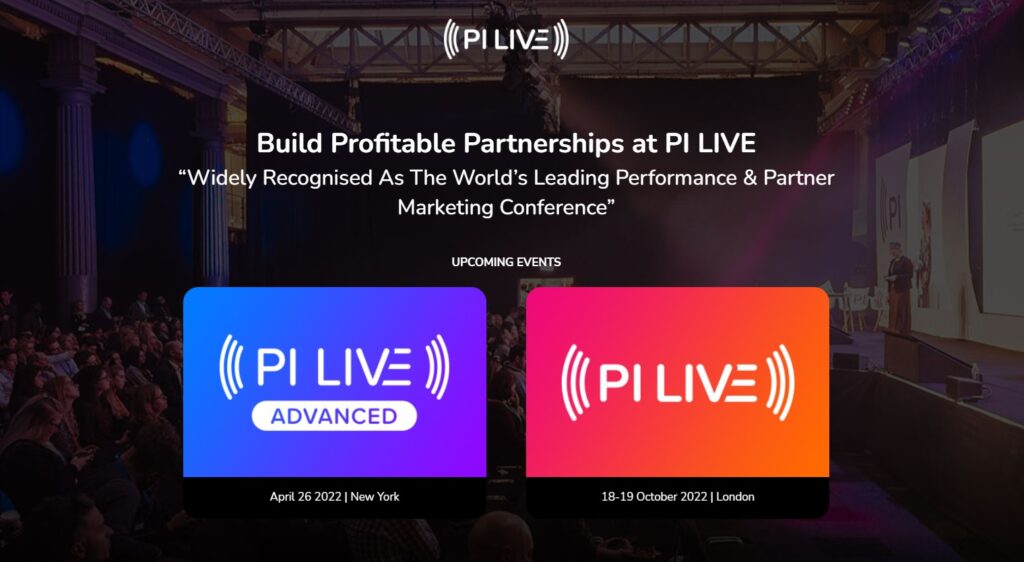 PerformanceIN Live brings professional performance marketers, affiliates, and ecommerce specialists to gather all in one place for a two-day event. Agencies, publishers, and anyone from small to large retailers are all welcome to take part in this concentrated event regarding content optimization, leading technology, and partnership development. 96% of delegates from last year stated they're returning for the 2022 show, so make sure to secure your spot! Tickets include a 12-month pass to re-watch sessions from their video vault.
Date: October 18-19, 2022
Location: London, United Kingdom
Ticket variations: Not available on website
Top speakers: Kevin Sugrue of Similarweb, Nicole Wellman of Rakuten Advertising, and Jon Lord of Connexity
Registration: https://performancein.live/london/#register-interest
13. 3XE Search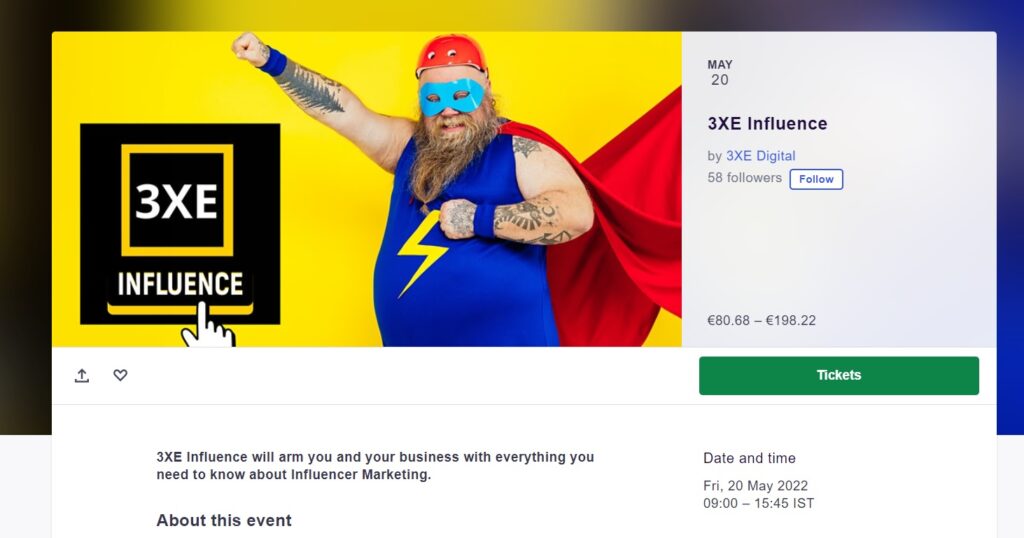 This year, 3XE Search is featuring its 7th annual event as Ireland's only Search Marketing Conference. Divided into three separate events, these conferences focus on digital search marketing, influencer marketing, and social media marketing. While details are coming up soon, many of the speakers have already been announced, so you can check out their established programs. The attendees of 3XE Search will get to explore new data-driven insights on SEO, PPC, Data Analytics, Conversion Marketing, and other digital marketing topics.
Date: April 7, 2022 and May 20, 2022
Location: Dublin, Ireland
Ticket variations: 145 EUR
Top speakers: Greg Fry from 3XE, Cathal Melin from Digital Basics, Gavin Duff from Friday Agency
Registration: https://www.eventbrite.ie/e/3xe-influence-tickets-272962828167
14. Affiliate Huddle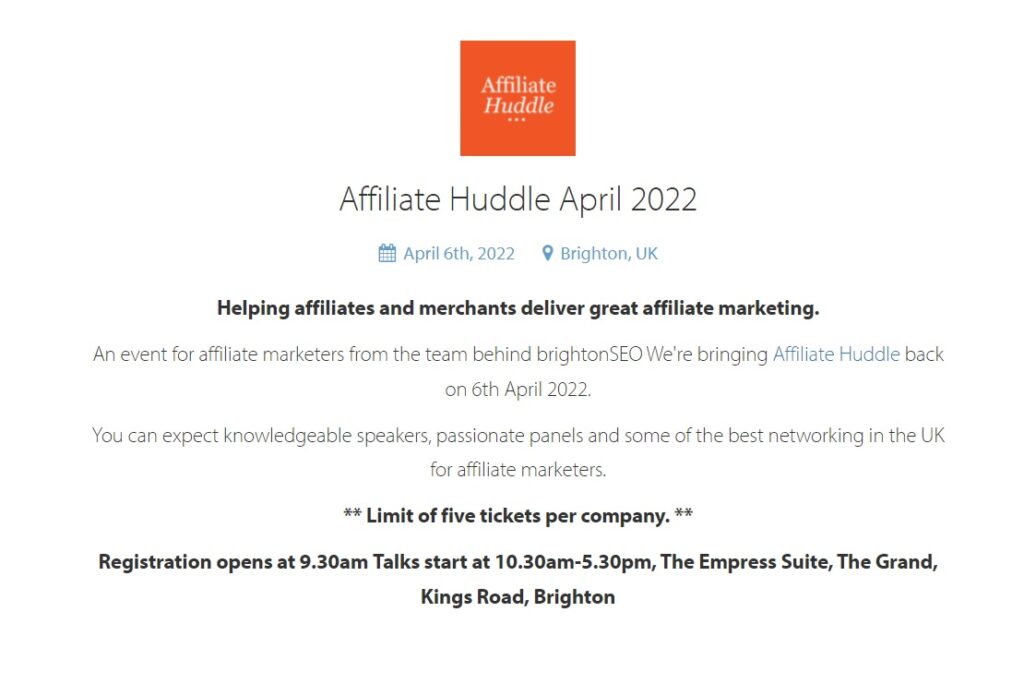 Affiliate Huddle is a one-day conference organized by BrightonSEO that examines many interesting topics such as the links between influencers and affiliates, ethical ecommerce, and partner portfolios. This conference is concentrated on affiliate marketing, so it's a great place for meeting peers in an easy-going environment. Spend the day getting the latest updates, discussing affiliate trends over coffee, and listening in on talks by the industry's leading experts.
Date: April 6, 2022
Location: Brighton, United Kingdom
Ticket variations: Free
Top speakers: James Little of TopCashback, Sophie Walsh of Ocado, and Rob Davinson of Awin
Registration: https://ti.to/roughagenda/affiliate-huddle-april-2022
15. SBC Summit Barcelona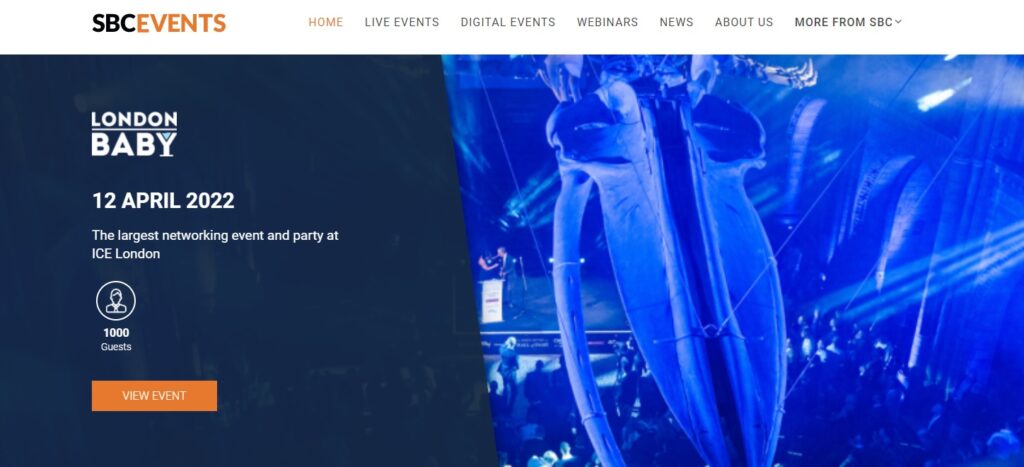 In the Affiliate, Marketing and Media Zone at SBC Summit Barcelona, you'll get to learn about the latest affiliate marketing trends, technologies, and regulatory challenges in the digital marketing industry. This is where you can get in touch with affiliate teams, affiliates themselves, and digital marketing experts. Affiliates will be able to meet operators who are showcasing their affiliate programs, while marketing service providers will be on hand to offer innovative marketing solutions and tools to boost your business' performance.
Date: September 20-22, 2022
Location: Barcelona, Spain
Ticket variations: Daily pass: 350 EUR, Full access: 495 EUR
Top speakers: TBA
Registration: https://sbcevents.com/sbc-summit-barcelona/ticket-comparison/
16. DMEXCO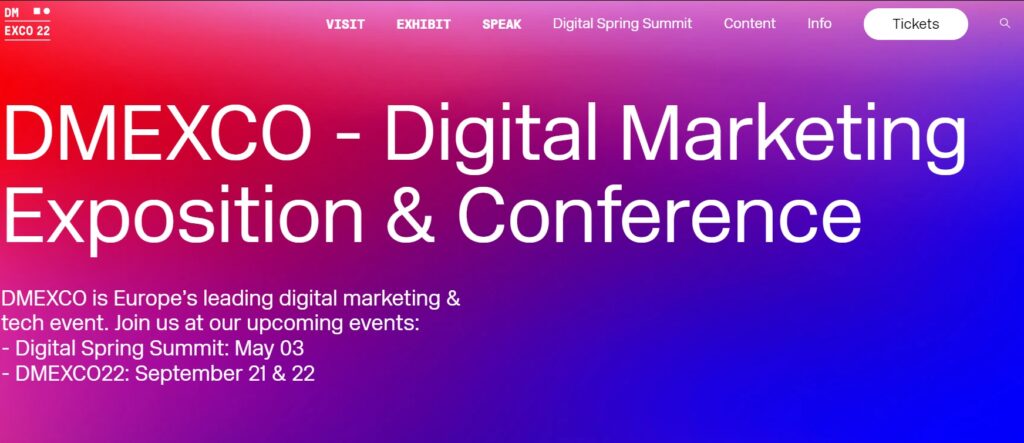 DMEXCO Germany, or Digital Marketing and Expo Conference, is one of the largest digital marketing international expo events in Europe. 2021 brought over 21000 attendees, making this the absolute must-attend event in the digital marketing space for anyone with a marketing background or online business. The digital agenda is set by engaging industry leaders, marketing and media professionals, and tech pioneers all in a single place to integrate ideas and establish partnerships. DMEXCO takes the spotlight for networking events with its high traffic and supercharged events. Information about tickets will go up in July 2022, so stay tuned for more details.
Date: September 21-22, 2022
Location: Cologne, Germany
Ticket variations: Available from July
Top speakers: TBA
Registration: https://dmexco.com/tickets/#/
17. DMEXCO Digital Marketing Summit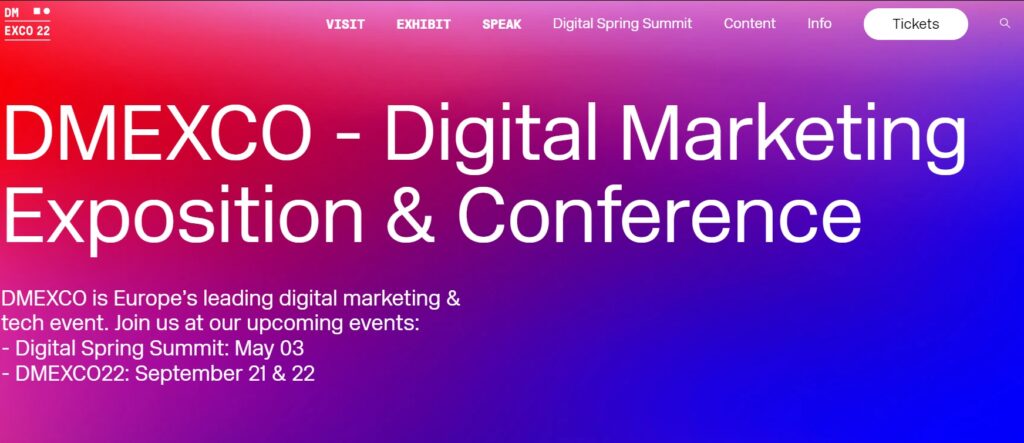 This year, the first of DMEXCO's annual events begins with the Digital Spring Summit, a one-day on-site conference that offers masterclasses and lectures surrounding digital marketing. Marketing, mobile trends, blockchain and the newest Web3 trends are all hot topics that will be covered in this year's Digital Spring Summit. Attendance is free for all, so check out their registration page to get your place in this exciting networking event.
Date: May 3, 2022
Location: Cologne, Germany
Ticket variations: Free, registration starts April 2022
Top speakers: TBA
Registration: https://dmexco.com/tickets/#/
18. TactixX

TactixX is Munich's largest conference for affiliate marketing and offers different exciting workshop sessions, discussions, and lectures. This one-day conference gathers recognized professionals of all backgrounds to speak about the industry's trends and latest news. International affiliates, merchants, and networks are all meeting here to share knowledge and exchange contacts, so don't pass up this amazing opportunity for networking that boasts over 650 attendees annually.
Date: Munich, Germany
Location: July 12, 2022
Ticket variations: Affiliates: 355,81 EUR, Agencies/Networks: 474,81 EUR
Top speakers: TBA
Registration: https://bookero.ticket.io/7r4t23k9/
19. Digital Marketing Europe Conference (Virtual)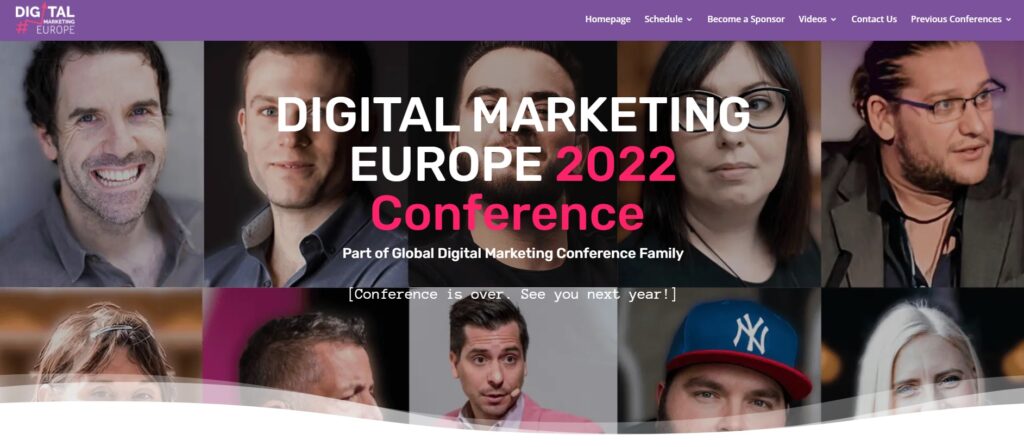 Taking place over the course of three days, Digital Marketing Europe 2022 includes many interesting sessions, keynotes, workshops, and amazing networking opportunities. This is one of best known virtual events that provides a career-development opportunity for global experts at any level! Build your network, gain the latest industry knowledge, and maximize your business opportunities. Because there is such a wide range of possibilities to choose from, you will have to build your own agenda. On their platform, you can bookmark the talks, panels, and meetings that interest you the most.
Date: March 29-31, 2022
Location: Online
Ticket variations: 2-Day Conference: 69 EUR, Full Access: 170 EUR, Workshop Only: 140 EUR
Top speakers: Sanjay Sauldie from iROI Global OÜ, Bastian Grimm from Peak Ace AG, and Phil Pallen from Phil Pallen Collective
Registration: https://digitalmarketingcon.eu/get-your-pass/
20. AffiliateINSIDER's ELEVATE Summit (Virtual)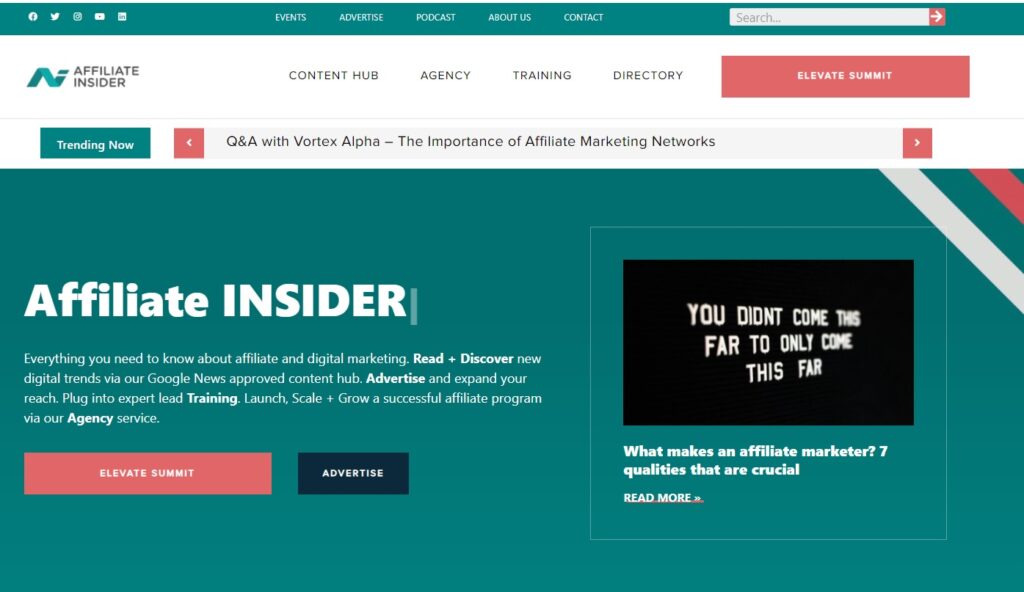 After AffiliateINSIDER's first successful summit at the beginning of the year, the second of their virtual conferences is on the horizon. At the ELEVATE Summit, digital and affiliate marketers can learn and grow by attending this virtual learning and networking event. AffiliateINSIDER's ELEVATE Summit brings digital and affiliate marketers together for the purpose of networking, learning, and growth. The objective of the event is to provide affiliates, marketers, and entrepreneurs who work in the Affiliate & Digital Marketing Industry with actionable insights and tactics to enhance their businesses' performance.
Date: June 14-15, 2022
Location: Online
Ticket variations: Free
Top speakers: Lee-Anne Johnstone from AffiliateINSIDER, Melinda Jacobs from Perkio/Subatomic, and Marcus Foley from Tommy
Registration: https://affiliateinsider.com/affiliateinsider-elevate/
Key Takeaways
While digital marketing tends to focus on the online space, it's still crucial to attend conferences and networking events to develop partnerships and further improve marketing efforts. With the growing expansion of online marketing, it's not hard to find conferences or summits that concentrate highly-qualified experts and professionals in one place to exchange knowledge. This list of affiliate marketing conferences in Europe is sure to offer valuable networking opportunities, which will eventually boost marketing performance, help with brand image, and develop new business partnerships for the next business seasons. Keep an eye out for other emerging conferences, as this industry is booming and will continue to grow. The industry's leading experts to explore new trends and offer practical solutions you can integrate into your strategies is exactly why attendance at these events are absolutely essential. With that being said, it's time to get your schedule out and mark your calendars for the conferences that will benefit you the most!
Frequently Asked Questions
What is affiliate marketing?

The affiliation marketing strategy involves a company (affiliate merchant) partnering with an affiliate advertiser in order to promote their products or services in return for commission.

Is affiliate marketing beneficial for businesses?

Affiliate marketing is shown to be a cost-effective method of marketing due to only being paid when sales have been made. This enables businesses to reach a larger audience while simultaneously boosting return on investment.

Is affiliate marketing the same as influencer marketing?

Affiliate and influencer marketing have some differences. Affiliate marketing is mostly used to boost a specific metric for a brand, and aims to narrow down the target audience for better quality leads. On the other hand, Influencer marketing is a brand-oriented form of marketing, so it helps generate buzz and increase brand awareness.