What are meta tags?
Meta tag is a tag, that contains information about a website and it is usually shown in the header of the web page. This information is used by search engines in order to show a web page title and description in their search results.
Meta tags are written in HTML code and they are not visible to external visitors. Visitors see just a page title and description of a web page that was indexed. If meta tags are well-written, they can increase the PageRank.
Should You Spend Time on Meta Tags? | Neil Patel02:53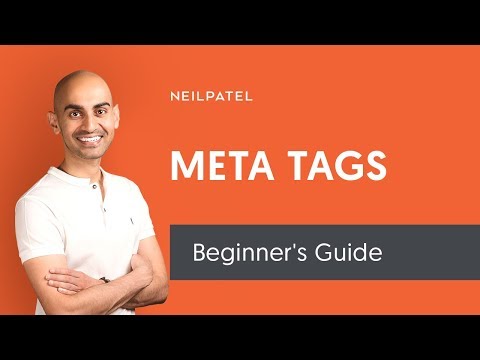 Neil Patel
Topics
importance of meta tags
types of meta tags
time spent on meta tags
Video summary
In this video, Neil Patel discusses the importance of meta tags and how much time you should spend on them. He explains that there are three types of meta tags: title, description, and keywords. However, he emphasizes that the meta keywords tag is useless and should not be used. Neil advises that when creating a web page, you should spend only a few minutes on meta tags. The title tag should be short and appealing, while the meta description should be around 120 to 140 characters. He also suggests using the Yoast SEO plugin for easy customization of meta tags. As the page becomes more seasoned and gains traffic, Neil recommends spending more time modifying the title tag and meta description, using relevant keywords. Overall, he suggests that with experience, creating meta tags becomes quicker, regardless of whether it's a new page or an existing one.
Frequently Asked Questions
How should I write meta tags?

Some tips on writing effective meta tags include using keyword-rich titles and descriptions, and avoiding meta tags that are too long.

How can I use meta tags for SEO?

There are many ways to use meta tags for SEO such as using meta tags that are relevant to your content, including keywords and key phrases, and updating your meta tags regularly.

How can I add meta tags in WordPress?

To add meta tags in WordPress, you need to install and activate the Yoast SEO plugin. After activating the plugin, click on the SEO menu item in the left-hand sidebar and then click on the Titles & Metas tab. From here, you can add meta tags to your WordPress site.