What is a keyword?
Keywords are specific words that are used to find information or document on the Internet. Keywords give a rundown of a topic's or web page's content. So they are a part of web page's metadata.
The keyword is a perfect search engine optimization tool. It helps search engine with matching a search query with a certain web page. But it is necessary to choose right keywords, not too cold, not with multiple meanings and primarily nouns.
Keyword Research Tutorial: From Start to Finish | Ahrefs10:16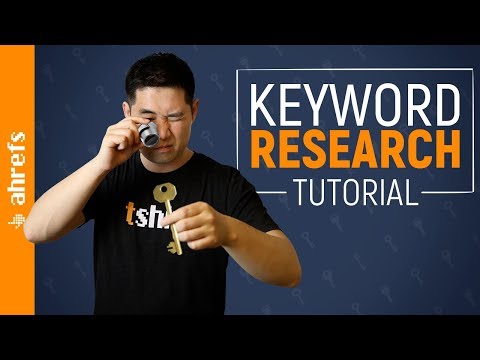 Ahrefs
Topics
keyword research
search intent
informational content
Video summary
The video discusses the importance of keyword research in driving traffic and revenue for a business. It emphasizes the need to choose topics that potential customers are searching for and to serve their needs. The video provides a step-by-step tutorial on how to generate keyword ideas using Ahrefs Keywords Explorer and how to filter and group them by search intent. It also explains the four categories of search intent: informational, navigational, commercial investigation, and transactional. The video highlights the advantages of targeting informational keywords and the importance of building trust and authority through informational content. It then demonstrates how to determine search intent for a keyword phrase using keyword modifiers. The video further guides viewers on how to analyze Google's top 10 search results for their target keywords, including analyzing the titles, assessing the number of referring domains, and considering the topical relevance. The video concludes by recommending the creation of a spreadsheet to track keyword targeting plan and suggests reverse engineering the topics driving traffic to competitors' websites to generate more keyword ideas.
Frequently Asked Questions
How can I find keywords?

There are a few different ways to find keywords. The most common is to use a keyword research tool like Google AdWords, Keyword Planner or Moz Keyword Explorer.

What is the main purpose of using keyword in SEO?

The main purpose in SEO will vary depending on the website and its goals. The most common uses for keywords include ranking higher in search engine results pages (SERPs), understanding the needs and wants of the target audience, and improving the chances of being found by users.

What keywords are my competitors using?

If you are trying to find out which keywords your competitors are using, you can use a tool like Google AdWords Keyword Planner.