It would be an understatement to say that the pandemic only affected some business sectors. Our feelings about each other, our behavior towards one another, and our shopping habits have dramatically changed. Affiliate marketing has assisted in this shift and now it is used throughout all points of marketing and sales in the digital era. This is especially apparent on the African continent. With a median age of merely 19 years old, the continent is expected to be the leading economic power by 2050. Therefore, in light of this, the importance of digital marketing conferences has increased for businesses and affiliates alike. In this blog, we will examine the top 10 affiliate marketing conferences in Africa.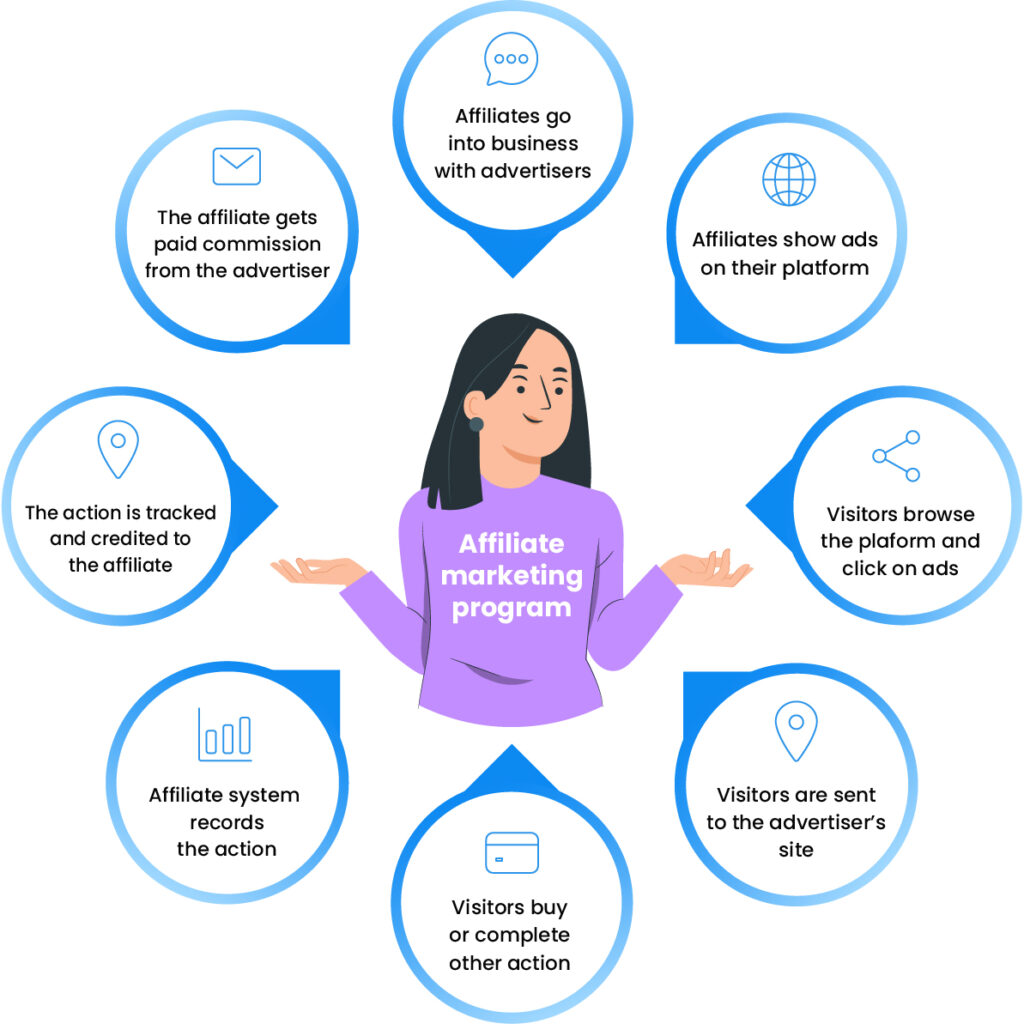 Why should you attend a marketing conference?
An increasing number of marketing and eCommerce companies have taken an interest in Africa. Among the emerging tech sectors, there are many potential business opportunities to be discovered, which is why we are talking about the biggest digital marketing conferences of 2022. As a result of its geographic, political, and linguistic differences, Africa is home to numerous conferences in different cities throughout the continent. The conference brings together the foremost thinkers from various sectors to discuss marketing strategies, social media management, the affiliate marketing industry, economic development, and new opportunities for companies looking for solutions to growing their businesses in Africa. Attracting an audience from over 100 countries throughout the year, digital marketing conferences have the potential to set the stage with a global guest list of some of the best operators, suppliers, affiliates, marketing partners, as well as thought leaders in a multitude of industries which drive sustainable growth in African nations.
The potential for future regulatory development, the notable presence of affiliate marketing, and other marketing strategies all play an important role, leaving the region ripe for businesses. As leading economies grow and more marketing methods become more mainstream, Africa is a reasonable next step for our growing businesses and solidifying presence in the global market. Let's take a look at the most influential digital marketing conferences for affiliate merchants in Africa.
Top affiliate marketing conferences in Africa
1. BiG Africa Summit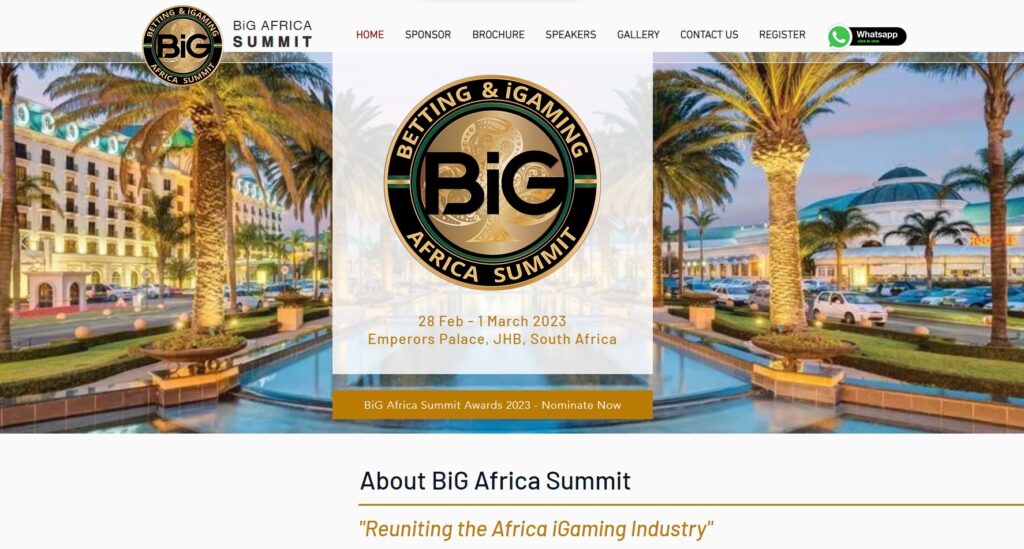 This year's BiG Africa Summit will take place in Johannesburg, South Africa. All gaming industry partners are invited to participate in the 9th edition of the well-established event. There will be two days of insightful discussions from a wide range of Africa's top industry leaders, followed by a networking event with delicious cuisine. Affiliate managers and affiliates will have the opportunity to meet face-to-face with all exhibitors during the event, which will allow providers and suppliers to showcase their products and services.
Date: 28 February – 1 March
Location: Johannesburg, South Africa
Ticket price: 2-DAY DELEGATE PASS:

International – €740,
Africa – €554,
Local – €368,
South African Countries – Free

Key speakers: Fundi Sithebe: CEO of 4Racing, Emily Asava: TVBET, Patrick Alike: Pragmatic play, Mik Adler: Fusebox, Mark Tipping: Gaming4Africa, Lomdo Mphande: Exec. Director Bitville Gaming SA, Marta Szmidt: Evolution Gaming
Registration URL: https://www.bigafricasummit.com/register
2. SIGMA Africa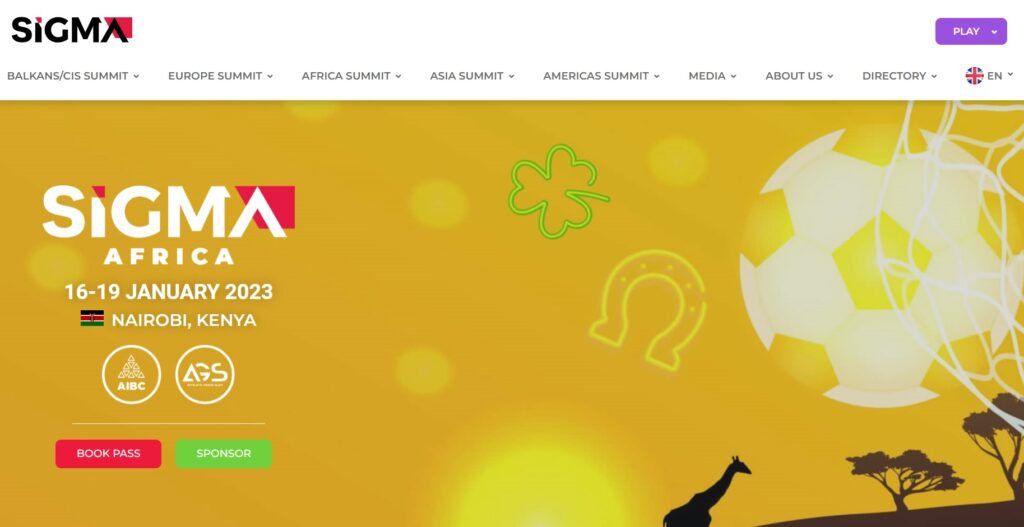 The South African market is the largest in terms of gaming in all of Sub-Saharan Africa. At SiGMA Africa, market titans amongst affiliates, operators and suppliers of the Gaming industry will join in one location to provide an infinite amount of opportunities for both the investors and the entrepreneurs seeking to shape the future of this multi-billion dollar industry. This digital marketing conference moves locations each year. Next year it will be held in East Africa, and then in Ghana the year after. It is something that you don't want to miss.
As one of the biggest affiliate events in Africa, this two-day conference event is likely to have 3,650+ attendees, 30+ speakers, 110+ countries, 110+ advertisers, 35+ traffic sources, and 150+ affiliate networks. You will get a chance to meet some of the fastest-growing social networks, marketers who generate over €100k per month, fastest-growing Shopify stores, lead general advertisers in finance, solar, insurance, health, and many more to set up partnerships or new affiliate marketing programs.
Date: 22-23 March
Location: Cape Town, SA
Ticket price: Available after registration
Key speakers: Emmanuel Oyelakin: WESCO, Robin Bennett: West Cape Gambling and Racing, Janietzche Megun: Legends Management Solutions
Registration URL: https://sigma.world/africa-register-your-interest/
3. ECOM Africa 2022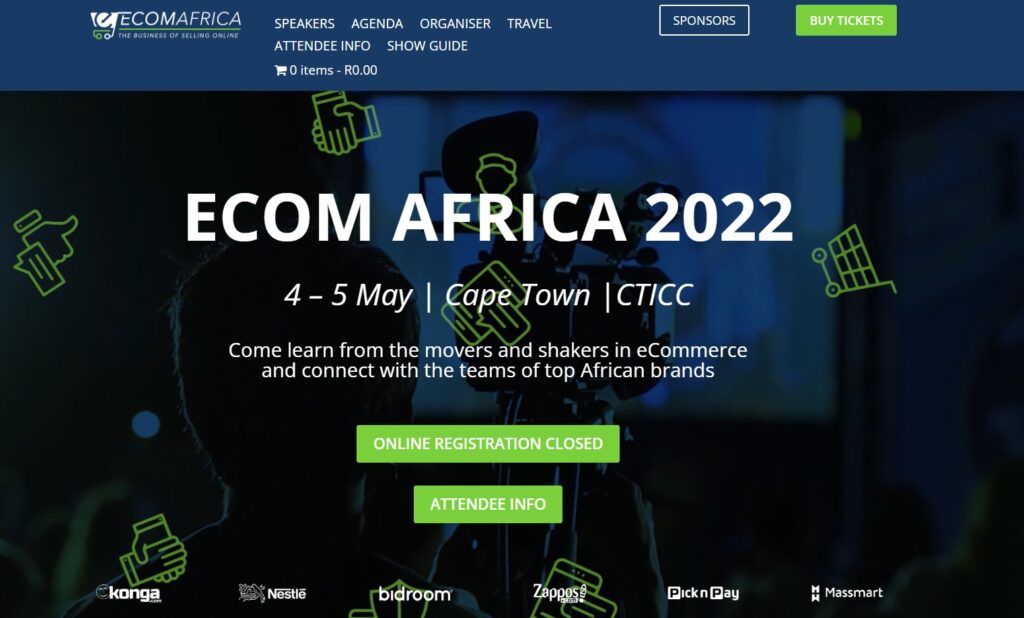 The ECOM Africa conference and exhibition, held in Johannesburg, brings together leading agencies, experts, executives, and entrepreneurs of numerous business verticals on the cutting edge business strategies in offline and online marketing, store design and optimization, affiliate campaigns, fulfillment, logistics, payments, security, digital marketing, and brand building. The conference is packed with interactive workshops that will get you and your team ready for the next phase of growth.
The conference features keynotes, panel discussions, and workshops featuring more than 40 speakers from around the world. More than 1,000 attendees are expected. The event is an intriguing combination of a physical and virtual event.
Date: 4-5 May
Location: Cape Town, SA
Ticket price:

All Access – €241,
Expo Pass – €30,
Networking Party – €21

Key speakers: Alex Genov: Zappos, Kyle Ranally: Meta, Dumi, Mahlangu: Cheepa Streetwear, Ajibola Olayiwola: Konga.com, Diana Bett: Purpink, Daniele Joubert: Uber Eats
Registration URL: https://ecommerce-africa.com/conference-registration/
4. Marketing INDABA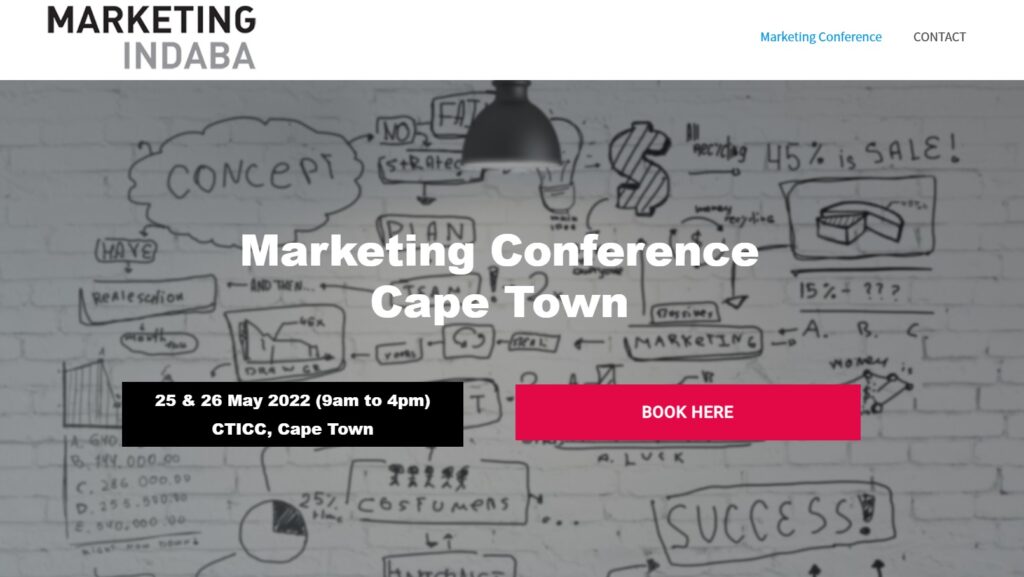 Market Indaba is an annual conference held in Cape Town every May aimed at providing assistance in the marketing and communication industry. Speakers at this two-day event will include experts in branding, search engine optimization, target market development, social media mediums, customer relations, and marketing trends like affiliate marketing. Additionally, whether you are a solo affiliate partner or an online retailer, this is a great way to network and increase your awareness of competitive niches.
Date: 25-26 May
Location: Cape Town, SA
Ticket price:

Early bird – apx. €230,
Full – apx. €261

Key speakers: Arthur Charlez, Ancillar Nombewu: FreshGenie, Philile Garnie Mphemba: Mdistributors, Monde Twala: Paramount
Registration URL: https://marketingindaba.com/registration/
5. Tourism Marketing and Destination Marketing Management Conference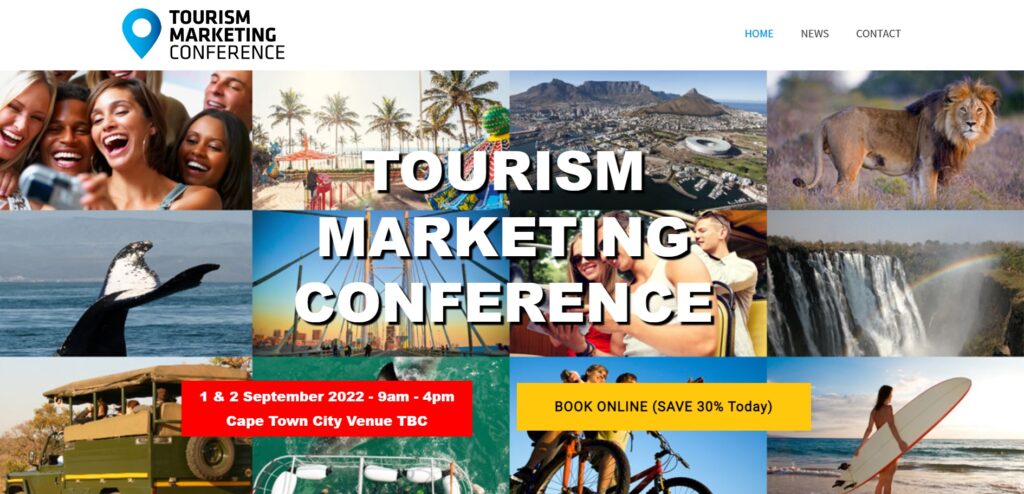 The Tourism Marketing and Destination Marketing Management Conference focuses on the latest trends, opportunities, and key aspects of tourism marketing, innovation, positioning, branding, and networking. Various topics related to tourism marketing, branding, conversion funnel optimization, travel affiliate programs, interactive marketing, online presence, reputation and online reviews, marketing related to the environment, digital marketing, influencer marketing, and more.
This is an excellent networking opportunity for all those in the travel industry including tourism affiliates, travel influencers, travel bloggers, tourism boards, hotels, B&B's, adventure travel providers and other related tourism businesses. Tourism companies can improve their marketing efforts at the conference, allowing them to attract more business and be competitive in both the global and local tourism markets.
Date: 1-2 September
Location: Cape Town, SA
Ticket price: €228
Key speakers: Heidi Turner – WA, Thaamir Moerat – Faselis, Loren Pavitt – Capenature, Tes Proos – SITE Africa
Registration URL: https://tourismconference.co.za/
6. DigiMarCon Luanda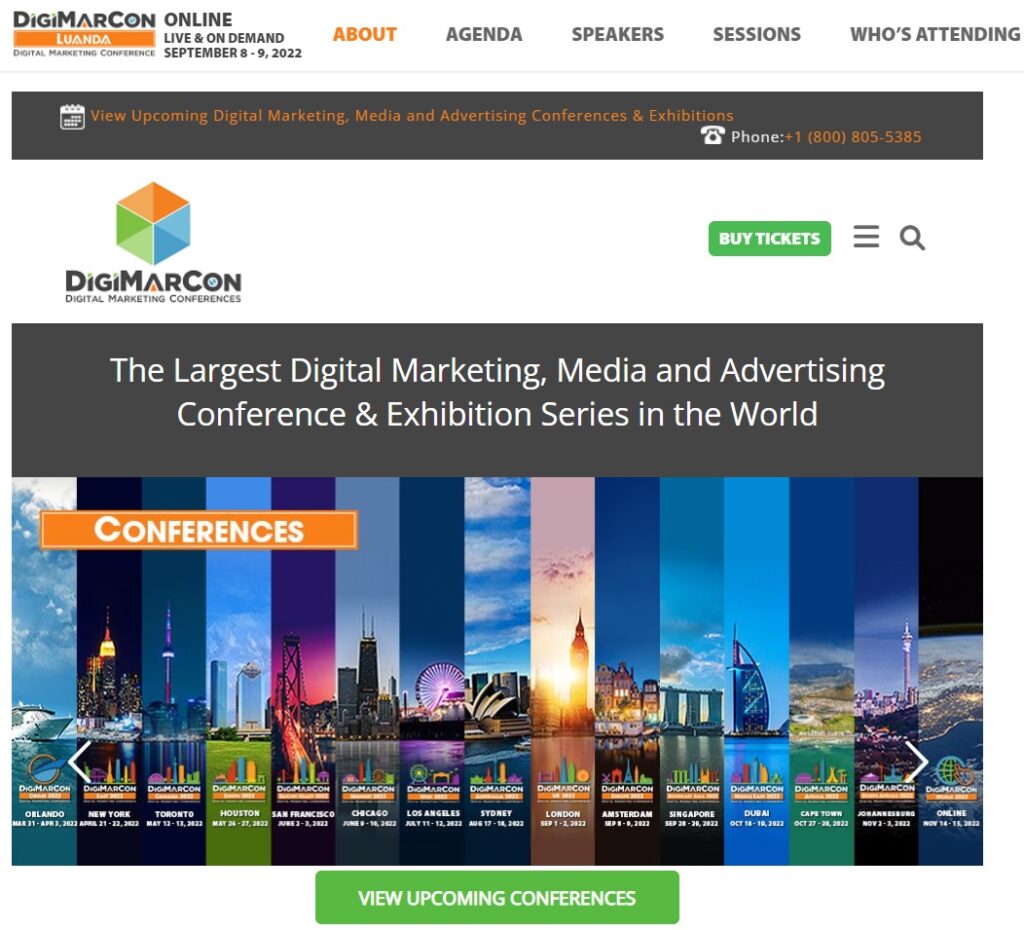 DigiMarCon Luanda is the largest Digital Marketing, Media and Advertising Conference & Exhibition Series in the world. Some of the industry's most vivacious and insightful speakers from the best-performing verticals will represent digital marketing, media, and advertising. Attendees will be able to attend presentations to learn about content marketing techniques, growth hacking, geo-targeting, marketing automation, affiliate marketing, customer acquisition, and much more.
You will learn the latest emerging strategies, the newest innovative technologies, and best practices to take your business to the next level. You will also collaborate with peers and build your professional network. Discover how to thrive and succeed as a marketer in a digital world that is rapidly evolving in person or online. They offer high-level keynotes, case studies, strategy sessions, and networking events for affiliates and businesses.
7. DigiMarCon North Africa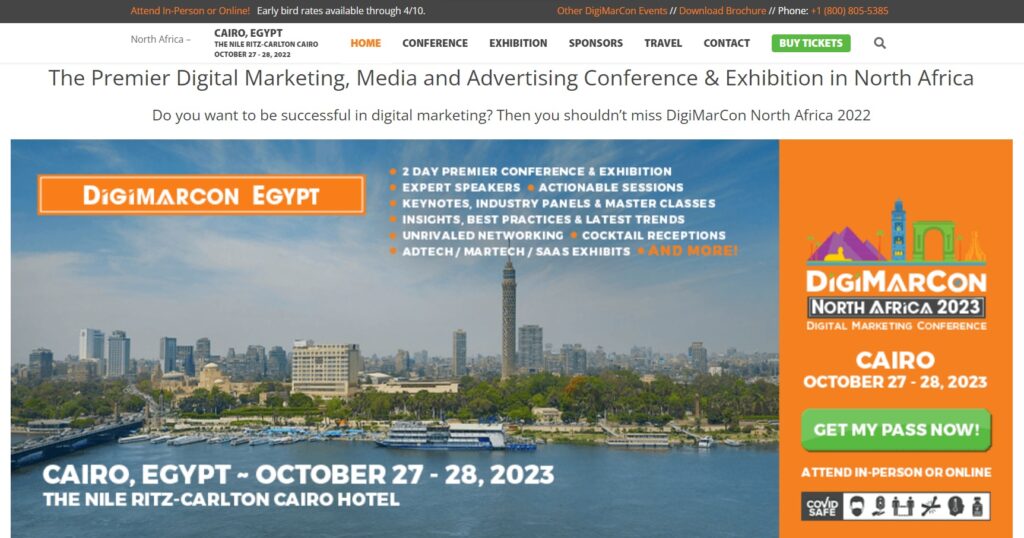 DigiMarCon North Africa Conference features some of the most intelligent and thought provoking speakers in the digital marketing industry. The conference provides attendees with emerging marketing strategies, the latest technologies, industry best practices, and insights from successful campaigns across the globe. Take advantage of the opportunities to attend presentations covering topics such as Content Strategy, Web Experience Management, Usability/Design, Mobile Marketing, Customer Engagement, Social Media, Targeting & Optimization, Content Marketing, Marketing Automation, Analytics & Data, and more!
DigiMarCon North Africa is designed specifically to help attendees build customer loyalty and increase sales, improve lead generation, and drive greater consumer engagement. The goal of the workshop is to provide attendees with a better understanding of how to drive traffic, create brand awareness, improve customer service and use digital tools internally to drive more productive business results. Additionally, with a wide range of networking opportunities, it's the perfect place to develop a professional network, find business partners, generate new ideas, and learn.
8. Techspo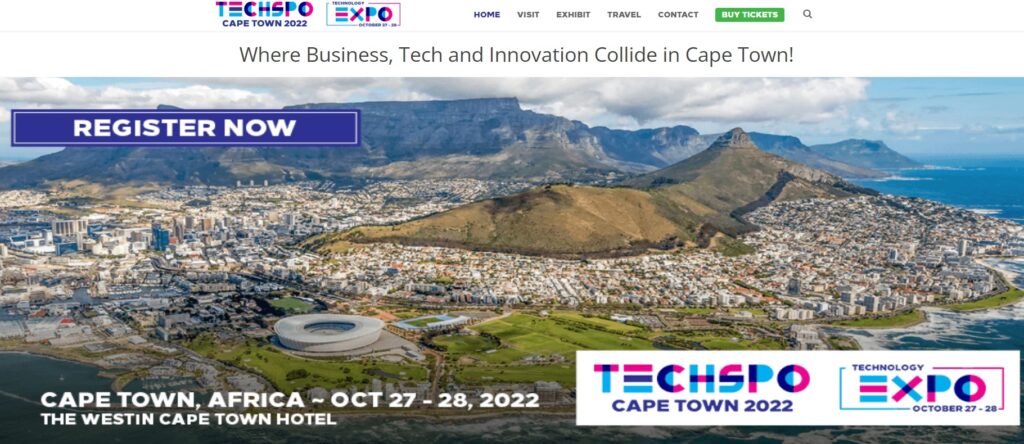 TECHSPO is a two-day technology expo scheduled to take place in Cape Town, South Africa, from October 27th to 28th where developers, brands, marketers, technology providers, designers, innovators, and affiliates come together at TECHSPO to set the pace in the advanced world of technology.
The 6th annual event which is the premier in Digital Marketing, Media and Advertising Conference & Exhibition in Africa, will be held this year in the luxurious Westin Cape Town Hotel. This event showcases the latest in technology and innovation in the field of Internet, Mobile, AdTech, MarTech, and SaaS Technology. Exhibitors will have the ability to present their companies to consumers, entrepreneurs, investors, hordes of press, the most sought after talent in the field, as well as the greatest pool of tech enthusiasts. Embrace the change and be surprised at how these new technologies will impact your company's growth.
Date: 27-28 October
Location: Cape Town, SA
Ticket price:

Visitor – €6.50 1-day,
Training Pass – €109 each day,
All Access Pass – €184

Key speakers: TBA
Registration: https://techspocapetown.co.za/register/
9. DigiMarCon Johannesburg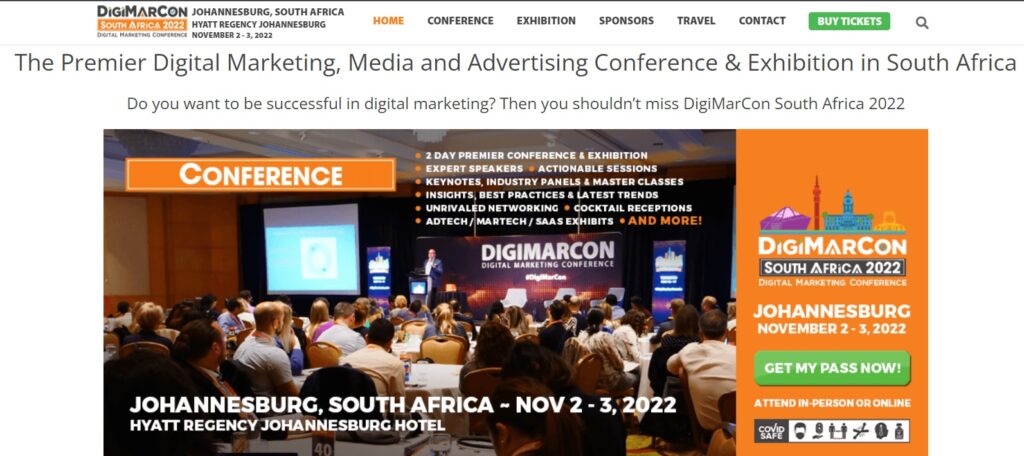 DigiMarCon South Africa 2022 will equip you with all the tools you need to succeed in media and advertising in Africa! Digital marketing, media, and advertising professionals will teach you how to improve and transform your business, utilizing the latest digital marketing techniques. Join a diverse group of experts, key opinion leaders, and solution providers to learn about digital marketing solutions and tools.
Discover how businesses have implemented these digital marketing solutions and techniques with success. A number of companies and industries are going to be profiled in this series of case studies for examples of how digital marketing has helped them achieve success. You will come away with new ways of thinking, more action items, and a toolkit full of ideas and actions to help your agency / team / account succeed. There are plenty of opportunities to network, find affiliate partners, generate new ideas, and learn from others to improve businesses and marketing on the African continent.
Date: 2-3 November
Location: Johannesburg, SA
Ticket price:

One day– €277,
All access – €464,
VIP – €650

Key speakers: TBA
Registration: https://digimarconsouthafrica.co.za/register/
10. Social Media Week Durban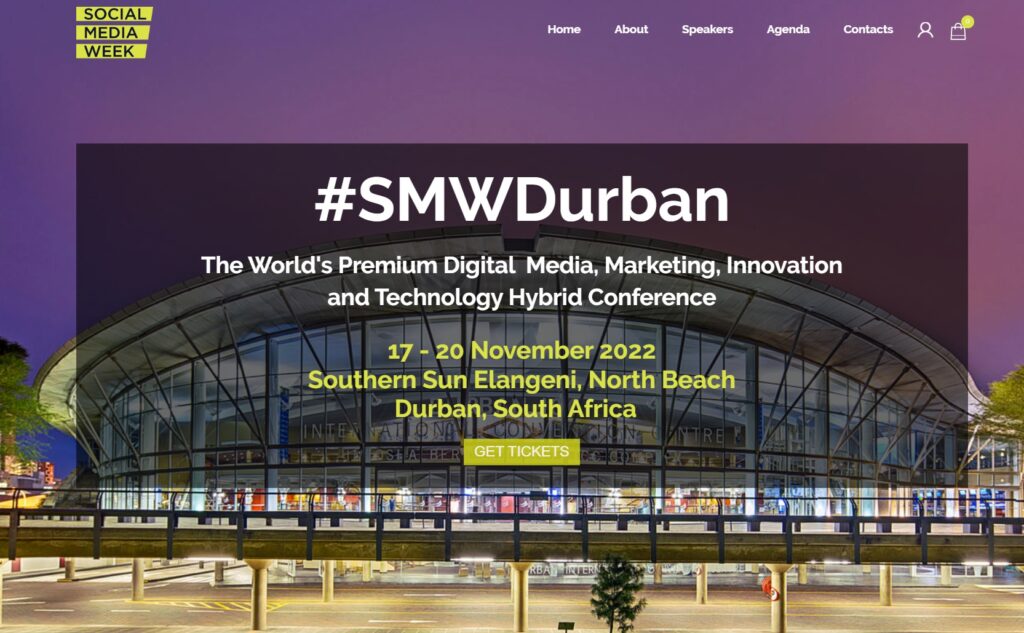 The premium online media and marketing event, Social Media Week, will be hosted in Durban in 2022. It will explore the ways how social media marketing has become an integral part of any successful marketing plan. It will teach the attendees how to build authentic brand partnerships and how to utilize social media influencers to provide value beyond reach and engagement in order to interact with customers and promote product sales. To top things off at Social Media Week, honorees from Forbes 30 Under 30 will sit down to discuss insights from the Digital Media frontlines.
Date: 17-20 November
Location: Durban, SA
Ticket price: approx. €113 – €464 (tickets are limited)
Key speakers: Aurelia Albert: Innovative Durban, Pierre Cassuto: Humanz AI, Onicca Moloi: The Green Lounge, Sphe Mbhele: The Music Imbizo
Registration: https://smwdurban.com/en/products
Conclusion
Africa offers a higher return on investment than any other emerging market, according to UN data. Corporations with revenue-generating ambitions cannot ignore Africa. With a population that is expected to reach 2 billion by 2040, Africa's 1.1 billion people will be the world's largest workforce. Combined with a cumulative GDP of $2.6 trillion in 2020 and spending of $1.4 trillion, this is expected to result in around 500 million new middle-class consumers. It is for this reason that investment companies and other brands are flocking to Africa in order to seize their opportunity before the market becomes saturated.
In the digital era, more people are able to participate in the global economy. Consequently, Africa is poised for innovation and change as the markets become more accessible. With the increasing use of online marketing, these conferences or summits which bring together highly qualified experts and professionals in one place for knowledge exchange will assist African entrepreneurs to reach greater success for the greater benefit of the continent. By obtaining more valuable networking opportunities, affiliates and business owners will be able to boost business performance, establish new business partnerships, and boost brand awareness. This industry is booming and will continue to expand, so keep an eye out for other upcoming conferences. These events offer your company the opportunity to listen to industry leaders as they explore new trends and provide practical solutions you can integrate into your strategies. The time is now to plan your schedule and mark your calendars for the conferences that will be the best for you and your business!
Increase your online sales
Post Affiliate Pro is the most established affiliate network software on the market. Curious about the opportunities?
Try today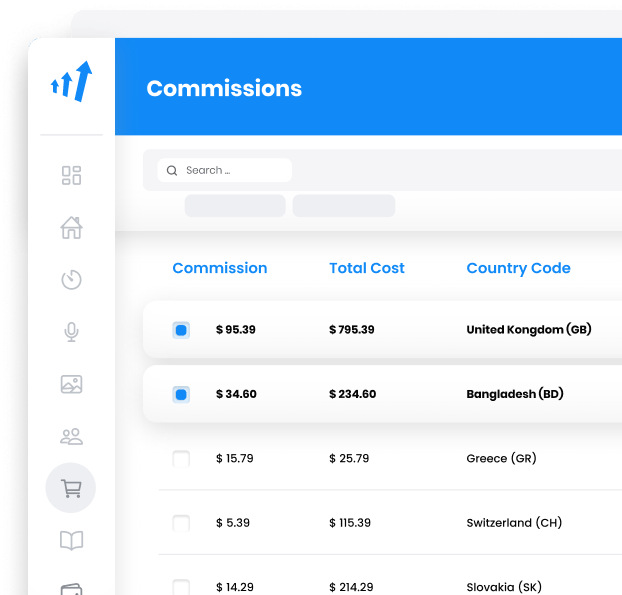 Frequently Asked Questions
What is an affiliate marketing program?

Affiliate marketing programs are agreements between businesses and influencers where one pays another business a commission when the latter brings that business sales or traffic. Website content, social media, or integrating products can accomplish this.

Where can businesses find affiliates?

Marketing conferences are excellent places for businesses to find affiliates for marketing campaigns. Additionally, they update you on the latest trends and put you in direct contact with industry leaders. Top influencers provide insights that you can apply to your affiliate program strategy. 

What is SIGMA Africa?

SiGMA Africa 2020 is the largest iGaming summit in Africa. The conference will bring together market experts within the Gaming industry from affiliates, operators and dealers, creating many opportunities for entrepreneurs and investors alike.

What is affiliate tracking software?

Affiliate tracking software is a tool that tracks and tracks how often a person or company refers, endorses, or recommends another person or company to buy the products or services they sell.

What is BiG Africa?

BiG Africa is an event where attendees can get key insight on the latest trends and marketing strategies in the gaming industry. It also enables operators and suppliers to meet as well as provides the opportunity to network with existing and potential clients and affiliates.