What is cloaking?
The cloaking, also known as stealth, is a method used to raise a website's search engine rank. It is based on providing a feeling for search engine that a website carries a different content. By cloaking, users get to websites that they did not expect. They see just a sympathetic and good looking website, but the content they search for is different.
It is questionable if the cloaking is ethical. It often depresses users and it is considered to be a black hat technique.
What is SEO Cloaking? | Dritschler Media04:40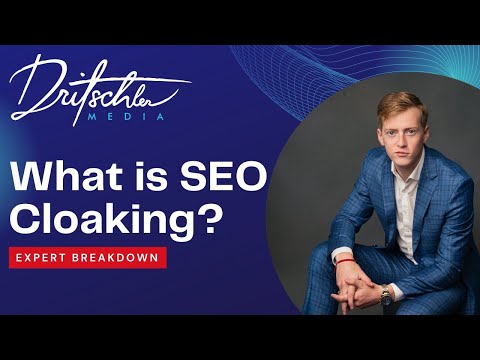 Dritschler Media
Topics
SEO cloaking
Google's webmaster guidelines
Search engine crawlers
Video summary
This video discusses the topic of SEO cloaking, which involves showing different content to search engine crawlers and human visitors. The video emphasizes that SEO cloaking is against Google's webmaster guidelines and should not be done. The speaker shares a personal story about a client who accused their SEO company of cloaking, despite the company actually improving their search engine performance. The video explains how search engine crawlers work and how they categorize websites based on data received. It also mentions that some people want to rank for keywords but provide a different user experience, which is known as cloaking. However, Google recognizes and penalizes this practice. The video concludes by stating that the goal of search engine optimization is to provide the best and most accurate results for users, and cloaking goes against this goal.
Frequently Asked Questions
Is cloaking good for SEO?

Cloaking is a black hat SEO technique, which means that it can bring a short-term boost to a site's ranking, but it is against Google's Webmaster Guidelines. Black hat SEO techniques can get your site removed from SERPs.

What is Google's penalty for cloaking?

Google's penalties for cloaking vary depending on the severity of the infraction. Generally, websites that are found to be cloaking will receive a manual action penalty from Google, which can result in the site being removed from the search engine results entirely.

Is cloaking a black hat SEO?

Yes, cloaking is a black hat SEO technique.