The Secret Ingredient Affiliates Are Using To Supercharge Their Content Strategy | Affiliate World Conferences03:33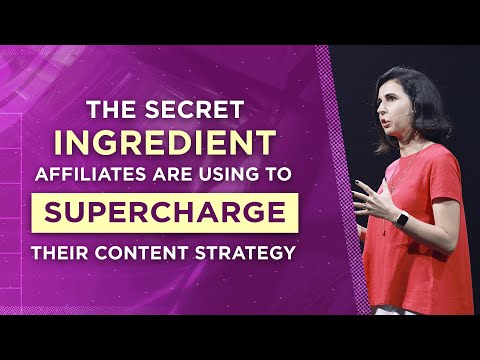 Affiliate World Conferences
Topics
content creation
super affiliates
problem-solving
Video summary
The video focuses on how to resolve problems with content creation by being solution-oriented, doing research, and being natural and respectful in writing. Super affiliates sell the dream of a perfect solution to problems and spend a lot of time doing research. They create content that targets specific problems and connects with their audience better. The key takeaway is to focus on solving problems and being respectful to the customer's needs.
Dig Deeper
Solution-Oriented Content
Being a super affiliate means that you need to focus on providing solutions to your target audience. When writing your content, you need to make sure that it targets a specific problem that your audience is facing. It's important to not assume that your readers already know everything, but instead, focus on providing them with solutions to their problems.
Research and Granulation
One of the essential things that a super affiliate needs to do is research their content thoroughly. This involves spending a lot of time and putting in the work to make sure that you are well informed about your niche. The more educated you are, the better your content will be, and the more you will push on your campaigns.
Be Natural and Friendly
Being natural and friendly in your writing is crucial when it comes to engaging with your audience. You want to ensure that your content emphasizes the customer's feelings and supports their needs. It's essential to be respectful of your audience and the situation they find themselves in. Taking the time to understand their needs will help you connect with them on a much deeper level.
Impact on Affiliate Marketing Industry
The impact of providing solution-oriented content is massive on the affiliate marketing industry. Super affiliates are pushing the boundaries of what is possible, constantly researching, granulating, and providing value to their target audience. They are the ones that are providing real value and changing the industry for the better. Super affiliates are the driving force behind the success of many affiliate marketing campaigns and are the ones that are setting the standards for others to follow.