Push Notifications: How Van Oakes Generated $67,000 With $0 Ad Spend | Affiliate World Conferences02:40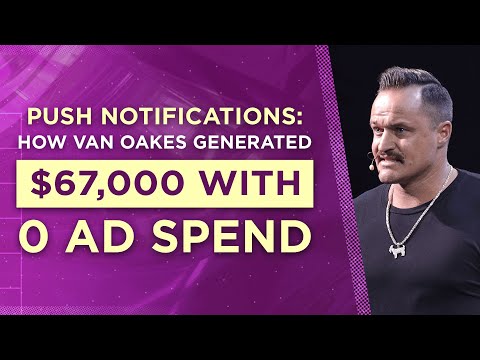 Affiliate World Conferences
Topics
Push notifications for marketing
Success story of push notification generating $67,000
Recommendation to use an animated view for push notifications
Video summary
The video discusses the effectiveness of push notifications as a marketing tool. The speaker shares a success story of how one push notification sent to 47,000 subscribers made $67,000. He emphasizes that push notifications are free and easy to send, while also recommending the use of an animated view to showcase different products. The video also mentions the importance of building a list of push notification subscribers in advance of big sales events like Black Friday and Cyber Monday.
Dig Deeper
Maximizing Sales with Push Notifications
In a recent test before Black Friday Cyber Monday, sending out a push notification to all our subscribers resulted in a whopping $67,000 in sales. With a 62% take rate on push notifications among app users, this strategy is as effective as it is effortless. The best part? It's free. Unlike costly text message campaigns, we spent nothing on our push notification test. You can easily customize your message, include product images, and schedule pushes at any time to reach users on their mobile devices, tablets, or smartwatches.
Building a List of Subscribers
To keep your push notification campaigns as effective as possible, we recommend building a list of subscribers early on. During the October lead-up to Black Friday Cyber Monday, we ran a giveaway and focused on building our list. This allowed us to send out the $67,000 push notification to a sizable list of 47,000 subscribers. You can encourage users to subscribe by offering early access to sales, exclusive VIP membership, or just reminding them how useful push notifications can be for staying on top of new product releases and discounts.
The Impact on Affiliate Marketing
Push notifications represent a new frontier in affiliate marketing, allowing brands to reach users directly without the need for costly ads or traditional marketing channels. By building a list of subscribers and sending out targeted pushes, you can drive significant sales and boost your affiliate marketing revenue. As more consumers turn to mobile devices for shopping, push notifications will continue to be an essential tool for staying competitive in the marketplace.