What are affiliate discount coupons?
As a marketing strategy, coupon marketing targets consumers' desire to save money on their purchases. To accomplish this, affiliates offer coupons to their current and prospective followers in order to promote brands and increase sales. Digital coupons generally offer a certain discount, free shipping, or some other type of bonus to entice consumers to make a purchase on a retailer's website.
What can coupons do for merchants?
With coupons, you are able to offer special promotional pricing for your website's visitors, and you can also reward your affiliates for referring customers who use their coupons. Coupons are an effective way to offer product discounts and motivate your affiliates to advertise your site more frequently. Affiliates can also use this when they are not able to or don't want to use links/banners (for example, on Instagram or YouTube videos). It is no secret that people love saving money on purchases, this makes the ability to offer products at a discount drastically impact customer loyalty and satisfaction.
A coupon is one of the banner types that is offered in Post Affiliate Pro, allowing you to create as many coupon groups (promotions) as you wish within one campaign. In Post Affiliate Pro, coupons work just like banners; as in, they cannot actually provide discounts. The same coupon needs to be in Post Affiliate Pro for tracking the affiliate and in your store for providing the actual discount; having it just in Post Affiliate Pro or just in your store is not enough. There is no limit to the number of coupons or coupon banners you can display in any of the campaigns defined in your affiliate program. Alternatively, you can set a maximum number of uses per coupon and/or limit the number of uses per coupon.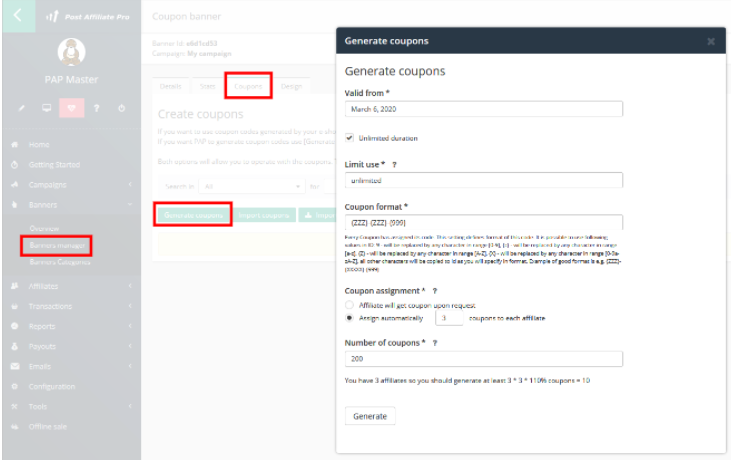 For instance, you may have a 10% discount promotion and a 30% discount promotion. Affiliates can either request new coupons or you can assign coupons to them, automatically or manually, for both promotions, and you can generate separate sets of coupons for each promotion.
With the use of Post Affiliate Pro's affiliate coupon tracking feature, you can identify which campaign your customers are participating in, which affiliate gave them the coupon, and which promotion the coupon belongs to. With this information, you will know exactly when conversions take place and how much commission is paid to your affiliates.
How to create coupons?
In Post Affiliate Pro, you can generate coupons directly in the software or import them from your shop software. It is possible to customize the coupon formats when you generate them in Post Affiliate Pro, and they can later be exported from Post Affiliate Pro and imported into your shop software or any payment processor.

How to design and use offline coupons?
Your affiliates can request coupons for each campaign or banner, and print them directly from Post Affiliate Pro. Merchants can easily label each campaign and the HTML design of the coupon, which can be used to print attractive adverts for customers. You can insert designs into the coupons, including bar code images, which can be later read by bar code readers. Bar codes are automatically generated by Post Affiliate Pro, and each bar code matches the respective coupon ID. After scanning the bar codes with bar code readers, you can enter the coupon code conversions into the system.
Improve your sales with coupons
Create your own discount coupons without leaving the Post Affiliate Pro application. Try it out today for free!
Try today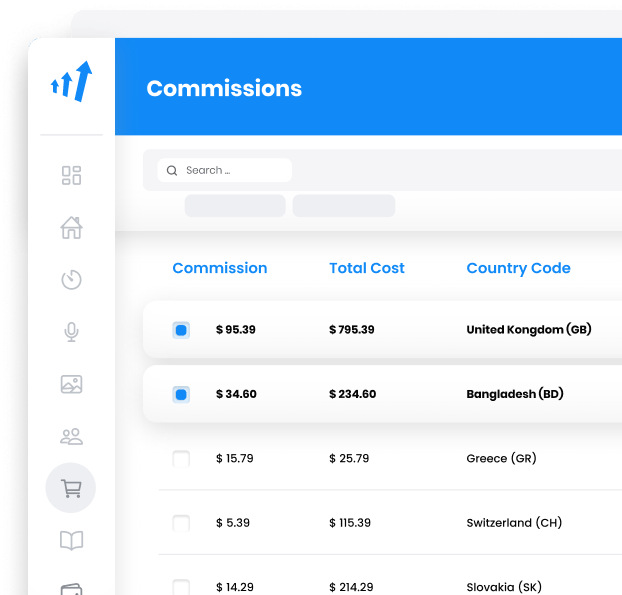 Frequently Asked Questions
What are affiliate discount coupons in Post Affiliate Pro?

The Coupons feature in Post Affiliate Pro allows you as a marketer to distribute coupons to your affiliates to advertise to their viewers. These special promotional offers can be tracked immediately after conversion in your affiliate program.

Why should I use affiliate discount coupons in affiliate marketing?

Coupons are an effective way to offer product discounts and motivate your affiliates to advertise your site more frequently. Discount coupons can also give you keen insight into activity, sales, and viewer behavior.

Are coupons difficult to create?

Post Affiliate Pro allows you to generate and customize your coupons to capture your target audience with just a few clicks.