Despite a popular opinion, affiliate marketing isn't as complex as many people think. It doesn't require complex knowledge, sophisticated skills, or a sizable budget. In fact, affiliate marketing is an easy and cost-effective way to increase conversions and there are many reasons why you should try it, including the following:
Tap into new, potential sources of traffic and revenue
No additional costs. You're only paying for results
More traffic. Your affiliates may send a lot of traffic your way (if the links aren't spammy)
More brand awareness by increasing your traffic and reaching a larger audience.
The number of people engaged in affiliate marketing as well as spending has been on the rise in the recent years, too. For example, eMarketer recently reported that U.S. retailers spent $5.37 billion on affiliate marketing in 2017 and predicted the spending to reach $6.82 by 2020.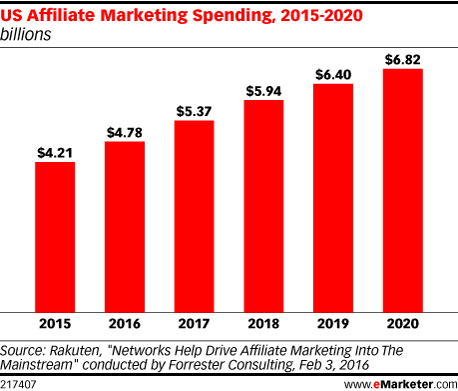 To make your journey with affiliate marketing easier and help you start off on the right foot, here are five fundamental laws for a perfect affiliate program.
Law #1. Research Products
Many people who decide to promote products fail to generate traffic and leads because they don't ask themselves the following questions:
Do I use this product/service? Is it something I would be interested in?
If the product isn't something that you would be interested in using, then it's probably a bad idea to look for something else. If you decide to do it, though, chances are that your promotional effort will be pushy and 'salesy.' Readers are smart and they will immediately sense that you're not genuine when promoting it.
Will most of my readers benefit from using this product/service?
If the target audience of your blog won't benefit from the product/service you're promoting, then there's no point of risking your reputation. To ensure that your readers will find it useful, research what the product is about, learn its advantages and disadvantages over others, and you'll realize whether it's a good idea to promote it.
Sticking to physical products like gadgets and cosmetics is usually recommended for beginners because it's easier to demonstrate how the customers will benefit from them. On the other hand, products like e-books and software are best promoted by marketers with a good reputation because it's more difficult to do.
Is the buying process easy?
You want your readers to purchase the product you're promoting, but if the buying process is too complicated, many of them will leave. According to a study done by the Baymard Institute, "too long/complicated checkout process" is in the top three reasons for abandonment during checkout.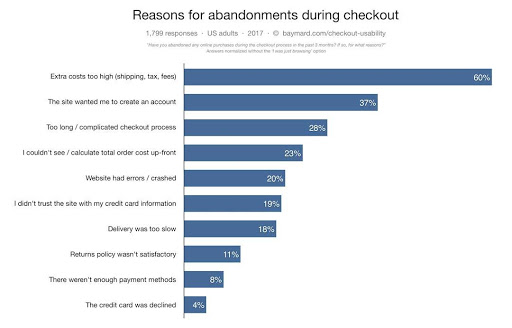 Since it can significantly hurt your earnings from the affiliate programs, check if the buying process is easy for customers. If it's not, try to make recommendations to make it easier because it'll benefit your affiliate partner as well (plus you'll impress them with your knowledge of online business!)
Oh, and one last thing: people get the best results at promoting products that they have a passion for. Surely, writing about something that interests you will be much easier and motivate you to do more. So, a common advice that experienced affiliate marketers give to beginners is to choose products that you like and actually use yourself.
Law #2. Choose A Specific Niche
Many marketers make a mistake by targeting a broad range of popular products. While this may sound like a good strategy because it involves multiple target audiences, what it does is making is really challenging to generate enough sustainable traffic to consistently compete with others.  
Specifically, there are two significant challenges that you'll have to overcome: creating relevant content and creating enough content. For example, if you're promoting five products from different niches, you'll have to spend days writing because they may not be related, therefore placed in the same articles.
Next, Google has made it clear that it won't rank low-quality, "hard sell" content, so you'll have to create high-quality and relevant content for each of the products you're promoting. Again, that a lot of work.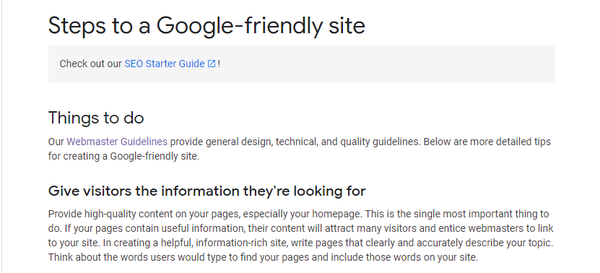 A better way is to select products from a certain niche so it would be easy for you link between pages and formulating your overall strategy around the content type you're interested in and capable of producing.
Law #3. Create Valuable Content
Often, the quality of content in affiliate campaigns suffers because content producers shift their focus to selling. This is a bad idea. The key to cultivating positive and productive relationships is a consistent production of valuable, engaging, and relevant content.
Besides, as we already know, Google doesn't tolerate "hard sell" content because it doesn't provide value to customers. Therefore, in order for your affiliate program to succeed, you need to give value to your content by making it informative, useful, and helpful.
Here are several types of content that meet these requirements and which you can use in your programs as well.
Product Comparisons
Don't put up a list of our favorite products because your readers probably have different preferences! Instead, seek to answer the questions they are most likely to have about popular products when it comes to selecting which ones to buy. For example, you can compare their functions, performance, appearance, and usefulness to your target audience.
How-To Content
This type of content allows readers to learn something new; for example, you can describe how to get the most out of a certain product or create something yourself. Typically, how-to articles are very detailed because they're essentially guides. A recent study by Sumo of their best-performing blog posts in terms of traffic revealed that how-to content was the best according to their viewers (22.8 percent of traffic).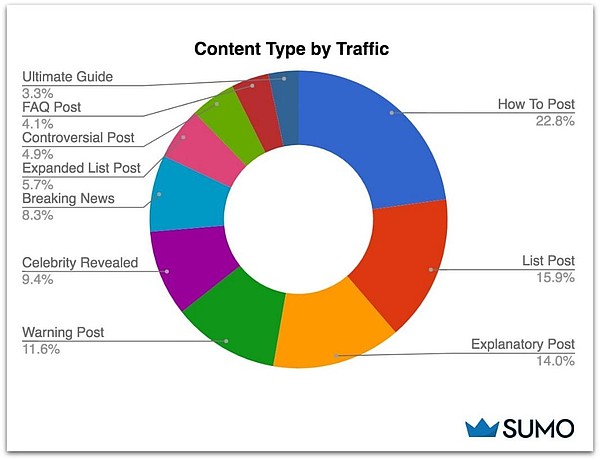 Reviews
This is one of the easiest content types that affiliate marketers often choose because it involves sharing your opinion of a product or service based on your experience. For example, you can describe whether it was helpful for you to achieve a certain purpose or whether it was convenient to use. Just pick a product or a service that your target readers might want to buy.
Seasonal content
In months like July and August, the thoughts of your readers may be dominated by vacations, so it's a good idea to write about the best vacation destination in that particular year. If you have a cooking blog, writing about pumpkin recipes in October would be a great idea.
Video tutorials
Video is one of the most popular types of web content. In fact, 85 percent of online businesses view it as an important part of their marketing strategy and 82 percent plan to invest more in video marketing (all data – courtesy of Video Marketing Statistics 2018 Survey).
Clearly, using this medium for an affiliate program is a good idea. Essentially, videos are how-to articles that provide viewers with an excellent opportunity to learn how to do something or learn something new; for example, you can make a video tutorial on some of the products you're promoting, especially the ones that people might find a bit difficult to use.
Gift Guide
If the products you're promoting can make a good gift, why not make a gift guide and describe how to select the best product and who might benefit from it. Include a lot of illustrations to show how to wrap that gift or some other presentation ideas to inspire the readers, too.
Law #4. Build An Email List
Retaining readers was easier in the past thanks to RSS feeds that made it simple to follow you. Now, however, RSS feeds are not a good way to grow readership and earn an affiliate income.
"Building an email marketing list is the new standard," explains Richard Dawson, a content writer at Proessaywriting. "If you're a blogger, you may already have a sizable list of subscribers to whom you can promote products/services."
Having this list allows targeting certain types of customers and adapt your content according to their preferences and needs. For example, when someone signs up for your newsletter, they expect to read information about the solutions to problems they may have. Remember: interesting and helpful newsletter content will leave people on your email list wanting more.
To attract more signups and build your email list, you can use a pop-up window to ask the visitors to enter their email to get latest updates, news, or tips. Another way is to entice them is by creating a contest with giveaways and requiring an email address to enter. Let everybody know about the contest on your blog or social media page and clearly describe how people can participate.
So, provide only quality information in your newsletter to build your email list and use it smartly for affiliate marketing.
Law #5. Follow Your Legal Obligations
According to modern regulations and laws, affiliate marketers must follow certain principles when they do their business. If they're found to be in violation of these principles, their program will be shut down and they'll pay a lot of money in penalties. Therefore, you need to understand and adhere to a number of very specific areas of compliance to avoid committing a federal violation.
For example, you're required to read and follow the Federal Trade Commission's (FTC) Affiliate Marketing Rule of 2007 that regulates affiliate relationships, using customer data, advertising practices, and other important factors.
Surprisingly, a lot of affiliate marketers fail to understand the requirements of the FTC guidelines. In this interview for Marketing Land, a director of Rakuten Affiliate Network's Brand Quality and Regulatory Compliance Service Jennifer Moor said that only 11 percent of affiliate marketers "are aware of or understand the FTC guidelines," citing the "2017 State of the Creator Economy Study" described on eMarketer.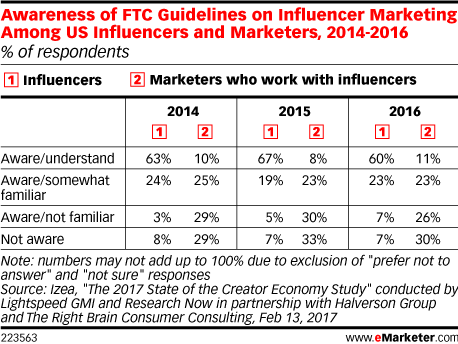 According to Moor, she sees YouTube channels of popular influencers shut down every day because they failed to comply with the law. In most cases, the influencers had no idea about the existence of FTC requirements. In addition to shutting down an affiliate program, the FTC also has the authority to freeze the assets of affiliate marketers or advertisers and require them to submit their marketing for the next 10 to 20 years to ensure that they won't violate the law again.
The adherence to the FTC's guidelines requires you to include disclosure to prevent misleading your audience. Here are the tips for you to make sure you're in compliance and create the best possible experience for your leads and customers.
Place the disclosure where viewers wouldn't have to search for it. No one has to search for your affiliate disclosure, so make sure it's easily accessible by putting it in a place like the top of the page or article. Having it there means that you're letting everybody know that your content has affiliate links/products right away, which exactly what the FTC's guidelines require.
Disclose everywhere you can. Since the guidelines apply to most types of online media – blog articles, podcasts, images, infographics etc. – you should disclose your affiliate program in every material it uses. For example, if you're using video, make sure that the disclosure is put at the beginning and remains on the screen long enough so the viewers have a reasonable time to read it. Moreover, you should include the disclosure as a text in the description of the video.
Keep in mind that the FTC's guidelines don't apply to banners. According to the organization, you don't have to disclose banner ads because most Internet users understand their purpose. So, if you place a banner on a page that doesn't have any affiliate links, you don't need to include the disclosure statement.
So In Conclusion
As you can see, affiliate marketing continues to attract more investments, so it may be a good time to participate in an affiliate program. The laws described in this article would be useful for you to do everything properly and position your own program on the path to success.
Do your best to follow them and don't forget to share your experiences with us in the comments!