How To Start Affiliate Marketing 2023 - affiliate marketing For Beginners | Bossibility03:31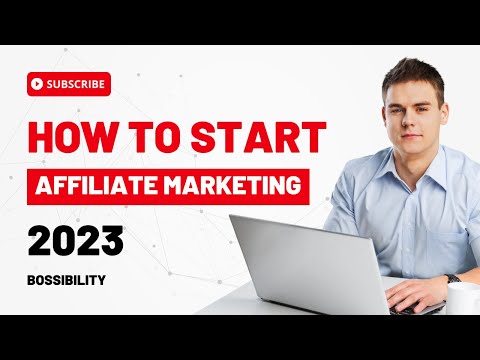 Bossibility
Topics
Introduction to affiliate marketing
Steps to starting a successful affiliate marketing business
Promotion strategies
Video summary
The video provides an introduction to affiliate marketing as a way to make money online. It explains the three main steps to starting a successful affiliate marketing business which include choosing a niche, finding an affiliate program and promoting the products. The video also suggests different promotion strategies like writing blog posts, creating videos, using social media platforms, and paid advertising. It emphasizes the importance of tracking results to ensure efforts are paying off. Finally, the video encourages viewers to subscribe and share their experiences on social media.
Dig Deeper
Introduction
Marketing is one of the most popular and profitable ways to make money online. In this short blog post, we will discuss the basic steps to becoming a successful affiliate marketer and offer tips on how to make it happen.
Choosing the Right Niche
Choosing a niche or product to promote is an important step for affiliate marketers. Consider your strengths, interests, and experience when selecting a niche. It is also important to consider potential customer needs and market trends that could be beneficial for your chosen niche.
Finding an Affiliate Program
Once you have decided to start affiliate marketing and have settled on a niche, the next step is to find an affiliate program that suits your needs. The best way to do this is by researching different programs and seeing which ones are most applicable for your interests. Popular affiliate programs include Amazon Associates, Share a Sale, and ClickBank. Each has its own set of benefits, so it's important to research the different programs to find the one that is right for you.
Signing Up with the Program
Signing up with an affiliate marketing program is easier than you may think. All you have to do is visit the website of the program you want to join and look for the sign-up page. Fill out all necessary information, including your name, contact details, and any other information the program requires. Once you have filled out the sign-up form, submit it and wait for a response from the program.
Promoting Your Products
Now that you're an affiliate, it's time to start promoting your products. There are multiple strategies for getting the word out about your products, such as writing blog posts and reviews, creating videos, using social media platforms like Facebook and Instagram, or even paid advertising with your affiliate links. Whatever strategy you choose, make sure your content is attractive and simple to increase the chances of people clicking on your link. Don't forget to track how well your content is doing.
Tracking Your Results
Last but not least, you will want to track your results to ensure your efforts are actually paying off. This means regularly checking to see how many sales you are making, what products or services people are buying, and where traffic is coming from. You can use analytics software such as Google Analytics to keep track of your affiliate marketing program results. By being aware of what's working and what isn't, you will be able to make adjustments as needed.
Conclusion
Creating a successful affiliate marketing campaign can be daunting, but with a solid understanding of the basics of affiliate marketing, you are now ready to start your own journey. If you have any questions or need additional advice, subscribe to our channel and leave us a comment. We would love to help and don't forget to share your experiences with our aspiring affiliate marketers on social media. Good luck and happy monetizing!