What is inbound linking?
An inbound link, also known as a backlink, is a link used to send visitors to your website from a web page outside of your website. It is a type of hyperlink.
An Inbound link is used to improve a website's rank and it is really important part of successful search engine optimization. The most effective way is to get inbound links from websites with content relevant to yours. There are differend types of inbound links – text and graphic based links. It is known, that text-based links are more effective.
What Are Inbound Links? (local seo) | Small Business Marketing | Blake Stockton • Start & Grow Your Biz06:11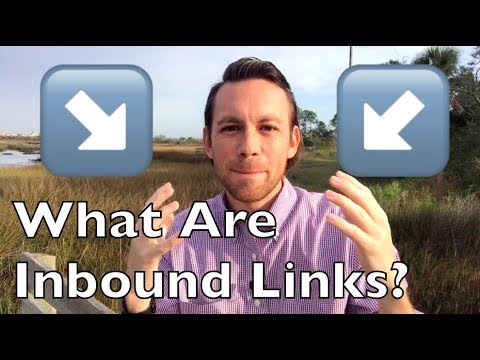 Blake Stockton • Start & Grow Your Biz
Topics
Inbound links importance for SEO
Quality of inbound links
Creative ways to build links
Video summary
Inbound links are crucial for search engine optimization (SEO) and ranking higher in Google. Every inbound link to your website is like a vote, and the website with the most votes ranks the highest. However, not all links are treated the same. Links from credible sources such as news articles, radio stations, and newspapers are worth more than free links from directories. The quality of the link also depends on the source, such as a blogger with years of experience in your industry. It's important to have inbound links from reputable sources in your industry. Inbound links cannot be paid for, as Google penalizes websites with paid link schemes. Building high-quality links can boost your credibility and improve your ranking. Creative ways to build links include collaborating with charities or participating in competitions. Even one or two high-quality links can give you an edge over your competition. It's also worth accepting opportunities for media coverage, as being talked about online can benefit your SEO. In summary, inbound links are essential for SEO success and should be a priority for businesses.
Frequently Asked Questions
How can I get inbound links?

There are many ways to get inbound links such as reaching out to other websites, creating shareable content, submitting your website to online directories and participating in online forums and discussions.

Why do I need inbound links?

Inbound links are important because they are a sign of trustworthiness and authority, making your website rank higher in search engine result pages (SERPs). This can lead to more traffic and more customers.

Why are inbound links important?

Inbound links are important because they help improve a website's search engine ranking. Additionally, inbound links can help bring new visitors to a website.