Why Buy an Affiliate Website? [Instead of Building from Scratch] | Matt Diggity05:45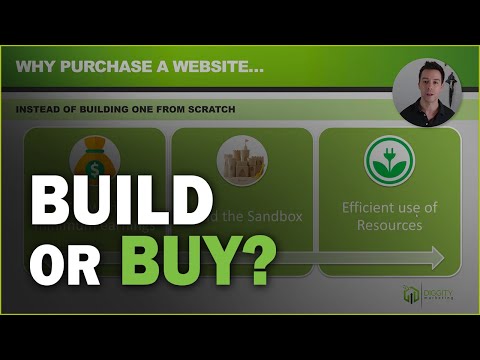 Matt Diggity
Topics
starting an affiliate site
buying an existing site
criteria for finding a good site
Video summary
In this video, the speaker discusses the options for starting an affiliate site in a new niche, including building the site from scratch, using an expired domain, or buying an existing site. The focus is on the benefits of buying an existing site, which include knowledge of the site's minimum earnings and the ability to avoid the Google sandbox. The speaker also provides criteria for finding a good existing site to purchase, and compares the costs and timeline of building a site from scratch versus purchasing one. The main takeaway is that buying an existing site can be a more efficient use of resources and can lead to faster success.
Dig Deeper
Why Buy an Existing Site?
Buying an existing website offers numerous advantages over building a new one from scratch. Firstly, you get to see the website's profit and loss sheet, allowing you to know the minimum earnings of that particular website or niche. This is particularly important when trying to figure out the potential of a new niche. Secondly, you avoid the Google sandbox, which is a leash that Google puts on any new website, holding it back in the search engine results pages (SERPs). Finally, buying an existing site is an efficient use of your resources. At LeadSpring, an affiliate agency, our most expensive resource is the human resource. It makes little sense to put our best players on projects that gain little traction.
The Costs of Building from Scratch
If you choose to build a site from scratch, you will need to budget for content, backlinks, and, if you choose to outsource, operator costs. Estimating about 50 articles on launch (an average of 1,500 words each) and with a good deal, you may need about $4,500 in content. As for backlinks, if you are outsourcing or purchasing links, it can cost you between $1,000 and $10,000, depending on who you get them from. You must also account for operator costs, and if you outsource, this can cost up to $20k. The total cost, therefore, ranges between $5.5k and $36k and completed within 3 to 12 months.
The Benefits of Buying an Existing Site
Acquiring a domain that already makes 500 a month can cost between 16,000 and 20,000 dollars. It may seem expensive, but it is worthwhile if you consider the opportunity cost. Building a website from scratch takes valuable time that could have been used for other profitable ventures. On the other hand, acquiring an existing website allows you to get straight to earning without having to wait through the Google sandbox period. While buying backlinks is frowned upon by some, there is always a cost to backlinks, regardless of whether you exchange money for them or not.
Conclusion
While building a website from scratch may seem like a cost-effective approach, it ultimately takes valuable resources that could have been invested elsewhere. Buying an existing site is the most efficient and profitable solution. You get to avoid the Google sandbox and see a website's profit and loss sheet, among other advantages. When purchasing an existing site, evaluate its profit potential and factor in the opportunity cost of building from scratch. This way, you will be well on your way to success in the affiliate marketing industry.