Tools & Tactics To Skyrocket Your YouTube Ranking 🚀 | Affiliate World Conferences05:48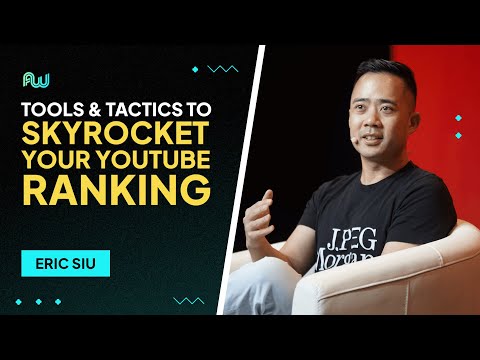 Affiliate World Conferences
Topics
YouTube performance strategies
repurposing content
keyword research and competitor analysis
Video summary
The video discusses strategies for improving YouTube performance. Repurposing content and publishing native videos for YouTube are recommended tactics. Additionally, using tools like TubeBuddy and VidIQ for keyword research and analyzing competitors can be useful. Advanced tactics include working with successful YouTubers and focusing on click-through rates and engagement. Updating content and offering free software as a product-led growth strategy are also suggested. Overall, the video emphasizes the importance of creativity and experimentation for success on YouTube.
Dig Deeper
Repurposing content for YouTube
Repurposing content can help in reaching a wider audience and increasing engagement on the platform. Native content that is specifically created for YouTube often performs better than repurposed content from other platforms. Using tools like TubeBuddy and VidIQ for keyword research can also help in optimizing content.
Importance of Click-through rates
Click-through rates (CTR) play a crucial role in determining the success of a video on YouTube. The headline and thumbnail are the two main factors that influence CTR. According to experienced YouTubers with millions of subscribers, if a video does not perform well in the first hour after publishing, it is advisable to change the title and thumbnail to increase engagement.
Value of Studio Production
Investing in a studio can make a significant difference in the success of a YouTube channel. Studio production helps in creating engaging content and can lead to better retention rates. Apart from investing in equipment and technology, it is also useful to hire people specifically to update content regularly.
Updating Content
Updating content goes a long way in keeping it fresh and relevant. Google's focus on information freshness means that if a piece of content has new insights or proprietary data, it has a better chance of ranking well. Brands like HubSpot understand the value of updating content and hire writers dedicated to the task.
Giving Products Away for Free
The future of SaaS is giving products away for free as part of product-led growth. Brands like HubSpot and UberSuggest built their reputation by giving away free software. This strategy not only brings in links but also builds word of mouth for the brand. The utility of the product is crucial in determining its success.
Impact on Affiliate Marketing
These strategies can impact the affiliate marketing industry by increasing the visibility of products and services. The focus on click-through rates and new insights means that content creators can collaborate with brands and create engaging content that increases conversions. By repurposing content, brands can also reach a wider audience and drive traffic to their websites.