How We Leverage Niche Domains to Lower CPCs & Increase Conversions on Google | Affiliate World Conferences05:44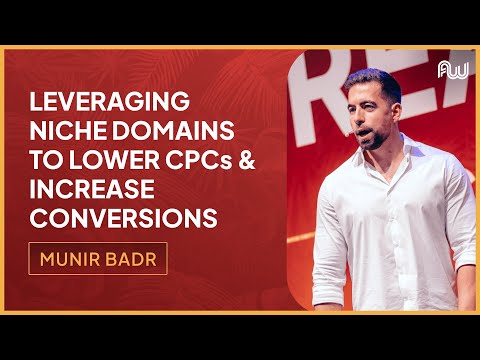 Affiliate World Conferences
Topics
Domain naming conventions
Trust in online transactions
Technical issues with domain extensions
Video summary
The video discusses a case study by it.com on using two domain names, example.com and example.it.com, and their performance on a Google AdWords campaign. The .com domain performed better initially, but the .it.com domain started performing better after the campaign was restarted. The reason for this was the use of a keyword-rich domain name that implied trustworthiness to the audience. The video also discusses the importance of trust in online transactions and how .com domains are perceived as more trustworthy. Additionally, the video mentions a technical fact about certain antivirus tools blocking websites with high-risk extensions such as .xyz.
Dig Deeper
Understanding the Impact of Keyword Rich Domain Names in Online Marketing
In a recent case study conducted by the team at it.com, two domain names were used, one with a .com extension and the other with an .it.com extension. The campaign was run on Google AdWords and it was observed that the .com ads got more impressions and converted better initially. However, over time, the .it.com domain started to perform better and converted better than before. This was attributed to the fact that the company had been using a keyword-rich domain name, which implied to their audience that it's IT-related and trusted. This created a sense of trust among the visitors, leading to better click-through rates and conversions.
Domain names with .com extensions are generally considered more trustworthy than other extensions. This is because they imply that the website is a legit service, and people trust .coms more and more, especially with the vast availability of new domain extensions. Therefore, if you are developing a new product or service, it is best to use a .com domain name to create a sense of trust and legitimacy among your audience.
The Technical Aspects of Domain Names
In addition to the marketing benefits of a keyword-rich domain name, there are also technical aspects to consider. For instance, some users activate antivirus tools on their computers, which block websites that are considered high risk. These tools may warn the user every time they visit a website with an extension known to host spam or phishing websites, such as .xyz. This creates a problem for website owners who use such extensions, as their website may be flagged as untrustworthy. This is why it is important to choose a domain extension that has a good reputation and is trusted by users.
Overall, the choice of domain name has a significant impact on online marketing, especially in terms of creating a sense of trust and legitimacy among the audience. Therefore, it is essential to choose a keyword-rich and trustworthy domain name when launching a new product or service.
The Impact on Affiliate Marketing Industry
While the impact of keyword-rich domain names is apparent for any online business, it is especially important in the affiliate marketing industry. Affiliates use domain names to promote products and services and earn a commission on each sale they generate. Therefore, choosing a good domain name is essential for increasing their click-through rates and conversions. A keyword-rich domain name not only creates a sense of trust but also implies that the affiliate is an expert in that particular niche, leading to more sales and commissions. Additionally, affiliate networks can benefit from offering their affiliates keyword-rich domain names, as it can increase their overall sales and revenue.
Explore more
Post Affiliate Pro provides robust tracking capabilities, allowing you to monitor the performance of your ad campaigns in real-time. By analyzing data such as clicks, conversions, and revenue, you can gain valuable insights into the effectiveness of your niche domains and make data-driven decisions to optimize your campaigns.
Manage your affiliate network efficiently. By partnering with affiliates who have expertise in your niche, you can tap into their specialized knowledge and leverage their traffic sources to drive targeted visitors to your niche domains, increasing the chances of conversions.
With Post Affiliate Pro, you can accurately track and attribute conversions to the specific niche domains that generated them. This data helps you understand the performance of each domain, allowing you to allocate your resources effectively and focus on the most profitable campaigns.