Facebook Ads Scaling: How to Scale Past $20k/Day Using Advanced Top of Funnel Campaign Structures | Affiliate World Conferences05:10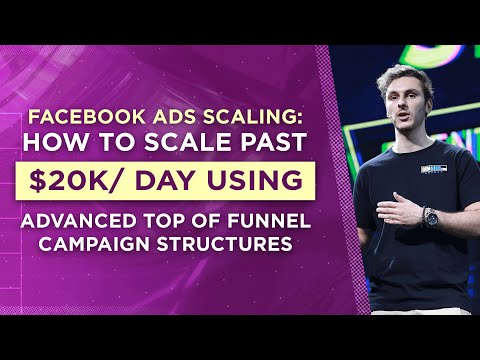 Affiliate World Conferences
Topics
top of funnel campaign stages
similar sized audiences
dynamic creatives
Video summary
The video talks about the four stages of a top of funnel campaign and how to set it up with similar sized audiences and dynamic creatives. The discussed topics include audience optimization, ad fatigue, narrowing down the best performers, and creating a mega CBO for scaling up the winning campaigns.
Dig Deeper
How to Set Up a Top of Funnel Campaign
A top of funnel campaign has four different stages. The first one is the initial testing phase, where two CBOs are set up. Within these CBOs, a mixture of lookalike audiences and interest-based audiences are included. It is important to keep audience sizes similar to make sure the algorithm can optimize and deliver the best results. On the ad level, dynamic creatives are used, which allows Facebook to create a bunch of different combinations and deliver them to the audience. Dynamic creatives help with ad fatigue and Facebook can deliver the best options based on data it has on users.
How to Narrow Down Your Campaign
The second stage of a top of funnel campaign is the narrowing stage. The five best winners are selected and put into ad sets. On the creative level, the top variations are chosen. This works well because all the tests are narrowed down into one campaign. In case of duds, new campaigns can be created to replace them.
How to Scale Your Campaign
In the final stage, a mega CBO is created with at least 10 ad sets. We found that putting 10 to 20 ad sets or more works well. The main difference is on the creative level. The post IDs of the high-performing dynamic creatives are used to build social proof. Facebook will identify which creatives are not performing as well and start delivering to the second and third performers.
Impact on Affiliate Marketing Industry
Top of funnel campaigns are crucial for affiliate marketing. It allows marketers to test their audiences and find the best variations. The use of dynamic creatives and the optimization of Facebook's algorithm will have a positive impact on the affiliate marketing industry. It will make campaigns more effective and less prone to ad fatigue.