The rise of voice search technology has undeniably transformed how users access information and engage with digital platforms. As more and more people turn to voice assistants like Amazon Alexa, Google Assistant, and Apple's Siri to search for information, make purchases, and manage their daily tasks, it is becoming increasingly important for businesses to adapt and optimize their online presence accordingly.
Voice search optimization goes beyond traditional SEO practices, requiring a deeper understanding of user behavior and the nuances of natural language processing. This means that businesses must not only focus on keywords and meta tags but also consider the conversational tone and context of voice queries to ensure their content remains relevant and easily discoverable.
The Numbers Behind Voice Search: Key Trends and Insights
According to Voice Search for Local Business Study, voice search is quickly becoming a usual deal among U.S. Internet searchers. Here are the findings:
46 percent of voice search users use this function to find a local business on a daily basis
58 percent of customers have used voice search to look for a local business information within the last year
27 percent of customers visit the website of a local business after conducting a voice search
53 percent of smart speaker users perform daily searches.
The same study also suggested that people use various devices to perform a voice search. For example, among the participants who used voice search function to find a local business in 2017-2018, 56 percent were smartphone users, 28 percent were desktop or laptop users, 26 percent were tablet users, and 18 percent were smart speaker users.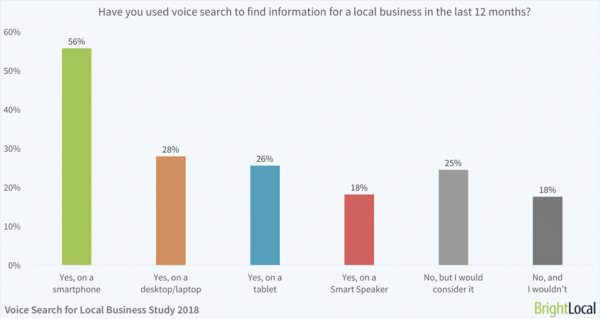 With the voice search rapidly developing and more consumers using it, technology is predicted to make even more impact in the next years. For example, Gartner's predictions are that 30 percent of web browsing sessions will be done without a screen on devices such as Google Home and Amazon Echo by 2020.
With the current share of voice searches in mobile queries being 20 percent and increasing, it makes a perfect sense to optimize your website to be friendly to this ever-popular technology and get higher in voice search results.
In this article, we'll cover five laws for everyone interested in an effective voice search optimization as well as tips and takeaways to help you meet the need of voice searchers.
1. Begin By Researching Keywords And Question Phrases
"Voice search and traditional search are different when it comes to keywords because the former uses more natural, conversational language," explains Brian Frye, a digital marketer at Proessaywriting. "Essentially, a voice search is a conversation with a device, so the keyword length also increases due to the nature of how people speak."
For example, when we type into Google search, we tend to be as short as possible. The reason is, we don't need to type a long query because the search engine will provide relevant results anyway. For example, we may type "coffee shop near me" into the search, but we'd say "Siri/Cortana/Alexa/OK Google, what are the best coffee shops near me?" because it's a more natural phrase to say.
That brings us to one of the most important factors in voice search optimization: long-tail keywords and question phrases.
They are longer and more specific than typical keywords and resemble natural, conversational language much better. See the following examples.
Traditional keyword phrase: "customer support software"
Long-tail keywords: "live chat customer support software for ecommerce websites," "best live customer support software for small ecommerce businesses."
Optimizing your content using long-tail keywords has many benefits. First and foremost, they are much more specific than generic "head" keywords, so they ensure that you won't have as much competition as you would have with generic keywords.
Second, they are more relevant compared to generic keywords. For example, the aforementioned "live chat customer support software for ecommerce websites" phrase is highly relevant to a specific niche – live chat tools for online businesses – therefore, they reflect the intent of the searcher more precisely.
Third, long-tail keywords may decrease the search volume on your site but increase the quality of visitors. For example, a person who found your website offering live chat for ecommerce businesses using a keyword phrase as specific as "live chat customer support software for ecommerce websites" is definitely interested in exploring this software than the one looking for "customer support software," which is a much broader term.
Finally, explore your options for including your long-tail keywords in question phrases that begin with When, Who, Where, Which, and What.
2. Have A Fast, Responsive Website
One of the most important voice search ranking factors is the speed of your website. It all started with Google: on July 9, 2018, the search giant announced that "the speed" update was rolling out for all users. For websites, it meant one thing: if they wanted to be featured in voice search results, they need to be fast and mobile-friendly (since a large share of voice searches is done on mobile devices).
Further studies confirmed that voice search results came from faster-loading pages. For example, a recent Backlinko study found that the average voice search result loaded in about 4.6 seconds, which was 52 percent faster than an average page in traditional search (8.8 percent).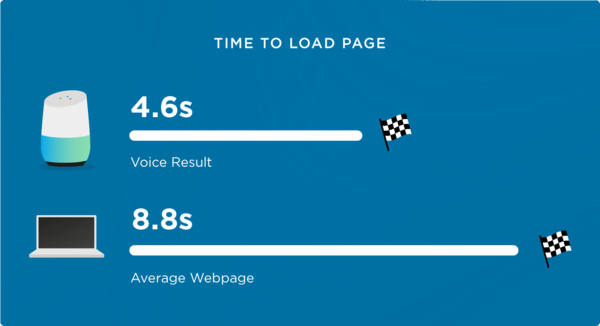 Well, since page speed is a critical factor, here are the steps you need to take to ensure that you have this one covered:
Test your website with Google's free PageSpeed Insights tool to see how well it performs on the Chrome UX report that also provides performance optimizations tips and suggestions.
Take Google's Mobile-Friendly test to see whether your web page is mobile-friendly.
Perform an audit of the quality of web pages using Lighthouse, an automated tool from Google that tests performance, accessibility, and other important factors related to ranking.
3. Optimize For Featured Snippets
The voice search revolution is gradually making Google an "answer engine" rather than "search engine" because the search engine strives to provide immediate answers to improve the experience of the users. The immediate answers come in the form of featured snippets, a box at the top of Google's search results page showing an answer to the searcher's question.
Here's an example of a featured snippet giving the answer to the query: "Who is the coach of New England Patriots?"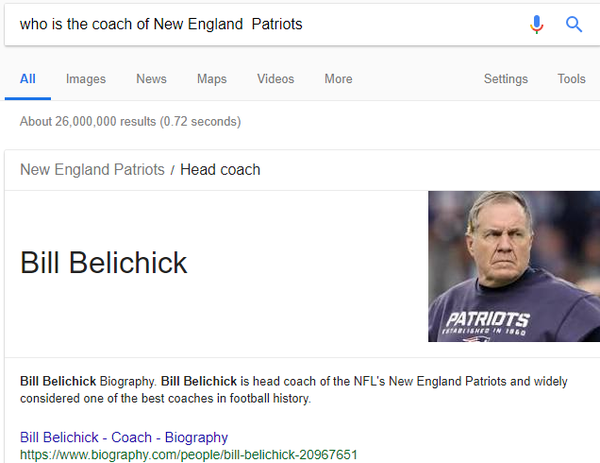 Being featured in snippets increases the exposure and visibility of your website and inspires the sense of authority and trust – after all, it was selected as a preferred source of information by Google!
To increase the chance of being the preferred source of information, you need to:
Focus your SEO on long-tail keywords and question-based searches because featured snippets often come from these searches. This means that your content needs to give people answers to common questions they have about your product/service, your location, business, or industry/niche.
Play down the direct promotion of your products and services. By producing reader-centered content, you'll have a higher chance of getting inbound links, therefore more prominent online presence and chance to be in a featured snippet.
Try using a tool like Answer the Public to determine what long-tail keyword phrases Google users are asking about your topic. For example, here's a question-based graph generated for keywords "voice search."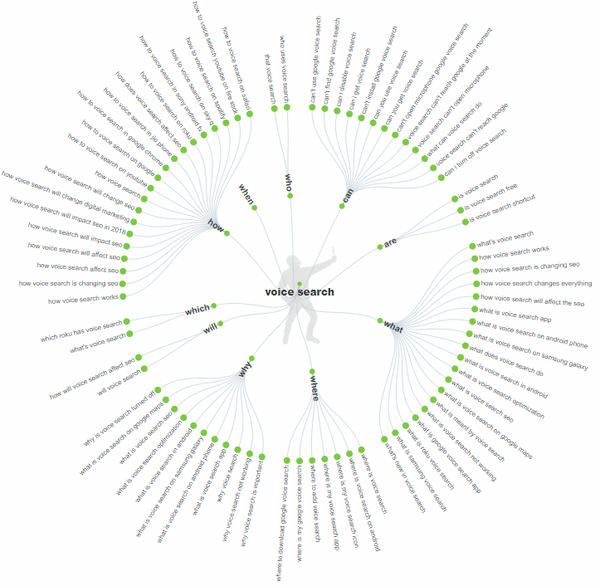 4. Write For Humans, Not Search Engines
If your content is difficult for people to read, Google will not rank it very high (it won't get to be in featured snippets, that's for sure). Here are the most important ways in which you can make your content voice-search friendly.
Focus on long-tail keywords and questions phrases. As you already know, voice searches use natural, conversational language, so write appropriately to increase the chance of getting ranked in voice search results (this means bye bye keyword stuffing and other classic SEO techniques!).
Anticipate questions asked in a conversational manner. People want clear and specific answers to their questions as soon as possible, so many online businesses satisfy this need by developing a detailed FAQ page or a blog containing high-quality content created around long-tail keywords and specific conversational questions. Your website should have the same.
Don't forget about traditional SEO practices. The fact that voice search has arrived doesn't mean that 100 percent of all searches are made with voice. If Google says that approximately 20 percent of searches are voice-based, then it means that traditional SEO practices apply to 80 percent of searches. That's a lot, right? So don't over-optimize the voice optimization.
5. Claim Your Google My Business Listing
Since 46 percent of voice search users prefer it to find local businesses, it's critical for you to claim your Google My Business Listing. The businesses that claimed the listing appear in the local 3-pack and on Google Maps like this: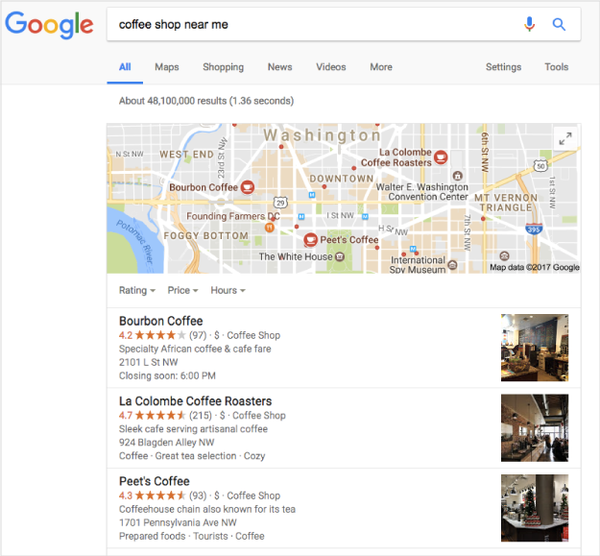 Having a listing is an easy way to help your potential customers find you and share the essential information about your business, such as:
Address
Business hours
Products/services
Price range
Website
Reviews.
If you still haven't claimed your listing, you won't be readily available for voice search, therefore, you're allowing your competition to get ahead of this growing trend. If more and more people use "near me" searches to find local businesses, this means that you need to be there for them.
Let's see how a Google user might search for your business.
The first way is to include the product/service and the desired location, e.g. "Sushi delivery in Atlanta." In this case, you'll have to optimize your website for local keywords in order to appear in Google's search results.
The second way is to ask Google for businesses "near me," e.g. "Sushi delivery near me." To deliver relevant results for queries like this, Google relies on the location of the user and turns toward Google my Business listings. Your business should be there waiting to get displayed.
To ensure that you have the best chance to be the preferred businesses, follow these tips:
Make sure that every detail about your business is accurate and relevant. This includes phone number, location, website, your name, area code, and other details.
Update your listing every time you change the details listed in the previous tip. Forgetting to update even one detail can result in your business being downgraded by Google.
Upload high quality, real images of your store. Many people want as much information as they can get before they make a final decision whether to contact a business. Since the majority of people are visual learners, they would appreciate if you had pictures of the interior & exterior of your store, products, and others.
Encourage your happy customers to leave positive reviews. Take a closer look at the image with coffee shop listings above. All the businesses that made the local 3-pack have 4+ rating. Having a good rating is important because it means that your business is popular. Since Google strives to provide the best customer experience for its users, it'll display the businesses that enjoy a high volume of traffic and lots of satisfied customers.
Conclusion
Although the future of voice search is far from predictable, it's clear that this trend is gaining considerable traction and is not likely to slow anytime soon. With more and more people using voice search function to look for businesses/content, the technology is changing the way we search.
That's why you should make voice search optimization an important part of your digital marketing strategy. It can bring you a lot of new customers, so doing it is a must for a modern online business. Don't forget to follow the laws described here to make sure that you're doing everything correctly. And remember: don't just optimize for Google. Tailor your content to the people who are using it to find you!