What is meta description?
Meta description is a short and straightforward text. It describes a web page's content. Meta description appears under the web page's URL, when users search for something in a search engine or when users share web pages on the Internet. It is also known as a snippet.
The Meta description is very important to a web page's SEO ranking. It can also impact visitors and persuade them to visit a web page. You should use the main keywords, descriptions have to have a right length and they have to be impressive. There are many practices for creating a great Meta description.
How To Write Perfect* Page Titles and Meta Descriptions for SEO | Exposure Ninja16:32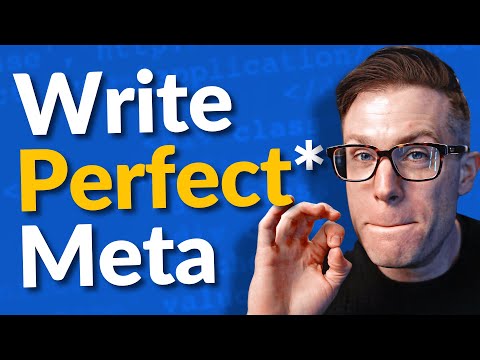 Exposure Ninja
Topics
optimizing page titles
meta descriptions
impact on SEO
Video summary
In this video, the speaker discusses the importance of optimizing page titles and meta descriptions for your website. They explain that page titles and meta descriptions are forms of metadata that impact SEO and can help increase click-through rates from search and improve organic search rankings. Compelling page titles and meta descriptions are more likely to attract clicks in search results. The speaker also mentions that page titles and meta descriptions can be seen by viewing the page source and using tools like the Yoast SEO plugin in WordPress. They provide tips for writing the perfect page title and meta description, including researching how Google displays them in search results, using target keywords in page titles, and understanding the intent of the search. Overall, this video emphasizes the importance of optimizing page titles and meta descriptions for SEO and attracting more traffic to your website.
Frequently Asked Questions
How long should a meta description be?

Google often displays different lengths of meta descriptions in the SERPs. So, your best bet is to keep your meta descriptions between 50-160 characters.

How can I create the right meta description?

Some tips to create an effective meta description include writing a unique and accurate description of the page content, using keyword-rich phrases, and making the description concise and clear.

What is a meta description?

A meta description is a brief description of a webpage that is displayed in the search results of a search engine.