Writing Hacks Revealed: Write & Publish Niche Site Content Faster | The Affiliate School02:40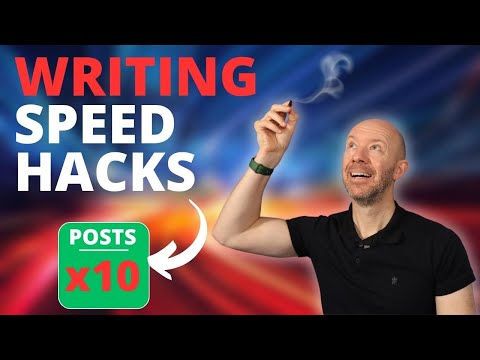 The Affiliate School
Topics
Speed hacks for writing and editing
Auto capitalization
Keyboard shortcuts
Chrome extension - Blaze
Reusable blocks
Hiring writers
Video summary
The video discusses various speed hacks that can be used to improve the writing and editing processes. It mentions auto capitalization, keyboard shortcuts, a Chrome extension called Blaze, reusable blocks, and hiring writers as the top speed hacks. These hacks can be used on platforms like Guttenberg, generate press, email, and WordPress. The video suggests using auto capitalization to automatically capitalize titles. It also recommends using keyboard shortcuts such as double hashtag and space for H2 headings and triple hashtag and space for H3 headings. The Chrome extension Blaze allows users to create text snippets that can be used anywhere online. Reusable blocks are highlighted as a time-saving tool for creating buttons, product boxes, and templates. Lastly, hiring niche-specific writers is emphasized as a way to improve workflows. The video concludes by urging viewers to watch another video on how to hire writers.
Dig Deeper
Speed Hacks for Writing and Editing
In today's digital age, writing without the aid of AI feels prehistoric. However, if you find yourself still manually writing, editing, and publishing content, I have some speed hacks that can help you streamline your processes. These hacks can be used in various online applications, such as email and affiliate marketing, and can significantly impact your efficiency.
Auto Capitalization
One useful speed hack is auto capitalization. By enabling this feature, your titles will be automatically capitalized. You can set this up in the customizer or adjust your typography settings to ensure consistent capitalization. This eliminates the frustration of writers neglecting to capitalize headings and saves you time in editing.
Keyboard Shortcuts
Utilizing keyboard shortcuts can greatly speed up your writing process. After years of using WordPress, I finally discovered these time-saving shortcuts. Some of my favorites include using double hashtags and a space to create H2 headings, triple hashtags and a space for H3 headings, and so on. No more scrolling, selecting, and clicking! You can also use shortcuts like "start" for an unordered list and "number one" to start an ordered list.
Blaze Chrome Extension
If you're looking for even more efficiency, consider using the Blaze Chrome extension. This extension allows you to create snippets of frequently used text, which you can then use anywhere online, including Chrome emails, Google Docs, and WordPress. By creating your own shortcuts, you can quickly and easily apply these text snippets, saving you time and effort.
Reusable Blocks
Another helpful speed hack is the use of reusable blocks. These blocks can be used to create buttons, product boxes, templates, and more. They serve as pre-designed content that can be easily inserted whenever needed. This can be a huge time-saver when creating content, especially when you can convert them to non-reusable blocks before publishing your article.
Hiring Writers
While not a direct speed hack within the writing process, hiring skilled writers can significantly improve your overall workflow. By outsourcing content creation, you can focus on other essential tasks and ensure high-quality content. If you want to learn more about hiring niche-specific writers and hiring right the first time, I encourage you to watch the accompanying video for detailed instructions.
By implementing these speed hacks and considering the impact they can have on the affiliate marketing industry, you can level up your writing and editing processes. Embracing technology and utilizing these tools can save you valuable time and allow for a smoother workflow. Give these hacks a try and experience the benefits for yourself!