Top 10 Niches For Affiliate Marketing In 2023 For High Profit✨ | What The Affiliate Marketing05:20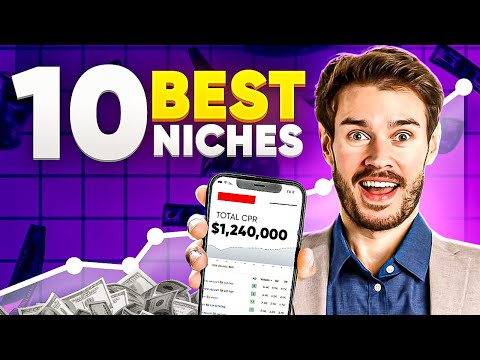 What The Affiliate Marketing
Topics
Affiliate Marketing Niches
High Returns
Solar Energy
Video summary
The video discusses 10 niches for affiliate marketing that can provide high returns. These niches include LED lighting, pet products, travel cruises, gardening, golf, home security, wearable technologies, eco-friendly products, web hosting, and solar energy. Each niche is described in detail, highlighting the potential for affiliates to earn commissions by promoting these products. The solar energy niche is identified as particularly lucrative, with the potential to generate high margins and contribute positively to the environment.
Dig Deeper
Introduction
If you're looking to start an affiliate marketing business, finding the right niche can be a daunting task with so many different options out there. But don't worry, we've got you covered! In this blog post, we'll be discussing the ten best niches for affiliate marketing with the highest returns per sale in 2023.
Led Lighting
Led affiliate marketing involves promoting LED lighting solutions for both commercial and residential customers. Affiliates can earn commission from these sales by highlighting their advantages such as energy efficiency, long lasting illumination, and lower maintenance costs. LED lighting is one of the fastest growing segments in the market today, so this is an excellent niche to target if you want to generate leads and make some money.
Pets
Pet affiliate marketing involves promoting products for pets such as pet foods, toys, and other items. This niche can be a great way to make money while contributing to the happiness of furry friends around the world. Affiliates can use their expertise in promoting pet products to earn a commission from sales. The pet niche is growing rapidly and presents a huge opportunity for affiliates to tap into this market and make an income.
Travel Cruises
Promoting cruise companies is a great way for affiliates to make money. They can earn commissions from ticket and package sales, as well as other services like food, beverages, and entertainment. Affiliates have the potential to maximize their earnings by choosing a specific destination or type of cruise. With website blogs and social media posts, travel cruise affiliate marketing is an excellent source of income.
Gardening
With the right strategy, gardening affiliate marketing can be an extremely rewarding venture. By promoting products such as plant cultivation tools, fertilizers, and garden furniture, affiliates can earn some solid commissions through those sales. Everyone loves being in the outdoors, so gardening is a huge market and one that presents ample opportunity for affiliates.
Golf
Golf is an excellent choice for affiliates looking to capitalize on a lucrative niche market. Millions of people around the world take part in this sport, and the golf industry is currently valued at over 84 billion dollars. This means there are many opportunities for affiliates to promote golf-related products and services such as equipment, apparel, training programs, and more. Additionally, the recent surge in popularity is due to the fact that it can be done outdoors, making it perfect for today's climate.
Home Security
Home security affiliate marketing involves promoting items such as surveillance cameras, alarm systems, and other security devices. This niche has a huge potential for affiliates looking to promote products that help customers protect their homes and family while also earning an excellent commission from sales. The home security niche is an ever-growing industry with great potential for those who want to earn a steady income through affiliate marketing.
Wearable Technologies
Wearable technology affiliate marketing involves promoting products such as smart watches, fitness trackers, and other wearables. While it is a tough market to get into, affiliates can highlight the benefits of these products such as convenience and style while promoting them to potential customers. The wearable technology market is constantly changing, so affiliates need to stay up to date on new releases in order to effectively promote these products and maximize potential earnings.
Eco-Friendly Products
Eco-friendly product affiliate marketing involves promoting items that are environmentally friendly and sustainable. Affiliates can educate potential customers on the benefit of switching to eco-friendly products while also making a fantastic commission from the sales. The eco-friendly niche is a growing industry with huge potential for affiliates looking to make an extra buck while helping the planet.
Web Hosting
Web hosting affiliate marketing involves promoting web hosting services to generate commissions. Affiliates can use website blogs, social media posts, and more to promote their chosen web hosting provider. These web host providers offer a solid commission and some of the highest in the affiliate game. Through this form of affiliate marketing, affiliates have the potential to earn a steady income by referring customers to the web hosting service.
Solar Energy
Solar energy affiliate marketing involves promoting solar products such as solar panels, batteries, and other related items. Affiliates have the opportunity to educate potential customers about the benefits of switching to renewable energy sources, helping them save money on their energy bills while also contributing positively to a greener planet. The solar niche is a growing industry with great potential and high margins.
Conclusion
Choosing the right niche can make all the difference when it comes to affiliate marketing. By promoting products in these top ten niches, you'll be sure to have a competitive edge in this ever-changing industry. So what are you waiting for? Start promoting these niches today and watch your earnings soar!