Threads by Instagram GROWTH HACKS! BEST Strategies to Use to Build your Business Brand and Followers | Kyle Sonlin05:47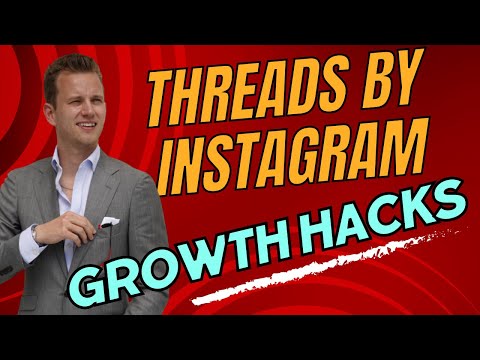 Kyle Sonlin
Topics
Building personal brand on Instagram Threads
Consistency in content creation
Engaging with creators in your niche
Engaging with followers and other people's followers
Trying different content styles
Following what works
Video summary
The video discusses five tips for building your personal brand and taking advantage of the new Instagram Threads platform. The first tip emphasizes the importance of consistency in the content you create. The second tip recommends finding creators in your niche and engaging with them to collaborate and cross-promote. The third tip highlights the need to engage with your followers and other people's followers, building a magnet for engagement on your profile. The fourth tip suggests trying different content styles to capture the algorithm's attention. The last tip emphasizes the importance of following what works and doubling down on successful strategies to continue building your brand.
Dig Deeper
Building Your Personal Brand on Instagram Threads

Instagram Threads, the new Twitter platform built by Facebook's suite of services, has just launched. If you want to take advantage of this new platform and build your personal brand, here are five tips you need to know.

1. Be Consistent

With Instagram Threads, there's no curated page. It's a home page that shows everyone's posts, algorithmically recommended. To stand out, you need to post consistently. This not only trains the algorithm, but it helps you find your own voice and understand your place in the ecosystem. Posting a couple of times won't help you build the brand you desire. You need to consistently post to stand out from the competition.

2. Connect with Creators in Your Niche

Since there are no hashtags or private lists on Threads, building connections with creators in your niche becomes crucial. Reach out to others in your industry, engage with their content, collaborate, and cross-promote. By driving engagement to your profile, the algorithm will recognize your brand as a magnet for engagement.

3. Engage with Your Followers and Others

Engagement is key on Threads. Interact with your followers by immediately responding to their comments and engaging with their posts. Additionally, engage with other people's followers by liking and commenting on their content. The algorithm considers the number of people visiting your profile and the amount of engagement you receive, so make sure you're actively engaging with others.

4. Try New Content Styles

Different types of content styles have different impacts on the platform. Experiment with high-volume posts, long-form posts, short posts with multiple inside posts, quote posts, images, videos, and posting at different times of the day. Explore various content styles to determine what resonates with your audience and captures the algorithm's attention.

5. Follow What Works

Take note of the strategies that receive positive responses and feedback, especially from people who don't follow you. This indicates that the algorithm is showing your content to new audiences. Double down on those strategies, increase your posting frequency, and continue hitting those content styles consistently. Consistency and relatability are key to building your brand.

The Impact on the Affiliate Marketing Industry

While not specifically discussed in the video, the tips mentioned above can have a significant impact on the affiliate marketing industry. By building a strong personal brand on Instagram Threads, affiliates can attract more followers, engage with their audience, and increase conversions. The algorithm's recognition of their consistent posting, engagement levels, and content styles can lead to more visibility and success in the affiliate marketing space.


In summary, building your personal brand on Instagram Threads requires consistency, connecting with creators in your niche, engaging with followers and others, trying new content styles, and following what works. These strategies not only help you succeed on Threads but can also be applied to other platforms in the future. Start implementing these tips and watch your personal brand flourish.