How to use AI for Affiliate Marketing | Tutorials Modern02:09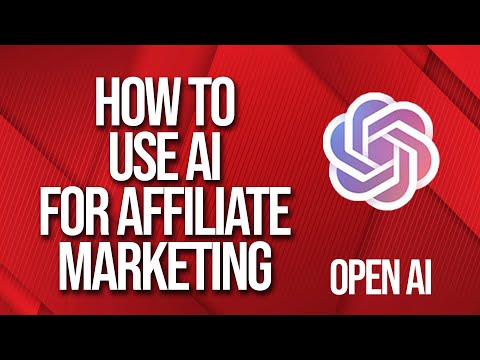 Tutorials Modern
Topics
Using AI for affiliate marketing
Steps to get started with affiliate marketing
Definition of affiliate marketing
Video summary
In this video, the speaker demonstrates how to use AI for affiliate marketing. He asks the viewers to open the OpenAI website and create an account to get started with affiliate marketing. The speaker then explains what affiliate marketing is, and gives a few steps to get started with it. He suggests searching for different affiliate programs, looking for products or businesses you're interested in promoting, and researching their affiliate programs. The AI bot on the website can answer any queries related to affiliate marketing. Overall, the video provides a beginner's guide to using AI for affiliate marketing.
Dig Deeper
Introduction
AI has become one of the most revolutionary technologies in recent times, and its impact on various industries is massive, including marketing. In this video tutorial, we will learn how AI can be utilized in affiliate marketing.
Affiliate Marketing
Affiliate marketing is a type of marketing where an individual or company earns a commission by promoting someone else's product or service. It can be done through various channels such as social media, blogs, or websites. Affiliate marketing can be very lucrative if done correctly.
Using AI in Affiliate Marketing
The use of AI in affiliate marketing can improve the overall experience for both affiliates and consumers. AI can help affiliates find the right products to promote by analyzing data about the products and the target audience. It can also provide personalized recommendations to consumers based on their browsing behavior and purchase history. This can lead to more conversions and higher commissions for affiliates.
The AI-powered chatbots can assist affiliates and customers in real-time, and this helps to reduce the response time. This feature can provide excellent customer support, and affiliates can provide quick answers to potential customers before they decide to purchase the product. This service can help to build trust between the affiliate and the customer.
Impact on Affiliate Marketing Industry
The use of AI in affiliate marketing can fundamentally change the industry. It can facilitate better decision-making, optimize promotional campaigns, and improve customer experiences. This results in increased sales and better customer retention. As a result, AI-powered affiliate marketing is the future of the industry, and those who fail to implement it might lag behind in the race.
In conclusion, the use of AI in affiliate marketing can generate significant benefits to both affiliates and consumers. The technology improves the overall experience, provides personalized recommendations to clients, and assists with real-time customer support. It is clear that AI-powered affiliate marketing is the future, and marketers should embrace this technology to drive more sales and leads.