How to Overcome CRO Challenges | Affiliate World Conferences05:47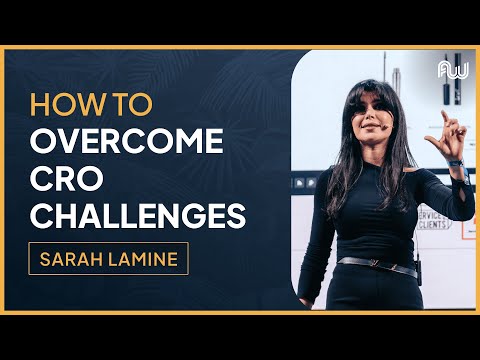 Affiliate World Conferences
Topics
Importance of Clarity in Conversion Rates
Common Mistakes in Online Marketing
Improving the Site Layout and Descriptions
Video summary
The video discusses the importance of clarity in improving conversion rates. The speaker talks about how they struggled to increase conversion rates with a client who was running with 80% of clients from Europe and North America where the market is more mature. They made some rookie mistakes and assumed people would know how to order online and that the brand sells online. They started collecting qualitative data through surveys and exit surveys to understand why people weren't buying from them. They found out that it was a clarity problem, and they overcame it by creating videos on how to order, FAQs, and blog posts showing how to order from their website. They also improved several parts of the site like the home and product pages, highlighted call-to-action buttons, and simplified the product descriptions through bullet points. They ran experiments to improve every micro-conversion through the funnel and repeated the whole process over and over again for each section and each part of the site and each source of traffic. They kept the winning test and redid the whole process. They improved many parts by highlighting unique selling points and making it easier for people to buy from the website.
Dig Deeper
Importance of Clarity in Conversion Rates
In marketing, clarity is more important than persuasion. It is vital to understand what your clients really want and need. Clarity will help to overcome issues and challenges in increasing conversion rates. The transformation process starts with data collection and analysis. Surveys, exit surveys, heat maps, recordings, and qualitative data will provide a comprehensive understanding of the issues that are hindering conversions.
Solving Clarity Challenges in Affiliate Marketing
Affiliate marketing, like any other industry, has its own set of challenges, such as trying to increase conversion rates. One of the problems many companies experience is that they are running with 80% of clients from Europe and North America, where the market is more mature. In contrast, their home market may have a less mature market and might require different strategies to address the unique challenges. Rookie mistakes include assuming that people know that the brand sells online or assumes that people know how to order online. Incorrect assumptions can prevent conversions and lose potential customers. Therefore, Clarity is crucial to identify and address these potential issues.
Impacts on Affiliate Marketing Industry
The impact on affiliate marketing may extend to the industry, affecting various aspects of marketing like ads, headlines, images, descriptions, call-to-action buttons, pages, pricing, shipping, and landing pages. However, overcoming these challenges can lead to several benefits, such as increased micro-conversions and higher sales volumes. Using Clarity in conversion rate optimization (CRO) will not only increase conversions but also generate more traffic and boost revenue. The success of CRO lies in optimizing each section of the site, including traffic sources, and continuously testing to achieve the best results.