How Many Affiliate Products Should I Promote? | Amazon Affiliate Marketing for Beginners | Agora - Amazon Affiliates App00:58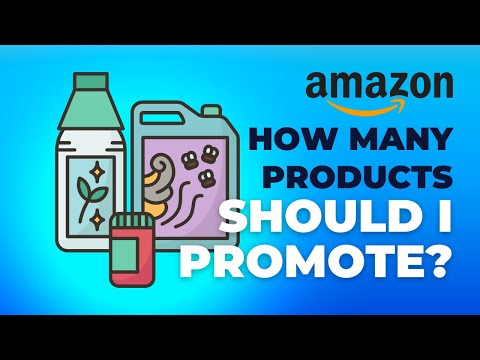 Agora - Amazon Affiliates App
Topics
Importance of product knowledge
Starting with one product
Understanding the product and audience
Video summary
In this video, the speaker emphasizes the importance of being knowledgeable about the products you're recommending as an affiliate marketer. They recommend starting with one product and devoting enough time and energy to understand it well. They also mention the need to spend weeks understanding not only the product itself but also how it's a good fit for your audience. The speaker mentions that they will cover more on this topic in the next video.
Dig Deeper
How many products should you be promoting?
In the video, it is recommended to start with just one product. This is because it is important to be knowledgeable about the products you are recommending as an affiliate marketer. By focusing on one product at a time, you can devote the appropriate amount of time and energy to get to know it well. This is crucial for your success as an affiliate marketer.
As you become more experienced and comfortable with promoting one product, you can then turn your attention to the next product, and so on. However, it is important not to rush the process and move on to another product too quickly. Spending weeks understanding the product itself and how it fits well with your target audience is essential. You should also come up with a plan on how to effectively communicate to your audience that this product is something they will genuinely benefit from.
Overall, starting with one product and gradually expanding to promote more as you gain experience is a strategic approach for success in affiliate marketing.
Types of products to promote
In the next video, the instructor will discuss the types of products you should be promoting. This information will provide further guidance on selecting products that align with your audience's needs and interests. Stay tuned!
Impact on the affiliate marketing industry
The approach of promoting one product at a time and investing time and effort to truly understand it has a positive impact on the affiliate marketing industry. It ensures that affiliate marketers are knowledgeable and credible when recommending products to their audience.
By being focused and thorough in their product promotions, affiliate marketers can build trust with their audience and establish themselves as a reliable source of recommendations. This, in turn, enhances the reputation of the affiliate marketing industry as a whole.
Furthermore, taking the time to understand a product and its benefits for the target audience allows for more personalized and effective marketing strategies. This leads to higher conversion rates and happier customers, benefiting both the affiliate marketer and the businesses they promote.
In conclusion, the impact of promoting one product at a time in affiliate marketing is significant. It ensures credibility, builds trust, and drives success for both affiliate marketers and the overall industry.