Compliant Copywriting Tips to Make Your Products Irresistible | Affiliate World Conferences02:06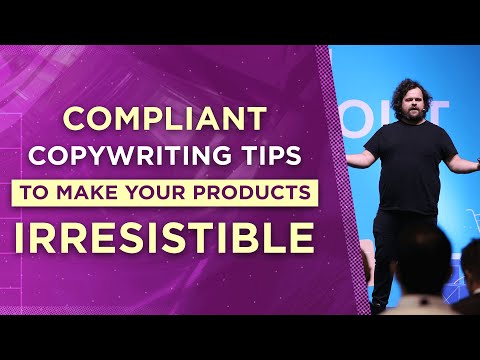 Affiliate World Conferences
Topics
educating customers on ingredients and production process
backing up claims on ingredients
highlighting unique ingredients and production processes
Video summary
The video talks about how educating customers about the ingredients and production process of a product can add value and make it seem more expensive. The speaker emphasizes backing up claims on the ingredients rather than the product itself, and discusses the importance of highlighting difficult-to-harvest ingredients and their unique production processes. By educating customers on these aspects, the product becomes more appealing and valuable.
Dig Deeper
Adding Value with Ingredient Education
As a marketing specialist, one key strategy for increasing the perceived value of a product is to educate consumers about the ingredients. This can be done by providing information about where the ingredients come from, how they are harvested and processed, and how they benefit the consumer. By doing so, consumers are more likely to see the product as unique, high-quality, and therefore worth the investment.
Backing Up Ingredient Claims
When marketing a product based on its ingredients, it's important to back up any claims made about their benefits. This means citing credible sources and scientific studies that support the properties of the ingredients. However, it's important to note that it's the claims about the ingredients that should be backed up, not the product as a whole. Unless a significant investment has been made into research and development of the product itself, it's the ingredients that should be the focus of the marketing campaign.
The Impact on Affiliate Marketing
When it comes to affiliate marketing, the strategy of educating consumers about ingredients is no different. In fact, it can be even more effective in this setting, as affiliate marketers are often promoting niche products that can benefit greatly from specialization. By becoming an expert on the ingredients in the products they are promoting, affiliate marketers can add significant value to their offers, making them stand out in a crowded marketplace.
By highlighting unique ingredients and the benefits they offer, affiliate marketers can increase the perceived value of the product and make it more appealing to their target audience. This can lead to increased click-through rates, higher conversion rates, and ultimately, more revenue for the affiliate marketer.
Elevate Your Products' Appeal with Compliant Copywriting Mastery
In the world of affiliate marketing, crafting persuasive and compliant copy is essential to attract and engage your target audience. While the goal is to make your affiliate marketing campaigns irresistible, it's equally important to ensure that your promotional content follows legal and ethical guidelines.
Transparency is key in affiliate marketing. Always disclose your affiliate relationship prominently and clearly. Inform your audience that you may earn a commission from purchases made through your links or promotions. Honesty not only helps you comply with legal requirements but also builds trust with your audience, increasing the likelihood of conversions.