Best Free Affiliate Product Comparison Table - AAWP Alternative | The Affiliate School05:38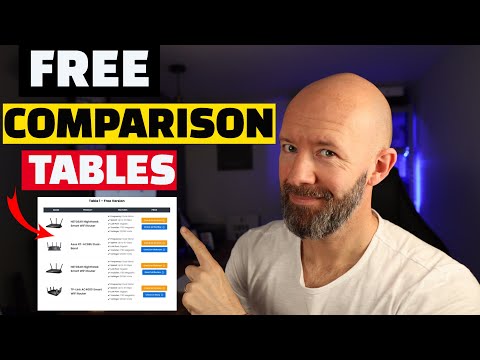 The Affiliate School
Topics
importance of tables on affiliate websites
introduction to Affiliate Table software
features and benefits of Affiliate Table
Video summary
This video discusses the importance of tables on affiliate websites for conversion and sales. The speaker introduces a free software called Affiliate Table that can create tables easily and effectively. The software can dynamically pull product information from Amazon listings and display images in compliance with Amazon's terms of service. It can also be used with other affiliate programs. The video demonstrates how to create a table using Affiliate Table and emphasizes its simplicity and functionality. The speaker recommends using tables on affiliate websites for increased conversion rates and offers assistance in creating tables.
Dig Deeper
Why Tables are Crucial for Affiliate Websites
In the world of affiliate marketing, tables play a crucial role in increasing conversions and adding value to websites. Adding a table to a buyer's guide or a comparison piece can generate sales and make your site more user-friendly. However, creating and setting up tables can be a complex and time-consuming process, and they may not look great on mobile devices.
The Challenge of Creating Affiliate Tables
One of the most well-known plugins for creating affiliate tables is AAWP, especially if you want to link it to Amazon Associates. However, it can be cumbersome to use, and the process of setting it up can be off-putting. This is where Affiliate Table comes in as a solution.
Introducing Affiliate Table
Affiliate Table is a web-based software that offers a free version along with premium features. It uses a drag and drop interface, making it easy to use. You can simply copy a piece of code and paste it into your website where you want the table to appear. The software dynamically pulls product information from listings on Amazon, including images that are compliant with Amazon Associates' terms of service.
Compatibility and Versatility
Affiliate Table is not limited to Amazon Associates; it can be used with other affiliate programs as well. Unlike most table plugins, Affiliate Table is not limited to WordPress—it can be used with any CMS platform. Whether you are using WordPress or another platform, you can create great looking tables on your website.
Creating Tables with Affiliate Table
Creating tables with Affiliate Table is simple and straightforward. First, you need to connect your website to the software using Amazon and code that needs to be placed in the website's header. Then, you can start adding your products by importing all the necessary information, including images and links. You can customize the styling of the table, choose different formats, and optimize the links for conversions. Once you are satisfied, you just need to copy the HTML code and paste it into your page or post.
The Benefits of Using Affiliate Table
Affiliate Table eliminates the headaches associated with creating tables and provides all the benefits. It offers a free version that provides enough functionality to enhance your website's conversion rate. While the premium version offers additional features, the free version is more than sufficient for most users. By implementing tables on your website using Affiliate Table, you can expect to see an increase in conversions.
If you need assistance or have any questions about creating tables with Affiliate Table, feel free to leave a comment, and I'll be happy to help. If you found this post useful, be sure to check out a related video that showcases four plugins, including Affiliate Table, that can supercharge your affiliate website.