Affiliate Marketing: How to Win in an Uncertain Economy | AW Dubai 2023 | Affiliate World Conferences06:10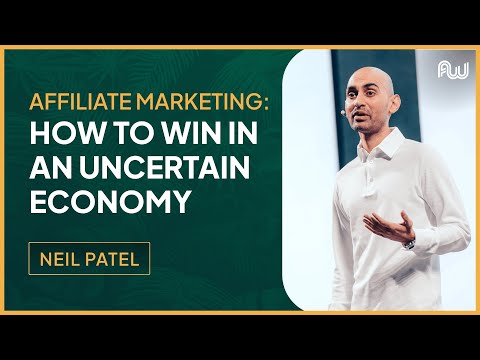 Affiliate World Conferences
Topics
Affiliate marketing in response to economic uncertainty
Consumer behavior becoming more price sensitive
Tactics to overcome price sensitivity: going live, partnering with influencers, gamifying shopping experience
Importance of providing essential goods and services and offering exclusive discounts to increase customer loyalty and generate sales and revenue in tough economy
Video summary
The video discusses how affiliate marketing is changing in response to economic uncertainty and how consumer behavior is evolving to become more price sensitive. To overcome this, the video suggests tactics such as going live on social media to promote exclusive discounts and emphasizing the value of the product, partnering with influencers to reach their audience and gamifying the shopping experience. The video also emphasizes the importance of providing essential goods and services and offering exclusive discounts to increase customer loyalty and generate more sales and revenue in a tough economy.
Dig Deeper
How Affiliate Marketing is Changing in This Economy
In this economy, consumers are becoming more price sensitive, and these consumers are often affiliates as well. This sensitivity can lead to a drop in affiliate income. One strategy to overcome this is through going live on social media platforms and promoting exclusive discounts. Another strategy is to work with influencers on an annual basis and pay them to go live to promote products or services. Additionally, gamifying the shopping and buying experience can increase customer engagement and loyalty, resulting in more repeat customers and increased revenue.
Impact on Affiliate Marketing Industry
According to McKinsey, 60% of consumers are making changes to their spending habits in response to economic uncertainty. Affiliates and companies need to adapt by focusing on providing necessities, gamifying the experience, and offering exclusive discounts. Additionally, a study by PWC found that 58% of consumers are spending less on non-essential items during bad economies, and 66% of customers are delaying big-ticket purchases.
However, by implementing the strategies mentioned above, affiliates and companies can still generate sales and revenue. For example, shoppable live streams can increase conversion rates by roughly 20%, and providing essential goods and services during times of uncertainty can increase customer loyalty by 10%. By focusing on these strategies and adapting to the changing economy, the affiliate marketing industry can continue to thrive.