6 Steps to 5-Star App Reviews That Will Get You Over $1M in Ecommerce Revenue | Affiliate World Conferences02:12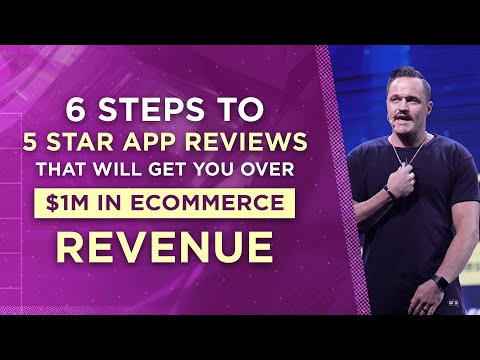 Affiliate World Conferences
Topics
Importance of 5-star reviews
How to get reviews from loyal customers
Incentivizing customers to leave a review
Video summary
In this video, the speaker emphasizes the importance of having 5-star reviews on your app rather than thousands of reviews and explains how they were able to achieve this. They sent an email to their top 1,000 customers who are loyal to their brand and asked for their feedback on their new app. They incentivized customers who left a review with a 50% off code. As a result, they received 162 5-star reviews from their biggest fans. The speaker also mentions the benefit of having positive reviews in the app store for potential customers who are browsing.
Dig Deeper
How to Get 5-Star Reviews for Your App
In today's world, having an app that stands out can be quite challenging. Having excellent reviews can make a huge difference in the overall success of your app. So, is it necessary to have thousands of reviews to achieve success? The answer is no.
Based on the experiences of many successful app developers, having five-star reviews is the key. When users go to the app store to look up an app, the number of reviews is not the only thing they consider; reviews' quality plays a significant role in their decision-making.
So, How do you get five-star reviews? According to our marketing specialist, it all starts with identifying your loyal customers. These are the individuals who have a passion for your brand and will go above and beyond to support you. Segmenting your email list and selecting your top 1000 customers is the first step.
Next, craft an email that congratulates them for being top fans of your brand and explain that you are launching an app and would appreciate their feedback. Make it clear that you value their opinions, and you want to know what they would improve and what they love about the app. At this point, you create a call to action that encourages them to write a five-star review and in return, offer them a 50% discount code.
This tactic led to 162 five-star reviews in just one day, and later, with a push notification, 200 additional five-star reviews. These reviews help potential customers trust and believe in your brand.
If you are in the affiliate marketing industry, you know how much reviews can affect purchasing behavior. According to a study by Podium, 93% of customers said online reviews impacted their buying decisions. Hence, it is essential to explore new ways to increase five-star ratings.
In conclusion, having a unique app idea is not enough to guarantee success. However, having five-star reviews can help your app stand out, build trust and credibility with customers. It is worth noting that it is not necessary to have thousands of reviews to achieve this. All you need is a loyal customer base and an exceptional marketing strategy.