$50,000 In Profit In 4 Hours: The Ultimate Content Marketing Strategy | Affiliate World Conferences02:05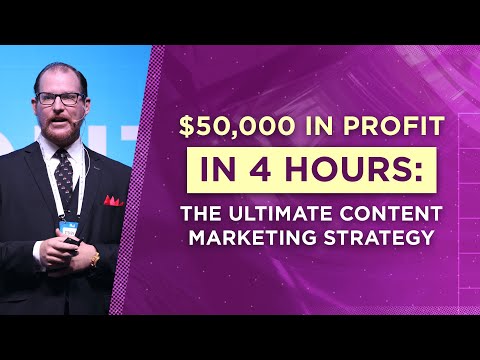 Affiliate World Conferences
Topics
Building relationships with audience
Consistently providing valuable content
Importance of connecting with audience and shaping their opinions
Video summary
The video discusses the importance of building relationships and trust with an audience through consistently providing valuable content. The speaker shares a case study of how he built a group of 10,000 people and generated $50,000 in profit in four hours by continually engaging them with content. He emphasizes that marketers should focus on connecting with their audience and shaping their opinions rather than just pushing offers. The key to success is to make people passionate about your product or service, and to keep them coming back for more.
Dig Deeper
The Power of Content in Marketing
In this video, the importance of feeding content to audiences is highlighted as a means of building trust and shaping opinions. By providing valuable information and helping individuals further their passions, marketers can create a loyal following that will reciprocate offers and make repeat purchases.
The Impact on Affiliate Marketing
This methodology has a significant impact on affiliate marketing as well. By providing high-quality content to their audience, affiliate marketers can establish themselves as trusted sources of information and build relationships that go beyond simply promoting products. This creates a landing pad for future offers and opens up opportunities for additional revenue streams.
The key takeaway from this video is that successful marketing goes beyond simply offering a better product or service. It's about building relationships through the consistent delivery of valuable content that feeds our audiences' passions and needs, establishing trust and loyalty, and paving the way for long-term success.
In essence, good marketing is about teaching your audience to love your brand and developing that love into a long-lasting relationship that benefits both parties.