What is a private campaign?
The private campaign feature allows you to prepare special campaigns for a selected number of affiliates, and hide those campaigns from the majority of your affiliates.
By default all marketing campaigns in Post Affiliate Pro are public for all affiliates to promote. Meaning that all your affiliates have access to promote any or all of your campaigns.
Private campaigns allow you to select affiliates for your campaigns in 3 specific ways:
Public campaign
Public with manual approval
Private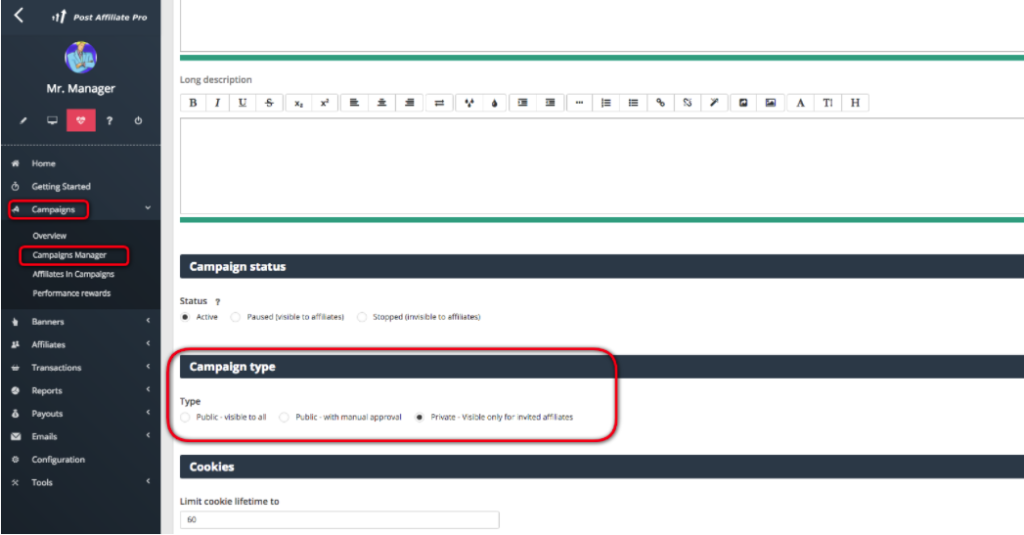 Public Campaigns
These are campaigns that are visible to all affiliates partners. Your affiliates can view these campaigns on their page and can use them at their leisure. Affiliates can promote these campaigns as long as your campaign is valid. The campaigns can also be replicated by the site replication feature in order to customize them for each affiliate partner.

Public campaigns that require manual approval
This type of campaign is visible to all affiliates partners, however, they have to be approved by you, the merchant, before they can promote or use banners from that campaign. This can be useful if you would like to control which affiliates promote certain products. You can view information specific metrics about each campaign and affiliate performance within Post Affiliate Pro to determine which affiliates are suitable for your campaigns.

Private Campaigns
Private affiliate campaigns are only for affiliate partners which have been invited by the merchant can participate in promoting this campaign. This feature is most useful in the instance that you have a specific target market to which you want to promote. Or in the case where you know from analyzing affiliate performance that certain affiliate partners perform better than others with certain target groups. You can use this data to optimize your marketing strategy to get higher conversion rates, get more views on your landing page, or generate more revenue.

Frequently

asked questions
What are campaigns in affiliate marketing?
An affiliate marketing campaign is typically a set of processes and activities performed by affiliates which lead customers to landing pages and generate more sales.
How can I manage affiliate marketing campaigns?
Post Affiliate Pro provides a robust affiliate management software that allows you to track leads, control commissions, issue payouts, set up campaigns, create banners, and more.
Why should I use private campaigns?
Private campaigns can be best used in situations where you need to target a certain audience or your would like to use your best performing affiliate partners to promote your product.