What are action commissions?
The Action Commissions feature allows you to define actions that determine when commissions will be paid, such as "per action," "per click," and various other "per" scenarios.
Most affiliate software limits you to only being able to track sales or leads. Post Affiliate Pro allows you to track ANY action and pay commissions per action (CPA) to your affiliates.

This way you can set up commissions, including per user registration, split commissions, per download, per specific page visit and more.

You can create an unlimited number of per action commissions in every campaign, giving you the ability to track the moves of virtually every visitor.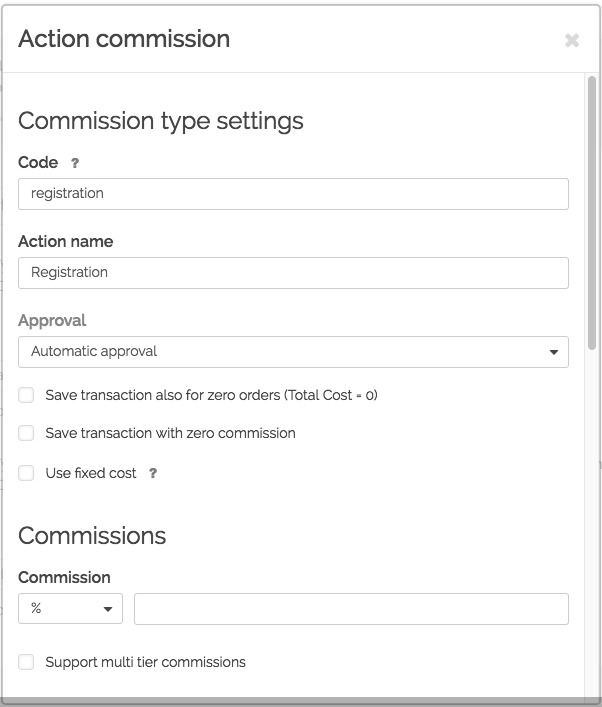 How are action commissions useful to merchants?
Affiliates are motivated by their commission rate. As a merchant, it is your responsibility to keep your affiliates engaged. Regulation of commission rates is an effective way to motivate affiliates as well as drive sales. This will encourage affiliates to come up with creative promotional strategies for your product. Affiliates do everything possible to ensure the action required for commissions is taken by their visitors. But commissions don't always translate into sales. To earn a commission, you could just have to click on the link. These requirements can be set by the affiliate marketer in Post Affiliate Pro.
Cost-per-action vs cost-per-click?
As the name implies, cost-per-action agreements relate directly to conversions of some sort, with sales and registrations being among the most common types. This excludes deals based solely on clicks, which are referred to as cost-per-clicks or CPC.
CPA is at the other end of the spectrum from CPM, while cost-per-click (CPC) is somewhere in the middle. CPA models are generally riskier for publishers since they have to rely on good conversion rates on the advertiser's creative units and Web site to earn commissions. It is for this reason that affiliate marketing is the most popular use of performance-based pricing, wherein merchants and advertisers determine what they want to reward and how much they are willing to pay.
Frequently

asked questions
What is the commission for affiliate marketing?
Commission in affiliate marketing is the percentage an affiliate receives for the actions or conversions that result from their promotion of products.
How are commission rates useful to affiliates?
Commission rates vary among retailers. Therefore searching for the most lucrative affiliate network is vital for affiliates and making the best offer is vital for merchants.