What are private label rights?
Every digital product is protected by Product Rights. They define what the owner can do with the purchased product. 3 types of Product Rights exist.
With PLR (Private Label Rights) you are permitted to use the product without any restrictions.
If you want to sell product further to other buyers, RR (Resell rights) allow you to do just that.
And a product purchased along with MRR (Master Resale Rights) can be resold to others together with the permission to resell it further.
What is PLR Content. Private Label Right Explained! | Liswani diuly06:24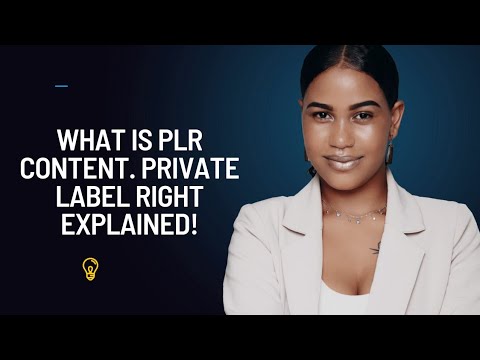 Liswani diuly
Topics
Private Label Rights (PLR)
Types of PLR
Handling PLR
Video summary
This video discusses the use of private label rights (PLR) or plr to make your online business more profitable. PLR allows you to create more content and products with limited time constraints. It provides consistent and helpful information to your audience. PLR content is licensed to the buyer to use as if it were their own, without having to pay royalties or credit the seller. It can be sold to multiple people at the same time. The video also outlines different types of PLR, including resale rights, master resale rights, personal use rights, and unrestricted rights. PLR can save you research and preparation time and instantly create additional value. It can also provide expertise on unknown topics. The video concludes by discussing how to handle PLR, including reading the rights certificate, understanding the components you have, archiving and labeling those components, and maximizing the benefits of PLR in your online business.
Frequently Asked Questions
How private label rights help grow your home business?

Private label rights can be a great way to grow your home business. You can create your own products from PLR products or add value to your existing products. PLR products can also be used to create marketing materials, website content, email courses, ebooks, reports, or audio products.

Can you make money from PLR?

Yes, you can either sell the PLR products as they are or you can use the content to create new products.

How can I use private label rights products?

There are many ways to use private label products such as identifying a market need for the product, customizing the product to better suit the target audience, and using the product as a part of a larger marketing campaign.