What is MRR?
Master resale rights, also known as MRR, allows reselling the rights to others to resell the product. So, it is helpful for people selling something on the Internet. They are able to resell the products as many times as they want. They also keep their profits from every sale – passive income.
Master Resale Rights bring to people many benefits. They do not need to design and create their own website. They just have to pay for rights.
The Differences Between PLR, MRR, RR, and Personal Use Rights | Aurelius Tjin12:42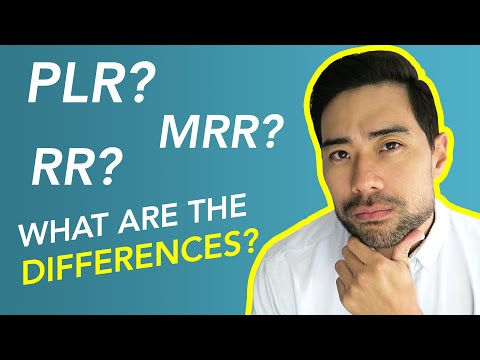 Aurelius Tjin
Topics
PLR
master resell rights
resell rights
Video summary
This video explains the differences between PLR (Private Label Rights), master resell rights, resell rights, and personal use rights. With PLR, you are granted the rights to edit the content in any way you wish, but you cannot claim copyright. You can resell the product, but you cannot sell PLR to your customers. Master resell rights allow you to resell the resell rights to your customers, but you cannot sell PLR. Resell rights allow you to resell the product with personal use/read-only rights. Personal use/read-only rights only allow your customers to read the product and not grant any resell rights.
Frequently Asked Questions
What are master resale rights?

Master resale rights are the rights to resell a product that you have purchased without modification. These rights are typically granted by the product creator and allow you to sell the product to others for a profit.

Can you sell MRR?

Yes, you can sell master resell rights.