What is cost per lead?
Cost per lead or CPL is a prototype of payment for promotion on the Internet. The merchant pays the affiliate for each lead generated. Lead means when visitor registers on a website, buys product or service or makes a transaction. During campaign with CPL model, a company has total control of their brand.
The Cost per lead is also used to measure how much the marketing campaign cost and whether it is effective for the company. It is easy to calculate. One way is to divide Cost per click by a number of all leads.
What is CPL? Cost-Per-Lead Explained For Beginners | Surfside PPC04:54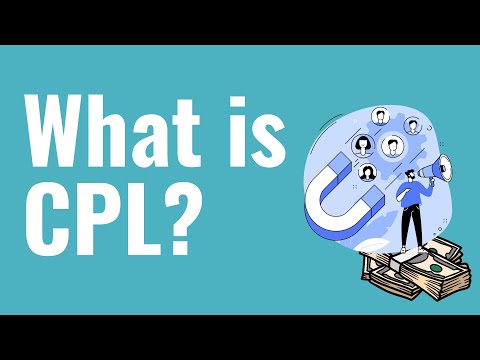 Surfside PPC
Understanding the CPL for successful campaigns
The primary objective of affiliate marketing campaigns is lead generation. Affiliates, who could be publishers or marketers, employ various promotional strategies like banner ads, email marketing, and social media promotions to drive traffic to the advertiser's website or landing page.
A lead is a prospective customer who shows interest in the product or service by providing their contact information through a form on the advertiser's website. The CPL is calculated by dividing the total cost of the campaign by the number of leads generated during the campaign period:
CPL = total cost of campaign / number of leads generated
For example, if an affiliate campaign costs $500 and yields 100 leads, the CPL would be $500/100 = $5 per lead.
The significance of CPL in affiliate marketing
Cost efficiency: CPL provides advertisers with a clear understanding of the expenses required to acquire each lead. Lower CPL values indicate that leads are acquired at a more affordable cost, leading to improved cost efficiency in the marketing campaign.
ROI assessment: By analyzing the CPL, businesses can assess the return on investment (ROI) for their affiliate marketing efforts. A successful campaign strikes a balance between a reasonable CPL and high lead quality, ensuring that the acquired leads have a higher probability of converting into paying customers.
Campaign optimization: Monitoring CPL allows advertisers to identify successful marketing strategies and optimize their campaigns accordingly. By reallocating resources to more effective affiliates or channels, businesses can enhance their lead generation efforts.
Cost Per Lead (CPL) is a vital metric in affiliate marketing that determines the cost of acquiring potential customers. It allows businesses to evaluate the efficiency of their campaigns and make informed decisions to optimize their marketing strategies. Striking the right balance between CPL and lead quality is essential for a successful affiliate marketing campaign that yields a positive return on investment and drives sustainable business growth.
Frequently Asked Questions
What is a good cost per lead?

A good cost per lead can vary depending on the products or services being offered. However, a general rule of thumb is that a good cost per lead is around $200 or less.

How can I calculate my cost per lead?

In order to calculate your cost per lead, you need to divide the total marketing spend by the amount of new leads.

How can I measure my cost per lead?

You can track the number of sales or conversions that were generated from each lead, in order to calculate cost per lead.