What is an autoresponder?
An autoresponder is a feature, that systematically sends an email or series of emails to a new subscriber.
You can use Autoresponder in many different ways. It also answers to e-mail messages with a prewritten reply. Emails can have a form of a newsletter or mini-courses. This autoresponder can be used when someone goes on vacation and this feature automatically sends an email with information to the person who sent the email. This feature saves time and makes it easier for everyone.
What Is An Autoresponder? — Simple Guide (2022) | Style Factory03:34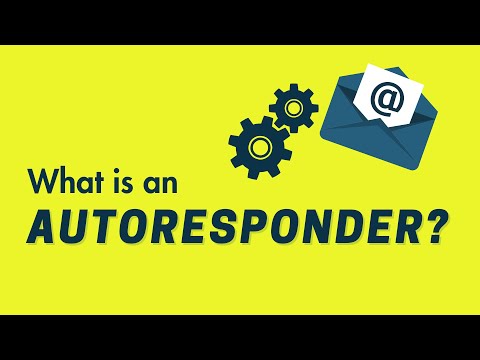 Style Factory
How autoresponders boost business success
Manual email marketing can be a daunting and time-consuming task. With autoresponders, you can set up email sequences in advance, triggered by specific actions or time intervals. They empower you to send targeted emails based on subscriber actions, such as clicking on a link or making a purchase. Once configured, these automated emails work tirelessly on your behalf, nurturing relationships with your audience without constant manual intervention. This hands-off automation allows you to focus on other crucial aspects of your business while maintaining a consistent and engaging email presence.
An added advantage of using autoresponders is the valuable data they provide. Analyzing email open rates, click through rates, and subscriber interactions gives you insights into your audience's preferences and behavior. This data allows you to fine-tune your email marketing strategy for even better results.
Frequently Asked Questions
Why do I need an autoresponder?

Autoresponders are email marketing tools that help businesses automate the process of sending out emails to customers and prospects. They can be used to send out welcome, follow-up, promotional, and thank you messages as well as holiday greetings, and other types of email content.

Are there free autoresponders?

Yes, there are free autoresponders such as AWeber, GetResponse, and MailChimp.

How much do autoresponders cost?

This depends on the provider, but autoresponders typically cost between $10 and $20 per month.